Letters from Lodi
An insightful and objective look at viticulture and winemaking from the Lodi
Appellation and the growers and vintners behind these crafts. Told from the
perspective of multi-award winning wine journalist, Randy Caparoso.

June 30, 2022 | Randy Caparoso
A homemade linguiça meal and spice-friendly Lodi wines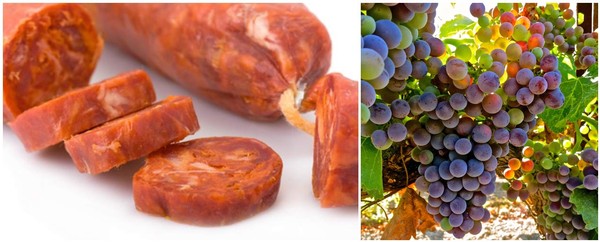 The linguiça factor
In Hawai`i, one of the most significant contributions of Portuguese emigrants, who began to pour into the Islands in 1878 (over 16,000 immigrants by 1911), was the ukulele—the musical instrument that has become emblematic of the Aloha State. When you hear the strumming of a ukulele, you think of palm trees, pillowy white beaches, and grass skirts of hula dancers swaying in the wind. The ukulele is credited to three cabinet makers (Manuel Nunes, Augusto Dias, and José do Espírito Santo) who immigrated from Madeira in 1879.
Many people, however, might say that the most important contribution of Portuguese emigrants is actually Portuguese sausage, also known as linguiça. Many Californians, particularly in Lodi, would agree with Hawaiians. There is not a single coffee shop restaurant in Lodi wine country that doesn't serve linguiça and eggs and not a single grocery store that doesn't offer multiple brands of this spicy sausage. You'd almost think linguiça is a "Lodi" sausage.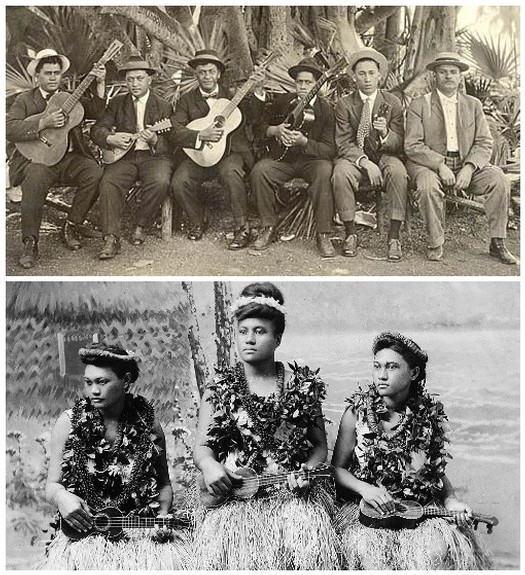 Here's why: Almost all of the Portuguese who made the long journey across two oceans from Madeira and the Azores Islands to Hawai`i came at the invitation of sugar cane companies. After their work contracts expired, many of them remained on the Islands, and many of them moved on to California.
Ron Silva, the widely respected owner/grower of Lodi's Silvaspoons Vineyards, tells us: "When you look all around you can clearly see why so many Portuguese came to California from Hawai`i, or directly from Portugal. The California coast looks just like the coast of Portugal. And when you go a little further inland, to Sacramento Valley and San Joaquin Valley, the climate is just like the interior of Portugal. It's a warm, dry climate, just like what you find in the Port wine region. It's perfect for Portuguese grapes." Silva, unsurprisingly, specializes in more than a half-dozen varieties of Portuguese grapes, on top of the usual commercial grapes (Cabernet Sauvignon, Merlot, Cabernet Franc, etc.).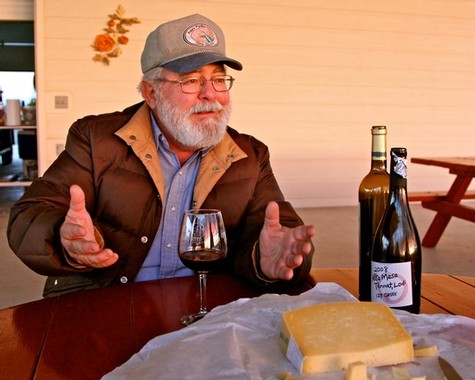 The facts and figures back up the first-hand experience of Silva's own family. Since the 1840s, California has been home to the largest population of Portuguese emigrants in the United States. According to recent figures, over 346,000 Americans who self-identify as being of Portuguese descent are living in the coastal areas, from Sacramento Valley to the Bay Area, throughout the Central Valley as well as in San Diego (Massachusetts has the country's second-largest Portuguese-American population, just under 300,000).
Lodi-Hawai'i culinary connections
Ask virtually any Lodi grape grower or vintner where they usually go for vacation, and they'll say "Hawai`i." It makes sense because it's easier to get to Hawai`i than to Paris, Rome, or Athens, but it also makes sense because Hawai`i's balmy weather is similar to Lodi's, except for the fact that it's all year round over there. Hence, many a Lodian can converse as easily about linguiça, malasadas (the Portuguese version of beignets), pao doce (Portuguese sweet bread), all the variations of poke (raw fish, sweet onions, and seaweed), mahi-mahi and opakapaka as practically any Islander.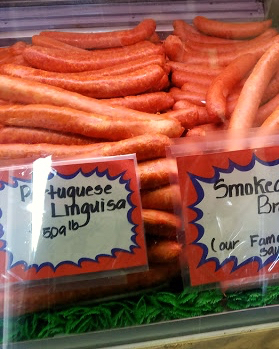 But they can especially talk about linguiça because it is an everyday food here as much as in Hawai`i.
Linguiça, as it is, is not just delicious in any food context—eggs and potatoes, fried rice or steamed white rice, baked or chili beans, plopped over hot dog buns or even chopped into green salads—but is also delicious with wine, as are most sausages. The wine-friendly ingredient specific to Portuguese sausage, of course, is not just its fattiness, but also its spice, derived primarily from red chili.
Chili spice, usually utilized in the powder or flakes made from pulverized red chile peppers, is known for its capsaicin component—the compound that is felt as a hot or titillatingly painful sensation by the palate. Because the human palate also responds to food syncretically, in tandem with sensory memories triggered by the olfactory or nose, the senses also absorb chili as an aromatic, peppery experience, not exactly the same but similar to the experience of peppercorns.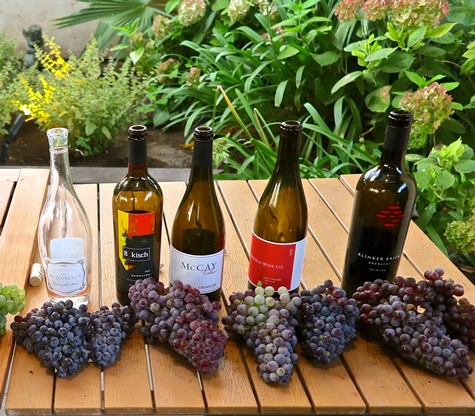 Therefore, a certain kind of magic happens when seasoned meats such as linguiça are consumed with wines that possess their own peppery spiced qualities, based on the basic human response that finds similar sensations to be very pleasing. For example, we love chocolate fudge on vanilla ice cream because both are sweet, or buttery textured wines such as barrel-aged Chardonnay when served with fish in French-style butter sauces. In the same way, it's natural to love peppery wines with peppery dishes.
Peppery aromas and flavors are very common in fruit-forward red wines such as Zinfandel. But for linguiça, the more ideal choices of red wine are those that are typically lighter in alcohol and oak, and softer in tannin—the latter, the bitter or drying component derived from grape skins and seeds—but with as much or more peppery spice in the aroma and flavor.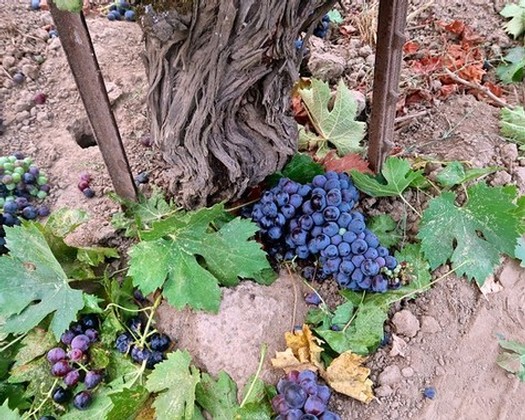 The best examples of spicy yet soft, light Lodi-grown reds are those made from the Grenache or Cinsaut grapes, which can be exhilarating when enjoyed with spiced meat such as linguiça. Please see the end of one of our recent posts, Barbecue-friendly wines to drink in the summer of '22, for some specific recommendations for such wines.
Sheldon Simeon's recipe for homemade Portuguese sausage
Now you, too, can make linguiça in your own kitchen. Last year, Sheldon Simeon—a successful Maui restaurateur and popular two-time Top Chef finalist—came out with a cookbook called Cook Real Hawaii (Clarkson Potter Publishers, and co-written with Garrett Snyder) which has a wonderful recipe for homemade linguiça.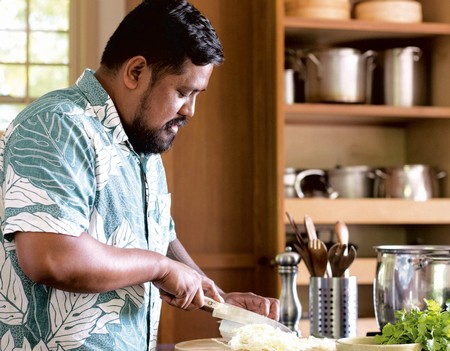 Writes Simeon and Snyder:
Just behind Spam on the seasoned meat depth chart, Portuguese sausage is one of those local foods that immediately says "Hawaii`i"... Portuguese immigrants brought it with them to Hawai`i in the late nineteenth century, and like most things imported here, the sausage evolved over time, becoming plumper, sweeter, and softer in texture than its predecessor [i.e., Portugal's original versions of linguiça].
... you can substitute [store-bought] linguiça, or season your own ground pork, which is easier than you think. For the sake of simplicity, this recipe makes loose sausage for hand-shaping into patties. If you have a sausage maker at home, feel free to grab some casing and stuff the sausage into links.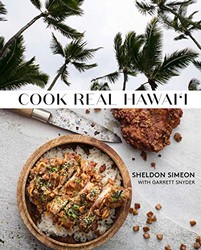 Chef Simeon's recipe, which yields 2 pounds of his Hawaiian style linguiça:
2 pounds boneless pork butt, cut into 1/2-inch cubes
6 cloves garlic, minced
2 teaspoons Diamond Crystal (or 1-1/2 teaspoons Morton) kosher salt
2 tablespoons white vinegar
2 teaspoons sugar
2 teaspoons smoked paprika
1 teaspoon red chili flakes, or to taste
1/2 teaspoon freshly ground black pepper
1/2 ground coriander
1/4 teaspoon ground nutmeg
1/4 teaspoon ground cloves
Neutral oil, for cooking
Place the pork on a baking sheet and chill in the freezer for 20 to 30 minutes, until the meat is firm on the edges but not frozen solid. Working in batches, fill the bowl of a food processor halfway with the pork and pulse until finely chopped, about 15 pulses. Transfer to a large mixing bowl.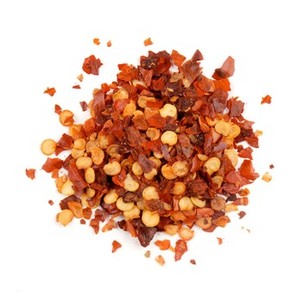 Add all other ingredients (except the oil) and 1/4 cup cold water to the pork. Mix thoroughly. Cover and marinate overnight in the fridge, or for up to 2 days, stirring occasionally. Shape into thin, 2-inch-wide patties (or stuff into sausage casings, if using).
To cook, heat a skillet over medium heat and slick it with the oil. Add as many patties as will fit comfortably, sear for 3 to 4 minutes until browned, then flip and seat until browned and cooked through, another 3 to 4 minutes.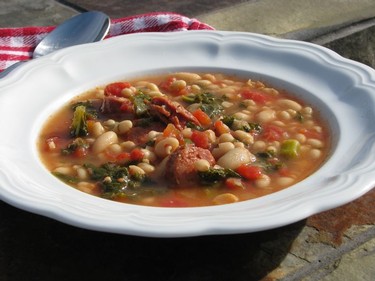 With respect to wine, here's a fun thought: Both Grenache and Cinsaut grapes are utilized to make both red wines and rosés in Lodi. Both styles are wonderful with linguiça, albeit for two different reasons: red Grenache and Cinsaut because of the aromatic spice connections, and dry rosé versions because of the pure, crisp fruit qualities that taste so refreshing with the fat and spice of cooked linguiça. If you want to double your fun, serve both a red and rosé with this dish.
Linguiça served in the context of wine, of course, is more of a lunch or dinner dish. Natural accompaniments would be rice dishes, pasta, any variations of beans (à la French cassoulet), or bitter greens such as arugula, kale, or collards.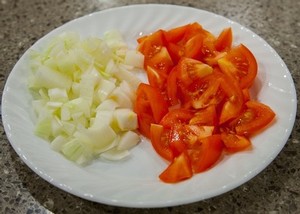 If, however, you wish to go full-on "Hawai`i," I'd recommend these two side dishes also found in Chef Simeon's cookbook:
Tomato-Onion Lomi (Pinoy de Gallo)
Makes about 2-1/2 cups
3 medium plum tomatoes, chopped
1 medium sweet white onion, chopped
2 scallions, finely chopped
2 tablespoons apple cider vinegar
1 tablespoon fish sauce [my note: delicious with or without]
1 tablespoon neutral oil
Kosher salt and freshly ground black pepper
In a medium bowl, combine the tomatoes, onion, scallions, vinegar, fish sauce, and oil and toss thoroughly to coat. Season to taste with salt and pepper. Serve immediately.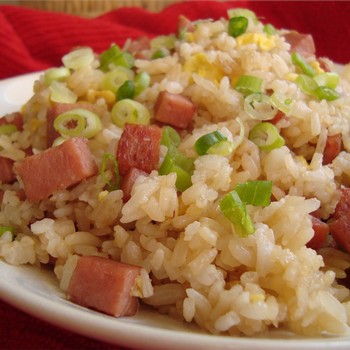 Breakfast Fried Rice
Serves 2 to 4
2 tablespoons neutral oil
3 large eggs
3 cups cooked rice, refrigerated overnight
6 slices bacon, chopped fine
1/2 cup diced or crumbed Portuguese sausage (not necessary if served with linguiça patties)
1/2 cup diced Spam (my note: another option)
1/2 medium yellow onion, diced
2 cloves garlic, minced
1/2 teaspoon garlic salt
2 tablespoons shoyu (soy sauce)
2 tablespoons oyster sauce
1 teaspoon sugar
1 teaspoon toasted sesame oil
1/2 cup thinly sliced scallions (about 5 scallions)
In a large skillet or wok, heat 1 tablespoon of the oil over medium heat. In a small bowl, lightly beat 2 of the eggs. Add to the pan and cook, stirring until scrambled. Transfer the eggs to a cutting board and chop them into small pieces.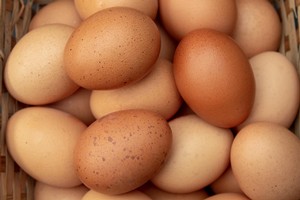 Beat the remaining egg in the same egg bowl. In a large bowl, combine the rice and the beaten egg. Using your hands to combine, make sure every rice grain is coated and there are no clumps.
Wipe the pan clean. Set over medium-high heat and heat the remaining 1 tablespoon oil until shimmering hot. Add the bacon and fry until lightly browned. Add the sausage and Spam. When lightly browned, add the onion and garlic and cook until lightly browned about 2 minutes. Stir in the rice/egg mixture. Add the garlic salt, shoyu, and oyster sauce. Stir and toss until combined. Increase the heat to high and continue to fry until the rice is hot. Reduce the heat to medium and stir in the chopped eggs, sugar, and sesame oil. Stir and toss to combine. Remove from the heat and stir in the scallions. Serve immediately.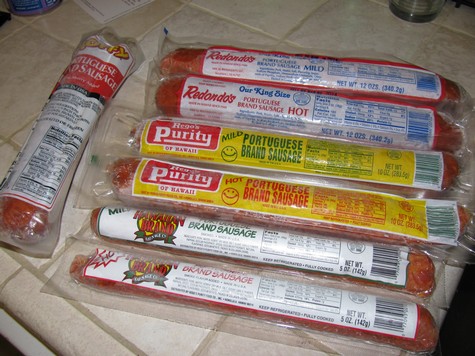 Comments