Letters from Lodi
An insightful and objective look at viticulture and winemaking from the Lodi
Appellation and the growers and vintners behind these crafts. Told from the
perspective of multi-award winning wine journalist, Randy Caparoso.

June 22, 2022 | Randy Caparoso
The barbecue-friendly wines to drink in summer of '22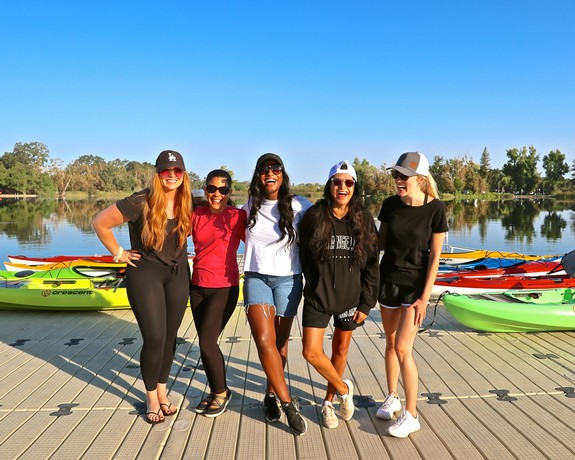 Who doesn't associate summer with barbecue? It's an American thing; perhaps even more so in California wine country because barbecued foods taste so darned good with wines. Especially wines we really love to drink, sometimes secretly (wines we may not want our more hoity-toity wine connoisseur friends to know we have a passion for).
Because when it comes to summer and barbecues, it is indeed all about the food, and what goes best with them. It is definitely not about 100-point scores or the covers of the latest lifestyle magazines! Breaking it all down...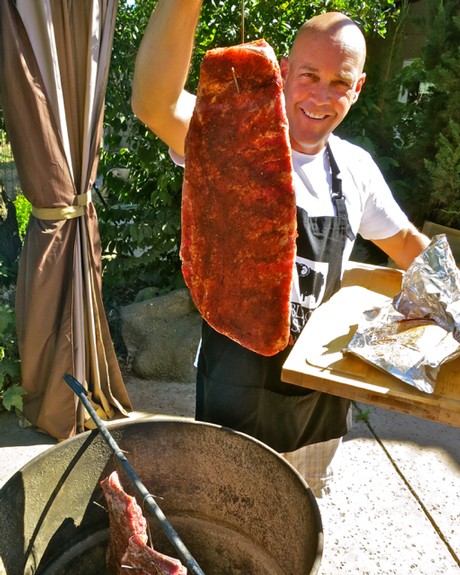 Smoky baby back ribs or pulled pork with tomato-based barbecue sauces
Grilled smoked pork with classic tomato-based barbecue sauces—laced with vinegar, brown sugar onions, and often, chili spices and Worcestershire—cordially invite wines with equalizing doses of tannin and alcohol to absorb the pork fat, and piquant, almost sweet fruitiness to balance out the sweet, sour, hot sensations in the sauce. This is why I'll never understand the criticism of warm climate red wines by wine geeks who obviously can't relate to wines in terms of food contexts, because there's nothing like, say, big, fat, juicy, jammy Zinfandel with classic American barbecued pork. In fact, in my experience, the bigger, fatter, and jammier the Zinfandel, the better for smoky baby back ribs or fork-tender pulled pork!
My personal preference for rib cuts, in fact, has always been for the soft, chewy cartilage of the bone ends which, psychologically, brings out the carnivore in me. The good news is that chewy ribs are also okay with new-fangled "Keto" diets, where your body is looking for fats instead of carbs to find some kind of physiological balance. As long as you don't overdo it, of course, and consume an equal amount of plant-based foods, even with carnivorous twists (ham hock cooked collard greens, anyone?)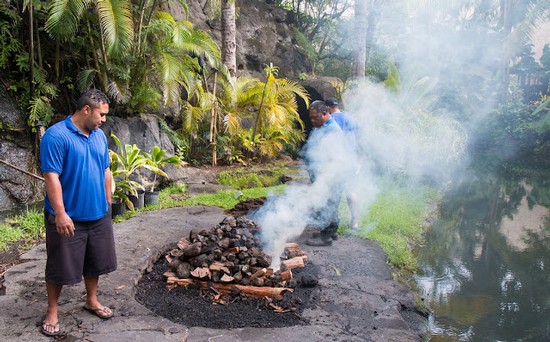 But I digress: It just so happens that Lodi is the center of the world for fruit-laden red Zinfandels. There is a subtle trend right now where vintners are producing Zinfandels with a little less obvious oakiness, and maybe a tad lighter in alcohol (say, 14 and a half percent, as opposed to 15.5% or 16% alcohol). Ironically, though, when it comes to smoky baby backs and pulled pork, it's the oakier Zinfandels that actually taste better! And because the higher alcohol Zinfandels are also more likely to taste ripe, or "jammy" as Zinfandel is often described, these are actually ideal for the fruity, often spicy-hot and/or vinegary-sharp barbecue sauces concocted for these dishes.
Lodi's m2 Wines, for instance, still makes a good old-fashioned, wham-bam, American oak-aged Zinfandel (many Lodi vintners are now aging their Zinfandel in fancy-schmancy French oak). m2 owner/winemaker Layne Montgomery, in fact, strongly contends that "aging Zinfandel in French oak is like putting lipstick on John Wayne. In a similar vein: Harney Lane Winery's Home Ranch Zinfandel (whereas Harney Lane's vineyard-designate Lizzy James Vineyard bottling sees French oak), which combines lush, rounded "berry jam" fruit with subtlely smoky, sweet oak. Zinfandels like these practically scream for summer barbecues. Otherwise, take a gander at one of our posts (Proliferating styles of Lodi Zinfandel) on Lodi Zinfandel styles for a list of other excellent choices.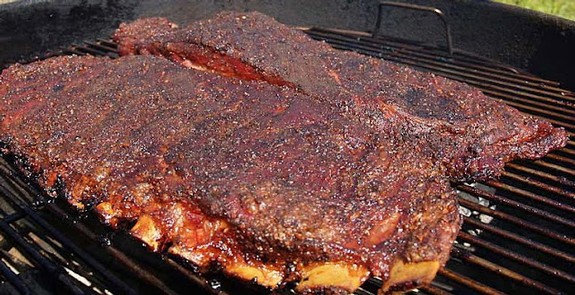 Slabs of dry-rubbed ribs
I once lived in Memphis where each specialty barbecue house has its own "secret" rubs (variations of paprika, onion powder, and cayenne, and taking it from there), and it's in the sloooow-cook roasting mediums where you get further organoleptic distinctions. In Memphis, I'd take these extremely earthy and caramelized meats home with the usual sides (such as chili spiced coleslaw and baked beans), and line up bottles of wine to see what wines were best. Tough work, but someone had to do it!
I found that the best wine matches for dry-rubbed slabs are thick and meaty reds, with just enough tannin and chewy wood to absorb the fat and stinging red pepper spice. Sounds like a job for Petite Sirah, and it is. For starters: Lodi grew Petites by Ironstone Vineyards, Oak Ridge Winery's Old Soul label, and Michael David Winery's wildly popular "Petite Petit" are not only ideal wines for the multi-spiced flavors of dry rubbed ribs, but they are also ridiculously good values (none of them priced above $16).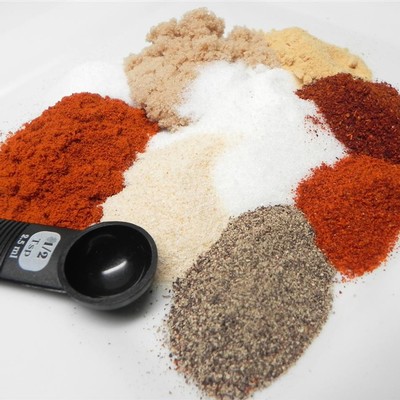 There are, of course, a few "big league" Petite Sirahs grown in Lodi. Those of Peltier Winery, Mettler Family Vineyards, McCay Cellars, Michael David Winery's "Earthquake," Harney Lane Winery, LangeTwins Family's "One Hundred" label, and Mikami Vineyards are even "bigger," a tad more pungent in the black pepper and blueberry qualities that Petite Sirah aficionados find so compelling.
Similar but definitely different, there are red wines made from Syrah, one of the parent grapes of Petite Sirah. Syrah is always a touch more refined, in terms of body and texture, than Petite Sirah, but can be equally intense in spice (as in peppery) driven fruit profiles. The best Lodi grown examples are probably made by Klinker Brick Winery and Fields Family Wines; although, for the price, Michael David's 6th Sense Syrah is always reliable, and McCay Cellars' Abba Vineyard bottling is appealing to the "natural" crowd.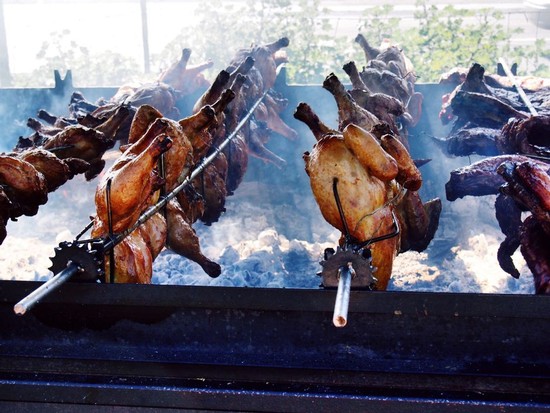 Barbecue chicken
In Hawai`i, we call barbecue grilled chicken huli huli (Hawaiian for "turn-turn"): Usually consisting of half-chickens (although sometimes whole) marinated in mixtures of soy sauce, lime, ginger, Hawaiian sea salt, brown sugar or honey, and a touch of cayenne or sambal, before char-grilling). During the year I spent in Memphis, I found that the whole chickens were usually rubbed with mixtures of salt, pepper, paprika, cayenne, white or brown sugar, dry mustard, garlic, and onion powder, but it was the slow roasting that really did the trick: the meat absolutely inundated with nostril penetrating smokiness, served with thick, phenomenally expressive sauces—the spice sensations touching all the taste buds sensitive to sweet, spicy, sour, bitter and umami (a.k.a., "savory") qualities.
The fruitiness of softer style Zinfandels—such as Estate Crush's Stellina brand, Jesse's Grove's "Earth, Zin & Fire," Michael-David's ubiquitous "Freakshow," or Heritage Oak Winery's "Zinfandel" (the latter, blended with 50% Cabernet Sauvignon)—makes an effortless match. But really, the more sweetly oaked, smoky, sun-ripened fruit qualities of Zinfandels by, say, Macchia Wines (especially their "Mischievous" blend), Michael David's "Earthquake," Mettler Family Vineyards, and Concrete Wine Company do just as well with any chicken that picks up much of its flavors from the smoky grill and spicy marinades.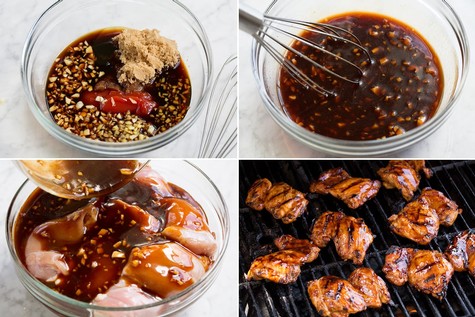 But if the day is a 90° or 100°+ scorcher, don't underestimate the versatility of the many variations of dry rosé. There are more good Lodi-grown rosés out there than we can shake a stick at. You might consider Harney Lane Winery's Dry Rosé, which is made from Zinfandel (they don't tell you that on the label for fear that you might mistake it for a tutti-fruity "White Zinfandel"). m2Wines' Mokelumne River Rosé is also excellent and is also crafted primarily from Zinfandel (with a small percentage of ancient vine Carignan).
In any case, the various rosés of Bokisch Vineyards, Acquiesce Winery, Peltier Winery, St. Amant Winery, and Lorenza True Rosé all remain by industry standards. We should also point out that LangeTwins Family also came out with a Nero d'Avola Rosé, made from a Southern Italian grape that gives this wine more of a zesty, meaty quality.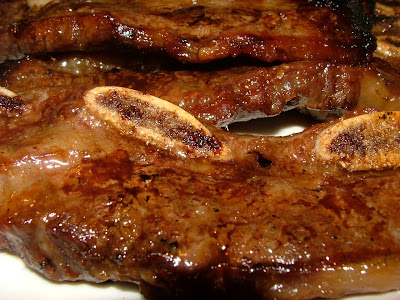 Soy sauce based Asian style barbecues
Japanese teriyaki, Mongolian and Korean style barbecues always start with marinades of soy sauce, garlic, ginger, and sugar; and after that, the variations are endless (additions of beer, chili spices, sesame seeds, Worcestershire, hoisin, pineapple, saké, rice or white wine vinegars, mustards or wasabi, ponzu or yuzu, green onions or mint… you name it, it's done), and usually involve either thinly sliced beef flank or sirloin, or (in the case of Korean style kalbi) short ribs of beef.
Since soy sauce is basically a salty/umami-rich sensation, the best balancing sensations in wine are either residual sugar (i.e., slightly sweet whites, such as German Rieslings) or the unabashed fruitiness of softer styles of reds made from grapes such as Zinfandel, Syrah or Petite Sirah. Not to be overlooked, though, are red wines made from either Grenache or Cinsaut, which in Lodi yields red wines that are not just soft and easy in tannin, but are also unusually spicy in terms of cracked peppercorn-like or kitchen spice aromas and flavors.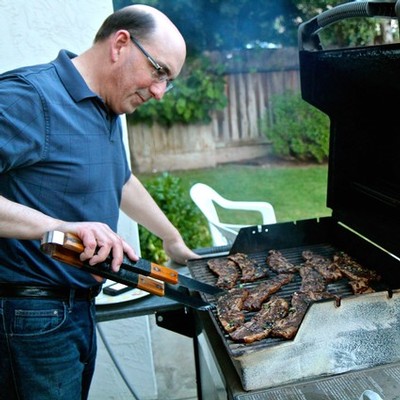 Top quality Lodi-grown Grenache include those of Bokisch Vineyards (bottled as "Garnacha"), McCay Cellars' Abba Vineyard cuvée, Heritage Oak Winery's Grenache/Graciano, and d'Art Wines (the latter, also bottled as "Garnacha").
We recently wrote about Christopher Cellars' Sprague Family Vineyard Cinsaut crafted from young vines, yet bursting with soft, spice-scented fruit qualities. Otherwise, Lodi is the source of some of the greatest pure Cinsauts in the world, since our appellation sits on the venerated Bechthold Vineyard, originally planted in 1886. These Cinsauts are soft, easy yet incredibly intense in kitchen spices (black pepper, clove, mace, etc.). Look for the Bechthold Vineyard bottlings by Estate Crush, Fields Family Wines, McCay Cellars, Michael David Winery, Jessie's Grove, or—from wineries based outside of Lodi—Turley Wine Wine Cellars, Marchelle Wines, Onesta Wines, or Two Shepherds.
Enjoy your summer!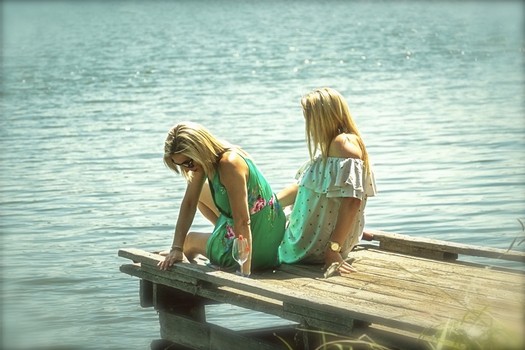 Comments