Letters from Lodi
An insightful and objective look at viticulture and winemaking from the Lodi
Appellation and the growers and vintners behind these crafts. Told from the
perspective of multi-award winning wine journalist, Randy Caparoso.

November 1, 2022 | Randy Caparoso
2022 Lodi Tour of Tempranillo, the varietal's history and what makes Lodi's style so unique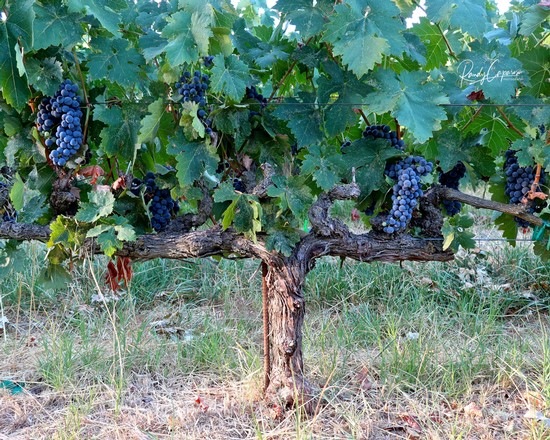 Prepare thyself for Lodi's annual Tour of Tempranillo; 2022's iteration taking place the weekend of November 12-13, timed to follow International Tempranillo Day (November 10, 2022).
As in the past, the 2022 Lodi Tour of Tempranillo will be a no-reservations-required, complimentary drive-around event. This year, 10 Lodi wineries will be opening their doors to offer special tastings, many of them with multi-bottling flights, Spanish inspired food bites and weekend-only-discounts (see some of the details for each winery at the end). All you need do is show up and say, ¡olé!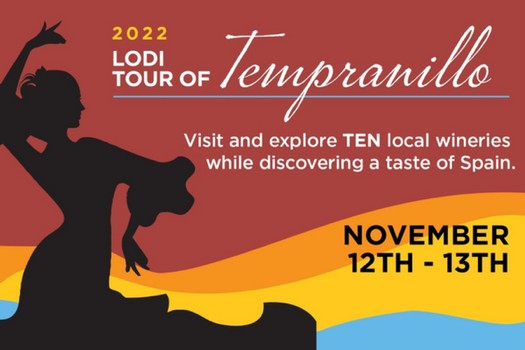 Wherefore Tempranillo (in Lodi and elsewhere)?
Over the past 20 or so years, the Tempranillo grape has proven to grow very, very well in Lodi. This is why well over a dozen wineries in Lodi now produce varietal bottlings of Tempranillo.
In terms of acreage, the most recent California/USDA reports show that 119 acres of Tempranillo are grown in the Lodi appellation, which is 12.8% of California's entire acreage (929 acres total).
As with the 100-plus other varieties of Vitis vinifera (i.e., the classic European family of wine grapes) cultivated in the appellation, the reason why Tempranillo produces distinctively fragrant, finely balanced styles of Tempranillo in Lodi is because of climatic suitability. Specifically, Lodi's Mediterranean climate—essentially, cool, wet winters and warm, dry summers marked by significant diurnal swings (cool nights and warm-to-hot days during peak summer months)—which, in fact, characterizes most of California's coastal wine regions.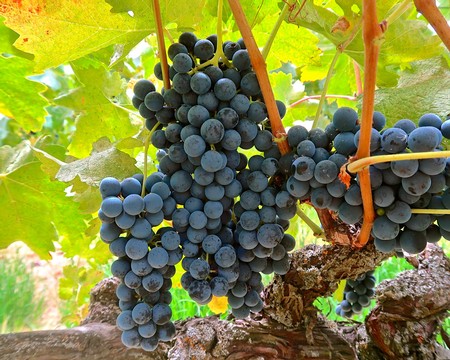 Tempranillo, as can be surmised by its name, is a black skinned grape of Spanish origin. It is also grown in Portugal, where it is primarily known as Tinta Roriz. The grape's primary nomenclature, it's been said, derives from the Spanish word temprano, or "early," in reference to the fact that Tempranillo ripens earlier than other red wine grapes in Spain.
In Lodi, Tempranillo is not the earliest grape to reach optimal ripeness—Zinfandel is typically picked first in our region—but it is certainly ready to be picked several weeks earlier than Bordeaux varieties such as Cabernet Sauvignon and Malbec, deeply pigmented Italian grapes such as Teroldego and Nero d'Avola, or even Graciano, another Spanish grape often grown alongside Tempranillo.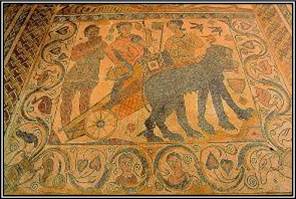 It is speculated that Tempranillo has probably been cultivated in Spain for as long as 2,000 years. There is no actual proof of that; but there are mosaics dated back to the Roman Empire in regions such as as Ribera del Duero, one of Spain's major Tempranillo regions. Tempranillo is Spain's most widely planted red wine grape, forming the backbone of wines associated with other prolific wine regions such as Rioja, Toro, Penedès, Navarra, Valdepeñas and La Mancha.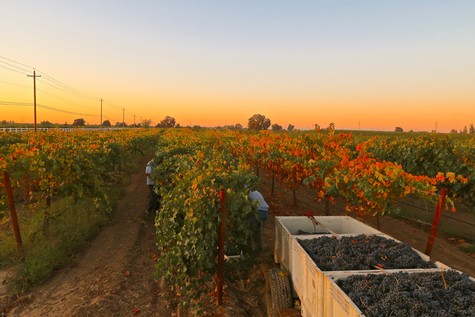 Tempranillo was introduced to California by the 1880s, where it was originally known as Tinta Valdepeñas. It was listed by this name among the varieties cultivated at the UC Davis Foothill Experiment Station in Jackson, Amador County, which was where Dr. Goheen "rediscovered" selections in 1963 (at a time when the station had been long abandoned). For most of the 20th century, California grape crush reports listed the grape simply as Valdepeñas (rather than Tempranillo), and it was considered a minor variety; primarily because most of it was planted in warmer regions of the Central Valley, where it produced nondescript wines, going into "jug" wines or sweet fortified bottlings.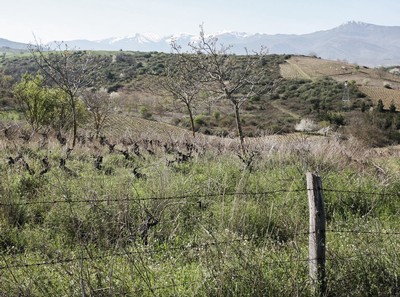 Modern day interest in Tempranillo in the U.S. began with plantings in Washington's Red Willow Vineyard (Yakima Valley) in 1993. In 1994, Earl Jones founded his Abacela Estate in Oregon's Umpqua Valley for the specific reason of specializing in Tempranillo. Jones planted selections of the grape sourced from both the U.S. as well as Rioja in a region he observed to be in closer latitudinal alignment to the North of Spain, as well as having the warm summers and cool autumns approximating regions such as Rioja and Ribera del Duero. Abacela's impact is such that there are now over 40 other producers of Tempranillo in Oregon alone. The winery's continuing work with the grape has also clearly demonstrated the grape's propensity towards longevity and complexity when accentuated by extended, and aggressive, oak aging—something Spanish vintners discovered centuries ago. Tempranillo loves oak!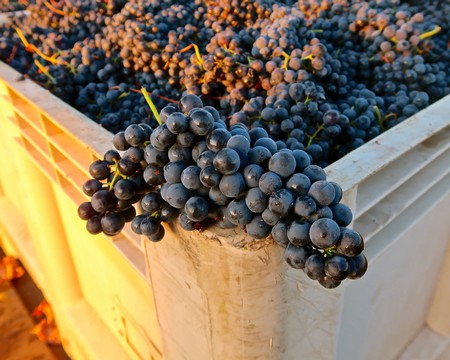 It was in 1996 when Markus and Liz Bokisch first established their Bokisch Vineyards in Lodi. Mr. Bokisch felt that his first planting of the grape—in Terra Alta Vineyard in Clements Hills, characterized by its rocky, red clay-based Redding series soil, rolling hills and Mediterranean climate—was an ideal site for plant material that he had sourced directly from Spain.
Up until recently, Bokisch Tempranillos have been produced in a supple, moderately weighted, very subtlely oak influenced style inviting immediate consumption; although the winery has recently begun experimenting with cuvées aged much longer in wood in keeping with classic styles of Spain, which seem to gain breadth and structure from oak tannin and barrel oxidation. Today, Bokisch's FPS Clones 12 and 12.1—referred to as Tinto Fino selections from Ribera del Duero—are also among the dozen or so selections of Tempranillo made available to other growers and vintners throughout the American winegrowing industry.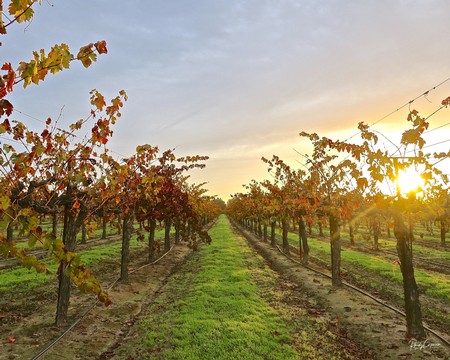 Also in Lodi during the late 1990s, the late Alan Kirschenmann planted a small block of Tempranillo for Mitch Cosentino in one of the sandiest pockets of the Mokelumne River AVA, east of the City of Lodi. Just a quarter mile away, the Bokischs planted Tempranillo in their Las Cerezas ("Cherry Road") Vineyard. Both plantings have since matured (the Kirschenmann block now owned and farmed by McCay Cellars) and have proven that Tempranillo can produce perfectly "varietal" (i.e., meaty and dense, like new leather) qualities in lower elevation, sandy loam soils, as opposed to the rocky clay hillsides traditionally associated with the grape.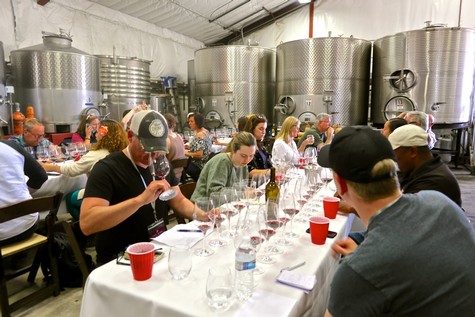 The distinctive Lodi style
This past April 2022, on the occasion of a visit of sommeliers from across the country, we conducted a blind tasting in which we endeavored to identify the sensory qualities distinguishing Lodi-grown Tempranillos (see our post, Sommeliers assess the state of Lodi Albariño and Tempranillo).
Our findings: Lodi-grown Tempranillo is strongly "red fruit" oriented. That is, Lodi-grown Tempranillos exhibit, across the board, lots of red or black cherry aromas and flavors, sometimes more like raspberry, strawberry, pomegranate and ocasionally like red licorice, almost always with a mild touch of a earthiness (suggesting loam or dried leaves), coupled with gentle, rounded tannin.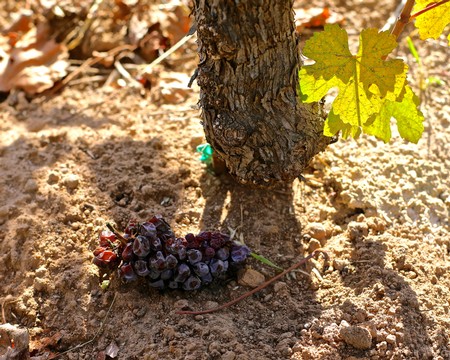 The significance of this predominantly red fruit and soft tannin profile is that this is markedly different from what you find in most of the classic regions of Spain, where Tempranillo-based reds often mix red fruit with darker black or plummy fruit qualities in their varietal profile. These deeper and denser fruit qualities also account for the reason why Spanish Tempranillo bottlings typically possess strongly earth-toned and oak influenced characteristics—the intrinsic depth of Tempranillos grown in Spain is more conducive to barrel aging—and are often suggestive of leather, tobacco, olives, roasting meat, "animal," and other aggressive qualities.
Spanish Tempranillos fall into a wide range of characteristics not so much because of chosen styles wrought by centuries of tradition, but rather, the fact that they are grown in a far wider range of climate, topography and (generally higher) altitude—collective circumstances often defined as terroir, a factor accounting for specific sensory attributes typifying resulting wines—than what can be found in Lodi.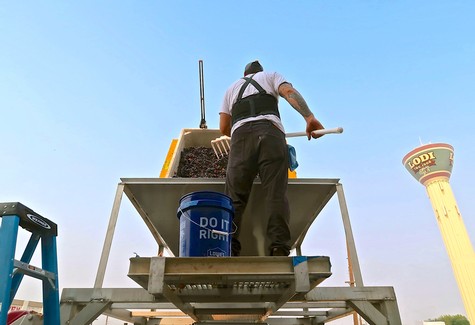 Lodi Tempranillos share more uniformity of red fruit profiles, on top of predictably soft, supple tannin qualities for this reason: the region's uniformity of Mediterranean climate, topography and altitude. To be specific, all of Lodi's plantings fall within 50 to 150-ft. elevations, on flat surfaces or gentle slopes at most, and are grown in the region's watershed-defined soils (either predominantly sandy, silty loams or gravelly clay soils with sandy content).
Another way to look at the terroir-related typicité of Lodi Tempranillo is to compare it with that of bottlings grown just a few miles away. Case in point: While St. Amant Winery is based in Lodi, its family-owned vineyards are located on higher elevation hillsides in nearby Amador County, distinctively different from any place in Lodi. Therefore, St. Amant Winery Tempranillos are consistently fuller bodied, significantly darker and more structured in tannin content, and both plummier and darker berried in fruit profile than any Tempranillos in Lodi. These attributes don't make the St. Amant Tempranillo "better" than any in Lodi—just different.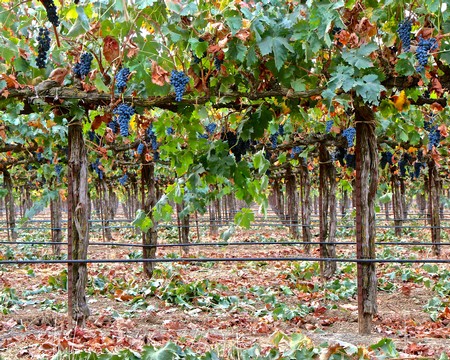 All of which add up to this: Lodi does indeed has its own distinctive, and highly appealing, style of Tempranillo; different from Spain's, different from Oregon's, Washington's or anywhere else in California. ¡Viva la diferencia!
The following wineries invite you to visit Lodi on November 12-13 to discover this for yourself...
Anaya Vineyards
The Lounge at Lodi Crush
21 E. Elm St., Lodi
Open 12-8 PM Saturday; 12-5 PM Sunday
Offerings: Visit Lodi's latest (opening in early November) Downtown tasting room; live music on Saturday; 10% discounts during the weekend only; extra 10% off for first-time wine club members.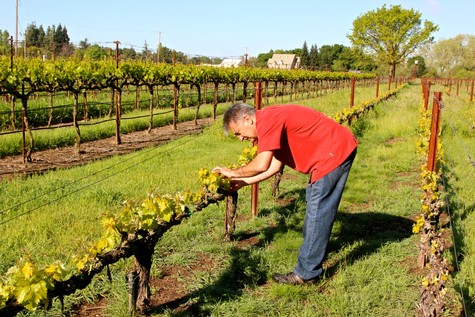 Bokisch Vineyards
18921 Atkins Road, Lodi
Open daily, 11-5 PM
Complimentary side-by-side tasting of 2018 Tempranillo, 2018 Family Estate Tempranillo and 2016 Gran Reserva Tempranillo; "Tacos and Tempranillo" offered all weekend long; live acoustic music on the lawn; Streetzlan Taco Truck on Saturday, Gondos Fusion food truck on Sunday; special priced Tempranilo 3-pack this weekend only.
Heritage Oak Winery
10112 E. Woodbridge Road, Acampo
Open daily, 11-5 PM
Complimentary flights of 3 wines, 2018 Tempranillo, 2019 Tempranillo and 2018 Olé! Blend; 10% off during the weekend only, and extra 5% off for club members.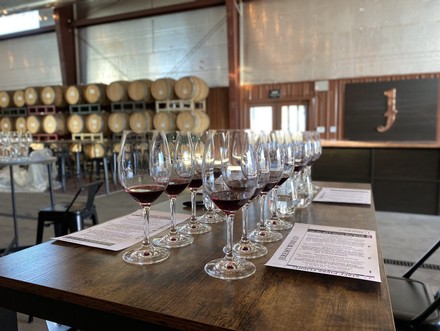 Jeremy Wine Co.
16750 CA-88, Lockeford
Open Thursday–Monday, 11-4 PM
Visit the recently opened winery/tasting room on Lodi's east side between Lockeford and Clements; taste Tempranillo in two stages of winemaking, straight from the barrel (the unreleased 2021 Tempranillo) and current release (recently bottled 2019 Tempranillo); seated flight service in the barrel room or outdoor patio; snacks and charcuterie items available for purchase.
Drava Wines
1378 E. Turner Rd., Lodi
Open Thursday-Tuesday, 11-5 PM
Complimentary tasting of 2017 Tempranillo from Silvaspoons Vineyard, 2019 fellow Rioja varietal Graciano from Ripken Vineyards, and a barrel tasting of 2021 Tempranillo from Clements Hills; each visitor can enjoy a hot bacon wrapped date stuffed with goat cheese; 10% discount on 2-bottle purchases.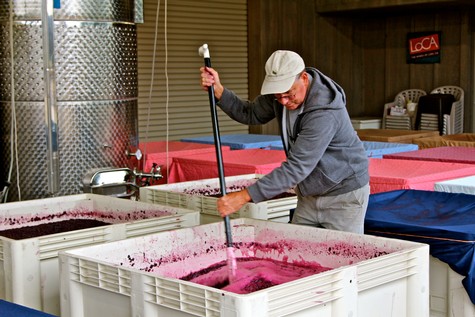 Heritage Oak Winery
10112 E. Woodbridge Road, Acampo
Open daily, 11-5 PM
Complimentary flights of 3 wines, 2018 Tempranillo, 2019 Tempranillo and 2018 Olé! Blend; 10% off during the weekend only, and extra 5% off for club members.
Twisted Barrel
1376 E. Turner Road, Lodi
Open Saturday/Sunday, 12-5 PM
Complimentary tasting of 2018 Tempranillo; complimentary charcuterie for visitors purchasing 6-wine flight.
Fields Family Wines
3803 E Woodbridge Road, Acampo
Open daily, 11-5 PM
Complimentary tasting of two library vintages of Tempranillo (2015 and 2016) plus current release (2018); 15% discount towards purchase.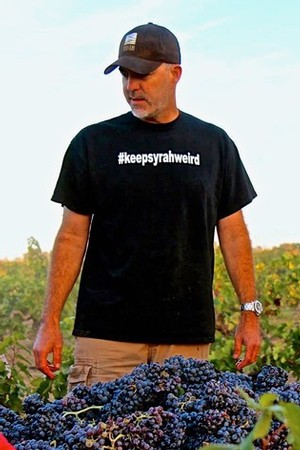 McConnell Estates Winery
10686 W. Stockton Blvd, Elk Grove
Open Thursday–Sunday, 11-5 PM
Complimentary vertical tasting of 2017, 2018, 2019, and 2020 Tempranillo; live music on the lawn on Sunday; 10% discount on all purchases of Tempranillo bottlings; extra 5% discount for club members.
Riaza Wines
2441 South Stockton St., Lodi
Open Friday-Sunday, 11-5 PM
Complimentary tasting of select Tempranillo and Tempranillo based blends; featured wines offered at 20% discount.
Van Ruiten Family Winery
340 W Hwy 12, Lodi
Open daily, 11-5 PM
Contact winery (akaylia@vrwinery.com or 209-334-5722) for more details closer to the date.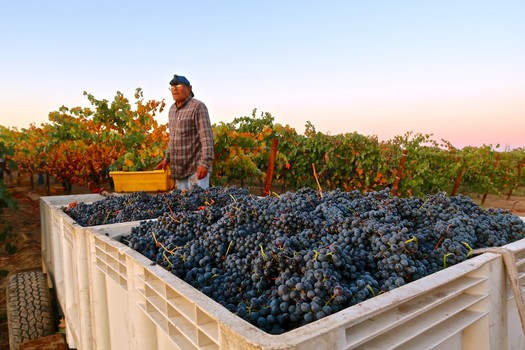 Comments