Letters from Lodi
An insightful and objective look at viticulture and winemaking from the Lodi
Appellation and the growers and vintners behind these crafts. Told from the
perspective of multi-award winning wine journalist, Randy Caparoso.

May 5, 2022 | Randy Caparoso
Sommeliers assess the state of Lodi Albariño and Tempranillo in blind tasting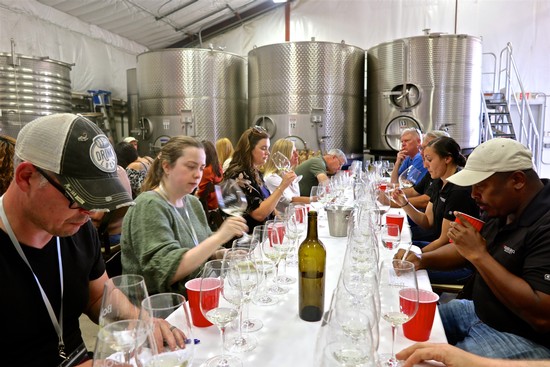 We often point out that, among Lodi's local wineries, there are now more producers of Albariño and Tempranillo than Chardonnay and Cabernet Sauvignon.
Why? Because these grapes have found a natural home in Lodi's Mediterranean climate zone. Zinfandel, for instance, is a grape that originated in Europe's Mediterranean Basin (Croatia and Southern Italy, to be specific), and therefore it is a grape that absolutely loves Lodi's bright sun and sandy soils. Ergo, there is far more Zinfandel grown in Lodi than in any other California region.
In other words, specializing in grapes such as Zinfandel — plus, for that matter, Albariño and Tempranillo — is a no-brainer for Lodi growers and wineries.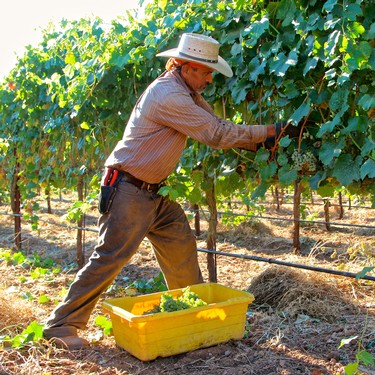 The 3-day visit of 10 highly experienced sommeliers to Lodi this past April 18-21, 2022 gave us a perfect opportunity to do something we have been wanting to do for a long time: Gather together five Lodi-grown Albariños and six typical Lodi Tempranillos and put them in a blind tasting.
The sommeliers — visiting Lodi to study winegrowing in a program sponsored by the SommFoundation and Lodi Winegrape Commission — sat down with the growers or producers of all the respective brands, and tasted all the wines with their identities hidden under paper bags. The tasting took place in Bokisch Vineyards winery.
By tasting all the wines "blind," everyone was able to get a good, solid idea of exactly how these bottlings compare in terms of sensory qualities, without any of the usual preconceived notions we may have from previous experiences with any of these wines.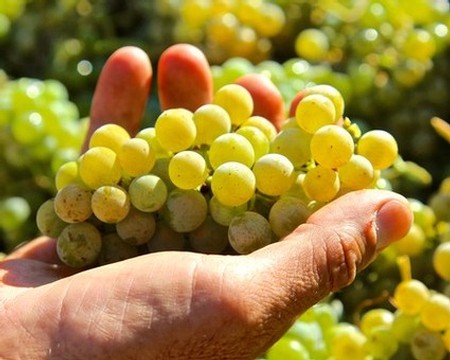 From the detailed notes shared below, we were able to clearly "discover" two basic things:
1. Lodi-grown Albariño tends to be very flowery and citrusy. While, as a group, they are usually less minerally or briny than Albariños grown in their places of origin — the maritime-influenced regions of Rías Baixas in Spain and Vinho Verde in Portugal — they are every bit as crisp, light, and lemony as any in the world.
2. Lodi-grown Tempranillo is strongly "red fruit" oriented — lots of red or black cherry aromas and flavors, sometimes more like raspberry, strawberry, pomegranate, and occasionally like red licorice — and are mildly earthy, at most. This is a little different from what you find in classic regions of Spain, where Tempranillo-based reds often mix red fruit and dark plum in their fruit profile, and typically possess strongly oak-influenced, earth-toned qualities often suggesting leather, tobacco, olives, roasting meat, and so forth. Spanish Tempranillos fall into a wide range of characteristics, whereas Tempranillos from Lodi share pretty much uniform red fruit profiles, on top of predictably soft, supple tannin qualities reflecting the region's Mediterranean climate and predominantly sandy or silty soils.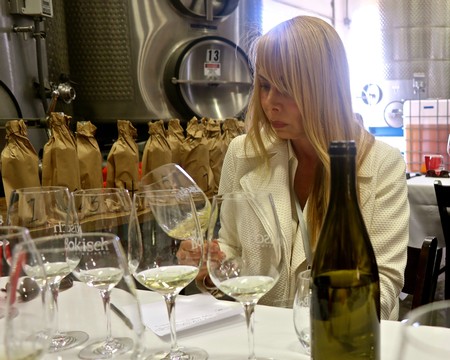 Otherwise, here are some detailed notes reflecting our findings in these higher-profile Lodi brands:
Lodi Albariño
2021 Bokisch Vineyards, Terra Alta Vineyard, Clements Hills-Lodi Albariño ($22) — Exceptionally fresh nose of crisp apple, citrus fruit, and blossom fragrances. Lemony crisp, light, airy, and palate-freshening dryness, with a pinpoint sense of acidity and balance. Alcohol is a very lithe 12.5%, and the varietal character is laser sharp. bokischvineyards.com.
2021 Harney Lane Winery, Home Ranch, Mokelumne River-Lodi Albariño ($24) — More of a honeyed, tropical fragrance hovering above a citrus fruit aroma. Very fine and silky tropical and citrus fruit sensations lifted by a fine-edged balance of zesty, edgy acidity in a svelte medium body (13% ABV). Very "Lodi" in its floral, tropical profile, but as cannily balanced as any Albariño in the world. harneylane.com.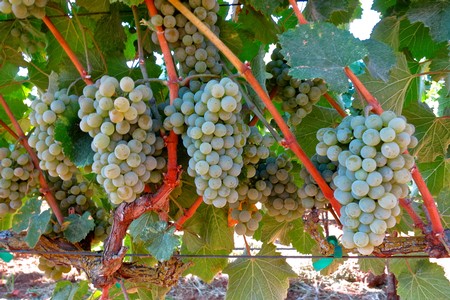 Mettler Family Vineyards Albariño.
2021 Klinker Brick Winery, Mokelumne River-Lodi Albariño ($17) — This Lodi-grown iteration of the varietal veers into more of a minerally aromatic range, its floral notes underscored by candied lemon and lavender-like, fresh herb scents. The wine is dry, tart-edged, somewhat lean, tight, and mildly briny, but tingly in its mineral and fresh lemon/lime zestiness. klinkerbrickwinery.com.
2021 Mettler Family Vineyards, Mokelumne River-Lodi Albariño ($20) — A flowery nose, billowing with cut lemon and orange blossom fragrances. Airy light, almost to the point of being delicate, giving an easygoing feel that is also punctuated by lightly tart, balancing acidity. Typical of these Lodi Albariños, pretty much effortless in its sense of varietal character and mouth-watering quality. mettlerwine.com.
2020 Bokisch Family Estate, Las Cerezas Vineyard, Mokelumne River-Lodi Albarino ($25) — This was the "outlier" in this group, showing a discernible tint of gold (all the other Albariños were pretty much pale straw colored) as well as the lightest creaminess underscoring flowery and orange peel-like fragrances. On the palate, this wine also veers away from the group with a silky/creamy outward texturing, neatly wrapped around a crisp core of citrus and slightly tropical fruit on the palate. Despite the evident oak influence (this wine was partially barrel fermented and aged, whereas most Albariño sourced from Lodi sees only stainless steel), the finish is light, nimble, and entirely refreshing.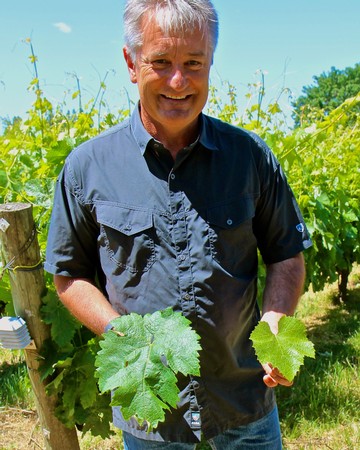 Lodi Tempranillo
2018 Bokisch Vineyards, Liberty Oaks Vineyard, Jahant-Lodi Tempranillo ($31.50) — Intriguingly multifaceted nose of plump, ripe, spiced red cherry/berry, smidgens of cinnamon, bacon fat and rose water, couched in a vanillin oak frame suggesting sprigs of dill. Its medium-weight body is firm yet svelte, supported by moderate tannin and restrained oak. Definitely, a fruit-focused style of Tempranillo, exemplifying a signature Lodi style of the varietal.
2018 Heritage Oak Winery, Mokelumne River-Lodi Tempranillo ($28) — In this bottling, the varietal fruit comes across as a basketful of fresh, lush red fruit, veering towards candied cherry embellished by mildly sweet oak tones. The come-hither fruit quality in the nose is fulfilled by a rounded, silky textured medium body; mild tannin and moderately zesty acidity push the wine further into its bright, upbeat, unabashedly fruit-forward varietal profile. As "Lodi" as it gets in its sunny, friendly disposition. heritageoakwinery.com.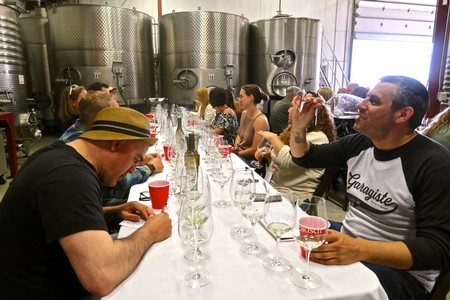 2019 m2 Wines, Kirschenmann Vineyard, Mokelumne River-Lodi Tempranillo ($28) — The penetrating fruit aroma of this bottling — sourced from Lodi's oldest Tempranillo block that we know of (planted sometime during the mid-1990s) — suggests black cherry and cranberry, definitely falling within a red fruit spectrum. The nose is enriched by notably sweet American oak while grounded in a faint, dusty earthiness, giving the profile an organic cast and a sense of depth. On the palate, it is the wine's typically "Lodi" intensity of red fruit that gives the wine its mettle, its medium-full body and restrained yet supportive tannin coming across as fine and silky, while the unabashedly sweet oak contributes a sense of polish rather than an encumbrance. m2wines.com.
2018 Bokisch Family Estate, Las Cerezas Vineyard, Mokelumne River-Lodi Tempranillo ($36.50) — In this wine, Bing cherry and red berries define an exuberant varietal aroma with a sense of ripeness, all the more amplified by a rich dose of oak — adding subtle notes of tobacco and dark chocolate — plus a faint, dusty earthiness. The lush fruit character signaled in the nose is given a firm, meaty feel on a medium-full palate; the somewhat generous oak component adds a tangible tannin grip while not going so far as to distract the senses from the rounded, svelte feel that keeps this bottling's fruit focus true to its Lodi origin, or "sense of place."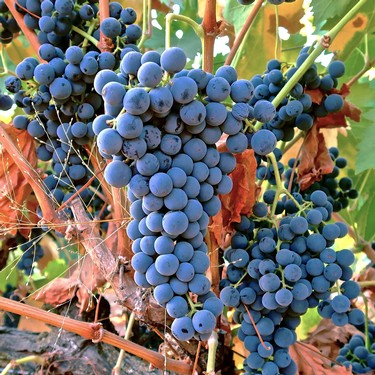 2017 McCay Cellars, Lot 13 Vineyard, Mokelumne River-Lodi Tempranillo ($24) — Among the six Tempranillos in this comparison, this bottling — coming from the same vineyard bottled by m2 as "Kirschenmann," which is now owned and farmed by Mike McCay — more than others absolutely teems with "red" perfumes: red licorice, red berry/strawberry, a suggestion of pomegranate, all sweetened by subtle French oak. In the mouth, this gushy, fragrant character is heightened by a fine, silky medium body that goes long and zesty in its gentle, plush leather glove-like feel, perked up by the lightly sweet touches of oak. mccaycellars.com.
2019 Harney Lane Winery, Home Ranch, Mokelumne River-Lodi Tempranillo ($32) — The red fruit character that epitomizes the Lodi style of the varietal is defined in this bottling by a sweet, ripe raspberry fragrance, veering into a purplish, violet-like, plummy fruit spectrum. Sagacious doses of toasty oak, however, seem to bring out a faint spice, suggestions of dark cocoa and stewed meat with bay leafy nuances in the "Lodi" defined varietal character. On the palate, the wine shifts into a more serious, "big" sense of body (14.9% ABV); its brambly red bearishness bolstered by fruit and oak tannins, adding to the sense of stewed meat — one sommelier suggested game or bacon—infused into an almost liqueur-like sense of varietal profile. Very "Lodi," yet ambitious (and successful), style of Tempranillo.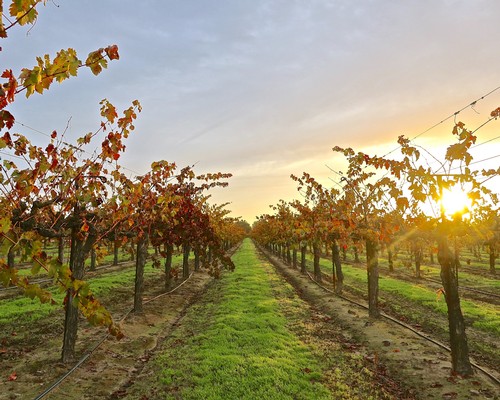 Comments