Letters from Lodi
An insightful and objective look at viticulture and winemaking from the Lodi
Appellation and the growers and vintners behind these crafts. Told from the
perspective of multi-award winning wine journalist, Randy Caparoso.

October 10, 2019 | Randy Caparoso
2019 fall update on the ideal Lodi wines for cheeses we love to eat most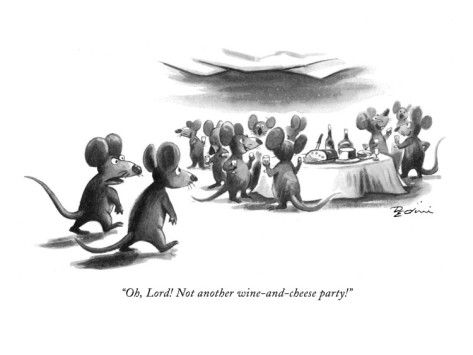 That wine and cheese go together is a concept that needs no explanation, much less justification. Fish swim, birds fly, and there's nothing like a table set with wedges of cheese and glasses of wine from two, three or more bottles.
We will say this, though: Through experience, lots of wine lovers know that certain wines go better with certain cheeses than other cheeses, and vice-versa. It really is no different than knowing that when you have a piece of white fish, chances are that a light, dry, lemony crisp white wine will probably taste better with the fish than a heavy, oak enriched, bitter edged red wine like a Cabernet Sauvignon. Or that a heavy, oaky Cabernet Sauvignon is more likely to taste better with a char-grilled steak than a light, tart white wine.
It's not a matter of "breaking rules." There are no rules. Go ahead, eat and drink whatever you like. If you like mixing orange juice and milk, have at it. If you like ketchup on sushi, be our guest. But we want to talk about wine and cheese matching from the perspective that matters: how different taste sensations in cheeses and wines interact in the mouth, and how they titillate your senses through the nose.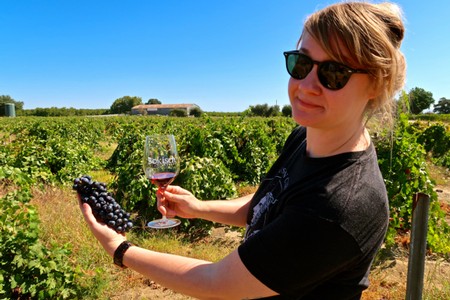 First thing to understand is that the human palate detects basically six taste sensations on the tongue: sweet, tart, salty, sweet, bitter, or what is called umami (the latter, the "savory" sensation found in foods high in amino acids, like the grating of Parmigiano cheese on spaghetti, a drop of oyster sauce in a stir fry, or the infusion of porcini or truffles in a sauce).
Almost no wines give salty sensations, so that's not a big factor. Neither is sweetness usually found in cheeses. Nonetheless, when wines and cheeses are combined, levels of saltiness are something to consider because many cheeses are salty, sometimes very salty. And while most consumers these days drink dry wines, wines with a little bit or even a lot of sweetness can come in handy – especially when you have a very salty cheese, like a Roquefort and Feta, sitting in front of you on the table.
Sweetness balances saltiness. It's a basic concept all cooks understand: When you have a food component that's salty, like ham or a salted duck, a sweet glaze or a fruity sauce or relish helps a dish taste better. Which is why strongly salty cheeses taste pretty darned good with wines that are a little sweet, even if, generally speaking, sweet wines are not your cup of tea. It is the same reason why, when you have morsels of Roquefort of Gorgonzola on a board, you're almost compelled to reach for some quince paste, fresh fig, dried berries, honey or something sweet to consume the cheese.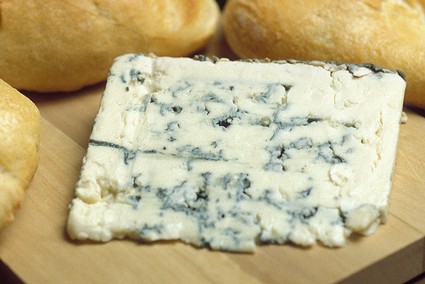 Hence, a few more basic things to think about when shopping for cheeses to go with certain wines, or when selecting bottles from a store shelf to go with favorite cheeses:
• There are probably more cheeses – particularly fresh cheeses that see no extended aging – that taste better with white wines than with reds.
• Cheeses can give a full range of sensations, from soft and milky to sharp and acidic. Hence, it generally makes sense that sharper, more acidic cheeses (like goat cheeses) tend to go better with sharper, more acidic whites (like Sauvignon blanc), whereas softer, creamier cheeses (like Havarti or double- or triple-crèmes) naturally taste great with rounder, creamier textured white wines (like a typical American Chardonnay).
• There is a reason why cheeses that give savory umami sensations – generally those that are firmer, richer and deeper colored from aging processes (i.e. Parmigiano, Manchego or Cheddars) are often grated on dishes. It's because they can intensity flavors of dishes. For that same reason, these types of cheeses are generally friendlier to red wines than to whites. Unlike white wines, red wines are fermented with their skins, automatically giving them deeper flavors, along with oak and oxidative qualities resulting from barrel aging. The more complex a wine from an aging process, the more likely they are to compliment the deeper, firmer, more complex and caramelized sensations typical of well aged cheeses, and vice-versa.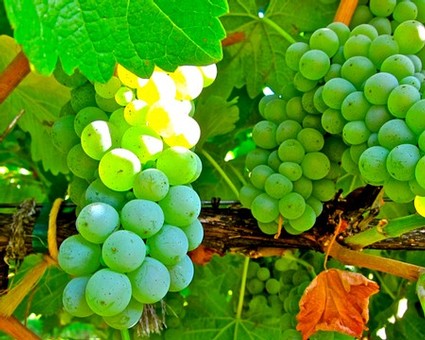 • Pungently earthy, organic aromas and flavors in cheeses (particularly those made from sheep or goat's milk, as well as many variations of raw milk cheeses) are likely to find notes of similarity in wines of parallel qualities – be it the grassiness of Sauvignon blanc, the flintiness of Riesling, stoniness of less oaky Chardonnays, the mushroom/foresty notes of Pinot noirs, all the way to the meaty, even gamey or leathery notes of reds like Tempranillo, Zinfandels from Lodi's west side, and Mourvèdre or Grenache based reds from all up and down the West Coast or Europe.
• Once you get into the grand tradition of aromatic, artfully flavored cheeses – such as herb crusted Chèvres, peppercorned crèmes, cider washed rinds, stout soaked Cheddars, or even truffled Boschetto al Tartufo – the gloves come off, and all the varieties of red and white wines criss-cross in accordance to the dominant flavors that are added. For instance, it makes sense that cheeses coated in black pepper strike partnerships with peppery wines like California Zinfandels and Syrahs from around the world. Herbs associated with Italian cooking (i.e. rosemary, oregano, basil, etc.) easily find matches with wines of Italian orientation (like those made from Sangiovese, Montepulciano, Nero d'Avola or Nebbiolo). High-umami, truffled cheeses practically scream for high-umami wines like Pinot noir or, from Lodi, west side Zinfandels or spice scented Grenache reds.
… and so it goes. So what are the best Lodi wine and cheese combinations? "Bests" don't exist, but here are some fun matches to explore: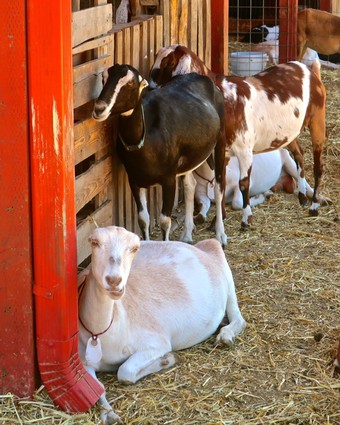 Chèvre (French or Regional American)
For high acid goat's milk cheeses, look for lemony tart, dry whites such as Sauvignon blancs by Peltier Winery, LangeTwins Family Winery & Vineyards (or the LangeTwins Family's Sand Point Family Vineyards brand), Michael David Winery, Oak Farm Vineyards, Heritage Oak Winery, Ironstone Vineyards, or McCay Cellars. Vermentino is another varietal white with steely-tart, often stony or minerally qualities that are dynamite with a good goat cheese – look for those by Peltier Winery, Uvaggio Wines, PRIE Winery, Fields Family Wines or Avivo (by DaVero Farms). Picpoul blanc (by Acquiesce Winery or PRIE Winery) is another varietal white that is as lemony tart as it gets, and absolutely shines with a fresh, sharp, naked Chèvre; but for something completely different, look for the prickly tart yet refreshing Fiano by Oak Farm Vineyards.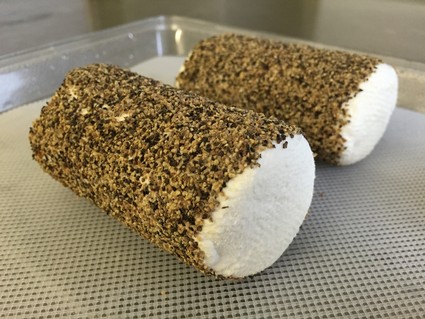 Herbed or Peppered Chèvres (U.S.)
Peppercorns, as well as pungent mixes of herbs, alter the taste of Chèvres so drastically, these flavored goat cheeses call for reds with peppery spice or herby qualities, yet are soft and zesty enough to balance the slightly sharp taste of goat's milk cheeses. Solids bets include Michael David's Petite Petit (Petite Sirah blended with a little bit of zesty Petit Verdot), or the softer tannin styles of Petite Sirah by Ironstone Vineyards, Oak Ridge Winery's Old Soul, McManis Family Vineyards, or the outstanding new Mountain Tides Palmero Family Vineyard. Other pungently spiced choices include McCay Cellars' Paisley blend (Petite Sirah laced with earthy Zinfandels), or Heritage Oak Winery's Vino Tinto (Zinfandel/Syrah/Petite Sirah blend). Then there are the pungently spiced Syrahs of Fields Family Wines and Klinker Brick Winery, which are sturdier in tannin, but are fruit-forward as well as faintly earthy enough in the Lodi style to strike a balance with the silky/sharp/grassy taste of flavor-coated goat cheeses.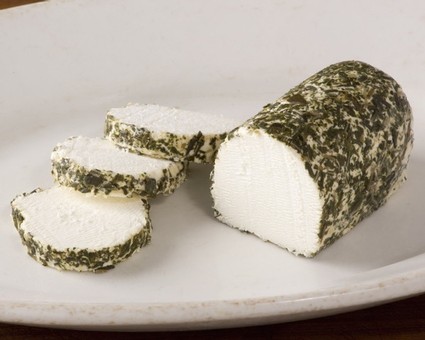 But even softer in tannin are kitchen spice/sweet pepper/rhubarb scented reds made from the Cinsaut grape (classic Lodi examples include those of Turley Wine Cellars, Michael David Winery, Estate Crush, McCay Cellars, Fields Family Wines, or Onesta Wines) as well as varietal Grenache bottlings (look for McCay Cellars, Jeremy Wine Company, d'Art Wines, PRIE Winery, Hunters Oak Vineyard, Riaza Wines, or Bokisch Vineyards' classic Terra Alta Vineyard Garnacha). Last but not least, remember that Zinfandel can be spicy, sometimes herby and zippy enough for Chèvre, yet smooth as a baby's bottom – particularly those of m2 Wines, The Lucas Winery's iconic ZinStar, Maley Brothers' Lodi Native Wegat Vineyard, Estate Crush's Stellina brand, Harney Lane Winery, or Oak Farm Vineyards' Primitivo or even more unique Tievoli (a snappy/spicy red crafted from Zinfandel, Primitivo, Barbera and Petite Sirah).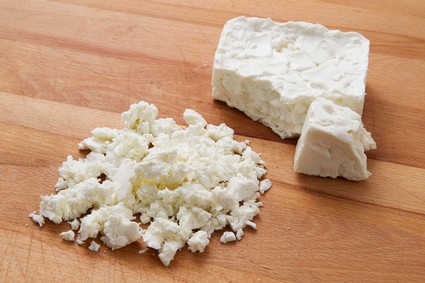 Greek Feta from goat and sheep's milk (image courtesy of seriouseats.com)
Feta (Greece)
Although we do not really sit down with plates of plain Feta, we use this soft, briny, earthy goat or sheep's milk cheese with enough of our dishes (salads, pastas, on pizzas or potatoes, in dips or stuffed vegetables, ad infinitum) to think about the ideal wines to match, which are generally whites with zesty balancing acidity and a good, floral fruitiness. Pinot Grigios (such as those of Van Ruiten Family Vineyards, Hybrid by Peltier Winery and Sorelle Winery) immediately come to mind; and also bottlings of the Chenin Blanc grape (by Heritage Oak Winery, Paskett Winery, McCay Cellars, or Six Hands Winery's Palmero Vineyard). Viognier is also as flowery/fragrant white that, at least here in Lodi, is zesty enough in natural acidity to compliment quivering morsels of Feta (look for those of Acquiesce Winery, McCay Cellars or Peirano Estate Winery). Then there is the tart edged, lemon/lime scented Verdelho varietal (look for Bokisch Vineyards, Paskett Winery, or St. Jorge Winery's). But really, just about any good, aromatic Sauvignon Blanc is also great to drink with Feta sprinkled dishes (top Lodi brands include Peltier Winery, LangeTwins Family, Sand Point Family Vineyards, Michael David Winery, Oak Farm Vineyards, Heritage Oak Winery, or McCay Cellars).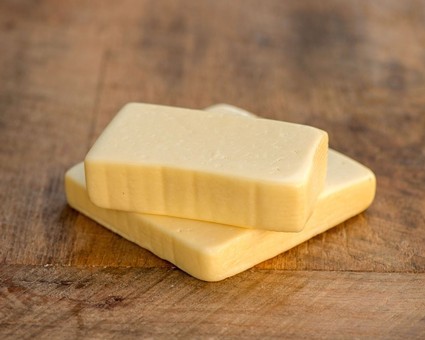 Havarti (Denmark)
The soft, creamy, springy textured, almost fruity, fresh cow's milk taste of Danish Havarti is a natural for most California grown Chardonnays, and the creamier textured the better (especially those of Lodi's The Lucas Winery, Harney Lane Winery, Oak Farm Vineyards, Michael David Winery, Jeremy Wine Company, Mettler Family Vineyards, Peltier Winery, Watts Winery's Casa Azul Vineyard, or Oak Ridge Winery's Old Soul brand.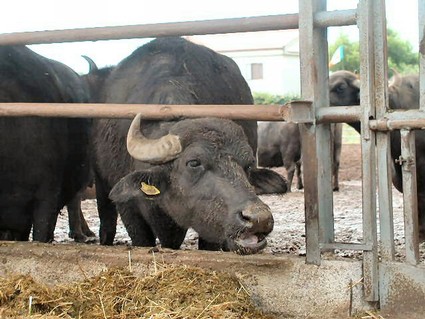 Buffalo Mozzarella (Mozzarella di Bufala) (Italy)
By itself, the soft, round taste of Mozzarella di Bufala, which always comes packed in its own liquified whey, invites any soft, round, fruity white of low to moderate acidity. It's hard to beat a good Chardonnay – especially those that emphasize more fruit than oak (examples: Peltier Winery's un-oaked Limited Release as well as its lighter Hybrid bottlings, or Harney Lane's new Scottsdale Vineyard) – although Grenache Blanc is also ideal an ideal varietal for its generally lighter, round, soft, purely fruited qualities (look for those of Klinker Brick Winery, Acquiesce Winery, Fields Family Wines, Leaf and Vine Wines, Holman Cellars, Onesta Wines, McCay Cellars, or Bokisch's multi-award winning Garnacha Blanca).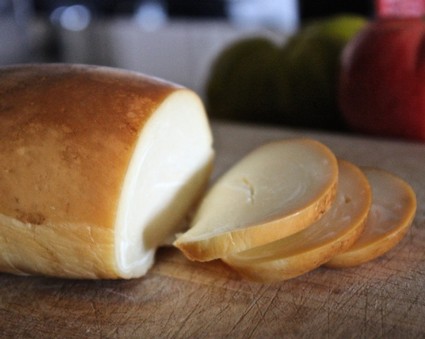 Smoked Mozzarella (Italy)
Smoky variations of Mozzarella positively scream for round, fruit driven Chardonnays fermented and aged in distinctively toasted (i.e. charred inside by open fire) barrels. Although subtle, there are toasty highlights in those of Jeremy Wine Company, Mettler Family Vineyards, Peltier Winery, Harney Lane Winery, and Sierra Starr Vineyard that become all the more noticeable with a bite of smoke infused mozzarella.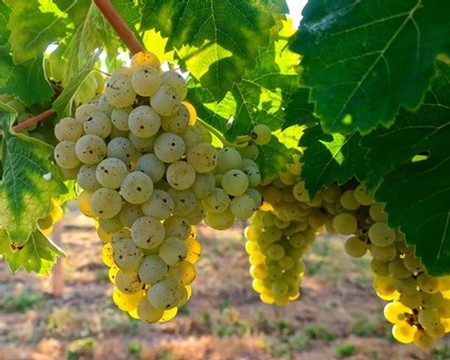 Brie and Camembert (France)
In our experience, cheese and wine lovers seem to go in three different directions, for three different sensory reasons, when it comes to these lush yet pungent, often earthy scented soft ripened cheeses. Fruit driven American Chardonnays, for one, match the soft, buttery texture of these cheeses. On the other hand, Sauvignon Blancs often offer the herbal notes that can moderate the earthy, occasionally ammonia-like notes of Bries and Camemberts, on top of a sharply contrasting acidity that freshens the palate, keeping the runny, buttery taste of Bries and Camemberts from tiring the senses.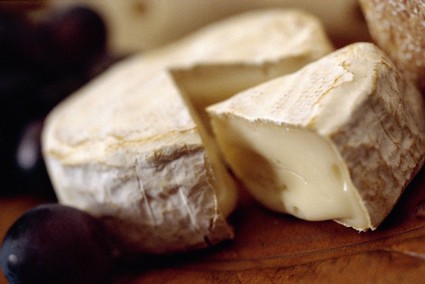 Or, for a different effect altogether – minerally flavors of a medium-tart dry white mingling with the earthy taste of these soft ripened cheeses – you can go for a varietal of Rhône Valley origin, such as Acquiesce Winery's minerally/citrusy Bourboulenc or more flinty/lavender-like Clairette Blanche. An even more unusual yet just as gratifying match would be Markus Wine Company's Nativo, a bone dry, pure and feathery blend that combines the minerality of the Kerner grape with the floral, tingly-tart qualities of Bacchus and Riesling. For a taste of pure, crisp and stony Lodi grown Kerner, Sidebar Cellars (by David Ramey Wines) is the go-to. For a pure Bacchus, which has a sharp yet lavender/flowery, minerally character, look for Holman Cellars' rare bottlings. Take your pick, or go with several of these whites to enjoy all the different contrasting and complimenting sensations possible when Lodi grown wines are poured with classic soft ripened cheeses.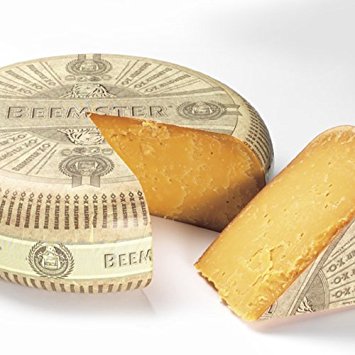 Gouda, Smoked Gouda, and Aged Gouda (Netherlands)
From the Dutch city of Gouda, this famous cheese is firm yet creamy in texture, developing a crunchy (from protein crystals), caramel-like sweetness as well as faintly nutty, mushroom-like notes during its aging process. Fruit driven yet complex barrel fermented California Chardonnays are an easy match – the sweet vanillin oak notes qualities of the wines are made all the more lush and finely textured when enjoyed with Goudas. But once you get into the super-aged Goudas – like the Beemster Classic (aged at least 18 months) or X-O Extra Aged (26 months) – you start to veer into red wine territory, since red wines are deeper in flavor than whites, and extra-aged Goudas takes on deeper, butterscotchy, vanilla roasted pecan flavors. One step beyond full bodied whites like Chardonnays are the softer tannin reds, such as many of Lodi's Zinfandels, red Grenache, and also some of the region's brightly perfumed, zippy yet silky ancient vine Carignans. For examples of classic Lodi Carignan, look for those of Klinker Brick Winery or Jessie's Grove Winery made from vines over 100 years old, or else Michael Klouda Wines, McCay Cellars, PRIE Winery, or the Mule Plane Vineyard (planted in the late 1920s) bottlings of Holman Cellars or Leaf and Vine Wines.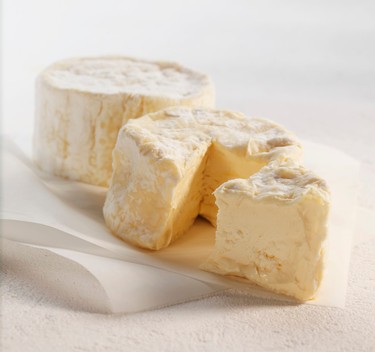 Fabulously creamy Boursault Triple Crème from France (image courtesy of fromages-france.com)
Triple Crème (France)
This is the choice if you are enthralled by the biggest, oakiest, most intensely layered and creamy textured California Chardonnays: Triple Crèmes such as the plump, white crusted Brillat-Savarin, the high octane Boursault, a lush, sensual L'Explorateur, or any number of other top brands to be found. In this case, these over-the-top cheeses (defined by its having at least 75% butterfat) merely share the similar excess of rich, fat creaminess that make Chardonnays so attractive, yet are just mild enough in flavor to allow the sweet apple-like fruitiness of the grape shine on through.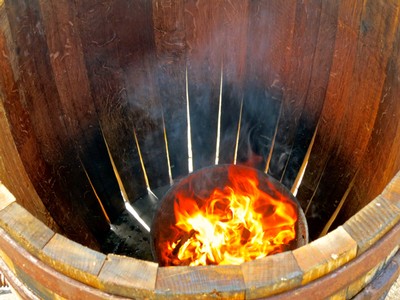 There is still another, less saturating option, however, that makes a fabulous match for Triple Crèmes: a good, yeasty, toasted biscuity sparkling wine. LVVR Sparkling Cellars is Lodi's specialist in Champagne style bubbly, and this winery's dry style Brut, or silkier textured Blanc de Blancs, have the lush quality of Chardonnay as well as a palate-cleansing crispness and toastiness to sizzle like foam on a white sand beach with nibbles of these decadent cheeses. Other Champagne style Lodi sparklers include those of Acquiesce Winery's Sparkling Grenache Blanc, Michael David Winery's Bare Ranch Sparkling Wine, and Peltier Winery's Gala Sparkling Wine.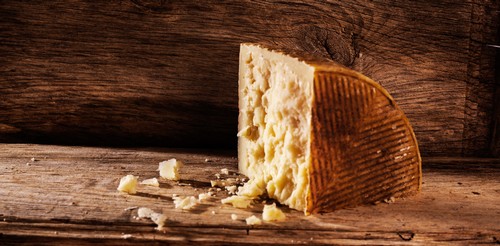 Exquisitely deep flavored Manchego (image courtesy of gastronomicspain.com)
Manchego (Spain)
Aged for six months or longer, sheep's milk Manchego become deeper, firmer and more complex in umami driven sensations: essentially becoming cheeses for red wines, by virtue of the depth derived during red wine during fermentation on the skins and barrel aging. Fresh, tangy, yet mature, mildly salty, faintly sweet, crunchy Manchego is one cheese that adapts to almost any red of medium to high tannin, moderate acidity, some degree of wood aging, and deep, meaty flavors. Tempranillo based reds – particularly those of Lodi's Bokisch Vineyards, m2 Wines, Fields Family Wines, McCay Cellars, Heritage Oak Winery, Odisea Wine Company's "The Temp," Peirano Estate Winery, Ripken Vineyards, St. Jorge Winery, Durst Winery, Toasted Toad Cellars, Viaggio Estate, Dancing Fox Winery, d'Art Wines, or Riaza Wines – fit this culinary niche to a T. Another great choice for deep flavored Manchego is Graciano, an even earthier varietal red of Spanish origin that, in a way, is also slinkier and sexier than typical Tempranillo (look for Lodi's Bokisch Vineyards or Riaza Wines).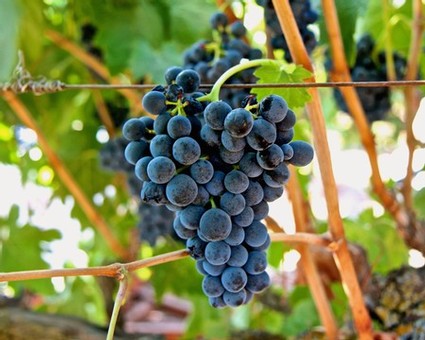 Another ideal choice is the supple, brightly aromatic Heritage Oak Winery's Spanish Suite (blend of Tempranillo, Grenache and Graciano). Still, varietals of Spanish origin aren't the only reds that have that deep yet suave affinity for Manchego. Also consider Italian varietals such as round, fleshy Montepulciano (LangeTwins Family's River Ranch Vineyard or Watts Winery's), sleek and nut-toned Sangiovese (bottlings by Oak Farm Vineyards, Heritage Oak Winery, Jeremy Wine Company, Macchia Wines, or Sorelle Winery), or sharper yet round and fleshy Lodi grown Barbera (especially those of St. Amant Winery, Oak Farm Vineyards, Uvaggio Wines, Jeremy Wine Company, or Macchia Wines).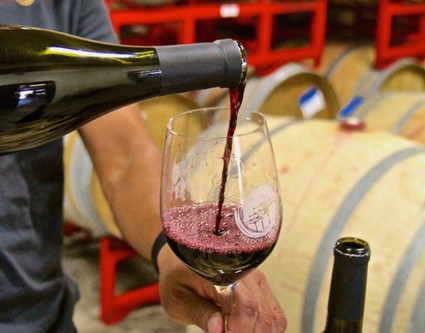 Cheddars (International)
Practically all the world's great aged Cheddars – from English Farmhouse to Canadian Black Diamond, to domestics like the Sharps of Vermont and Tillamook in Oregon – are saturated with deep, firm, tangy, caramelized/buttery flavors that do amazing jobs of smoothing out the rough, boisterous edges of young to middle aged reds fashioned from classic Bordeaux/French grapes like Cabernet Sauvignon, or other high extract, generous tannin grapes. Among Lodi's top Cabernet Sauvignons, look for the ever-reliable Mettler Family Vineyards, Michael David Winery's consistently award winning Rapture or Earthquake bottlings, Peltier Winery's dark and delicious Reserve, Van Ruiten Family Vineyards' impeccably balanced Reserve, PRIE Winery's Reserve, Klinker Brick Winery, Oak Farm Vineyards, Paskett Winery, Victor Vineyards, Burlington Chandler Wine, Jeremy Wine Company, or the deep yet elegantly balanced, Cabernet Sauvignon-driven blends of LangeTwins Family's Midnight Reserve and Heritage Oak Winery's French Blend.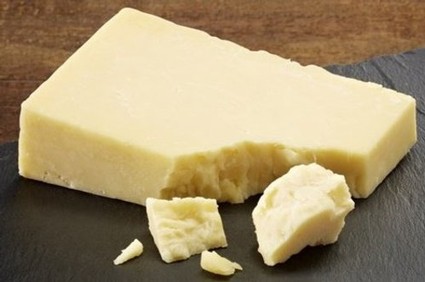 In Lodi, however, Cabernet Sauvignon is not the only game in town when it comes to tannin and oak lavished reds. Charbono, for instance, is an old-timey specialty varietal, producing full bodied, musclebound reds (look for those of Paskett Winery or Heritage Oak Winery). Another red that socks a punch, made from a top-secret blend of ultra-black skinned varieties, is Harney Lane Winery's mysterious (and delicious!) Patriarch's Promise Lot 18; while the red that probably takes the cake when it comes to the black color and black and blue flavors that are highly favorable to well aged Cheddars is Peltier Winery's Triomphe (Petite Sirah blended with Teroldego and Cabernet Sauvignon).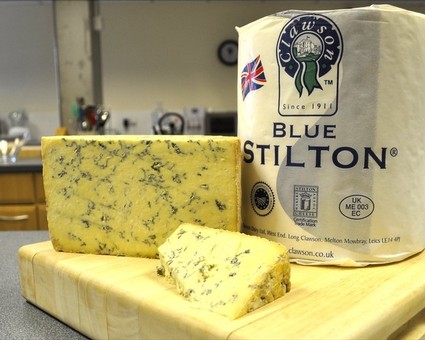 Blue Cheeses (International)
Generally speaking, the salty, sharp, powerful taste of the great blue veined cheeses of the world – not just classic Roquefort, Stilton, Gorgonzola, Spanish Cabrales, Danish Blue, Cambozola, or the popular Maytag Blue or Port Reyes Original Blue, but also specialty choices such as Bavaria's Grand Noir, France's Bleu des Basque, Shaft's Ellie's Vintage 2-Year Reserve (from Roseville, CA), or the lusciously layered Huntsman Double Gloucester with Blue Stilton – respond best to sweet, dessert style wines. Particularly Port inspired, fortified reds, such as d'Art Winery's Lodi Port or their Late Harvest Zinfandel, the exquisitely sweet, handcrafted The Lucas Winery Late Harvest Zinfandel, Harney Lane Winery's luscious Lizzy James Vineyard "Port Style" Zinfandel, or the decadently rich yet fresh, lively Bokisch Vineyards Late Harvest Graciano. Any of these combinations adding up to an autumnal wine and cheese party to remember!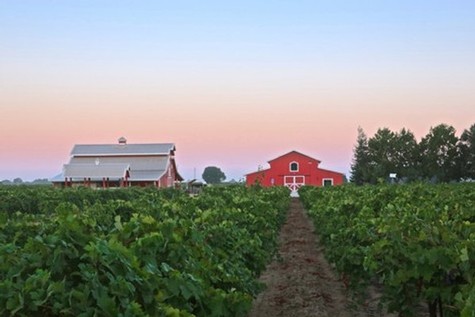 Comments