The Growing Groundswell
By now you've heard that Lodi is more than a song (point of fact: after he wrote his famous (Stuck in) Lodi, Creedence Clearwater Revival's John Fogerty admitted he'd never visited this historic California town, but that he simply came across it and thought it had "the coolest sounding name").
Lodi is also a thriving, varied agricultural community — notably, grapes and dairy ranching, almond and walnut orchards, and cherry, olive and myriad other stone fruits — and wine lovers from coast to coast, and even from Singapore to Stockholm, now know Lodi as the source of wines that absolutely kick your butt, without busting the budget!
Even if they won't admit it, even the hoity-toity connoisseurs — that less-than-1% of the population who consider themselves "wine professionals" (sommeliers and restaurateurs, retail specialists, and assorted journalists and bloggers) — have begun to taste reality: that Lodi now produces wine every bit as good (but of course, different) as those from other valleys of the West Coast, whose names begin with an N or an S, or W for Will...
Sure it was a shocker, back in 2002, when about sixty professional wine judges proudly named a rich, sleek, succulent Syrah based red its "Best of Show" award winner, out of over a thousand other wines, at Jerry Mead's New World International Wine Competition; and it turned out to be a Lodi grown Delicato Family Wines Shiraz (no longer produced by this winery) selling for only $6 to $8 across the country!
It took a little more time for Bay Area connoisseurs to fess up. But boy were they surprised, in 2006, when Earthquake's whopping rich and juicy Lodi grown Zinfandel was named "Best Red Wine of Show" by the discriminating judges of the prestigious San Francisco Chronicle Wine Competition. Southern California came around that same year, after an Earthquake Lodi Petite Sirah took "Best High End Wine of Show" at the Orange County Fair Wine Competition. In professional wine judgings, where all wines are tasted "blind," there can be no descrimination against wines with "Lodi" on the label.
All the same, real wine drinkers — those who know the value of a good wine for barbecue or other foods we actually love to eat, or are too smart to pay more than $8 for a glass of wine in a restaurant (you don't have to if the restaurant is smart enough to serve wines from Lodi) — have been very much aware of what's been coming out of this wine region, a scant 90 minute drive from the Bay Area, and just 30 miles south of Sacramento. Consumers know what's what, even if media or trade are slow to catch on.
How Lodi's growers turned plentiful water into wine
High quality wine comes directly from high quality growing conditions – perfect soils, climates, topographies or terroir, as the wine geeks call it. For classic, old-timey grapes like Zinfandel or Carignan, terroir doesn't get much better than what is found in Lodi's oldest vineyards, adjoining the picturesque Mokelumne River. The earliest San Joaquin Valley pioneers established their farms along the riverbanks because they could — finding deep, fertile, exceedingly plantable sandy loam soils atop an aquifer barely inches below the surface, long fed by pristine waters from the Sierra Nevada directly to the east. There is a reason why old vineyards can be cultivated for over 50 or even 100 years: because they they are growing in an ideal place, which is borne out in the significant quality of resulting wines. If not for that, vineyards are ripped out long before they become "old vine."
Still, make no mistake: What also distinguishes Lodi is the fact that as a wine region, its history has always been driven by its smart, grounded growers, many of whom have been here ever since the Lodi's first schoolhouse went up in 1859. Today's leading Lodi wine industry families — like the Langes of LangeTwins Family Winery & Vineyards, the Phillips of Michael David Winery, or the Spenkers of Jessie's Grove — typically trace their roots in Lodi as far back as the 1860s. What other American wine region can say that about their "typical" winegrowers?

Lodi has always grown a good chunk of the California grape crop (today, amounting to about 20%); and not to be deterred, even during Prohibition Lodi's growers packed most of the country's grapes that were shipped to homes as far as Montreal and New York (usually with specific instructions on "how not to have the grapes turn into wine"). Many a Lodi family, including the Mondavis, first made their fortune as grape packers, some even before branching out as growers or wine producers.

In the late 1980s, Lodi's fourth and fifth generation farming families — by then, numbering over 600 independent growers — began to get together and talk about the fact, according Mark Chandler (Executive Director of the Lodi Winegrape Commission), that "the trade and consumers still viewed Lodi as a jug wine region, even though we were the largest producer of premium quality wine grapes in the state, which we still are."

So in 1991 the growers voted to pool a quarter of a million dollars to form the Lodi Winegrape Commission in order to aggressively attack the issue of rehabilitating Lodi's image as a wine region. Says Chandler, "our first goal was to launch marketing and PR awareness campaigns to generate a more accurate view of Lodi as a producer of premium quality grapes and wine. Most of our grapes may have been going into jug wines, but the growers were aware that they could do much more than that.

"Our second objective was to help wineries understand how Lodi grapes work in their program. Especially wineries located outside of Lodi (like Cosentino and Turley in Napa Valley, or Laurel Glen and Ravenswood in Sonoma), who place a premium on Lodi's historical, old vine grapes and proudly sell them that way.
"Third, we sought to convince wineries, located both in and out of Lodi, to begin showing the Lodi appellation on their labels, thereby adding more value to the name of Lodi. In this third step we've been extremely successful; and as much as anything, this the reason why Lodi is now identified as a premium quality wine region."

It takes more than reputation, of course, to impress skeptical consumers, feisty critics, and finicky restaurant and retail wine buyers. Great wines only come from great grapes, which come from great growing conditions. In respect to the latter, Lodi has always been blessed with two basic necessities:
• Soils so deep and rich that vines as old as 100 years have always thrived, even on their own ungrafted rootstocks (Lodi cultivates thousands of acres of highly productive, phylloxera-resistant old or "ancient" vines, planted before or just after the turn of the 20th century)
• An ideal, Vitis vinifera friendly Mediterranean climate (comparable, for example, to the center of Napa Valley), cooled by air flowing directly from the Bay Area through the Carquinez Strait and adjoining Sacramento-San Joaquin River Delta.
"We are on the cusp of great things," says Chandler. "We have grown from eight (in 1991) to eighty wineries; the vast majority of them owned by Lodi's original families. The number of wineries with national distribution producing Lodi label wines has reached a critical mass, and so we are now focusing more of our effort on increasing consumer awareness of Lodi wine."

Hence this blog, which will continue to share the faces and places, and the things that are happening, in this unique and productive place called Lodi. "The quality of Lodi wines speaks for itself," says Chandler, "and so now, it's just a matter of expanding on that message." Hope you enjoy the ride along with us!
Today's Taste of Lodi: 2008 Gnarly Head Zinfandel
What's so special: Cinnamon and spice makes it nice, and so does this red wine's dense, compact, yet sumptuously soft texturing — like liquid velvet and melting chocolate in the mouth — along with distinctive flavor notes of blackberry, and crushed black peppercorns and allspice. But just as important, this is quintessential Lodi Zinfandel in respect to pure, almost unbelievable value: just $11 average retail in most markets!

Devil in the details: You can appreciate the quality and price point of Gnarly Head Zinfandel even more when you know that the Indelicato family (third generation Lodi growers, now based in nearby Manteca) utilizes aging head or "bush" trained vines averaging 40-45 years of age exclusively to produce this value priced Zinfandel (that is, no young, trellised vines). More concentrated portions come from sources like their low yielding James Ranch, planted in 1907; and it is gnarled, tree-like trunked vines of the Kramer Vineyard (farmed by the Kramer family since 1943) that inspired the name of this brand. Much of the wine's spiciness, svelte muscle and black-ruby color comes from a blending of Petite Sirah (19%), a grape that also thrive in the deep, sandy loams of the Lodi appellation.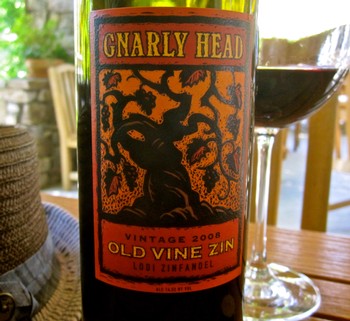 Plate up: When Bud Bradley, Gnarly Head's director of growers, talks about his wine on the table, he uses one word — barbecue. Especially dry rubbed baby back ribs, although Bud also swears by a match of grilled vegetables, which he marinates in a special fig vinegar. Here's a red zin-friendly recipe from Gnarly Q, borrowed from Gnarly Head's little booklet on barbecue tips:

Bodacious Baby Back Ribs with Gnarly Rib Mop
(serves 4; prep time, 30 minutes)

Ingredients:
2 packs Gnarly Head spice rub (or Memphis style spice rub)
2 racks baby back pork ribs, membrane removed
2 cups Gnarly Head Zinfandel
1 cup sparkling apple cider
1 tbs. molasses
2 tbs olive oil
¼ tsp. ground nutmeg
¼ tsp. ground cloves
1/8 tsp. ground cinnamon
2 tbs. tomato paste
1 tbs. salt
1 bay leaf

Place rib bones side up on flat surface and remove membrane; Rub spice mixture generously on the meat and bones. In bowl, combine remaining ingredients and mix well. Prepare smoker or charcoal grill (for indirect cooking) to a temperature of 325°F and toss 1 cup of smoke chips on fire (soak chips in water for 30 minutes prior).

Place the ribs on the grate, making sure they don't overlap, and cover. Cook for half-hour, adjusting vent holes and coals to maintain 325° temperature. Mop on all sides and re-cover. Continue mopping every 30 minutes until ribs are cooked through and pull-apart tender (about 2 hours). Transfer to large cutting board and loosely cover with aluminum foil. Allow to rest 15 minutes before serving – preferably with Gnarly Head Zinfandel!