Letters from Lodi
An insightful and objective look at viticulture and winemaking from the Lodi
Appellation and the growers and vintners behind these crafts. Told from the
perspective of multi-award winning wine journalist, Randy Caparoso.

April 17, 2020 | Randy Caparoso
Voluptuary's three stunningly original iterations of Lodi grown Piquepoul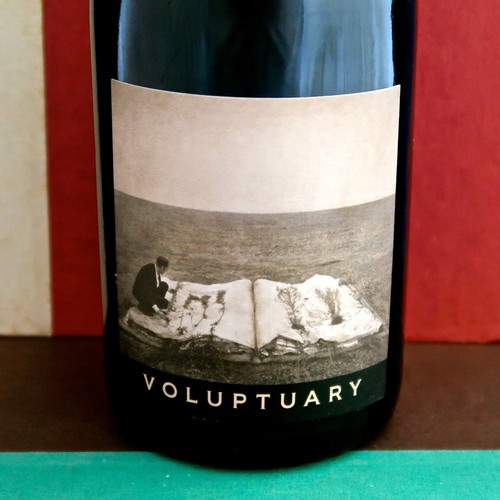 If one conception of "art" is being taken from one place to another without moving an inch, the 2017 Voluptuary Sparkling Picpoul Blanc, v. 01 - "Book of Life" ($38) is, to use a '60s parlance, a real "trip." First, this golden-colored wine — which was fermented and then aged 9 months in neutral French oak and lemon wood before being tucked into a bottle to undergo a 9-month méthode Champenoise style process resurrecting it as a sparkling wine — literally hisses and spits as it is poured into a glass, like foaming waves on a beach.
The aromas take you there with intense suggestions of lemon curd, biscuits baking in the oven, and briny scents of rocks along a seaside lapped up by cold, violent waters. And on the palate, the prickly lemon character stamps a fleeting sting on the palate, before turning silky/creamy and light (the overall alcohol of the sparkler is just 11.6% alcohol) in its bone dry and briny, lemony tart taste.
Then there is this sparkling Picpoul Blanc's art label, which is an otherworldly rendering entitled "Book of Life," attributed to Shana and Robert Parker Harrison, who are widely acclaimed photographers/artists. Also on the back label, full credit is given to the vineyard source: Bokisch Vineyards' Terra Alta Vineyard, located on the rocky clay slopes of Lodi's Clements Hills AVA.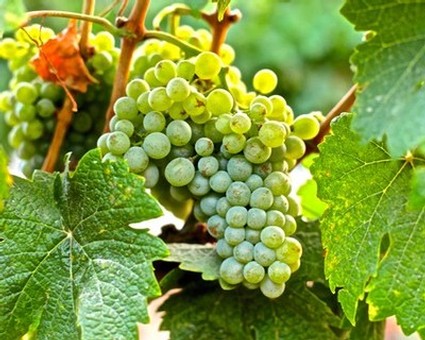 The Sacramento-based Voluptuary Wine company is owned by a winemaker named Kevin Luther, who was holding down a full-time job for another winery up until last December (2019). In fact, one of the most interesting developments in the American wine industry is the recent proliferation of winemakers of obviously prodigious talent, such as Mr. Luther. Winemakers who just can't help starting up their own, independent labels on the side, which gives them the opportunity, to paraphrase David Crosby, to let their "freak flag fly."
Many of these entrepreneurial vintners have been coming to Lodi for their fruit because of the diversity and reasonable pricing of grapes grown here in America's largest (by far) wine-growing region. All the same, Kevin Luther, who is now consulting for Wise Villa Winery in Lincoln (Placer County, CA) and other independent projects, is doing things that can only be described as unique. Different from all the rest...
And in this way: For his Voluptuary Wine brand Mr. Luther released not one, not two, but no less than three different interpretations of the 2017 Picpoul blanc (a.k.a. Piquepoul) grapes grown by Bokisch in their certified CCOF organic/LODI RULES sustainable Terra Alta Vineyard. All three wines, as a matter of fact, are as stunning as the art labels on the bottles.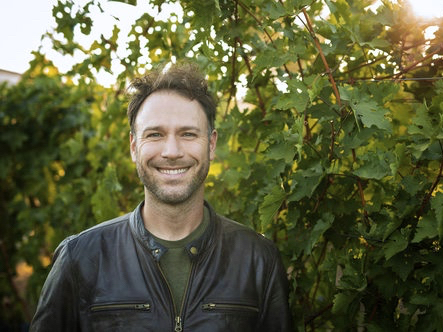 In this sense, Mr. Luther is practicing his winemaking métier as more of an artist than a craftsman. In his three different bottlings of 2017 Terra Alta Vineyard Picpoul blancs, Luther applies three different winemaking methodologies to redefine the fruit. Slightly different, that is to say, than what most of these newer, micro-scale, independent winemakers seem to be doing these days, which is focusing more on things like terroir — doing virtually nothing to grapes (starting with native yeast fermentations and practicing bare-minimal intervention in wineries) in order to preserve as much of a naked taste of the fruit, or characteristics natural to specific vineyards or regions, as possible.
Luther is not afraid to, say, apply different yeasts (both native and cultured) like a painter would his paints, or to barrel ferment and age his whites in woods of varying age and types for 9 or so months (in the case of his Lodi Piquepouls), and aggressively stir the lees (i.e. spent yeast cells left in contact with the aging wines) to exact specific textures or consistencies in resulting wines.
In his book What Is Art? the great Russian novelist Leo Tolstoy defined an artist as someone who practices "a human activity" whereby "one person consciously... conveys to others feelings he has experienced, and other people are affected by these feelings and live them over in themselves."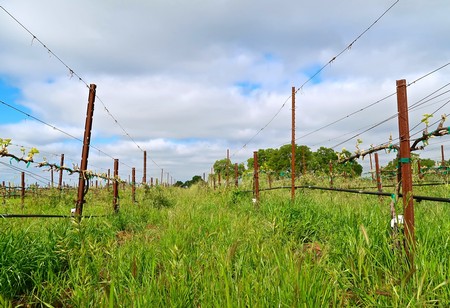 When you visit Mr. Luther's Voluptuary Wine Web site, you'll find the use of catchwords like "play," "organic," "natural," "passion," and "magic" to describe what he does, while stating that his ultimate goal is to recapture the sense of pure and unadulterated freshness he remembers from tasting fruits in orchards as a young boy hoisted up to tree branches by his father, who worked as a farm hand. Working his own "magic" as a winemaker, says Luther, helps him achieve his goal of not just "aligning with nature," but also "elevating" it — turning grapes into wines of his dreams and imagination.
Earlier this week Mr. Luther told us: "I realize my techniques are a bit non-traditional. To tie my three Picpouls all together, I used the same grapes as a chef who does an ingredient in three different ways to display how technique varies the innate flavors of the ingredient. All three versions express varietal character and terroir but through the lens of technique."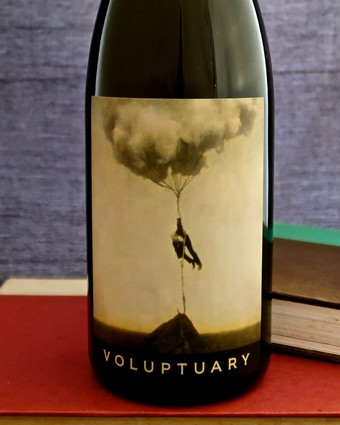 The 2017 Voluptuary Picpoul Blanc, v. 02 - "Tethered Sky" Picpoul Blanc ($28) is a more feathery, bone-dry iteration of the exact same wine going into the sparkling v. 01, finishing at just 10.8% alcohol. A brassy gold color reflects barrel fermenting and the oxidative process of 18 months aging in neutral French oak, lees constantly stirred around in the barrel to "soften" (as the back label puts it) the intrinsically sharp acid edges of the grape.
The nose of the v. 02 is of candied lemon and sugar-crystallized Chinese candied ginger with its compellingly peppery-hot/sweet taste — clearly, a wine that goes far beyond classic French Picpoul de Pinet (an appellation consisting of nearly 3,000 acres of planted Piquepoul), not to mention the more straw-colored, 100% unoaked, fruit-focused styles (green apple/pear/lemon/violet profiles) of Picpoul Blanc bottled by Lodi's Acquiesce and Bokisch wineries (please see our take on Bokisch's Picpoul Blanc in our recent post, The beauty of minerally dry Lodi whites). And on the palate, the Voluptuary v. 02's barrel influence is perceived through its silky/creamy entry, with the ginger/lemon sensations punctuated by a more discreet varietal tartness and slight, palate refreshing tug of lemon rind acerbity.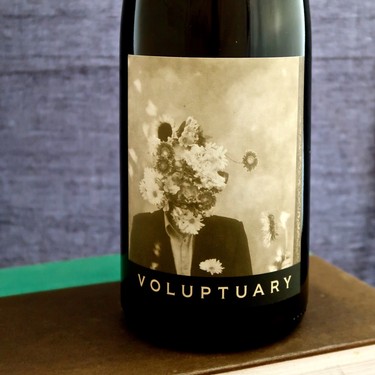 What makes the 2017 Voluptuary Picpoul, v. 03 "The Lover" Skin-Contact Picpoul Blanc ($38) drastically different from both v. 01 and v. 02 is exactly what the adjunctive clause implies: This is a white wine that was fermented with its skins like a red wine (the juice of grapes going into white wines are normally pressed off their skins before fermentation). In fact, according to Luther, "I also added the skins from v. 01 and v. 02 (crushed and drained), thus making v. 03 a 200% skin-contact wine... with such intense fruit, floral notes, and big tannins (extracted from the skins), it made sense to me to put it through ML (i.e. malolactic fermentation, when sharper malic acids are converted to milder lactic acids) and age on some newer French oak to double down on the intensity."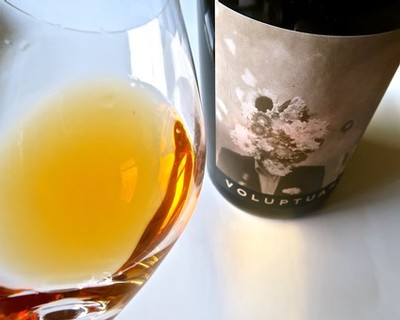 Skin-contact whites are also often categorized as "orange" wines because of the extra pigments derived from the skins and the more oxidative style of winemaking. Luther's "The Lover" is a transparent yet emphatically rusty-gold "orange" tint, and the spicy Chinese candied ginger found in the "Tethered Sky" is couched here in a caramelized aroma, suggesting the torched crust of a creamy, gingered crème brûlée. On the palate, the wine comes across as meaty and creamy textured, but the phenolic feel of tannin is minimal despite the skin fermentation and use of new oak. Instead, the middle and finishing sensations are round and silky, while still buoyed by the varietal's intrinsic crispness.
Adds Luther, "v. 03 is perfect with cornbread, sesame dishes, cheese platters, sushi or mac 'n cheese... when you want to curl up with a good book but it's too hot for red wine... (or) on a hot day and you want a refreshing wine that's still complex and layered."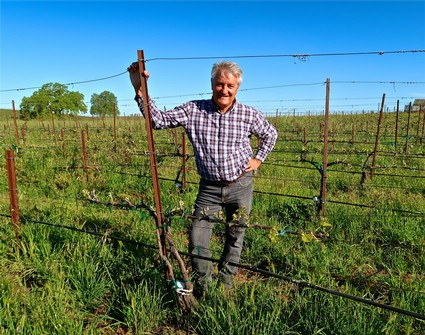 The Piquepoul Provenance (from Catalonia to Lodi)
The Piquepoul grape has a centuries-long history in the Catalan regions of the Mediterranean, where it is extensively planted in the South-West corner of France's Languedoc (particularly in the Picpoul de Pinet AOC, where the grape is mandated) as well as in Spain's Catalonia area, where the grape is known as Picapoll. Picpoul de Pinet's official Web site cites the fact that "as early as 1618, the botanist J.B. Maniol cited Piquepoul as one of the best-known Languedoc grapes in his work."
Still, another indication of how long a grape has been established in a region is evidenced by the number of clonal mutations that are also cultivated: Piquepoul also exists in the Catalan regions as a black-skinned variety (called Piquepoul noir) and well as a "gray" cultivar (Piquepoul gris).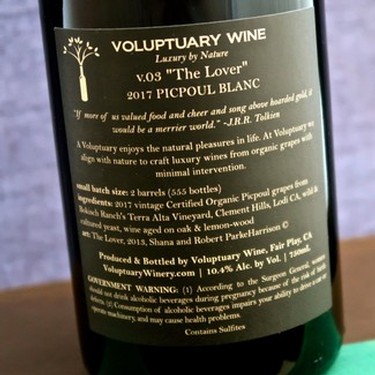 Since 2017 Markus Bokisch has field-grafted 26 rows of previously existing Viognier plants over to Piquepoul (now totaling 5 acres) at his Terra Alta Vineyard, the site of Bokisch's winery and tasting room. According to Bokisch, "Although the grape is associated with France, it is, in fact, a Catalan variety, found in the Girona area in the north-easternmost province of Spain, where my family comes from."
Like Picpoul de Pinet, which is famed for its oyster and mussel beds farmed in an adjoining inland sea (Bassin de Thau) fronting the seaside commune/resort of Sète, the delta landscape of northeast Spain is also known for its oysters as well as rice fields — hence the famous Catalan delicacy, paella Valenciana, another classic match for light and lemony Piquepoul whites. Given his family's waterlogged origin and the Sacramento-San Joquin River Delta-influenced terroir of the Lodi Viticultural Area, Bokisch's full-fledged commitment to the grape makes perfect sense.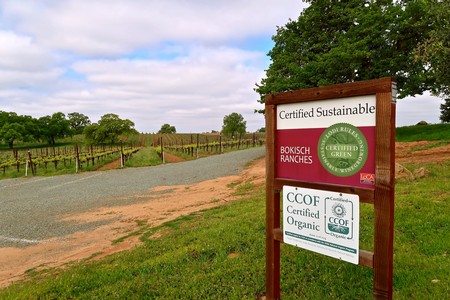 Piquepoul, according to Mr. Bokisch, is also a late and prodigious ripener. Therefore the Terra Alta Vineyard Piqepoul is trained on bilateral cordons (whereas their Viognier is cane pruned). "Cordons give better structural support to the plant," says Mr. Bokisch, "because the clusters of Piquepoul are so weighty and prolific that you have to be on top of fruit thinning."
Bokisch adds, "This year (2020) marks our 20th year of organic certified blocks here at Terra Alta. We certify organic on top of following LODI RULES not only because we believe in it, but also because it attracts winemakers like Kevin Luther, whose label is all about the integrity of organic grapes."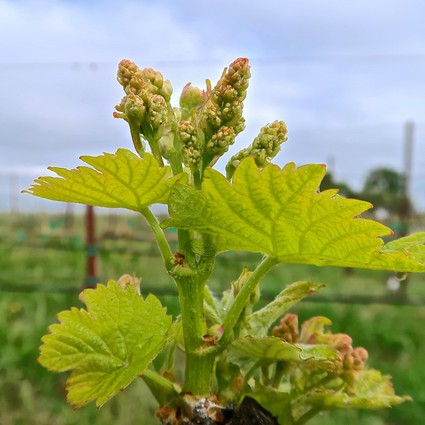 Comments