Letters from Lodi
An insightful and objective look at viticulture and winemaking from the Lodi
Appellation and the growers and vintners behind these crafts. Told from the
perspective of multi-award winning wine journalist, Randy Caparoso.

April 2, 2020 | Randy Caparoso
The beauty of minerally dry Lodi whites with saffroned chicken for shelter-in-place sustenance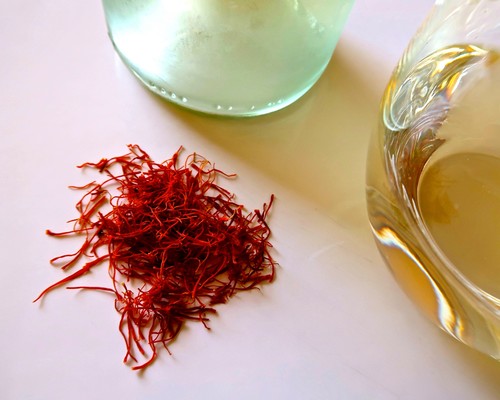 Going into our third week of safely sheltering in place, we find ourselves... with almost all the time in the world to ponder life in general. And since our own lives have been all about wines and foods, that's what we'll talk about in this leisurely post about a couple of things:
1. Saffron. How do you describe its scent and taste when used in cooking, and why is it so appealing?
2. The best wines for saffon laced foods like seafood and white meats, especially chicken (see our recipe for Saffroned Chicken Biryani at the end of this post), which are light, dry white wines with more of a sense of minerality than a clearly defined fruitiness in their taste — at least according to our experience.
First, then, what is a "minerality" in wine, and why is everyone talking about it?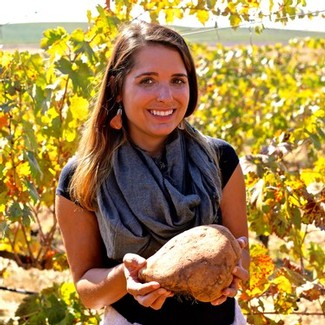 Well, maybe not everyone. But more and more American consumers are going for wines that smell and taste less "fruity," and have more of a taste suggesting minerals or stones (or like "licking wet stones," as Sarah Jane Evans MW once put it), maybe some kind of flintiness, chalkiness or underbrush, or even a brininess akin to a windswept day at a beach.
Case in point: The recently released 2019 Tizona (by Bokisch Vineyards) Terra Alta Vineyard Clements Hills-Lodi Picpoul Blanc ($25), a white wine so lean, lemon/rapier-sharp and lightweight that it's doubtful anyone in the U.S. would have been interested in this kind of wine 15, 20 years ago. It is, to put it another way, a wine that is as "un-Chard" as a wine can be.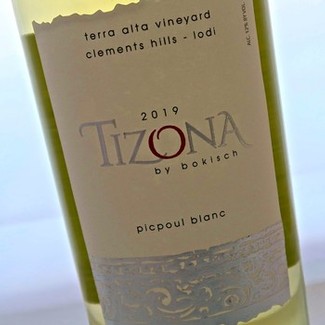 But what this wine does possess — made, as it were, entirely from the Piquepoul grape, associated with the Picpoul de Pinet appellation located right alongside the Mediterranean Sea, near the corner of South-West France where it meets Spain — is a green apple/lemon quality that comes across with a palate-slaking tartness, underlined by an almost stinging sense of minerality veering into a brininess, not unlike the taste of a fresh, raw oyster (the Bokisch Vineyards' Web site describes the taste as like "unripe pineapple" and "lemon/lime soda").
So imagine, if you will, sipping the oyster shell-toned Tizona Picpoul Blanc with roasted whole chicken bathed and stuffed with whole lemons, a dish that balances the tartness of the wine with the fruit. But if you are even more interested in bringing out the distinct minerality in the wine, we recommend enjoying it with chicken cooked in a pot with rice steeped in an earthy, pungent combination of spices like turmeric, allspice, and saffron. Any dish, in fact, punctuated by the flavor of saffron — that wild, indescribably pure, organic seasoning pinched from the stigmas of crocus flowers — has the tendency to highlight non-fruit sensations in wines which we often describe as "minerally," if not simply "earthy."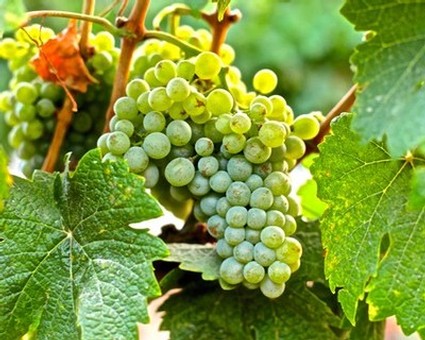 Minerality in Wine
Up until recently, flavor profiles generally described as "minerally" have been more commonly associated with wines from Europe rather than, say, the sunny climes of California. Why? Mostly because people who buy and drink European wines prefer wines with this taste profile. Most California wines are pretty much the opposite — appreciated more for their fruit expressions. Be it cherry, strawberry, raspberry, pineapple, honeydew melon, guava, or passionfruit, you name it, this is how California wines are not only typified but also how they are rated. The more strawberry, honeydew, pineapple, or guava in a New World wine, the "better" for both wine critics and most consumers.
Even professional wine competition judges — who typically know and appreciate wines from all over the world, especially Europe — have a tendency to look at wine that way. If given a round of, say, 50 Chardonnays to blind-taste and judge, the Chardonnays that are rated the highest (and thus, earning the most "gold") are the ones with the most intense, lush apple/pear/pineapple qualities of the varietal fruit typicité. The lean or low-key, minerally styles of Chardonnay? Those are rated the lowest, or "average/good" (meriting bronze or silver medals at best). Take it from someone who has sat in more professional wine judgings than he can count.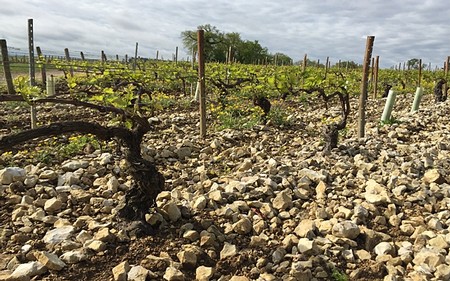 Chardonnay growing in the chalky soil of France's Chablis region (image courtesy of Anthony Gismondi on Wine)
The second reason why European wines tend to be more minerally and less fruity than California wines: Is because most of California, including Lodi, is defined by a Mediterranean climate — typified by 80°-90° summer days and summer nights dipping into the mid-50°s. While the diurnal swings are more extreme in most of California, these temperatures are similar to what you find in the huge swath of wine regions collectively called Southern France, and much of Spain, Italy, and Greece. But further north — in regions like France's Burgundy and Loire Valley or the Mosel-Saar-Ruwer and Rheingau areas of Germany — the growing seasons are much cooler, resulting in grapes that are picked at lower sugars with higher degrees of acidity.
It is no coincidence that the wines with the most intense suggestions of minerality in their flavor profiles are the wines grown in the coldest regions. Hence, the Chardonnays grown in Burgundy's Chablis region come out lighter, less fruit-expressive, and more minerally than Chardonnays grown in Burgundy's Côte de Beaune region, which is warmer than Chablis. In fact, Chardonnays grown in Chablis are so different from Chardonnays grown in California or, say, almost anywhere in Australia, you would think they were made from different grapes. Climate, or factors related to terroir (i.e. "sense of place"), have that much of an impact on sensory qualities.
You'll find the same phenomenon in Germany, where the Rieslings of the Mosel-Saar-Ruwer region, perhaps the coldest winegrowing region in the world, tend to be more tart in acidity and mineral nuanced in fruit profile than the Rieslings of the slightly warmer Rheingau region. In Germany, there is a direct relation between climate, grape acidity, and minerality in wines.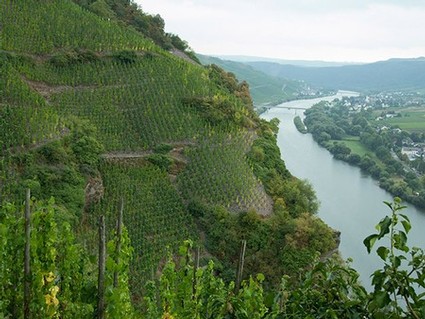 Then again, you'll also find this phenomenon nearly everywhere in the world where grapes are grown. In Australia's warm-climate Hunter Valley, for instance, Sémillon grapes are typically picked early to avoid seasonal rains, resulting in dry white wines with moderate alcohol (12% or lower), often sharp acidity, and more mineral qualities than Sémillons grown elsewhere in the world. In this case, there is a correlation between acidity and minerality regardless of climate.
There is a well-known mountaintop estate in Santa Cruz Mountains that planted Chardonnay on all four sides of the winery, at the exact same time (1980s) and in the exact same way (trellised vines on the same rootstocks, with the same clonal selection). Each year the Chardonnays grown on the south-facing slopes, which see the most intense sunlight throughout the growing season, are the most intense in varietal fruitiness, whereas the Chardonnays grown on the north-facing slopes (thus seeing less sun) are laced with minerally sensations not found in the other blocks. Even in estates where vineyard blocks are just a few feet away from each other, growing pretty much in the same climatic conditions other than the degree of sunlight, you will still find this variance: the less fruitiness and more elevated acidity in a wine, the more sense of minerality in the taste.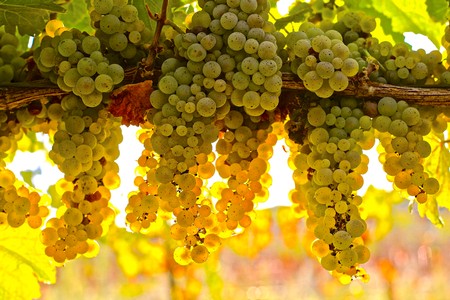 One thing we do know about the taste of minerality in wine, however, is that there is no direct relation to the mineral content found in soils. As U.C. Davis Professor Emerita Carole Meredith was quoted to say in a wine industry magazine a few years ago (re Practical Winery & Vineyard's Minerality, Rigorous or Romantic?): "The vine is unable to take up these minerals... a mineral is a complex chemical compound and when it gets in the area near the plant roots it is broken down into its component ions. Grapevines never take up a mineral, only the components of minerals."
Grégoire Pissot, a vintner in France's Mâcon region, was quoted to say in the same article that "' mineral' is, at times, used when 'acid' would be more appropriate." That is to say, you are more likely to find mineral sensations in wines with higher acidity, which is more climate-related than anything else (cooler climate wine regions tend to produce wines with a higher acidity).
Then again, there are three other factors that often contribute to mineral sensations in wines:
1. Alkalinity of soil
2. Grape variety
3. Winemakers' choices
Re soil alkalinity: Although it is impossible for vines uptake the "taste" of minerals from the ground, soils with a high-pH (typically 7.5 to 8.5) alkalinity have long been known to result in inverse proportions of higher acidity in grapes, resulting in higher acidity in wines. As a Master of Wine named Tim Atkin once put it, "High-pH (alkaline) soils, such as chalk, encourage the vine's metabolism to produce sap and grape juice with a relatively high acid content."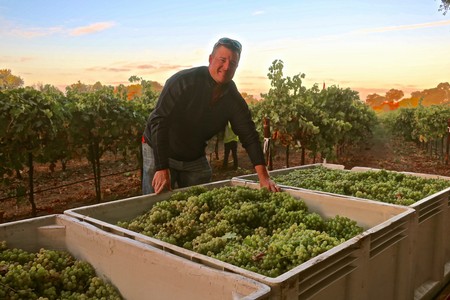 Hence, the elevated minerality in Chardonnays grown in France's Chablis region is known for its high-pH limestone soils, resulting in wines with acid-driven minerality. By the same token, it is not unusual to find mineral sensations in Chardonnays grown in California's Paso Robles AVA because certain parts of that appellation are replete with high-pH calcareous soils — to a much higher degree than most of California — notwithstanding the fact that Paso Robles is a considerably warmer winegrowing region than Chablis.
Secondly, there are grape varieties that are predisposed towards minerality, even within the context of fruit profiles. For instance...
• Albariño, which grows extremely well in Lodi, can be citrusy, floral as well as honeyed or tropical fruit scented, but the lip-smacking acidity that is also typical of the varietal often lends a mineral or flinty aspect to palate sensations.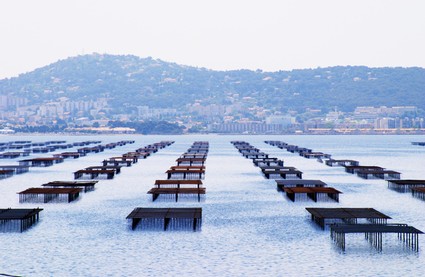 • Vermentino is a Mediterranean grape that retains zesty acidity and a restrained, leafy herb varietal aroma often coming across as more minerally than fruity, whether grown in the sun-soaked regions of France's Provence and Corsica regions or in the various nested appellations of Lodi.
• Piquepoul (usually bottled as "Picpoul Blanc" in Lodi) is a South-West French grape that loves hot summers, yet always produces a lemony tart white wine with a fruit profile that is typically restrained enough to let mineral sensations lead in the nose and on the palate.
Other white wine grapes cultivated in Lodi that are known to produce white wines with mineral qualities include Clairette blanche, Grenache blanc, Kerner, Riesling, and Bacchus.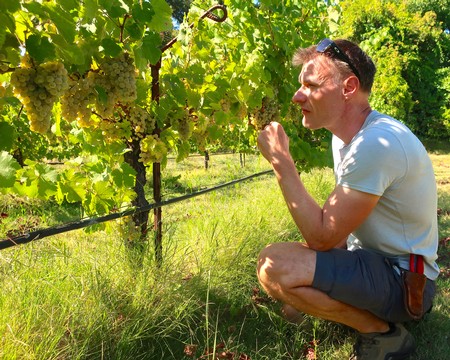 This brings us to the third factor, which also explains why white wines with some degree of minerality were never associated with Lodi up until recently: The advent of winemakers who make the conscious decision to pick varieties that are more predisposed towards minerality, and then are picking them early enough in the season to retain higher natural acidity and lower grape sugars, resulting in crisper wines with low to moderate alcohol as well as less overt fruitiness — all factors leading to wines with varying degrees of mineral or earth-toned qualities in their sensory profile.
Minerality In Lodi Grown Whites
Besides Bokisch Vineyards, there is a small yet growing number of other Lodi-based wineries that have been making a deliberate movement towards wines crafted from earlier picked grapes. Good examples include Acquiesce Vineyards & Winery, Fields Family Wines, Heritage Oak Winery, McCay Cellars, and PRIE Winery. Working in facilities located outside of Lodi, producers such as Avivo (by DeVero Farms), Ferdinand, Holman Cellars, Leaf and Vine, Odisea/Cochon, Precedent, Sandlands, Sidebar (by David Ramey), The Scholium Project, Uvaggio have been taking a similar approach with various grapes going into whites, reds, and rosés.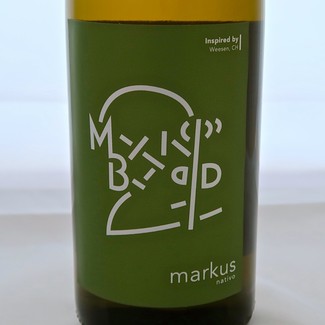 But the poster child for this new-fangled style of Lodi-grown wine is probably Markus Wine Co.'s Swiss-born owner/winemaker Markus Niggli, who has a penchant for alternative grapes and native yeast fermentations. Niggli reports that all the grapes going into his 2019 Markus Wine Co. Mokelumne Glen Vineyards Mokelumne River-Lodi Nativo ($22) were picked close to a starting Brix (i.e. sugar reading) of 21.8°. The result is a bone-dry white that puts a mineral character upfront and centered in this blend of Kerner (80%), Bacchus (11%), and Riesling (9%) grapes. There is a twist of lemon, a squeeze of mandarine, and a hint of pear in the nose, but otherwise, the nose and flavor of this steely/tart wine are dominated by the long, flowing flinty minerality. This is Mr. Niggli's seventh vintage of Nativo, in which he has consistently hit the mark with this original, oak-free amalgamation of German grapes.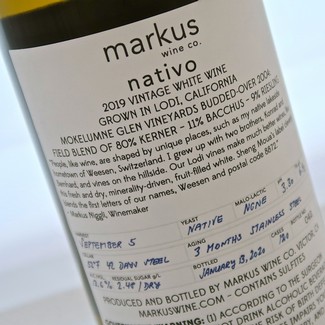 A little newer to the dance, but already making a huge impact on Lodi's relatively small community of artisanal vintners, is Peltier Winery's Susana Rodriguez Vasquez. Ms. Vasquez shows off her own blending chops with her 2018 Peltier Winery Lodi Prééminence ($30), the third vintage of her dynamic mix of Vermentino, Sauvignon blanc, and Chardonnay (approximately a third each of these grapes going into Prééminence cuvées). 2018 is a model of restraint and varietal tension — very subtle notes of pear, melon, and minerals in the nose and silk-textured flavors that roll across the palate with acid-driven resonance — despite the fact that the Chardonnay component in this wine is fermented and aged 10 months in new French oak barrels. The Vermentino and Sauvignon blanc are kept for 10 months in stainless steel tanks in contact with lees (i.e. spent yeast cells), to, in Vasquez's words, "protect the wines" before blending and bottling. It is likely a testament to the strength and intrinsic mineral character of the Vermentino grape, and the high toned acidity of Peltier's Sauvignon blanc plantings, that there is nothing "oaky" about the Prééminence — the overall feel and profile of the wine is much more of a crisply balanced, vibrant, distinctly unfruity amalgamation.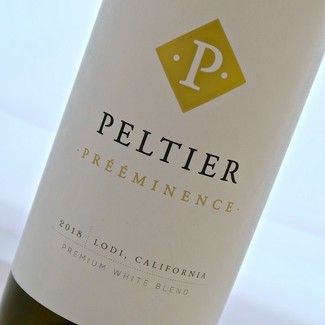 Saffroned Chicken Biryani
So how do you describe the taste of saffron when infused into dishes? Think of it as floating in the ocean with your eyes closed, off a pillowy soft Hawaiian beach; or like the oil of citrus peels on your fingers, a distant smell of burning hay or grass, a clove roasting on a cast iron pan, cold humus in the garden, dusty velvet in grandma's sitting room, sun-dried fruit, or even, not uncommonly cited, afternoon sex (saffron is a long known aphrodisiac)... that's the compelling taste that saffron can bring.
Whatever it is, it's almost magical how saffron brings out the often elusive qualities of white wines that may be nearly neutral in fruit expression but have varying degrees of minerality that can pull all the subtleties (in both a saffron-laced dish and wine) together.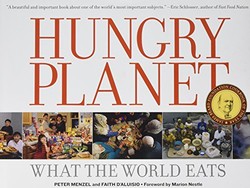 Hence, this Kuwaiti-inspired recipe for saffroned chicken and rice, adapted from a chapter in Peter Mentzel and Faith d'Aluisio's James Beard Award-winning Hungry Planet, which does wonders with bone dry, minerally toned white wines:
2-1/2 cups basmati rice
1 tsp. saffron (soaked 10 minutes in warm water), plus a few saffron threads saved for garnish
2 tsp. canola oil
2 medium sweet onions, minced
4 cloves garlic, crushed
1/2 tsp. fresh ginger, minced
1 whole chicken (about 4 lbs.), cut into pieces
salt (to taste)
1 tbsp. ground coriander
1 tsp. turmeric
3 tsp. allspice
2 tbsp. butter
1 cup plain yogurt
1 medium fresh tomato, diced
1 tbsp. fresh lemon juice
Optional garnishes:
1 medium sweet onion, minced (fried to brown crispness)
1/4 cup golden raisins, fried
1/8 cup crushed cashews, fried
1/4 cup pine nuts, toasted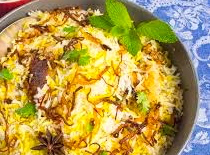 Heat Dutch oven pot on the stove and add oil; when oil is hot, add onions, garlic, and ginger, and sauté until onions are translucent. Add chicken pieces, salt, coriander, turmeric, 1 tsp. of the allspice, yogurt, tomato, and lemon juice. Stir over moderate heat for 7 minutes, taking care to prevent the yogurt from boiling. Add water to cover the chicken, with salt to taste; cover with a lid and cook at a high simmer for 45 minutes. Towards the end, preheat oven to 350°.
Add rice to pot with butter, saffron, and remaining allspice; stir to combine. Cover the pot with aluminum foil and pot lid, and cook in the oven for 45 minutes. In the meantime, prepare garnishes (fry raisins and cashews with onions). Remove pot from oven, stir to combine, sprinkle with extra saffron threads, and serve with optional garnishes on top or on the side.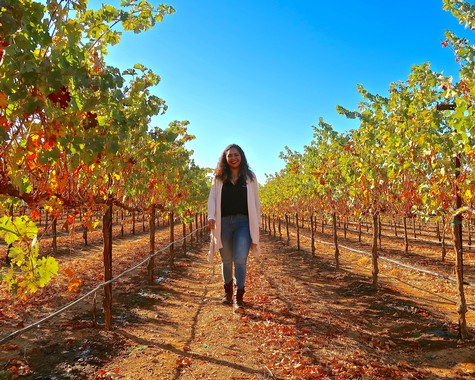 Comments