Letters from Lodi
An insightful and objective look at viticulture and winemaking from the Lodi
Appellation and the growers and vintners behind these crafts. Told from the
perspective of multi-award winning wine journalist, Randy Caparoso.

February 21, 2022 | Randy Caparoso
The mayor takes a gold (for the 2018 Burlington Chandler Cabernet Sauvignon)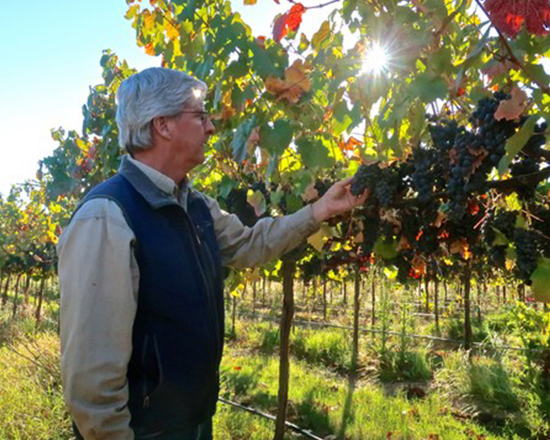 Besides a Sweepstake-winning white, Lodi vintners and growers garnered dozens of gold medals at the 2022 San Francisco Chronicle Wine Competition last month. The competition was stiff, involving wines from all over North America. In 2022, as in past years, this entailed over 5,500 entries submitted by some 1,000 wineries. As wine judgings go, this is as big as it gets.
For 25 years Mark Chandler has served as a judge at the yearly San Francisco Chronicle Wine Competition. This does not preclude him from entering wines bottled under his own brand into the competition. Thank goodness, because Mr. Chandler's 2018 Burlington Chandler Lodi Cabernet Sauvignon ($30) was awarded a gold medal at said competition.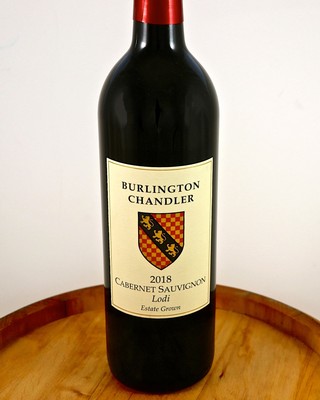 On the streets of Lodi, as it is, Mr. Chandler is known as Mayor Chandler; and of course, as plain ol' "Mark" to a great many citizens who consider him a friend. Chandler has recently begun his third stint as Lodi mayor. In this city, mayors are selected from among five City Council members, and they serve two-year terms — a system that seems to take a lot of the politicking and grandstanding out of the process. At least in a modestly sized municipality (population, about 68,000) like Lodi.
The grapes from which the 2018 Burlington Chandler is crafted comes from a 40-acre vineyard owned by Mark and his wife, Jan Burlington Chandler. You could say that Jan is just as well known around Lodi as Mark, in her capacities as President of San Joaquin Sulphur Co. (what better business to co-own in the middle of the nation's largest winegrowing region?) and Co-Chair of the Lodi Memorial Health Foundation.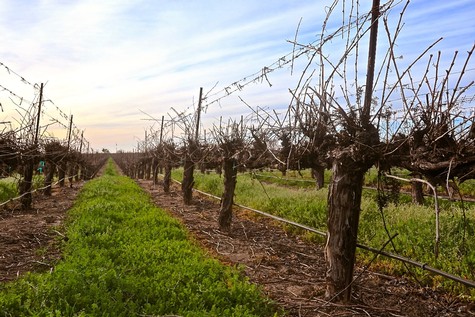 The vineyard was planted in 1997 by Jan and Mark even before their marriage, when they formed Mokelumne River Partners with Jan's brother David. The Cabernet Sauvignon grapes were originally contracted entirely to Woodbridge by Robert Mondavi. Chandler and the Burlingtons' original vineyard is currently farmed by LangeTwins Family Vineyards (who planted all the Mokelumne River Partners properties).
It's the physical provenance of the wine that speaks directly to its sensory profile: The 2018 Cabernet Sauvignon combines a meaty, medium-full-bodied feel with a rounded, supple texturing. Don't get me wrong, it's still a "Cabernet" in the sense of retaining a sturdy, palate-gripping tannin edginess. Its "Lodi-ness," however, is expressed in a compellingly fruit-focused nose — aromas suggesting red berries, a fruitful cassis-like scent, and smidgens of coffee beans, tobacco, and olive. It's this balance of sturdiness and come-hither ness that undoubtedly impressed the 2022 San Francisco Chronicle judges.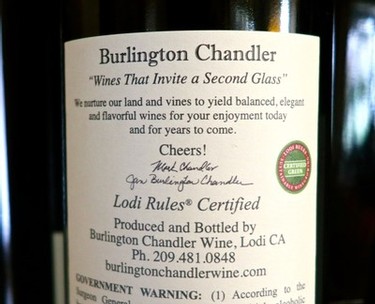 Mr. Chandler puts it this way:
This Cabernet is unique in several ways. The vineyard sits on a bluff overlooking the Mokelumne River on the north side of Highway 88 between Lockeford and Clements. On clear days it offers a stunning view of the snow-clad Sierra Nevada mountains. The soil is a deep sandy clay loam, laid down by alluvial flows from the river. It is farmed under LODI RULES for Sustainable Winegrowing.
Furthermore, adds Chandler, although the vineyard is located in the Clements Hills appellation, might as well be considered more of a Mokelumne River AVA vineyard because of the extremely deep, sandy loam soil of the site.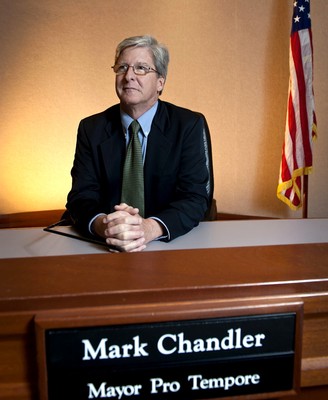 He adds:
After 25 years, the trunks of this vertical shoot position trellised vines have become stout, storing ample carbohydrates to jump-start the vines in the spring. The cordon is low, about 30" above the vineyard floor, and the canes are supported by a series of catch wires, maximizing leaf exposure to the sun. Drip irrigation assures efficient water use, spoon-fed at specific intervals over the season.
This vineyard is treated with a cutting-edge cultural tool called the AgroThermal System Technology. Basically, it is a propane burner on wheels that is drawn by a tractor through the field which blasts 350-degree heat through the canopy several times per season between bud break and veraison. This treatment enhances pollination and fruit set and results in berries with higher antioxidant and polyphenol content. These characteristics yield wines with much greater color and tannin structure than non-ATS grapes. These attributes are evident in the mouthfeel of this Cabernet Sauvignon.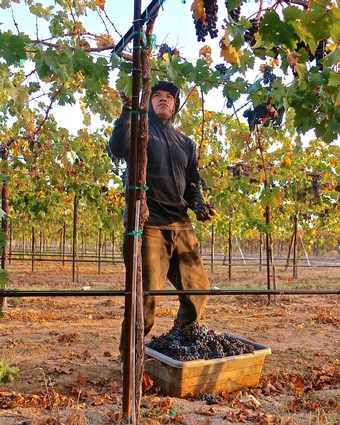 Dave Chandler, Mark, and Jan's son, spent this past weekend helping to prune the Burlington Chandler section of the Hwy. 88 vineyard. How do a mayor and City Council member find time to meticulously farm grapes and make wine all at once? He doesn't. Chandler explains:
LangeTwins does a great job of farming the vineyard for us. We take only some of the fruit. In 2018 Markus Bokisch's crew picked 10 tons of the Cabernet in the early morning of October 23. The grapes came off a few rows that I had farmed differently — fewer buds, ATS treatment, less water, etc. My goal is to vertically integrate as much of this field as possible for the Burlington Chandler brand.
Insofar as winemaking, Mayor Chandler enlisted the talents of John Giannini, who had just recently retired as winemaker of the Van Ruiten Family Winery.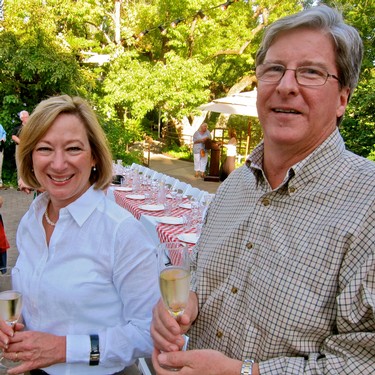 Chandler tells us:
After crushing, fermentation on skins, and pressing, John and I tasted 2018 as a young wine. We were mightily impressed by the dense color and expressive tannins, which I attribute to the ATS treatment. It was racked into 30 second-year American and French oak barrels, where it rested for 24 months. The long barrel time is also a factor in the complexity of the mouthfeel. It was bottled on May 27, 2021. Now, after 7+ months in the bottle, it is showing extremely well.
Mark and Jan Burlington Chandler also know their way around the kitchen stove and dinner table: On their website, they recommend their Cabernet Sauvignon with "beef, lamb or portobello mushroom with a rich, suave sauce of demi-glace, if not melted garlic/shallot butter."
Or, you might just want to grab a bottle and take it down to a classic American steakhouse such as Woodbridge's Oddfellows Tavern, or Lodi's postage-stamp-sized Zin Bistro which always does killer lamb shanks and tenderloin of beef...
And raise a toast to the Mayor and Lodi's rich and sandy riverside soil!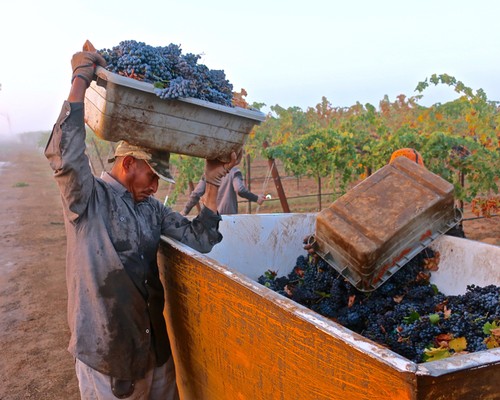 Comments