Letters from Lodi
An insightful and objective look at viticulture and winemaking from the Lodi
Appellation and the growers and vintners behind these crafts. Told from the
perspective of multi-award winning wine journalist, Randy Caparoso.

June 26, 2023 | Randy Caparoso
Global encompassing The Old Vine Registry launches, with 53 Lodi AVA vineyards
Today (June 26, 2023) marks the official launch of The Old Vine Registry (re oldvineregistry.org). This is a big deal. As it states on its home page, The Old Vine Registry is "the world's first crowd-sourced global database of living historic vineyard sites." Its goal, "to create the world's most authoritative record of these vineyards in the hopes that through greater awareness and attention these vineyards and the wines they produce will survive and thrive."
In this morning's internationally broadcasted webinar announcing the website's debut, renowned British author and Master of Wine Jancis Robinson remarked on how The Old Vine Registry grew "out of an Excel spreadsheet started 13 years ago, and grew and grew until it became impossible to manage... we decided it should have its own website—one that is free and open to all, and can continue to grow organically."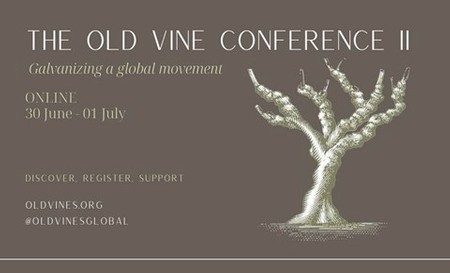 Alder Yarrow, the author of the internationally followed Vinography and JancisRobinson.com contributor, was tasked with organizing The Old Vine Registry site. In the webinar Yarrow commented, "We have about 2,200 records of old vine vineyards... there should be another 10,000 from around the world added to the Registry by the time we're done." Yarrow explained that "old vine" according to The Old Vine Registry is defined as vineyards at least 35 years or older—"35 years because that's when vineyards are typically torn out and replanted."
The Old Vine Registry is also an outgrowth of the U.K.-based The Old Vine Conference, a campaign undertaken to promote old vines around the world over the past two years. One of the conference co-founders Sarah Abbot MW remarked this morning that old vines are "living lessons of how we can farm wines more sustainably in the future," citing studies that conclusively demonstrate how old vines "are better able to withstand drought and heat stress and give better quality wines."
JancisRobinson.com senior editor Tamlyn Currin added, "One of the goals is to open up discussions around the world on how to plant young vineyards that are capable of growing older." The Old Vine Registry, says Abbot, "gives old vines a home... It is not just a list, it also has links to sites where you can find the wines made from these vineyards [primarily on wine-searcher.com], essentially making it possible to 'drink the vineyard.'"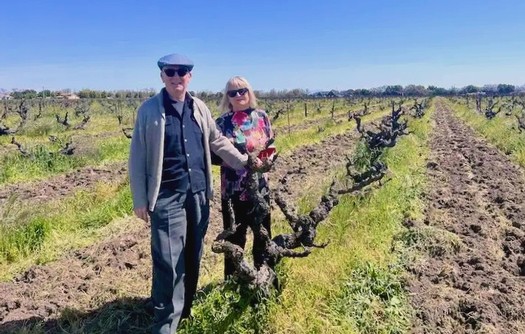 The goals cited by these minds behind The Old Vine Registry is simpatico with Lodi's own Save the Old movement, launched three years ago to drum up awareness and appreciation of Lodi's old vines. Whereas as the Old Vine Registry lists vineyards 35 years or older, in Lodi we consider vineyards with original plantings at least 50 years old to be "old vine"—in alignment with California's nonprofit Historic Vineyard Society. As the Lodi growers write on their own Save the Old page:
Here in Lodi, California, old vines are living, breathing remnants of our winegrowing history; silent reminders that our roots in farming run deep... Generation after generation, our growers have cared for thousands of acres of these old, gnarly, 50-, 75-, 100-plus-year-old vines out of love and nostalgia. Due to their labor of love, Lodi is indisputably home to California's highest concentration of own-rooted, old vine vineyards—a fact which is a source of great pride among our community.
But these old vine vineyards are in danger, and not only in Lodi. Each year in California, hundreds of acres of old vine vineyards are ripped out. Increasing costs of vineyard management, low yields, urban developments, and a diminishing return (i.e. scant prices) is forcing many growers to replace beloved vineyards with rows of younger, more productive vines.
These living artifacts of agricultural history are disappearing, one by one. And once they're gone, they're gone. And so are the special wines made from those vineyards. As special as they are, we believe these old vine vineyards deserve to stay in the ground. Our mission is simple: preserve Lodi's historical vineyards for generations to come. And in doing so, inspire a movement among like-minded people throughout the winegrowing regions of California and beyond.
But we can't save these vineyards alone. We need someone like you to care as much as we do; to seek out these vineyards and the wines that are made from them; to tell their stories and advocate for their preservation.
As The Old Vine Registry puts it:
... Saving old vines is not a romantic endeavour, it is addressing a planetary crisis... Old vines carry the secrets of survival and have adapted to stress over decades and even centuries. They are often more resilient in times of drought and heatwave, they have learnt to live with or develop immunity to pests and diseases, they have survived extreme weather events.
Old vines are also much more adapted to the soils they're planted in and therefore more resilient. Unlike young vines, they don't need irrigating and they need less, if any, chemical inputs to survive. Old vineyards are also often full of clonal diversity and rare varieties. The genes of old vines can be studied, and old-vine material can be propagated for more resilient young vines.
In addition, these big, gnarly vines are significant reservoirs of biomass and carbon; they play vital roles in local hydrological cycles; their old, deep-and-wide root networks are inextricably bound up with and connected to the mycorrhizal networks that sustain, feed and protect our soils. Old vines are also linked to social sustainability in terms of retaining, preserving, celebrating, recognising, respecting and dignifying tradition, old wisdom, handed-down knowledge, experience and the people who are an integral part of that.
In respect to the question of how to protect and save old vines, The Old Vine Registry's proposal is, as they put it, "blunt"... the "answer is to monetize." Among The Old Vine Registry organization's suggestions:
Old vines cost more. They also have more value. We need to value old-vine wine more than we do. Governments need to stop funding rip-out schemes that replace older vines with young vines that need irrigating for many years (irrigation systems which may not be viable in the future). Governments, businesses, organisations and academic institutions need to fund protection schemes, tax-break incentives, supportive education and training for winegrowers, trials and research. Wine producers need to pay more for old-vine grapes; importers, distributors, retailers and consumers need to all be willing to pay more for old-vine wines.
Our hope is that The Old Vine Registry will build a community of people and places, and energise a global ecosystem that sets this in motion.
Lodi vineyards listed on The Old Vine Registry
While The Old Vine Registry's listing is meant to be fluid and continuously updated, out of the 349 American vineyards recognized on the initial list, 53 of these vineyards fall in the Lodi AVA (i.e., American Viticultural Area).
The Lodi appellation vineyards currently listed by The Old Vine Registry (photos of most of the vineyards above each listing):
Comments