Letters from Lodi
An insightful and objective look at viticulture and winemaking from the Lodi
Appellation and the growers and vintners behind these crafts. Told from the
perspective of multi-award winning wine journalist, Randy Caparoso.

May 18, 2020 | Randy Caparoso
Thank God for Sister Sera's meatballs and the zesty uncomplicated reds we love to drink with them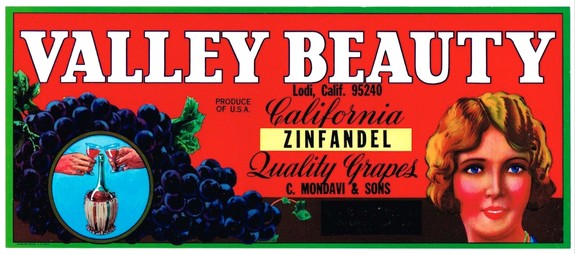 Full-on into our third month of SIP living, it still is as good a time as any to talk about wines that taste great with the foods we love most. Ask just about any red-blooded American to name their all-time favorite home-cooked meals, and at the top of most lists would be pizza, steaks, and pasta, maybe followed by hamburgers and tacos.
Among pasta, mac' and cheese always ranks tops — hard to beat for sheer comfort (since most of us were brought up by parents with a lazy streak, and there's no dish as fast, easy, and a guaranteed winner with kids as mac' and cheese) — followed by spaghetti, either with tomato sauce or, if you want to get "fancy," meatballs.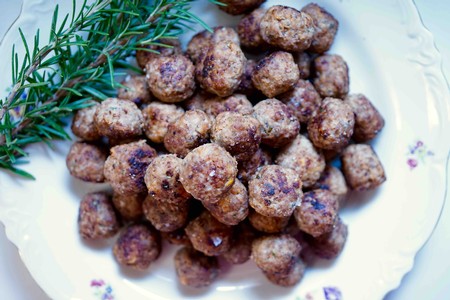 Original Italian-style meatballs called polpette — moderate in size, made without onions, and consisting largely of meat, breadcrumbs, and cheese (image courtesy of Bellina-alimenari.com)
There are a lot of good meatball recipes floating around out there, but I happen to think the greatest meatballs in the world were always made in my own home, by Mrs. Caparoso. Heather Caparoso is actually Irish-American, but the reason she cooks a mean meatball is that she has always been faithful, to a tee, to a recipe handed down to her from an Italian nun back in the mid-1970s. I'll let her tell her own story, unedited and unfiltered because it's a good one...
This recipe was given to me by Sr. Sera, a Daughter of St. Paul's sister at St. Theresa Church in Honolulu. Sr. Sera had cooked for a discernment retreat I attended way back when I was 20 years old. We were there to discern whether we had a vocation to become a Daughter of St. Paul. The lunch they served us was so delicious that when it was over I asked if I could have the meatball recipe. The other sisters took me into the convent kitchen and introduced me to Sr. Sera, the convent cook.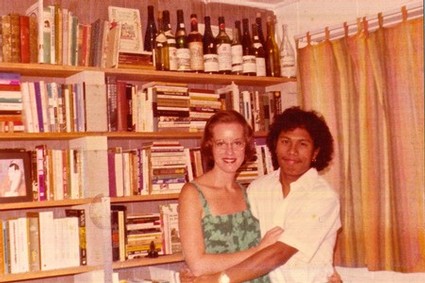 But the DOSPs are an Italian order, and I found that Sr. Sera spoke no English! So one of the other sisters stayed in the kitchen to translate for me. Sister Sera was all smiles, and so happy I wanted her recipe, but she measured in handfuls. She would show me how many handfuls of an ingredient she used, while the other sister tried to translate. So this is Sr. Sera's recipe:
To 1 lb. of ground beef (or a combination of beef, pork, and veal, if available) add —
1 or 2 eggs
2 palms full of breadcrumbs, about 1/2 cup
1 palm full of grated cheese (preferably Parmigiano-Reggiano or Parmesan, or Cheddar in a pinch), about 1/4 cup
1 small palm full of chopped fresh Italian parsley, or 1 or 2 teaspoons dried parsley
Salt and pepper to taste (I use a little less than 1 teaspoon salt and several grinds of pepper)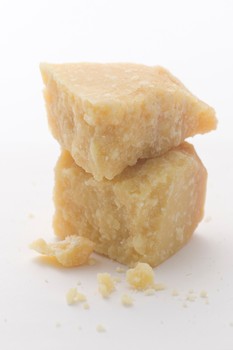 Sister was quite specific that the meatballs should be small, no more than 1 or 1-1/2 inches across. I usually toss them in a little flour and then fry them in olive oil. After the sauce is made, I braise them very gently in the sauce. Just as Sr. Sera showed me, so many years ago.
And I never did have a vocation. Instead, I met Randy and we had four wonderful children, and now five grandchildren with another due in October! For me, I made the better choice.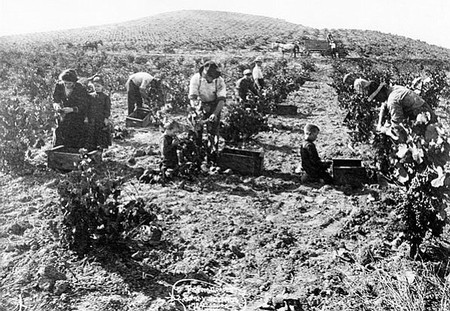 Classic Spaghetti-and-Meatball Wines
Here's the other thing about spaghetti, especially when you go through the trouble of making meatballs: It's a fantastic dish for wine. Red wine, of course. In the "old days," before people started getting uppity or connoisseur-ish about wine, the red wine of choice for spaghetti night was Chianti from Italy, which used to be sold in fat-bottomed bottles (typically 1-liter or 1.4 liters, called fiascos) wrapped in straw. It always seemed like the cheaper the Chianti — that is, the Chianti reds that were the lightest in color and body, lean, notably tart, and not especially deep in flavor — the better it tasted with spaghetti, tomato sauce, and meatballs.
Heavier or more complex wines that are aged in expensive oak barrels — particularly those made from classic French grapes, like Cabernet Sauvignon or Merlot — are a decent match for spaghetti, but never as good.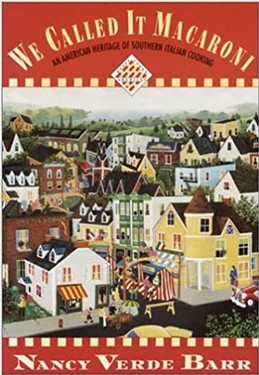 And there's a simple reason for that, which is the palate instinctively knows that when you have a red wine dish in a sauce with the sweetness and sharp acidity of tomatoes (also bearing in mind that the "secret" ingredient in spaghetti sauces has always been sugar, which is needed to balance the sharpness of tomatoes), the best tasting wines are those that are light, lean and a little tart. Like classic, cheap Italian Chianti.
So here's the fun part about wines today: There are now many more types of wines sitting on our store shelves screaming to be popped open with spaghetti, tomato sauce, and meatballs. It doesn't have to be Chianti. Spaghetti-and-meatballs is notorious in that, to begin with, it never really was an authentic Italian dish.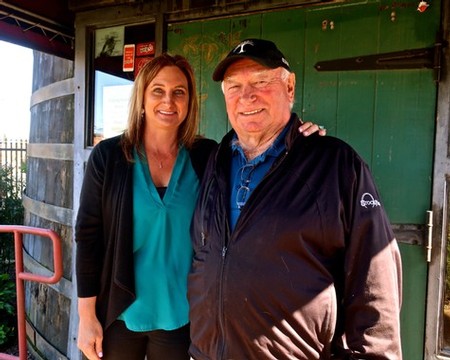 All the food historians say, as you can read in Smithsonian Magazine, that spaghetti and meatballs originated after some 4 million Italians immigrated to the U.S. between 1880 and 1920 — the majority from impoverished regions like Sicily, Calabria, Campania, Abruzzi, and Molise: "These poor immigrants went from spending 75% of their income on food in Italy to only 25% in America... With more money came more food... meat became a meal staple instead of a rare (if at all) luxury... The comforting meatballs were the perfect solution to the quality of beef available. With the boost in income, not only was more meat consumed but in much larger quantities."
Although in the "old country," there was such a thing as meatballs (called polpette), these were typically the size of marbles and traditionally eaten as-is, with no sauce or pasta. But in America, Italians could increase the size of their meatballs, and decrease the ratio of breadcrumbs to meat in their recipes, which became a favorite home-cooked meal and an Italian restaurant staple.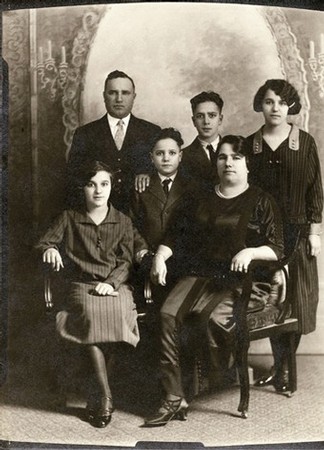 Things also changed when Italian-Americans first ventured out to California, along with the rest of the forty-niners: They did not cultivate grapes like Sangiovese, the primary black-skinned grape of Italy's Chianti region. Instead, they made their red wine primarily from Zinfandel, a grape that thrived in California's Mediterranean climate (meaning: hot, dry summer days alternating with nights dipping down into the 50°s, allowing grapes to retain their fresh natural acidity). And Lodi (like Napa Valley, Sonoma County, and the Sierra Foothills) is as "Mediterranean" as it gets. Hence, the fact that there is more Zinfandel grown in Lodi than anywhere else in the world, which is what also drew many of the post-WW II industry leaders (particularly those of Italian descent, such as the Gallo, Martini, Sebastiani, and Mondavi families) to the region seeking grapes to make their "jug" as well as varietal table reds.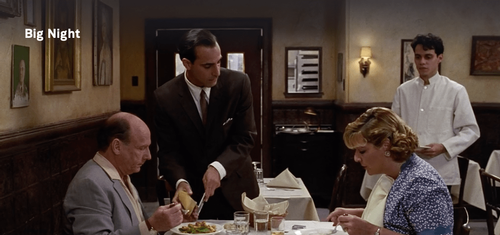 Therefore, not coincidentally, Zinfandel has also always been a classic American spaghetti-tomato-and-meatball wine. Especially old school (i.e. pre-1990s) Zinfandel, which was typically light, fragrant with red berryish fruit, fairly soft in tannin, and zestier in acidity than most varietal reds — specifically because of the variety's penchant for setting unevenly sized berries (i.e. millerandage, resulting in smaller berries in a typical Zinfandel cluster having zestier acidity because of their higher skin-to-juice ratios).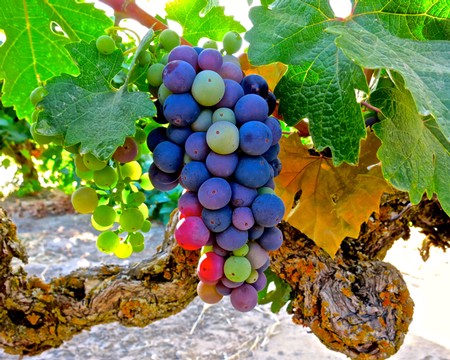 The good news is also that more and more of California's Zinfandel producers are veering back to "old school" styles — picking grapes a little earlier, when they have higher acidity and less sugar resulting in lower alcohol levels, and also backing off on oak influence to produce wines that are a lighter, purer and zestier than the big, fat, ultra-ripe styles that were more in fashion just 10 to 20 years ago. While this is more a reflection of consumers' perpetually evolving taste, this also means Zinfandel is getting back to being more of a culinary wine — especially for spaghetti and meatballs!
In our recent post entitled How to delineate the proliferating styles of Lodi Zinfandel, we cite the following Lodi-grown Zinfandels that fall into this light to medium-bodied style with more of an emphasis on zesty acidity plus subtle (if not negligible) oak qualities. Re:
Stellina (by Estate Crush) – Usually all about fine, lacy texturing and floral scents tinged by sweet black pepper spice, buoyed by pomegranate-like zestiness and deceptively restrained, almost light feel.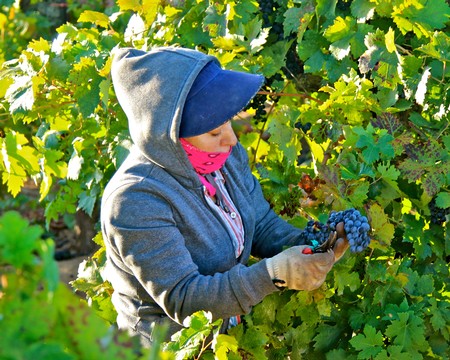 Maley Brothers (bottled as Lodi Native Wegat Vineyard) – Luscious floral-jammy notes (boysenberry, blueberry) yet bright, buoyant, and restrained on the palate.
Michael Klouda Wines, Hatterle — Picked early to put a refreshing emphasis on bright acidity and lean body, showing quiet yet bright, focused, dusty berry perfume and flavor.
Peirano Estate, The Immortal Zin — Fresh, bouncy, titillating raspberryish varietal fruit, unhindered by any ungainly tannin, oak, or alcohol.
Precedent Wine, Victors — Virtually oak-free, pure, and pristine black cherry fragrance typical of Lodi's east side; zesty and edgy with natural acidity, yet silky fine and balanced.
Precedent Wine, Kirschenmann Vineyard — Following the winemaker's pure, pristinely fruited style but even more pronounced in strawberry/cherry fragrances and almost ethereal, silken fine layers and textures.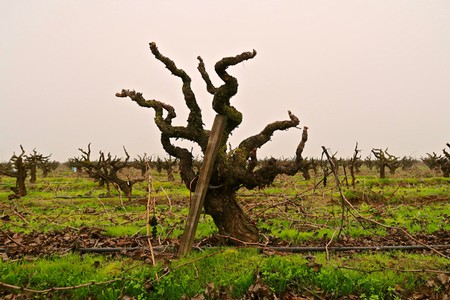 Sandlands, Lodi — Non-vineyard-designate Zinfandel coming entirely from Kirschenmann Vineyard, showing off the edgy, prickling acidity and purity of layered, oozing, flowery/cherry/strawberry fruit profile for which this 1915 planting has become known.
Alquimista Cellars, Jessie's Grove — From Lodi's oldest Zinfandel block (planted 1886), crinkly, refined sensations with Pinot noir-like silkiness, and exquisite, flowery red fruit fragrance (strawberry/cherry/raspberry) tinged with tea-like spice and faint loamy earthiness.
Stonum Vineyards — Lean, edgy, zesty yet svelte style focused on a pure expression of energetic fruit, tinged with floral, red, and blueberry perfumes.
Maître de Chai, Stampede Vineyard — Ultra-bright Clements Hills-Lodi grown style; compact, dense yet svelte in feel with cherry/boysenberry pie aroma, prickly acidity, and sturdy tannin.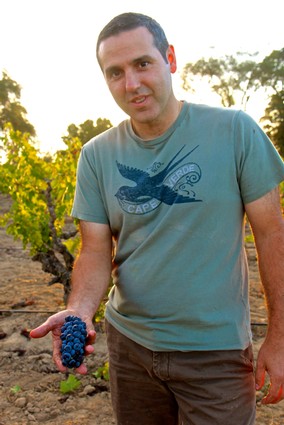 LangeTwins Family Winery & Vineyards, Estate — Bright black cherry and black tea-nuanced fruit front and center in this moderately weighted, accessibly rounded rendering of the grape.
Heritage Oak Winery, ZINHEAD — Accent on jammy, sweet-toned red/black fruit, but also zippy with acidity and a sense of pure varietal exuberance in a vibrant medium-full body.
OZV (by Oak Ridge Winery) — Nose of unabashedly lush, jammy, plump black and red berryish fruit, delivered in soft, round, and pliant medium-bodied sensations on the palate.
Finally, in last week's post on Lodi's Cheese Central's top-selling artisan cheeses during the weeks of SIP, we talked about how the classic "grana" cheeses — that is, cheeses that are typically grated for their umami sensations, such as the Parmigiano-Reggiano that taste so achingly good on spaghetti-tomato-sauce-and-meatballs — are also ideal with the many red wines that are now being made from black-skinned grapes of Italian origin that really weren't available to Californians of Italian descent 100, 150 years ago. Grapes produce red wines with the type of acidity, moderate tannin, and restrained oak that tomato-sauced dishes love.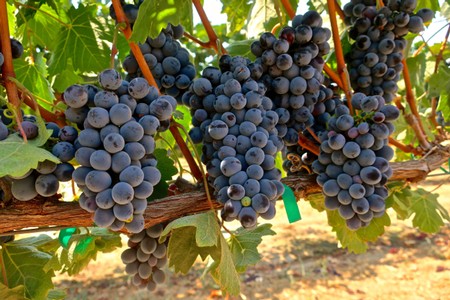 These include red wines made from the classic Tuscan grape, Sangiovese (finer Lodi-grown examples are made by Sorelle, Macchia, Jeremy, or DaVero Farm's Avivo). Also look for reds made from the acid-driven Barbera grape (re those of Oak Farm, Macchia, Uvaggio, St. Amant, Heritage Oak, LangeTwins Family, or Sorelle); or more unique Lodi-grown varietal offerings such as Anaya Vineyards' Nebbiolo, LangeTwins Family's Teroldego or Nero d'Avola, Mettler Family's Aglianico, Klinker Brick's Dolcetto, or Heritage Oak's Triolo (Sangiovese/Barbera/Zinfandel).
Please safely enjoy your days and three cheers for Sister Sera!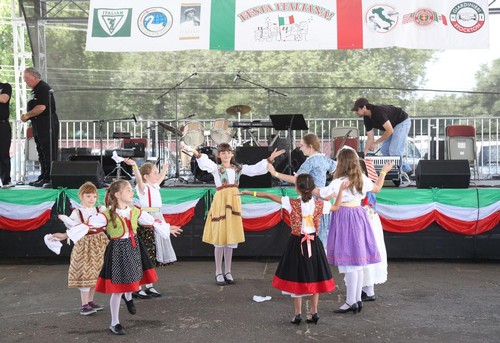 Comments