Letters from Lodi
An insightful and objective look at viticulture and winemaking from the Lodi
Appellation and the growers and vintners behind these crafts. Told from the
perspective of multi-award winning wine journalist, Randy Caparoso.

January 6, 2016 | Randy Caparoso
Predicting what we'll be predictably drinking in 2016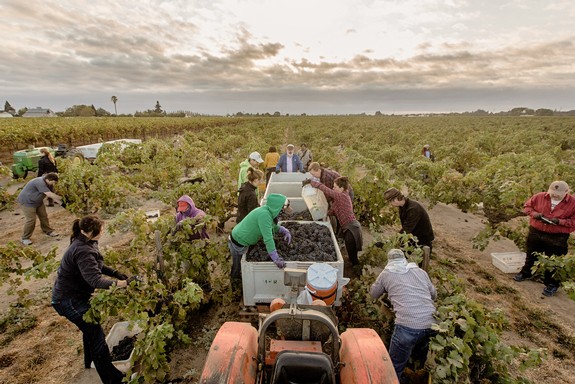 At the crack of a September 2015 dawn, visiting sommeliers helping to pick Zinfandel from 73-year-old vines in Mohr-Fry Ranch (image courtesy of John Curley Photography)
It's early January 2016, and we've already been assaulted by... the usual yearly onslaught of wine media "predictions" for the New Year.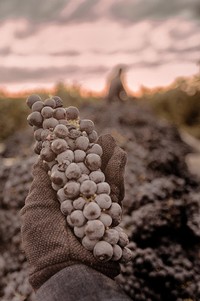 The problem with media is that it is predictably insular and unoriginal: the usual suspects talking to the same other usual suspects, who all end up simply repeating what each other is saying.
The widely read London based blogger Jaime Goode, for instance, has predicted that English sparkling wines as well as "natural" wines will grow in popularity in 2016. That's great news, for wine lovers in the U.K.; but for us, of course, there is as much chance of a bottle of English bubbly making it across the Rockies as any of us winning the Powerball.
As for natural wines... who's for "unnatural" wine? We all want our wines as natural (and affordable) as possible, but the concept is still more of a state of mind than an actual wine category. Don't ask us, ask popular industry blogger Tom Wark, who thinks marketing a wine as "natural" is "manipulative and arbitrary." You don't have to agree with Mr. Wark; but it is still difficult for consumers to go out and spend more money on something not readily apparent on bottle labels, and which even experts cannot precisely define.
Yet, ironically, a number of other blogs have picked up on the exact same buzz and have also predicted growing appreciation of English bubbly and, like it or not, natural wines in 2016. Thanks for the useful tips, folks.
Meanwhile, there are the hardcore statistics – which, of course, can lie just as much as "damned lies" (at least according to Mark Twain) – which at least give you less of a guesstimate and more of a precise idea of where the consumer market is heading. According to Nielsen's November 2015 report, based upon the sales of major table wine categories between September 2014 and September 2015, the following is what we've been imbibing, hence what we'll probably continue to consume over the next year: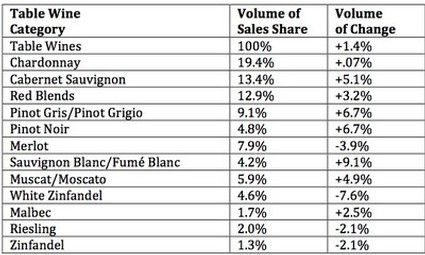 In its report, Nielsen chose to highlight the fairly recent, and somewhat surprising, rise of red wine blends; remarking that, "Across the total off-premise wine landscape measured by Nielsen, red blends account for more than 13% of the $13 billion that consumers spent on table wine during the 52 weeks ended Sept. 12, 2015. That equates to about $1.7 billion, up from $1.15 billion for the same period in 2011, at which point red blends accounted for just under 11% of table wines."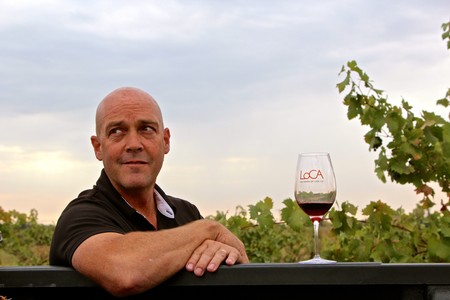 Michael McCay of Lodi's McCay Cellars has forged his positive reputation on a "natural" approach to winemaking
Many consumers, that is to say, are no longer content with varietal bottlings of Cabernet Sauvignon, Pinot Noir, Merlot, etc. Instead, they are aggressively seeking out the numerous blends of grapes sold with imaginative proprietary names and often packaged under fun, colorful labels. Three exceptionally crafty Lodi grown examples that are provocatively named, respectively, Incognito, The Corset, and Paisley:
2013 Michael David, Lodi Incognito Red ($18) - Soft, easy, yet intoxicatingly rich, plummy, peppercorn spiced blend of as many as six different grapes; predominantly Syrah, and often (varying from vintage to vintage) with Cinsaut, Carignan, Mourvèdre, Grenache and/or Tannat.
2014 Oak Farm, Lodi The Corset ($27) – a soft, pliant yet fleshy blend of Grenache and Petite Sirah, with intriguing aromas of peppery spice, kitchen herbs and strawberry/Bing cherryish fruit.
2012 McCay Cellars, Lodi Paisley ($28) – A peppery/gingery spiced blend of Zinfandel with a more-than-generous dose of Petite Sirah; tautly woven with firm tannin and subtly sweet French oak flourishes into a sleek, zesty medium body.
Otherwise, you will find almost no online posts highlighting the continuing growth of table wine categories such as Cabernet Sauvignon, Pinot Gris/Grigio, Pinot Noir, Sauvignon/Fumé Blanc or Muscat/Moscato. Old news does not make for exciting press.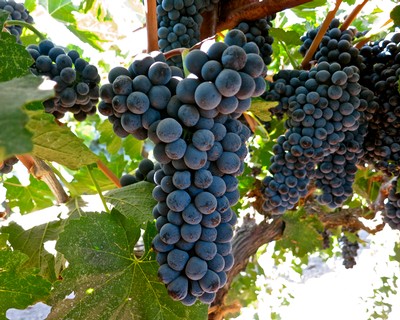 Classic Lodi grape for blending and varietal bottlings: Petite Sirah
A little more interesting, however, might be the downward trend of Merlot, White Zinfandel as well as red Zinfandel. Does this spell trouble for the Lodi Viticultural Area, responsible for some 40% of California's annual Zinfandel crush? To go back to Mark Twain, statistics don't tell the entire story: after record setting harvests in 2012 and 2013, lighter crops in 2014 and 2015 are actually helping to stabilize grape prices to the advantage of the region's growers.
While it remains to be seen how the fluctuating market effects Zinfandel grape supply and demand, one thing is for sure: Lodi growers (many of whom have been in business for over 50 or 100 years) will be prepared to adjust.
Otherwise, here is a rundown on some of the other 2016 predictions currently bouncing around the web, with a few thoughts of our own on how they pertain to the Lodi Viticultural Area:
Elin McCoy on 2016's hottest "new" grape
In her Eight Ways Wine Will Change In 2016, Bloomberg News wine and spirits editor Elin McCoy predicts that 2016's "hot new grape" will be... Cabernet Franc! McCoy tells us that winemakers in Bordeaux are utilizing more Cabernet Franc in their red wine blends because this grape contributes "higher acidity and lower alcohol." For the same reason, "While dozens of obscure, exotic varieties with unpronounceable names will attract buzz, Cabernet Franc is seriously ripe for its own moment."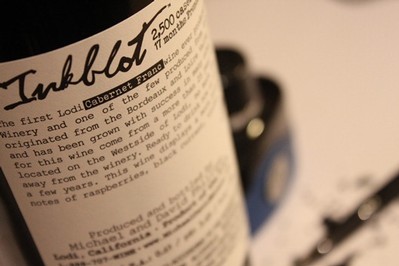 That's cool, because earlier in 2015 the big news in our neighborhood was the "Best In California" Gold Medal garnered by the 2013 Michael David, Inkblot Lodi Cabernet Franc ($35) at the 2015 California State Fair Commercial Wine Competition. Lodi's mild Mediterranean climate and largely sandy, classic well drained soils have been particularly inviting to the grape; the 2013 Inkblot being a deep purplish wine with a remarkable concentration and focus of raspberryish fruit, polished by mildly smoky, sweet oak spices.
Jaime Goode on lighter colored reds
In his Wine Predictions for 2016, one of Mr. Goode's more interesting prognostications concerned the increasing interest in "lighter-coloured reds" (the English still can't spell "color"). "In 2016," contends Goode, "this currently geeky interest will become more mainstream." Why? Because "wine lovers are beginning to realize that there is no correlation between depth of colour and wine quality. Pale reds don't necessarily lack flavour; they seldom lack aroma. Just as there's been a shift away from high alcohol, a corresponding shift is beginning with red wine colour."
Very astute, although this comes as no surprise; re the ever-growing consumer enthusiasm for Pinot Noir, a red wine that has always come in a decidedly lighter shade of pale. In his blogpost, Mr. Goode cites South African Cinsaut as always lacking in deep color, yet is "a fabulous variety in its own right, able to make supremely drinkable red wines that are low in colour and alcohol."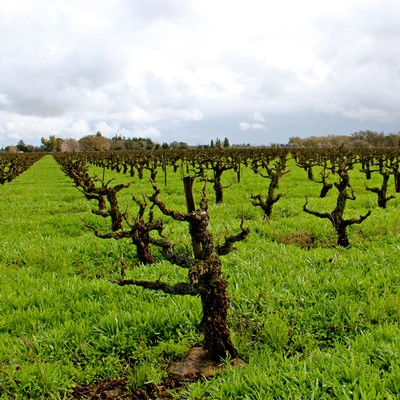 Wintering Bechthold Vineyard Cinsaut (Lodi vines planted in 1886)
South African Cinsaut is rarely found in the U.S., but here in Lodi, Becthold Vineyard – the region's oldest vineyard of record, planted by the Spenker family in 1886 – consists of 25 acres of Cinsaut, now sourced by a literal who's-who of prestige producers (including Turley Wine Cellars, Onesta Wines, Odisea Wine Company, The Scholium Project, plus here in Lodi, Michael David Winery, Estate Crush, McCay Cellars, Jessie's Grove and Fields Family Wines).
The 2013 Estate Crush Bechthold Vineyard Lodi Cinsault ($26), for example, is a quintessential expression of this historic vineyard: powerfully perfumed fruit belying its moderately pigmented ruby color, soaring acrobatically from the glass with suggestions of strawberry, pomegranate and rhubarb pie; and on the palate, zesty yet limber, silky textured fruit sensations, skipping lightly across an easy, medium-weight body.
Club W on "trendspotting" unpronounceable varietals
Club W, a "direct from vineyard" online wine sales site, blogs that "an increasing number of vino drinkers (millennials in particular) are paying absolutely zero attention to wine norms, opting instead to drink whatever they want, whenever they want." Hence, they predict "the harder to pronounce, the better... a growing numbers of consumers break away from traditional wines (bye, Chardonnay and Sauvignon Blanc!), they're gravitating toward wines they (and the rest of the world) have never heard of before. We're talking Xinomavro, Falanghina, Négrette, Valdiguié, Assyrtiko... if it's a tongue-twister with a few accent marks, people want to drink it."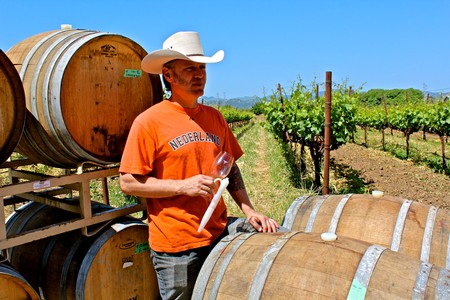 Forlorn Hope's Matthew Rorick specializes in Lodi grown alternative grapes such as Torrontés and Alvarelhão
We don't grow Xinomavro, Falanghina, Négrette, Valdiguié or Assyrtiko here in Lodi. We do, however, grow German white wine varieties such as Kerner, Bacchus and Ehrenfelser (utilized by Borra Vineyards in their Markus Wine Co. label whites); as well as Picpoul (pure dry white by Acquiesce Winery), Teroldego (a chunky varietal red produced by Peltier Winery), Aglianico and Pinotage (deep colored red varietals found in the Mettler Family Vineyards portfolio), Vermentino (a Mediterranean varietal white produced by Uvaggio, Borra Vineyards and Toasted Toad Cellars), Graciano (one of Bokisch Vineyards' fantastically sexy Spanish varietalreds, also produced by Riaza and Jeremy Wine Co.), Montepulciano (red varietals crafted by Watts Winery and Ripken Vineyards), Alvarelhão (slinky, perfumed Portuguese style reds by Forlorn Hope as well as Fenestra and Jeff Runquist), Touriga (produced by Jeff Runquist, Toasted Toad, Fenestra and Michael David under their Inkblot label), Torrontés (award winning exotic white promulgated by Wise Villa, Forlorn Hope and Kenneth Volk), Zweigelt (pungent Germanic red wine produced by tiny Hatton Daniels), and quite a bit more...
Lodi knows alternative varietals! (Please see our previous post, Lodi's stunning range of unique varietals).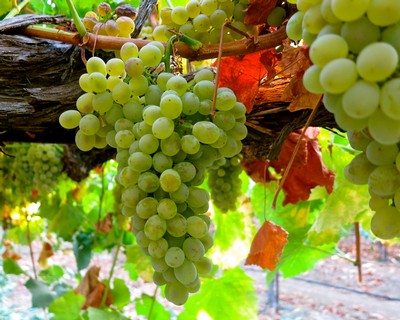 Verdelho grapes in Lodi's multi-award winning Silvaspoons Vineyards
Coravin quotes sommeliers on expanding diversity of tastes
Coravin, a popular wine preservation system, also posts its own blog, in which they recently quoted a few sommeliers on wine trends expected in 2016. Granted, sommeliers – wine professionals who select and serve wines in restaurants and hotels – live somewhat in their own world. Sommeliers know what sommeliers like, and those are the wines they see trending within their own four walls. It's a long ways, however, between posh, white tablecloth restaurants in New York and San Francisco and liquor stores in Topeka, KS or Box Elder, MT.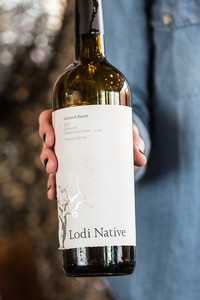 Nonetheless, Victoria Kulinich of Napa Valley's Restaurant at Meadowood predicts increased "exploration of site specificity." As opposed to "big flavor, more and more passionate young winemakers are leasing vineyards and sourcing fruit from places in remote, marginal climate areas."
Ms. Kulinich goes on to specify Verdelho and Tempranillo as two grapes especially perking the interest of "this new wave of winemakers." Needless to say, both Verdelho (bottled by Bokisch, Oak Farm, St. Jorge, Toasted Toad, Fenestra, The Scholium Project, and others) and Tempranillo (those of Bokisch, Harney Lane, Peirano Estate, Jeremy Wine Co., Riaza, m2, Fields Family, McCay, Egan Cellars, Dancing Fox, Hunter's Oak, Cinnabar, Odisea, Eric Ross, and still more) have been Lodi grown mainstays for well over ten years.
Paul Mekis, the head sommelier at Rosewood Sand Hill Hotel in Menlo Park, says, "I see some serious movement of wineries in America going from 'over extracted bombs,' and showing more of their terroir (i.e. vineyard focused "sense of place")... less manipulated, less extraction, less cold soaked, less oak, less alcohol where you can begin to taste the characteristics of the grape, and its surroundings." Lodi, as it were, has played a part in this movement; particularly with its critically acclaimed Lodi Native project: minimalist style, heritage vineyard sourced Zinfandels, produced with native yeast and no new oak or other intrusive modifications.
One recent bottling epitomizing this movement towards terroir as opposed to grape extraction and exaggerated wine styles: the 2014 Oak Farm Indigenous Cemetery Vineyard Lodi Zinfandel ($32), which captures the naturally delicate, lacy, extremely floral style of Lodi grown fruit when native yeast fermented and handled with kid gloves. Lodi winemakers, in other words, are forging a new reputation for their Zinfandel, veering away from the stock image of the varietal as a big, fat, jammy-sweet red wine.
True Lodi Zinfandel may very well be a more gentle, kinder wine than ever seen before – just the thing for trending tastes in 2016!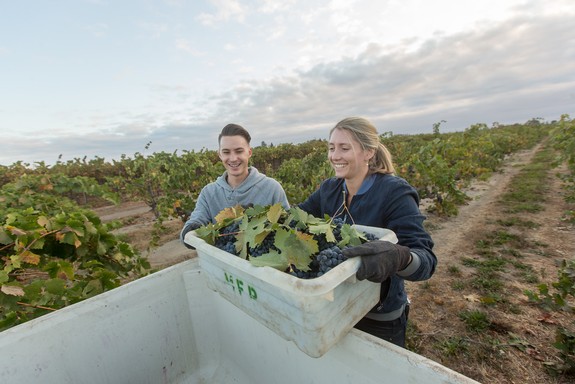 Southern California sommeliers Jordan Villareal (The Hobbit, Orange) and Alicia Kemper (fundamental LA) experiencing the joys of the Lodi ancient vine Zinfandel harvest (image courtesy of John Curley Photography)
Comments