Letters from Lodi
An insightful and objective look at viticulture and winemaking from the Lodi
Appellation and the growers and vintners behind these crafts. Told from the
perspective of multi-award winning wine journalist, Randy Caparoso.

February 20, 2019 | Randy Caparoso
Do Lodi Zinfandels age? Frank talk over old wines with legendary winemakers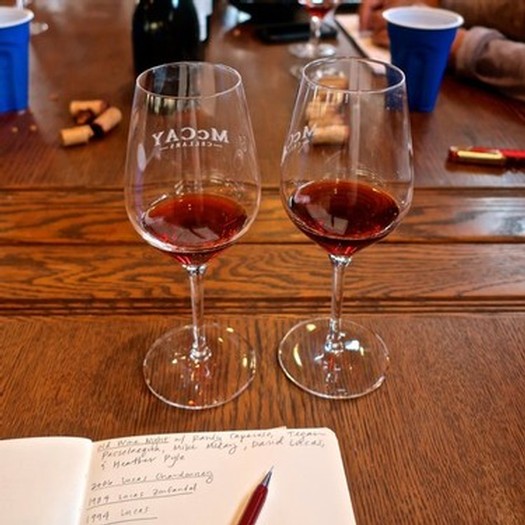 There is an old adage in the industry, oft-repeated by the usual pundits: California Zinfandels do not age.
Not that Zinfandels fall completely apart after, say, 10 or 15 years in the bottle. But rather, that they just don't get any "better," or more enjoyable, than when they are usually consumed, less than 5 years after their vintage date. The biggest concern is that all those bright, berryish, often "jammy" fruit qualities that Zinfandel drinkers love simply start to fade once the wines get old, and all you have left is, say, the harsh taste of high alcohol (a legitimate fear, since even the lightest commercial Zinfandels of today are at least 15% alcohol) or the drying taste of oak (especially Zinfandels aged in American oak barrels, which are not exactly known for their subtlety).
Ergo: The recommendation given even by most wine producers, that Zinfandels are best drunk when they are young, or pretty much as soon as they hit the market.

But that thinking may be changing, especially as more and more producers begin to specialize in restrained or minimally manipulated styles of Zinfandel. Zinfandels, that is to say, that aren't picked at super-high sugars in order to achieve ultra-ripe varietal flavors, and then "adjusted" in the winery – with water to lower alcohol levels, and then acidulated to make up for low acids in the grapes. Zinfandels that are aged in more subtle French oak barrels, and with larger percentages of "neutral" barrels (older barrels that do not impart as much wood flavor and tannin).
The thinking is that when Zinfandels are crafted in more restrained, balanced, more or less "natural" styles, there is greater possibility for the wines to evolve into finer, zestier wines with fresh, compelling perfumes, even after more than 10 years in the bottle. And in fact, this is what many Zinfandel lovers have been discovering – particularly with older bottles produced prior to the 1990s, when giant, high alcohol/oak "fruit bomb" styles (No wimpy wines!) of red Zinfandel suddenly became all the rage.
But here's the thing that many proponents of old school or more balanced styles of Zinfandel are also finding out, that goes against a lot of conventional thinking: That even higher alcohol Zinfandels, at over 15% or even 16%, can age just as well as lighter, 13%-14% alcohol Zinfandels, if they are crafted with a strong sense of balance, especially in terms of
1. A good, solid core of natural grape acidity, which can keep a Zinfandel tasting fresh and lively, even after over 20 years in the bottle.
2. A bright and concentrated core of fruit, which you are more likely to get from older vine blocks (presuming that the reason why a vineyard may be over 50, 75 or even 100 years old in the first place is because it has been valued has a source of high quality wine for all these years, and thus worth keeping in the ground).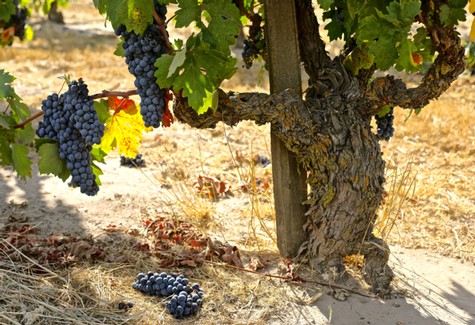 Of course, tannin – the phenolic compounds derived from grape skins and seeds that give red wines their hard or bitter taste, especially when young – plays a major part in the ageability of Zinfandel, just like it does in all the world's finer styles of red wine. But the funny thing about Zinfandel is that it is more like grapes like Pinot noir and Grenache than varieties like Cabernet Sauvignon, Syrah, Nebbiolo or Tempranillo: It is not a grape that has a large amount of tannin. Yet we know that, like a good Pinot noir or Grenache coming from a favorable vineyard, a finely crafted, well balanced Zinfandel can age just as gracefully as the darkest, highest tannin reds. It ain't the meat, it's the motion.
The Lodi Viticultural Area, where some 40% of California's entire crop of Zinfandel is grown each year, has been carving out a reputation for richly fruited styles of Zinfandel that, compared to Zinfandels from other regions (such as Sonoma County and Napa Valley) tend to be even softer in tannin, and thus "lighter" or "easier" in feel even at higher alcohol levels. These are terroir (i.e. "sense of place") related characteristics, which beg the question: How well do Lodi grown Zinfandels age?
Judging by a recent tasting of a dozen wines 8 to 34 years old, we'd have to say: Lodi Zinfandels can age quite well, thank you. In fact, you may be surprised by how well. But don't take our word for it. For this tasting, we also solicited the insights of some of the most respected vintners in the state, who of course also contributed the wines.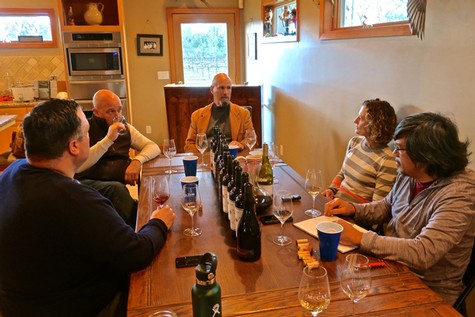 Our impeccably credentialed old Zinfandel panelists:
David Lucas – After working for Robert Mondavi Winery for 16 years, Mr. Lucas produced and bottled his first Lodi Zinfandel under his The Lucas Winery label in 1978. This makes him a pioneer of sorts, being among the first of the modern era vintners (along with Steve Borra of Borra Vineyards and Michael Phillips of Michael David Winery née Phillips Vineyards) to establish a small, independent winery in the Lodi region.
Heather Pyle Lucas - Like her husband David, Heather Pyle Lucas labored for Robert Mondavi Winery for 16 years – known for her work as a winemaker on special projects like Cabernet Sauvignon Reserve and Opus One – before relocating to Lodi in the early 1990s. She now handles the winemaking and farming of The Lucas Winery's ZinStar Vineyard – an 18-acre block of own-rooted Zinfandel, first planted in 1933 – as a co-owner, while also consulting for as many as three or four wineries at a time in the Lodi region.
Tegan Passlacqua – Mr. Passalcqua has been working with the Napa Valley, Amador County and Paso Robles based Turley Wine Cellars – since the early 1990s, arguably California's most prestigious producer of Zinfandel and Petite Sirah – since 2003. After managing Turley's vineyard opearations, he became the winery's head winemaker in 2013, and has also recently started up his own independent brand (Sandlands) while establishing a second home in Lodi's Victor area, near his Kirschenmann Vineyard (mostly own-rooted Zinfandel first planted in 1915) located at Bruella and Schmiedt roads.
Michael McCay – The owner/grower/winemaker of Lodi's McCay Cellars who produced his first commercial vintage in 2007 (after more than 10 years as a home winemaker), quickly establishing his brand as the cutting-edge of vineyard-designate, minimal intervention style Zinfandel in Lodi.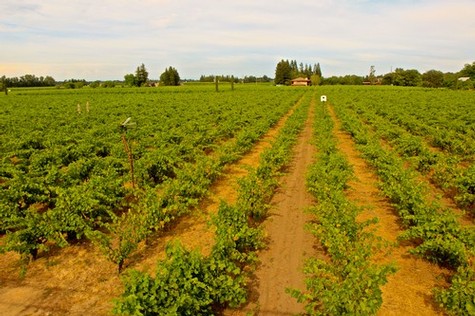 The Lucas Winery's ZinStar Vineyard estate, planted in 1933
The tasting and conversation over the old bottles were particularly interesting because of the exchange between David Lucas, a self-admitted "old school" winemaker, and the newer generation Zinfandel specialists (McCay and Passalacqua) with Heather Pyle Lucas, whose experience with Lodi Zinfandel started in the 1990s. As Stephanie Bolton (Lodi's Director of Grower Communications & Sustainable Winegrowing), who was also there, put it: "I've tasted many old vintages of wine, but never with people who have lived the stories behind those wines – especially Heather talking about the weather during the various vintages, and Tegan processing new bits of Lodi history gleaned through David."
The wines tasted, with an edited version of our subsequent commentary:
1984 The Lucas Winery, ZinStar Vineyard Lodi Zinfandel
1994 The Lucas Winery, ZinStar Vineyard Lodi Zinfandel
Lucas: Like our first vintages (starting in 1978), the 1984 ZinStar came entirely off our estate vineyard on the west side of Lodi, and was fermented with "domestic" (i.e. native) yeast.
Pyle Lucas: There is a little mustiness in the '84, but it's hard to know, when you have a wine as old as this, whether an off-note results from cork taint, or if it's just a little mustiness from sitting in a bottle for so long. My first impression is of a nice, creamy or lactic character with very pretty fruit, and the mustiness is very faint.
Passalacqua: David, what were your winemaking practices back then, in the '70s and early '80s?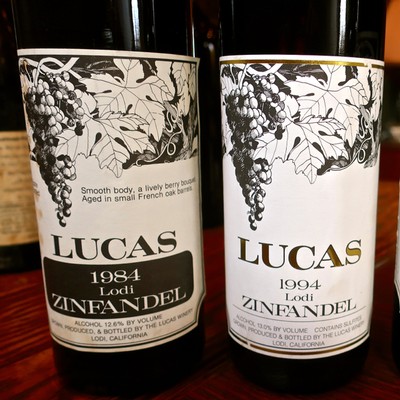 Lucas: We fermented in shallow, open top milk tanks; and it was punched down – with the feet of "virgins" of course, which are getting harder and harder to find these days. I also included a lot of information on the back of the bottle: (Reading off of the label) there were 1,000 cases produced in '84, and we picked three times – this was when I often picked three times because I was so concerned with getting enough natural acid – on August 26 at 18.8° Brix (i.e. sugar reading), September 2 at 22.0°, and September 16 at 24.2°. This way, I could be reasonably sure of getting both the acid and flavors I needed. The alcohol on the label reads 12.6%. Fermented 5 days in stainless steel, and aged in French oak barrels for 14 months.
McCay: What was the thought process? Were you going for, say, a "Bordeaux" style of Zinfandel, or something lighter and softer, like "Burgundy?"
Lucas: Alcohol... the thought process was mostly that I didn't like alcoholic Zins. I wasn't thinking in terms of style, like Bordeaux or Burgundy, but more about a style a Zinfandel that I like.
Passalacqua: I recall that there were a number of influential Ridge and Carneros Creek Zinfandels back in the '70s and '80s that were very high in alcohol. One of the original benchmarks for Zinfandel in those days was one made by Mayacamas that was over 17% alcohol.
Lucas: In those days, the wines Mike Phillips (of Michael David Winery) and I were making generally fell in the 13%, 13.5% alcohol range. After my Mondavi experiences, doing a lot of traveling with Tim Mondavi and tasting wines from all around the world, I saw no reason to make wines that were high in alcohol and didn't go so well with food. Then in the early '90s we turned a corner, and started to learn more about things like shoot thinning, and deficit irrigation strategy, a lot of it as a result of working with Woodbridge's QET (Quality Enhancement Team) team led by Brad Alderson (longtime former Woodbridge by Robert Mondavi GM). This helped us better understand things out in the vineyard, and getting the quality to start from there, not from what we were doing in the winery.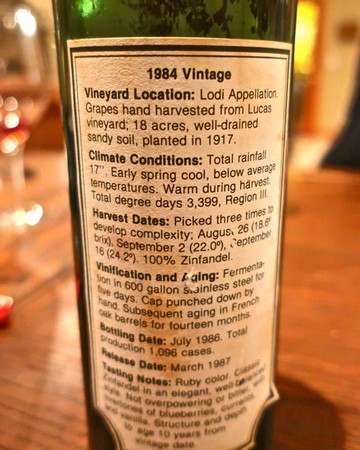 Pyle Lucas: I recall that you put in drip irrigation in the early '90s, just before I got there.
Lucas: In our early trials we found that grape quality as well as specific aromatics were very closely connected to irrigation practices. Especially when dealing with own-rooted vines like ours, which don't have extensive root systems. People don't realize how phylloxera, while it might not kill vines in sandy soils, still has a major impact on root systems, even in Lodi where most of the old vine plantings (i.e. vines planted before the mid-1960s) are on their own roots.
McCay: This brings up one of our recent experiences, where we dug up one of our own-rooted vines planted in 1915, in our Lot 13 Vineyard. What we pulled out of the ground was a vine with one, long tap root, which must have went down at least 30 feet, but it had almost no feeder roots. We hung that vine up from the ceiling in our tasting room.
Pyle Lucas: That's very interesting – excavating around a vine, like an archeologist, to see what you can find.
Lucas: That's why for a long time old vines in Lodi weren't irrigated. Or maybe once, around the fourth of July, and that was it. The water table used to be so much higher than it is today, so the vineyards didn't need as much constant watering, which you see going on today.
McCay: This was before projects like the Camanche Dam, which was completed in the mid-'60s. Before then, vine roots didn't need to go down too far to find a natural source of water.
Passalaqua: You know that water used come up higher every year because all the older homes, like on my property, were built at least 3-feet off the ground.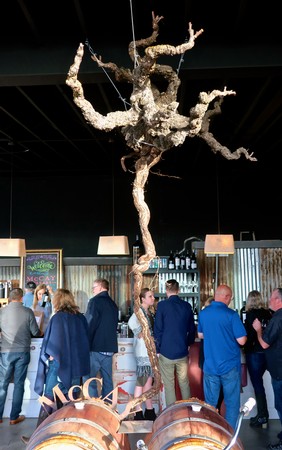 Caparoso: Speaking of the two Lucas wines, I found them both to be wonderful. You can easily get past the mustiness in the '84 because the fruit is still very fresh and pretty – lots of raspberry and perfume. Even better, look at the balance under the fruit aroma – I just love the acid. In the '94 you get a denser feel, and a lot of the same bright fruit. These wines are aging wonderfully. What you don't find, which is common to a lot of old Zins, is a tired, beef brothy sort of character. In older bottles, a lot of times what happens is the fruit drops out, and you no longer have any floral or fruit notes – just a soupy, soy sauce-like taste – but these two wines don't have that at all. They're as bright in the nose as they are in the mouth. This also speaks to the soundness of David's original philosophy of going for moderate alcohol and higher acidity. David, what was the alcohol in the '94?
Lucas: 13.0%.
Caparoso: From what I remember of the late '70s and early '80s, 13% was plenty enough for most wineries. 12.5% was more the commercial norm, and 13.5% was considered "big." It was the odd Zinfandels that went over 14.5%, which is the low-end today.
Pyle Lucas: I believe that the '94 was a single pick, if I'm not mistaken. But I agree, what often happens with older wines like these is that they have a moment where they're showing beautifully, and then do some sort of nose dive in the glass. I'm kind of shocked that these wines aren't doing that at all. That have a nice structure, and lots of mouth-feel, and the fruit remains pretty intense.
Lucas: It's interesting when you think about what is often said, that "Zinfandels don't age," I recall reading a Wine Spectator in 1979 about a tasting of older California Cabernets, which were compared to older California Zinfandels. Their findings turned out to be the absolute reverse of what they expected: the tasters thought the Cabs were the Zins, and the Zins were the Cabs, and only because the Zins aged so much better!
Passalacqua: I know that, for Court of Master Sommeliers, when they're teaching people about the Russian River Valley, what they teach is that in a blind tasting involving Russian River Valley when a red wine has good acid it's probably a Zin and if it doesn't have good acid it's Pinot noir. Most of the students have a hard time believing that, but it's the truth – that's how you deduce the differences in blind tastings.
Pyle Lucas: And both of these Zinfandels are, in a way, Pinot-like. What we've found with our own Lucas wines is that they are more obviously "Zin" during the first six, seven years, but as they age they pick up more of a finer, floral "Pinot" character – not that you ever want a Zin to taste like Pinot.
Passalacqua: I think it's the character of Zinfandel, where even as they age and become identified more as a "beautiful red wine" rather as "Zinfandel" I think a lot of it has to do with the spice. It is the natural spice quality of Zinfandel that stays in the older wines, along with the acid and floral notes.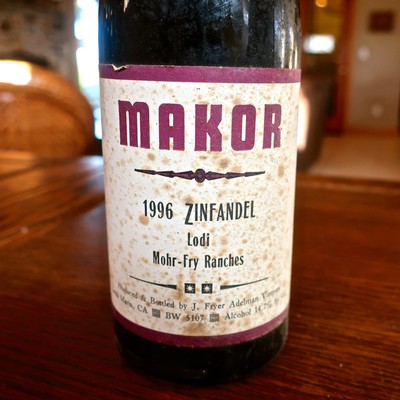 1996 Makor, Mohr-Fry Ranches Lodi Zinfandel
1997 Turley Wine Cellars, Dogtown Vineyard Lodi Zinfandel
Caparoso: The bottle of '96 Makor was recently obtained directly from the winery by Stephanie (Bolton). Makor was a joint Zinfandel project of the Au Bon Climat/Qupé contingent in Santa Barbara, involving Jim Adelman, Jim Clendenen, and Bob Lindquist. They produced several vintages, all coming from Mohr-Fry Ranches' Marian's Vineyard, consisting entirely of own-rooted vines dating back to 1901. The Makor Zinfandels, in fact, pre-date the first vintage of Marian's produced by Tim Spencer at Lodi's St. Amant Winery (starting in 1999). Today, Stuart Spencer now takes almost all the fruit coming off of this historic 8.3-acre block for St. Amant.
Pyle Lucas: The Makor has a very interesting aroma, which I can't quite put a finger on, but there's a lot of stuff in it. Nice mouth-feel and thickness.
Caparoso: It goes toward pumpkin spices, with caramelized berry qualities. I recall tasting the Makor Zins back when they were young, in the mid-90s, when it was practically my favorite California Zinfandel. I always recall the sweet spice along with a consistently plump, round feel, but always with balanced qualities – never really excessive in alcohol, even when hitting 15%. It's nice to see that all of this put nicely together, after over 20 years in the bottle.
Passalacqua: Color-wise, this is the first of the older Zins we are tasting showing its age with a brick color, whereas the first two wines (the '84 and '94 Lucas ZinStars) are a brighter red.
Pyle Lucas: There seems to be some slight residual sugar in the Makor. It's under the threshold (i.e. less than 5 grams, or -.5%), but adds to the impression of sweet fruit, without ending up sweet.
Passalacqua: The aromatics to me seem "later" than the stated 14.7% alcohol. Aromatically, it expresses fruit that was picked riper than 25° Brix, possibly with some raisinated berries.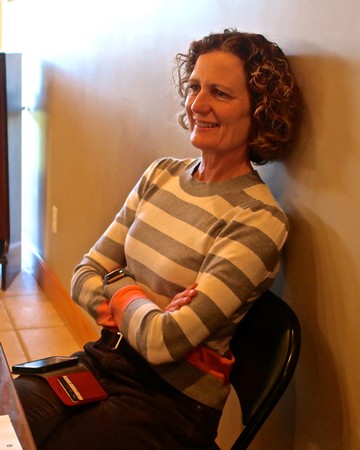 Pyle Lucas: I'm also sensing the presence of some high toned, slightly shriveled fruit. But it's not "Porty," and certainly not tired. I think it's still fresh, and very exotic, covering some edible and non-edible aromas, suggesting ripe fruit and earth. There's a lot of mid-palate feel to the wine. I just like its uniqueness – it has distinct qualities all its own.
Passalacqua: Going to the Turley, the '97 was the first vintage of Zinfandel that we did from Dogtown. We first started working with Lodi Zinfandel in 1996 with fruit from the Spenker Ranch, now called Royal Tee by Jessie's Grove. The Dogtown vines date back to 1944. It's 100% Zinfandel, and it's always been dry farmed because the property is not level – its slopes has never made furrow irrigation possible. Yields are very low – usually just 1 to 2 tons per acre.
Caparoso: Tegan has tasted me on the '97 Turley Dogtown at least twice over the past few years, but this is by far the freshest and brightest of the bottles he's opened. In previous tastings, I found wines that were closer to the edge of oxidation, with less floral notes and more of those beef-brothy qualities, and less zippy in the mouth.
Passalacqua: Dogtown has always been one of our most naturally expressive Zinfandels – usually picked at about 25° Brix at 3.4 pH. It usually comes in early, in August, but I know that in '97 and '98 the Dogtowns came in really late, as October picks – but these were the only times they were ever picked in October.
Caparoso: The Dogtown has an "OMG" nose of cherry and raspberry perfumes, and a light, zesty feel verging on a structural steeliness. On the palate, it comes across as very restrained, even at its stated 14.7% alcohol.
Pyle Lucas: I love that cherry-with-the-pit perfume of the Dogtown, and I also get some good tannin, which comes as almost a surprise.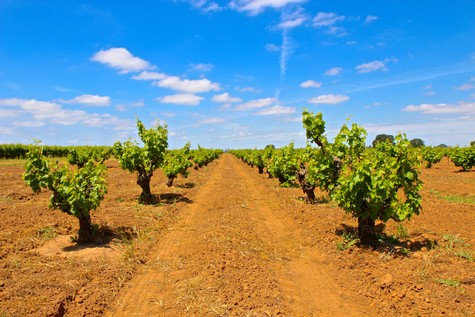 Passalacqua: That's Clements Hills (a Lodi sub-appellation). I've always said that this site, which was originally planted by a family from the Sierra Foothills, is somewhere between Lodi and the Foothills, not just geographically but also in style. The texture and tannin structure of Dogtown is similar to what you find in many Amador Zinfandels.
McCay: With many of perfumed, red berry/cherry floral qualities often found in Zinfandels from the east side of Lodi.
Passalacqua: Exactly. I also find that when a lot Zinfandels from east side-Lodi are younger, they have an Asian black tea-like taste, underlining that red fruit perfume. One other thing about Turley is that we never lie about the alcohol. If the label says 16.2%, it's 16.2%. There are plenty of vineyards that we've picked a week before other people, and our version might be 15.7% and theirs is "14.5%." Since we don't do anything to our Zinfandels – we never "adjust" things like alcohol (using water to lower it) and we don't acidulate – there has never been a reason for us to declare anything but the real alcohol level.
Caparoso: So far, with the Zinfandels we've tasted over 20 years old, are we finding enough to say that, yes, Lodi wines are capable of aging well?
McCay: I remember at a ZAP Flights! tasting a few years ago, with David Phillips (Co-Owner/President of Michael David Winery) sitting there on the stage, and the question was brought up, "What about Lodi Zinfandel?" And the general response was, "Lodi Zinfandels aren't made to be aged." I recall jumping up, and thinking, "Well, hello!?" In my experience, not only can a well made Lodi Zinfandel age, it can also be a blank canvas – you can push it in all kinds of directions, to be drunk young or to be aged beautifully, especially if crafted well, of course, depending upon who, what and where. But no question, Lodi Zins have that capability.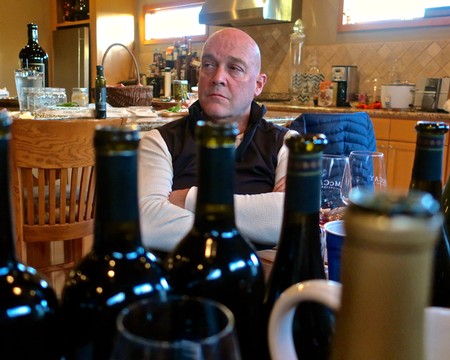 Passalacqua: I rarely taste old Zinfandels that are "dead." I taste more old Bordeauxs and Cabernet Sauvignons that are long gone. I think it's the natural acidity of Zin that keeps them fresh, with a good "skeleton" to them, and these wines are demonstrating that.
Caparoso: So do you think you can look any consumer in the eye and say: go ahead, and put that bottle down for 20, 25 years?
Passalacqua: It also depends on what the consumer is looking for. As Michael heard at that ZAP event, if they're looking for up-front fruit, which will disappear in every California wine, maybe they should drink all their Zinfandels young. I know Larry Turley (owner of Turley Wine Cellars) has always had an ongoing argument with Robert Parker (publisher of Wine Advocate magazine). Parker often writes, "These wines will age 25 years," whereas Larry will always ask, "But will they get more fruit?" If the answer is "no," then why would you do it?
Caparoso: I can see that. Clearly these 20-year-old Zinfandels in front of us are lower in fruit than when they were young, but they are still coming across as fresh and flowery today. Ironically, there are probably a lot of people who say they don't like California Zinfandels because they're too big and fruity, because they prefer more floral, subdued styles of wine – which is exactly what you get when you lay down Zinfandels like these. David, since you've been at it the longest, what are your thoughts on the ageability of Lodi Zins?
Lucas: In my case, a lot of it is about old school winemaking – picking grapes at lower maturity, with more natural acid, which works for me. This style of Zinfandel is subtle when it's young, and gets finer with age. The second part of the equation is the consumers who have been led to think that Zins don't age. You may find this to be true, but it's like liking old cars. When you hold on to an old car, you're not going to have all the goodies you get in today's cars, but it can be a lot more satisfying to drive around these older models.
Passalacqua: I agree that when you hear it said that Zinfandels don't age, people are referring more to a style than the variety. When Dave Phillips, for instance, says that Zinfandels don't age, he's thinking of the particular style of Zinfandel made by Michael David Winery, which he knows really aren't made to appeal to anyone as older wines, which is obviously the opposite of a wine like Lucas.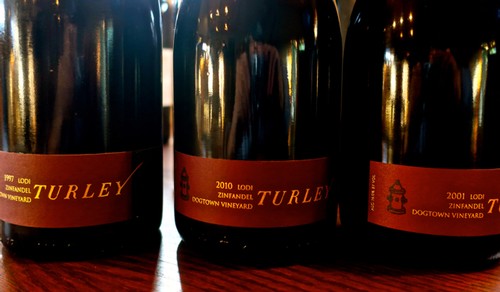 2001 Turley Wine Cellars, Dogtown Vineyard Lodi Zinfandel
2001 St. Amant Winery, Marian's Vineyard Lodi Zinfandel
Pyle Lucas: I like the way the 2001 St. Amant has aged. It's very pretty. Something you can describe as "classic Lodi" – a style that has become typical of many Lodi Zinfandels in recent years, even if it may be a little overripe, or heading towards raisiny, for me.
Passalacqua: I think the St. Amant can be understood from the perspective of our own experiences during the early days of Turley, when we'd work with growers to let them know when we'd like to get our grapes in, and they'd say, "oh no, it's not nearly ready to pick." I have a feeling this was the situation with St. Amant when they first started working with the Fry family (of Mohr-Fry Ranches) – I suspect that these grapes were coming in a little riper than what they'd be looking for these days.
Caparoso: Stylistically, the '01 St. Amant Marian's comes across as ultra-ripe, lush and lavishly fruited. But beyond that, it is still very nuanced – there are floral/rose petal notes, and faint earthy qualities, which I always love in Lodi Zinfandel. The fact that the fruit qualities are still coming across as bright and zesty, even at 17 years old, goes against the assumption that Zinfandels don't last past their fifth or tenth year. Interestingly enough, the 2001 Dogtown finishes even bigger (at 16% alcohol, compared the '01 St. Amant's 15.2%), but starts off super-fresh. Its black cherry/raspberry nose seems to blast out of the glass, and the flavors are nothing but bright, zesty and well balanced – an "oh wow!" wine.
Pyle Lucas: I get the same impressions in the Dogtown, but as a little more of a balanced, refined style of Zinfandel compared to the St. Amant. You certainly don't notice the alcohol.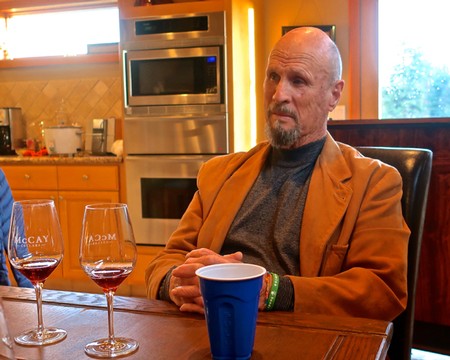 Caparoso: I think it's the acid balance in the Dogtown, which is more notable than in the Marian's. Then again, the Marian's is a Mokelumne River (AVA) style Zinfandel, so I don't expect as much acid. It's Marian's, so it should be a little round, a little chubby with fruit. The nice thing is that there's still a freshness about it.
Passalacqua: Acid balance has always been a hallmark of Dogtown. And in my experience, the older the wine, the more the acid shows, as the fruit continues to fade. The St. Amant, on the other hand, also seems to have a tiny bit of residual sugar, which helps round out the fruit, and in a way it's adding to its freshness after so many years.
Pyle Lucas: Not that we really know that, but we often say that higher alcohol Zinfandels, which often have a little residual sugar, are not the best candidates for aging. The alcohol doesn't go away as a Zinfandel ages as the fruit subsides. Yet tasting these two wines, I'm wondering if the alcohol hasn't actually enhanced their longevity, almost like another preservative factor – but that's debatable, of course.
Caparoso: Either way, I agree that the alcohol in the Dogtown does not "show." It's almost like it just expands the taste. Not knowing what the labels say, I would have guessed the '01 Dogtown's alcohol to be closer to 15% than 16%.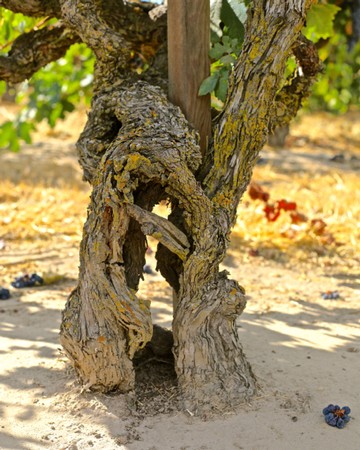 Pyle Lucas: It's the acid that keeps the fruit alive, and it's helped out by a good tannin structure – more tannin than what you usually find in a Lodi Zinfandel. It's also a nice contrast of two wines from the same vintage, which I remember as being a nice, cool year. I'd describe the St. Amant as having more of a rustic, voluminous character, which in a way is just as attractive as the tighter, more elegant character of the Dogtown.
Caparoso: And that's the way they should be. Both wines are from Lodi, but they're different appellations – the St. Amant made in the lush, round, earthy style typical of Zins from the flat sandy loam soils of Mokelumne River, and the Dogtown a more structured, red berry perfumed style typical of the clay influenced slopes of Clements Hills. What's amazing is that, after 17 years, these regional distinctions are still there.
Passalacqua: At the same time, when I taste a Marian's, I always think of it as being 'tweener vineyard in its own way. In this case, it's somewhere between an "east" and "west" side Lodi Zin. The aromatics of a Marian's often remind me of an east side Zin, while it always has the breadth and the volume more typical of the west side.
Caparoso: Although aromatically, a Marian's is not as pungently earthy as far west side Lodi Zins, but it certainly has the earth tones which are virtually nonexistent in east side Zins. It's just that, when tasted next to a Dogtown, the faint earthiness in the Marian's becomes a little more noticeable.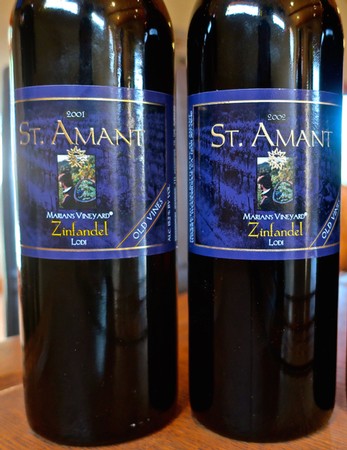 2002 St. Amant Winery, Marian's Vineyard, Lodi Zinfandel
2007 McCay Cellars, Truluck's Vineyard Lodi Zinfandel
Pyle Lucas: Right away, I'm loving the '02 Marian's, which starts out with a really pretty nose. If I recall, '02 was a lighter crop than '01. The quality of the '02 goes against the thinking we used to have at Mondavi, that the larger crop/later picks usually made the best vintages. I strongly prefer the '02 Marian's over their '01.
Passalacqua: I agree, St. Amant's '02 Marian's comes across as lighter yet livelier than their '01. I'd describe it as pretty laser-like on the palate. All the same, I would guess there is still about 2 grams of sugar left in the wine. Not to say that the wine comes across as sweet, because it doesn't, but it's in the way it combines with the alcohol, tannin and fruit to push up the fruit quality in the wine, which finishes with sort of a "smile." Altogether, a remarkable wine.
Caparoso: To me, it's not so much being a lighter vintage or lighter wine (the label on the '02 St. Amant reads 14.8% alcohol). It's also a little zippier in the mouth compared to the previous vintage. Otherwise, aromatically it's similar to the '01, coming across as ripe, lush, maybe a little raisiny and caramelized, but with an exotic note reminiscent of the '96 Makor from the same vineyard. Pretty darned good, for a 16-year-old Lodi Zin.
Pyle Lucas: The McCay is very bright and smooth. I'm finding a touch of mintiness, or is it more like peppermint, popping up in and out in the nose.
Passalacqua: I always get a peppermint note in Truluck's, and I don't get that in a lot of Zinfandels.
McCay: Straight-up, the Truluck's (now called TruLux Vineyard) is 100% Zinfandel, so that spice comes purely from the vineyard. It's 14.5% alcohol. Mostly neutral French oak – about 20% new – and 100% native yeast fermented, like all our Zinfandels. I've been working with Truluck's since 1994, and have always had a passion for it. It was originally planted on St. George rootstock in the 1930s, then inter-planted on Freedom in the '70s. What's funky about this vineyard is that the top spurs are a good 6-feet off the ground. Very sandy soil, on the west side of Lodi, about a half-mile south of Van Ruiten Family winery.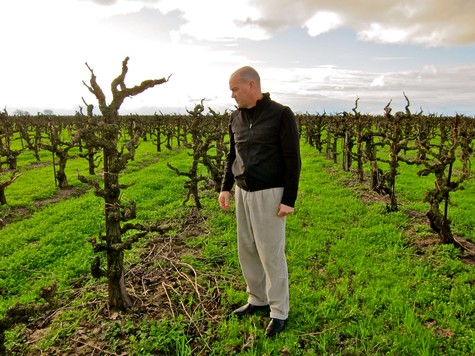 Pyle Lucas: So what's everybody else's position on inoculated vs. native yeast fermentations?
Lucas: I didn't start inoculating for fermentations until you came along in 1995. Before that, not really knowing another way, I simply let the fruit ferment with whatever natural yeasts came along with it from the vineyard.
Passalacqua: At Turley, we have never inoculated.
Pyle Lucas: Nowadays, we inoculate all our fermentations at Lucas. It's funny, we didn't inoculate almost anything at Mondavi, but by the time I got to Lodi I sort of lost my nerve when it comes to that. I love the idea of native yeast fermentation. I'm just not sold on the advantages over inoculated ferments.
Passalacqua: I think it's important to develop your protocols for when you do get the occasional stuck fermentation. You can get years like 2017 when many of the wines picked within the window of the heat spike were prone to getting stuck. In my experience you can always tell at 4° or 5° Brix if a wine is going to stick. When that happens to any wine, what we do is press it (i.e. separate the fermenting juice from the skins) immediately. I want to build it up with natural CO2 in it so it doesn't get tired. Before, when we didn't do that, we used to cross our fingers and toes, and just hope it gets there. But by that time, so much of the natural CO2 is gone, and even if it finishes fermentation the wine just seems tired. But if you can get that build-up done as soon as possible with a lot of natural CO2, you can't even tell.
Caparoso: Two things about the 2007 Truluck's: At about 12 years old, it's really holding on to the vineyard character, beginning with an earth tone – a Southern Frenchy sort of dried scrub character that I always find in Truluck's, plus a lot of spices – peppermint, peppercorn, a little clove – which is even more aggressive in a young Truluck's. Second, the wine has a truly fine, silky texture that clearly results from the extra time in the bottle, yet it still retains a bright raspberry/black cherry fruit character associated with young Zinfandels. Which brings up the question: Is 12 years, then, a "sweet spot" for ageability of Zinfandels, when you can enjoy the qualities of younger wine, with the smoother texture of an older wine. Any thoughts on that?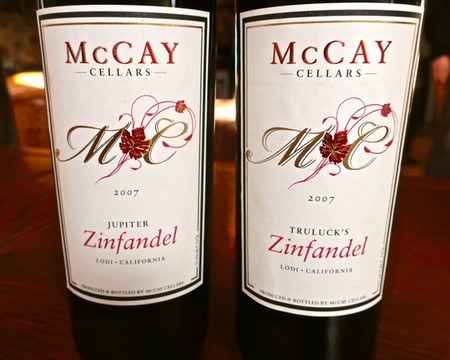 Passalacqua: I might agree. The Truluck's is definitely showing that peatiness you get on the west side. It's still fresh and is tasting very silky, but I also think that's what Lodi does. The suave tannin that you get out here is what people work really hard to get enologically in other regions, yet the wines from out here seem to get that naturally.
Pyle Lucas: Although I don't have a lot of personal experience with this vineyard, by my interpretation of your question you are saying that at 12 years the Truluck's may be showing the benefits of age, especially that lovely silkiness, while bringing a bright youthful character to the table. Without knowing what's happened before and what might come next, it does seem that this wine is in some sort of "sweet spot" right now.
McCay: Well, I don't know. I was also blown away by the '84 and '94 ZinStars. So I would say, it all depends, like with any wine, on where you are, what you're doing and who you're doing it with. Obviously, I love my own wines, but so far all these wines having been showing something special, even at different levels of maturity.
Lucas: In the early days, pre-Prohibition (1920-1933) and just after, we often use to press off wines at 5° Brix because we didn't want the tannin – we were afraid of it. Then there was a period when we did the opposite, going for the longevity that tannin can give you with punch-downs and post-ferment skin contacts, and all the winemakers were chasing after that. Then we got away from that, and were going for the oak. Hopefully we've reaching a point where we're smart enough to let vineyards speak for themselves, instead of us trying to do the talking for them.
McCay: If anything, I think Lodi as an AVA has an inherent or natural talent for wines with those suave tannins Tegan is always talking about. This adds to the ageability, because it's a balanced tannin. Maybe more important, it gives immediate appeal when our wines are really young. Obviously, that's why Lodi Zinfandel is so popular. Now it's a matter of getting people to see that there's also something else, something deeper and more serious, about a Lodi Zinfandel, especially when it comes from some of our best vineyards.
Pyle Lucas: Going back to what David was saying, I think we could easily overdo it with things like oak, tannin extraction and extended skin contact. I want the tannin structure, but I don't want things poking out. Then again, I really don't know. What I find about Zinfandel in Lodi after all these years is that it is a life-long journey, and each vineyard has its challenges. After 17 years of working with just ZinStar – a lot it at the direction of David, who's been at it even longer – I still think I'm just scratching the surface. It almost bothers me about Zinfandel – you feel like you can never master it!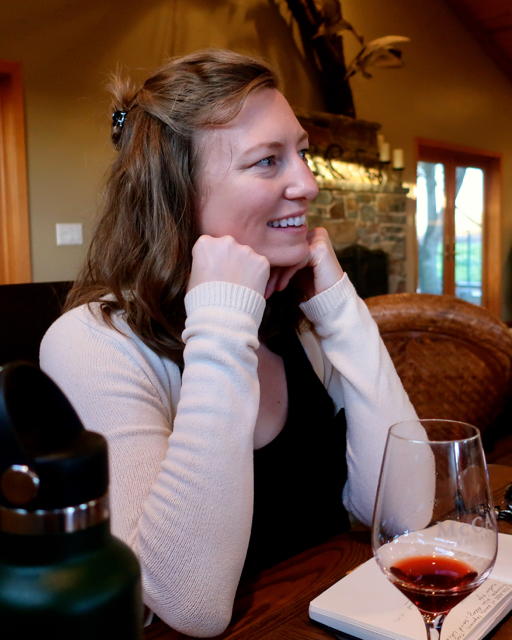 2007 McCay Cellars, Jupiter Vineyard Lodi Zinfandel
2008 McCay Cellars, Equity Vineyard Lodi Zinfandel
2010 Turley Wine Cellars, Dogtown Vineyard Lodi Zinfandel
McCay: It's interesting to compare these two vineyards, Jupiter and Equity. They're both located off Locust Tree Rd. on the east side of Lodi's Mokelumne River. The Equity is a mid-1960s planting on Freedom rootstock, located behind the house where Watts Winery is. This vintage (2008) was the transition between the two Watts brothers, Keith and Craig, who were in the process of splitting up and going their separate ways. Since I've always worked with Keith, this was the last vintage of Equity that we've ever made, which is a shame. Jupiter is located a little further down Locust Tree Rd., and is planted on St. George rootstock. The winemaking protocols – native yeast, French oak, mostly neutral barrels – are the same for both wines, and so you should see some good vineyard distinctions.
Lucas: One of our old Mondavi QET studies involved trying to find out why the pH (i.e. acid balance) in some vineyards seem to be out of whack each year. Each grower turned in a report, and we identified Freedom rootstock as being a real problem. Yet that rootstock was so popular, back in the '70s. Eventually we held a meeting and invited the growers, where we made a presentation on our findings. I think that spelled the end of Freedom's popularity for more than a few growers.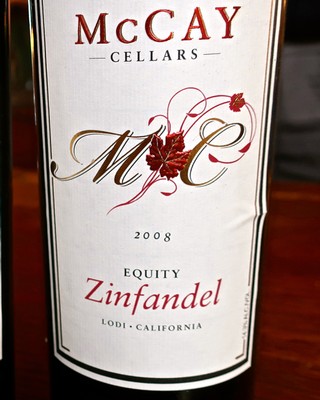 Passalacqua: One thing we know about Freedom is that the reason they can resist nematode damage is that they can continue to grow. I've also heard that the flush continues to pick up potassium, which raises the pH.
Lucas: While plant vigor can be a positive, it's the extreme vigor of those roots that causes a problem in the wines, dropping the acidity. As Tim Mondavi used to say, the enology and viticulture departments at U.C. Davis are separated by only a staircase, but for a long time they never talked to each other.
Pyle Lucas: There's a very interesting contrast between the Equity and Jupiter. For me, the Equity is more elegant, whereas I find the Jupiter to be a little more rustic.
Passalacqua: The Equity seems to me like a wine that comes from a larger crop, with bigger berries. There is a little more structure in the Jupiter, coming off a vineyard on St. George where you get more shot berries (i.e. uneven sized berries, or "hens and chicks"), more skin-to-juice-ratio and thicker skins.
Caparoso: The Equity may be the lighter and looser of the two wines, but at this stage I'm preferring it. It has a beautiful perfume and sweet pepper/peppermint spice, almost hinting at ginger. Tannins are still firm, but the wine is bright, fine and silky. The Jupiter is rounder and a little fatter, and the fruit veers more towards cherry cola. So in this case, I'll take the lighter, more linear, spicier wine over the fatter, riper one. It's just prettier.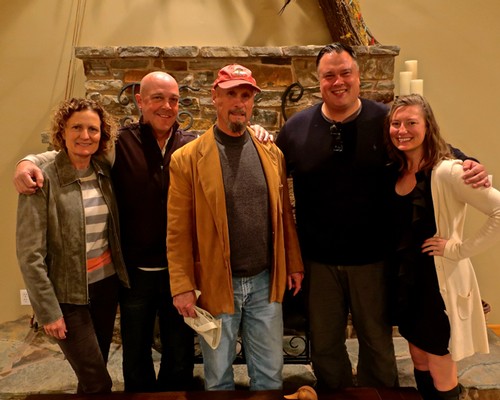 Pyle Lucas: It's counter-intuitive, knowing the differences between the two vineyards, but I'm liking the Equity more as well.
Caparoso: I'm not surprised, because of all of the vineyard-designate Zinfandels Mike makes each year, Jupiter is usually my least favorite precisely because it tends to be round to the point of being a little plodding to me. I'm just sorry that Mike no longer makes Zinfandel from Equity, Freedom rootstock and all.
McCay: It's funny, because everyone has their preference. For my wife Linda, for instance, Jupiter is always her favorite, every year.
Passalacqua: The final Dogtown comes from 2010, no doubt one of the better vintages for Lodi in recent years.
Pyle Lucas: This wine (the 2010 Dogtown) is really stunning. I love its balance – so much brightness on the palate.
Caparoso: What's amazing is the 2010 Dogtown is so fine and silky and zesty, despite its young tannin. Looking at the label, it's also hard to believe it's 16.2% alcohol.
Passalacqua: You were out there in 2010 during the harvest, so you know that we picked earlier than everyone else in Lodi. But you know, you can pick Zinfandel at just 24.8° Brix, and it will still hit 16% (alcohol). Consumers may not comprehend that alcohol does not determine balance and quality, which is especially true for Dogtown.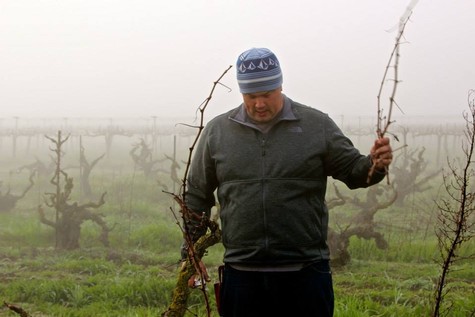 Caparoso: You know what's also nice? That it has the qualities of the previous Dogtowns (1997 and 2001). The perfume is just soaring, black cherry and raspberry – a big contrast from all those Mokelumne River wines, with all their earthy qualities.
Passalacqua: Tasting this wine makes you wish there were more old vine vineyards planted out there in Clements.
McCay: Like the Stampede Vineyard?
Passalacqua: Yes, Stampede is another 'tweener vineyard in Clements Hills – part Foothills and part "Lodi." One other thing I'll also say about Dogtown is that it has been farmed organically since '97.
Caparoso: Any conclusions?
McCay: Great tasting. It definitely confirms what we suspected about the ageability of Zinfandel. Looking at the wines from different producers and from different decades to find such wonderful fruit structure and balance certainly proves that Zinfandel can be aged!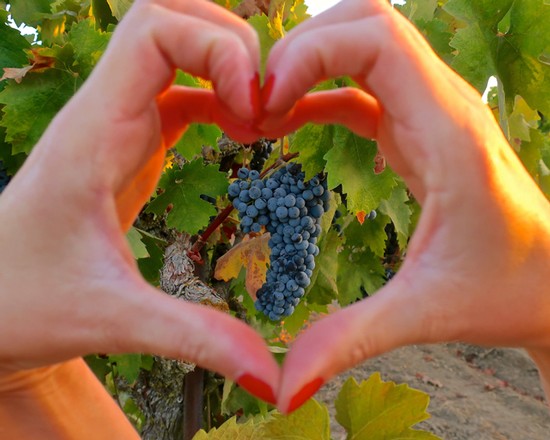 Comments