Letters from Lodi
An insightful and objective look at viticulture and winemaking from the Lodi
Appellation and the growers and vintners behind these crafts. Told from the
perspective of multi-award winning wine journalist, Randy Caparoso.

January 10, 2022 | Randy Caparoso
Lodi's 2022 Wine & Chocolate experience is more varied and sumptuous than ever!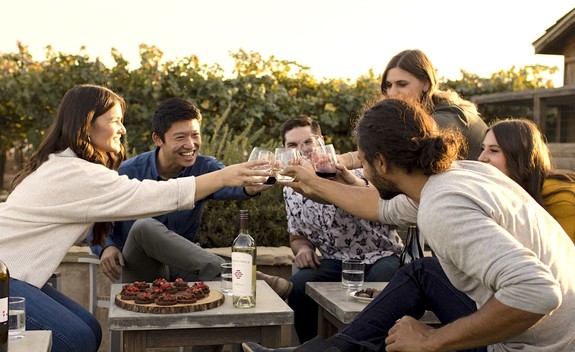 It's back by overwhelmingly popular demand! Many a first-time Lodi wine lover has enjoyed this yearly experience — where Lodi vintners swing open their doors and wow them with their fresh, sumptuous wines, delicious culinary offerings, and homespun hospitality — and walked away with a lifetime's appreciation for Lodi wine country.
By the same token, for over two decades — 2022 will mark 25 years of Lodi Wine & Chocolate celebrations — longtime Lodi wine lovers have returned time and time again. They know a great deal when they see or rather taste, it.

This year Lodi Vintners will be changing up its winning "formula" quite significantly. First, rather than two whole days of passport-style winery visitations, there will be just one day of winery hopping, taking place on Saturday, February 5, 2022.
However, to complement the Saturday winery experience, there will be two more different events making Lodi's Wine & Chocolate weekend even more intimate and educational than ever:
• Friday Evening Winemaker Dinners (February 4, 2022) — On this night you may sign up ahead of time for one of nine different dinners where you will be able to wine-and-dine, close-up, and personal, with Lodi winemakers and winery owners. Each of these intimate, enlightening experiences will vary, and seating will be limited! Yes, you would also be enjoying this dinner with fellow wine and food lovers, but anyone who has attended one of these dinners can attest to the fact that this is also a great way to meet new friends. Face it, after the challenges of the past two years many of us need this. The sheer love of sumptuous, friendly wines tends to bring everyone together, and Lodi wine is as sumptuous and friendly as it gets!
• Sunday Winemaker's Brunch (February 6, 2022) — We encourage you to wake up slowly on Sunday morning following your day of winery visits, and then top off your weekend with a special event taking place at Lodi's luxurious Wine & Roses Hotel, Restaurant, and Spa, ranked as one of the most romantic destinations in the world (we always dare untethered couples to visit Wine & Roses without walking away spontaneously engaged!). Starting at 11:00 AM, Lodi winemakers will be pouring whites, rosés, and sparkling wines to go with brunch-themed delicacies prepared by Wine & Roses' consummate chefs. This is also a chance to meet and chat with winemakers you may have missed over the weekend!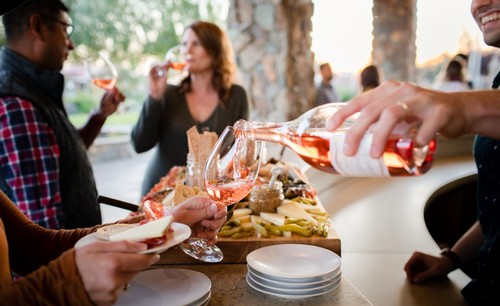 To avoid disappointment, we encourage you to sign up now, especially for Friday and Saturday's limited seating affairs.
Further details on 2022's entire Lodi Wine & Chocolate weekend...
The Friday Evening Winemaker Dinner Experiences
$125/per event; buy tickets here, Advance sales close January 27; must be 21+ to attend. Choose from among these nine venues:
The Dancing Fox — This winemaker dinner will be hosted by owner/grower/winemaker Gregg Lewis, who farms his own grapes in Lodi's Clements Hills (on top of owning and operating Downtown Lodi's The Dancing Fox restaurant and brewery). Seating is limited to 30, and the dinner starts at 6:00 PM. 203 S. School St., Lodi.
GoodMills Family Winery — The GoodMills Family dinner begins at 5:00 PM and is limited to 18 guests. This will be a multi-course wine and small plate pairing highlighting the Clements Hills estate-grown wines by owners Brad and Lauri Mills. 17266 Hillside Dr., Lodi.
Heritage Oak Winery — Your hosts, Tom and Carmela Hoffman have been farming a 186-acre east side estate that has been in the Hoffman family since 1868 (typically "Lodi!"). Although the Hoffmans are walking, talking pieces of history, they produce a full range of contemporary style varietals and blends that are among the finest in the region. Their winemaker dinner starts at 5:30 PM, and there is seating only for 12. 10112 E. Woodbridge Rd., Acampo.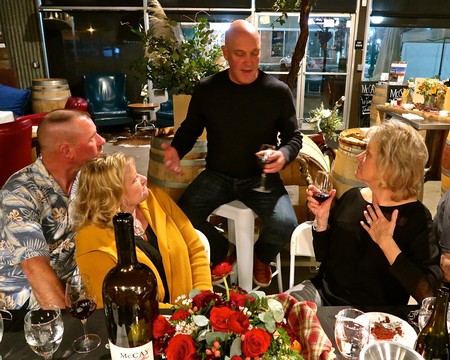 McCay Cellars — Owner/grower/winemaker Mike McCay is justifiably acclaimed for his handcrafted, natural styles of wine that have been rated among the finest in California. Mike and Linda McCay will show off wine and food matches reflecting the foodie side of their affable yet seriously grape-focused personalities, and their table (dinner starting at 6:00 PM) will seat just 12 guests. 18817 E. Hwy. 88, Clements.
Spenker Winery — Enjoy a drive through majestic old vine Zinfandel plants to enjoy a "farmstead" style dinner hosted by the Spenker family — farming in Lodi since the 1890s — who have recently branched out to establish their own goat cheese farm and creamery (and the cheeses are heavenly!), complimenting their estate-grown grapes and wines. Dinner starts at 6:00 PM and seating is limited to 12. Guests will also be required to show proof of vaccination at check-in. 17291 DeVries Rd., Lodi.
St. Amant Winery — St. Amant wines have always been as artisanal or "handcraft" as it gets for Lodi, and the accolades — a neverending stream of golds, double-golds, and best-of-show awards — have been proof of that. Owner/winemaker Stuart Spencer will lead 24 guests (maximum) on a winery tour and tasting of seemingly ageless library wines (a good excuse for Stuart to open up bottles!), and also treat everyone to a barrel tasting of the family's specialty Port wines, served with a chocolate dessert. Proceedings start at 6:00 PM. 1 Winemaster Way, Bldg. 1, Lodi.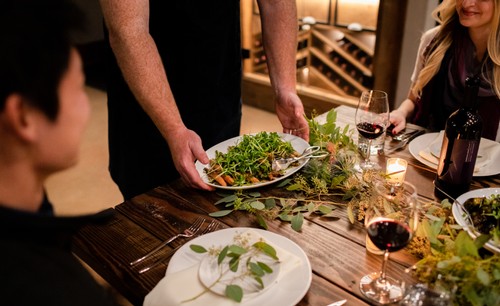 Viaggio Estate & Winery — Dinner at this stunningly beautiful estate nestled along the banks of the bucolic Mokelumne River starts at 5:30 PM, and is limited to 16 guests. They have a "Mike and Mike" — assistant winemakers Mike Johnston and Mike LaPorte — who will lead you on a cellar tour and wine bottling demonstration, followed by a multi-course dinner highlighting the Viaggio wines. 100 E. Taddei Rd., Acampo.
Oak Farm Vineyards — Oak Farm owner/growers Dan and Heather Panella are billing their Friday night event as a "La Festa di San Valentino Italian Dinner," in proud homage to their Southern Italian heritage. The 6:00 PM dinner will be a four-course (served family style) "taste of Italy" prepared by Cucina Executive Chef Marco Fossati with wines grown in the Panellas' historic estate, also hosted by Oak Farm's Italian-born assistant winemaker Marilia Nimis-Schrader. Seating will accommodate 48 guests. 23627 N. DeVries Rd., Lodi.
Ironstone Vineyards — Hosted in the Lodi family home of the Kautz family, one of the appellation's biggest and most serious winegrowers. This 6:00 PM multi-course dinner will be prepared by Executive Chef Bob Anderson, and you can be sure that the Kautz family will march out their finest, reserve-level wines sold under the Ironstone and Kautz & Kramer labels. This will be an intimate-scaled dinner for only 12 guests. 5350 Bear Creek Rd., Lodi.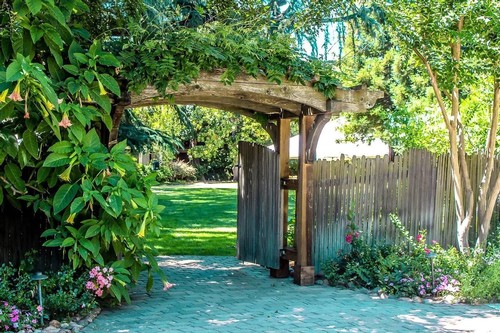 The Sunday Winemaker's Brunch
Buy your tickets here ($95 per person) for the 11:00 AM-2:00 PM brunch on Sunday, February 6, 2022, at the incomparable Wine & Roses Hotel, Restaurant, and Spa. Besides tastings of whites, dry rosés, and sparkling wines with winemakers, you will enjoy the exquisite cuisine of this breathtakingly beautiful resort, along with live music.
Please note Advance sales for the Sunday brunch close on January 27. Tickets are limited and may not be available at the door. Must be 21+ to attend.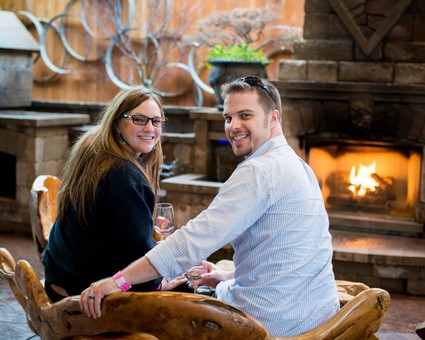 The Saturday Wineries
Needless to say, it will be impossible to visit all 30 participating wineries during the allotted time (11:00 AM to 4:00 PM) on Saturday, February 5th. Tickets are $75/person (buy here) and are very limited (unlike previous years, tickets may not be available "at the door").
Passes to all the participating wineries will include a stemless Lodi Wine & Chocolate wine glass, chocolate treats, and a brochure. Must be 21+ to attend. Finally, as duly noted: Each winery has established its own policy with respect to the accommodation of buses, limousines, or parties of over 10 people.
There are lots of choices, and to help you pick and choose, please see this quick synopsis of each destination below. We urge you to plan your Saturday stops according to your interests. Take your time, "sip and spit" (whenever possible), and savor each special Lodi moment!
Barsetti Vineyards — A charming Downtown Galt (just north of Lodi) tasting room. Exceptional Merlot and finely balanced style of estate-grown Zinfandel. Live music by Phil & da Pinots, a chocolate fountain and assorted appetizers, and wine and merchandise discounts. 400 4th St., Suite 150, Galt. Buses, limos, and groups over 10 are welcome.
Bokisch Vineyards — Owners Markus and Liz Bokisch are one of Lodi's big-time grape growers, famed for their groundbreaking Spanish varietals; although they also produce outstanding non-Spanish style wines under their Tizona label. Their tasting room/winery is located just a few minutes drive east of Lodi in the Clements Hills (super-photo-worthy hillside estate), and their Saturday offerings will include Spanish-style tapas and viva el chocolate y vino! 18921 Atkins Rd., Lodi. Appointments are required for buses, limos, or groups over 10.
Cabana Winery — This small specialty winery will offer Capital Confections' chocolate truffles and spicy jalepeño chocolate to go with their handcraft wines. 710 S. Beckman Rd., Suite D, Lodi. No buses, limos, or groups over 10, please.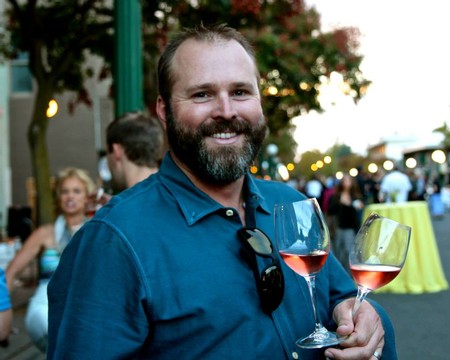 Calivines Wines — Keenly aware gastronomes know this destination as the home of Calivirgin and Lodi Olive Oil, products that have garnered more best-of-show awards in competitions such as California State Fair than any other olive oil producer in the state (absolutely no exaggeration). Wine & Chocolate weekend will be your chance to visit Calivines the winery, located at the far western edge of Lodi at 13950 N. Thornton Rd., Lodi. No buses, limos, or groups over 10, please.
Cellardoor by Michael David Winery — Rather than at their Hwy. 12 wineries, Michael David will hold its Wine & Chocolate festivities at Cellardoor, their Downtown Lodi wine bar. Apart from the Phillips family's stupendously rich and appealing wines, you will be able to enjoy rollicking live music and treats delivered fresh from Michael David's own bakery. Always the place to be during Wine & Chocolate Weekend! 21 N. School St., Lodi. No buses, limos, or groups over 10, please.
Consumnes River Farm — Take a quick drive northward into Lodi's beautiful Costumes River appellation to visit their winery estate, known for its multi-award-winning old vine Zinfandel as well as its exquisite Bellindora brand of vinegar and olive oils. Enjoy live music all day by Paul Blakemore, plus a bevy of chocolate treats. 28305 N. Thornton Rd., Thornton. No buses, limos, or groups over 10, please.
d'Art Wines — Few wineries are as adept at the "art" of hospitality as owners Dave and Helen Dart, and their winemaking daughter Jessie (Dave's multimedia artwork also festoons the tasting room walls). Besides a full range of deftly crafted wines (on top of arguably Lodi's finest Port-style wines), the Darts will offer their famed chocolate chili (not to be missed!) and tastings of Ports straight from the barrel. Wine and chocolate "heaven!" 13299 N. Curry Ave., Lodi. No buses, limos, or groups over 10, please.
Drava Wines — Owner/brothers Steve and William Carson often describe their output as garagiste style wines (a French affectation referring to handcrafted "garage" wines), and they named their winery after a river flowing through Slovenia (where William once lived). In short, an interesting micro-sized (barely 250 cases produced each year) destination, where you will also be treated to grilled chocolate ganache sandwiches on top of conversation with these one-of-a-kind vintners. 1378 E. Turner Rd., Suite D, Lodi. Appointments are required for buses, limos, or groups over 10.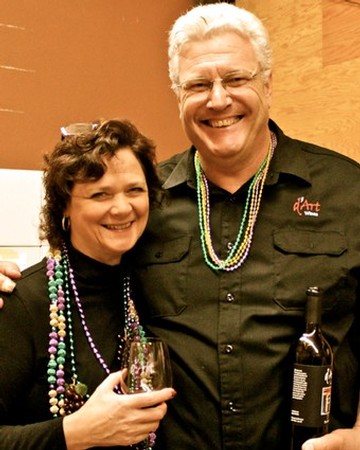 Estate Crush — This is Downtown Lodi's custom crush facility owned by Bob and Alison Colarossi. The Colarossi's adroitly craft small-batch wines for over 100 clients, and the brands featured at their tasting room run in the dozens; although they will primarily be showing off wines tapped straight from the barrel as well as bottlings under their own Estate Crush label — a finesse Colarossi Family Vineyard Zinfandel plus at least four different wines made from Lodi's oldest vines, Bechthold Vineyard (Cinsaut planted in 1886). Mr. Colarossi also loves to show off his "Bob's famous trilled tri-tip slider," which he lavishes with a Port reduction. 2 W. Lockeford St., Lodi. Appointments are required for buses, limos, or groups over 10.
GoodMills Family Winery — Owner/growers Brad and Lauri Mills farm their grapes out in a quiet corner at the lower, western edge of Lodi's Clements Hills appellation. Enjoy their wines with a variety of food pairings, plus (they say) some "tasty treats." 17266 Hillside Dr., Lodi. No buses, limos, or groups over 10, please.
Grace Vineyards — "Grace," as well as "serenity," does indeed describe this columned vineyard home surrounded by tall pines, magnolias, and rose bushes, just a few minutes north of Lodi in the community of Galt. Drop in to enjoy their wines with assorted chocolates, demi-glace meatballs, and basil mashed potatoes. 28001 N. Nichols Rd., Galt. Appointments are required for buses, limos, or groups over 10.
Harmony Wynelands — This is an unusual east-side winery estate — its lofty tasting room was constructed to house a gigantic Robert Morton Pipe Organ (literally, the size of a house) acquired from San Francisco's historic Castro Theatre. This Saturday they will also offer live music by Anissa between 12:30 and 4:00 PM, along with chocolates to perfectly match their luscious "Zinsation Port." For an extra treat, enjoy smores by the fire pit (weather permitting), plus the Hartzell family's customary "Zin bomb" tastings and anything else that may come to mind. 9291 East Harney Ln., Lodi. Buses, limos, and groups over 10 are welcome.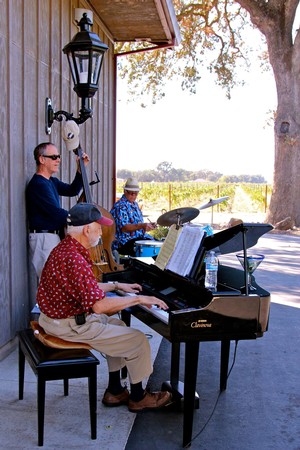 Heritage Oak Winery — You will indeed be able to spot this east side winery estate from E. Woodbridge Rd. by a spectacular, towering blue oak standing between the winery and owners Tom and Carmela Hoffman's home. They grow and produce truly wonderful wines, but visitors are often delighted when Tom sits at the piano in his tasting room and plays the piano (Mr. Hoffman is obsessed with Dominico Scarlatti, an 18th-century Italian composer). Enjoy all of this with chocolate treats (probably served outdoors), and maybe more... you never know what will happen at Heritage Oak! 10112 E. Woodbridge Rd., Acampo. No buses, limos, or groups over 10, please.
Housley's Century Oak Winery — The Housley family, who have been growing grapes in Lodi for over 40 years, can always be depended upon to put out a fun spread and happening "scene" at their west side winery, promising chocolates, facility tours conducted by Adam and Tamera Housley, and offerings for sale by local artisans (including vinegar and soaps). 22211 N. Lower Sacramento Rd., Acampo. No buses, limos, or groups over 10, please.
Intercoastal Vineyards — The east side-based Intercoastal winery is one of Lodi's newer growers/producers, headed by owners Rachele and Mitch Spaletta and a winemaker named Eric Lyman. You are invited to explore their estate-grown wines, which will be complemented by live music, chocolate pairings, and campfire s'mores; plus, for a little more ($), the Parks Barks BBQ Truck. 13731 N. Hwy. 88, Lodi. Buses, limos, and groups over 10 are welcome.
Jeremy Wine Co. — Many Lodi wine lovers are very familiar with Jeremy Wine Co., a Downtown Lodi mainstay. For the Wine & Chocolate weekend, however, owners Jeremy and Choral Trettevik would like to welcome visitors to their exciting, new winery site out in Lockeford, less than 15 minutes drive from Downtown Lodi. Your reward will be tastes of Jeremy's Chocolate Port plus Lodi's Super Tortas (handmade chocolate tamales). Please note, Jeremy Wine Co.'s Downtown Lodi tasting room will not be participating in Wine & Chocolate festivities. 16750 CA-88, Lockeford. No buses, limos, or groups over 10, please.
LVVR Sparkling Cellars — What could be better during this exciting weekend than the handcrafted sparkling wines by Lodi's premier, authentic, champagne method (that is when effervescence and delicate yeasty complexities are produced in each bottle) wine producer? Champagne master/owner Eric Donaldson will also be offering a variety of chocolates and edible treats at his tasting room/facility, located in Lockeford's historic Tuscan Wine Village. 12470 Locke Rd., Suite 700, Lockeford. Appointment required for buses, limos, or groups over 10,
m2 Wines — This airy, cutting-edge winery — looking for all the world like a gigantic matchbox plopped down in the middle of a vineyard — is always the place to be during Wine & Chocolate Weekend. No doubt, owner/winemaker Layne Montgomery will be wandering about (look for the tall, blonde Teutonic-looking fellow), offering insights into his compelling wines (often with equally compellingly sardonic humor). Besides chocolates, there is always an assortment of other fun displays. 2900 E. Peltier Rd., Acampo. No buses, limos, or groups over 10, please.
Macchia Wines — If you crave deep, dark, bold, and delicious Zinfandels (as well as Barbera and Sangiovese), Macchia literally means the "spot" where you'll find it. This is always one of Lodi's liveliest destinations during Wine & Chocolate Weekend, and owner Lani Jean pulls out all the stops with goodies such as meatballs in chocolate habanero Zin Port reduction, and varieties of other chocolate treats. Irresistibly danceable live music is also given at Macchia, and there will be a photo booth to make keepsakes. 7099 E. Peltier Rd., Acampo. Appointments are required for buses, limos, or groups over 10.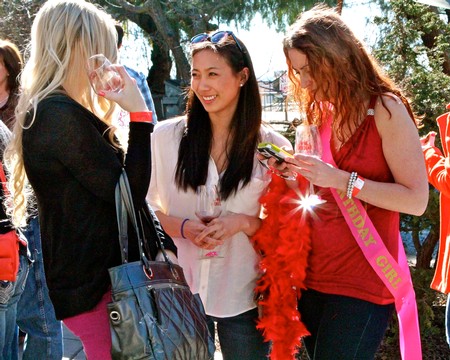 McCay Cellars — Out in the little town of Clements, owner/grower/winemaker Mike McCay and his wife Linda have set up camp in a historic old building, with lots of space to stretch your legs, including an outdoor area where you can enjoy "life in the country" with some of the state's finest, strictly handcrafted, vineyard-designated reds, whites and rosés (McCay is fanatical enough to bottle four or five different dry rosés each year). Enjoy wine-infused cherry chocolate brownies, plus more culinary surprises. 18817 E. Hwy. 88, Clements. Appointments are required for buses, limos, or groups over 10.
Mettler Family Vineyards — There are lots of Mettlers in Lodi — this large, extended family of German descent arrived in 1899 and, for all intents and purposes, "took over" the east side of Lodi, thereby "civilizing" the rest of the region — but this is the one that matters (although Mettler cousins also own Harney Lane Winery). The rich and vivid wines reflect masterful grape growing, and are crafted by a winemaker (Adam Mettler) who recently was voted "Winemaker of the Year"... out of the entire world! On this Saturday, the Mettlers also promise live music and chocolate pairings, even if their wines, with their taste of "history," are plenty enough. 7889 E. Harney Ln., Lodi. Appointments are required for buses, limos, or groups over 10.
Oak Farm Vineyards — This is a favorite "photo op" site (including a historic, 19th-century home that looks like it came straight out of Gone with the Wind), that also produces a full range of premium quality, largely estate-grown wines. Enjoy live music (11:00 AM to 3:00 PM) out on the patio by The Ryan Hernandez Band, offerings (for sale) by a variety of artisan vendors, and dark chocolate sea salt caramels. 23627 N. DeVries Rd., Lodi. No buses, limos, or groups over 10, please.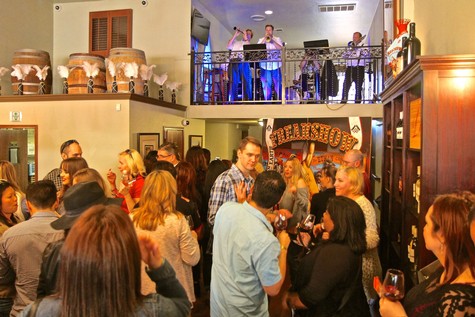 Oak Ridge Winery — The Maggio family, multi-generational Lodi growers of Italian descent, own this facility, centered around a gigantic redwood barrel tasting room (yes, it was once used to store wine) in one of Lodi's historic, old cooperatives — the Lodi wine industry was dominated by wineries owned by hundreds of growers during most of the previous century. The Maggios actually produce an astounding range of wines under multiple brands (including Oak Ridge and OZV). Enjoy selections of wines "by the glass," live music by Rachel Lee Roberts, and "chocolate OZV Zinfandel infused" goodies, plus offerings for sale by local vendors. 6100 E. Victor Rd., Lodi. Buses, limos, and groups over 10 are welcome.
One Way Winery — Adventurous Lodi wine lovers can say hello to one of the region's newest wineries, which plans to serve dark chocolate truffles with its full range of whites and reds. 6539 E. Peltier Rd., Acampo. No buses, limos, or groups over 10, please.
Peirano Estate Vineyards — The Peirano tasting room is surrounded by a sea of tiny, little "goblet" trained vines (nearly 300 acres' worth), the oldest of which date back to the labors of founder Giacomo Peirano in the 1890s. Owner/grower Lance Randolph is Peirano's descendant and has become known for uncompromisingly frank, fruit-forward, balanced styles of wine, including a classic "The Immortal" Zinfandel. You can expect a variety of chocolates as well as small bites of other delicacies at this time-honored estate. 21831 N. Hwy. 99, Acampo. No buses, limos, or groups over 10, please.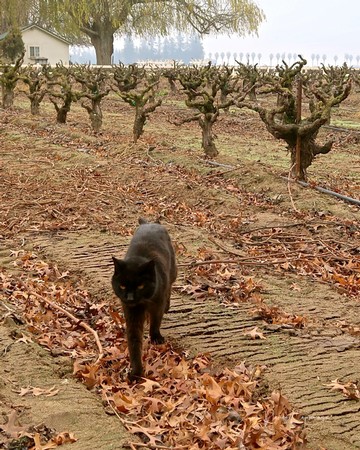 Peltier Winery — A few years ago, owner Rodney Schatz, one of Lodi's master growers, hired a winemaker named Susy Vasquez, and since then this brand has risen pretty much to the top insofar as the sheer quality of wines made from varieties such as Sauvignon blanc, Vermentino, Chardonnay, Cabernet Sauvignon, Petite Sirah, and Teroldego, not to mention amazing dry rosés. Susy rules! Drop by to find out for yourself, while enjoying the live music (12:00-4:00 PM) by DD James, chocolates, and (for sale) pies by Paul's Rustic Oven Pizza. 22150 N. Kennefick Rd., Acampo. No buses, limos, or groups over 10, please.
Scotto's Wine & Cider — This Downtown Lodi wine bar will be bustling with live music by Donovan and wines served with chocolate cherry bombs, popcorn, and a hot chocolate bar beside a photo wall. 14 S. School St., Lodi. Buses, limos, and groups over 10 are welcome.
Spenker Winery — Spenker is more than an old vine Zinfandel estate founded by its owners in the 1890s. It is also a goat farm and creamery producing first-class farmstead cheeses. For this exceptional experience, stop by for bites of chocolate and (for a small cost) samplings of the Spencer family's fresh artisanal chèvre. 17291 DeVries Rd., Lodi. No buses, limos, or groups over 10, please.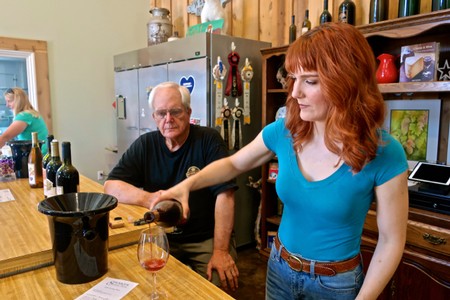 St. Jorge Winery — St. Jorge owners Vern and Jenise Vierra are of Portuguese descent; and so, true to their heritage, they specialize in varietals, blends, and Ports crafted from estate-grown Portuguese grapes. Enjoy live music (11:00 AM-1:00 PM), "Pigs in Mud," and for a little extra ($), linguica sandwiches with their distinctive wines. 22769 N. Bender Rd., Acampo. Appointments are required for buses, limos, or groups over 10.
St. Amant Winery — One of Lodi's premier artisanal producers of ancient vine Zinfandel, Barbera, and Port-inspired dessert wines crafted from rare Portuguese grapes. This no-nonsense destination is definitely "all about the wine," but on this Saturday you can also enjoy savory chocolate treats from Ruby's Bakery, Lodi's most acclaimed artisan bakery. 1 Winemaster Way, Bldg. 1, Lodi. No buses, limos, or groups over 10, please.
Stama Winery — A west side winery owned by the Kapiniaris, a Greek family producing classic varietals — unerringly crafted by a French-born winemaker named Franck Lambert — from their extensive vineyard holdings on both sides of the Lodi appellation. Enjoy live music by Travis Vega along with decadent chocolate brownies. 17521 N. Davis Rd., Lodi. Buses, limos, and groups over 10 are welcome.
The Dancing Fox Winery & Brewery — Come join the Lewis family, who own and farm their own vineyards in Lodi's Clements Hills as well as this popular Downtown Lodi restaurant, who will be pouring their wide range of wines alongside a variety of delicacies ($) from the vaunted Dancing Fox bakery. 203 S. School St., Lodi. No buses, limos, or groups over 10, please.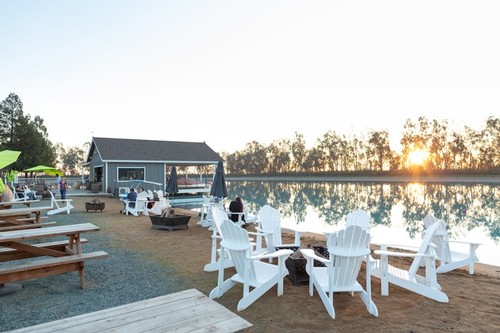 Valensin Vineyard & Winery — Add Valensin to the list of new and adventurous Galt-based producers, producing wines from their own 11-acre vineyard located in Lodi's Alta Mesa AVA. Big bonus: The Valentin tasting room offers a stunning outdoor view of the vineyard's 15-acre water ski lake, where there is seating at tables or on Adirondack beach chairs. Enjoy live music from 1:00 to 4:00 PM, along with chocolate treats and a food truck to purchase something more substantial. 10675 Valensin Rd., Galt. Buses, limos, and groups over 10 are welcome.
Viaggio Estate & Winery — This perennial favorite Lodi wine country destination located on a bucolic site alongside the Mokelumne River will offer live music, chocolates, and brownies, along with pizzas (extra cost) to go with their classic varietal wines. 100 E. Taddei Rd., Acampo. No buses, limos, or groups over 10, please.
Weibel Family Winery — There is always a distinct air of gaiety and ease at this Downtown Lodi wine bar, and the Weibel family's wares — specialize in a wide range of sparkling wines (made from multiple grapes as well as fruit, from almond and peach to raspberry and piña colada) — has a lot to do with it. There will be live music by Mischief, plus chocolate cake bites and DaVinci's ravioli. 9 N. School St., Lodi. No buses, limos, or groups over 10, please.
Woodbridge Uncorked — Besides being known for its dependably warm hospitality, the family-owned Woodbridge Uncorked serves as a home for several small, handcraft-style wineries (including Grady Family Vineyards, Maley Bros., and Hunters Oak Vineyard). Listen even closer, and the brick walls of this historic 1800s building may tell you even more stories. Enjoy a wide range of wines with chocolates by Lodi's Rocky Mt. Chocolate Factory. 18911 N. Lower Sacramento Rd. Woodbridge. No buses, limos, or groups over 10, please.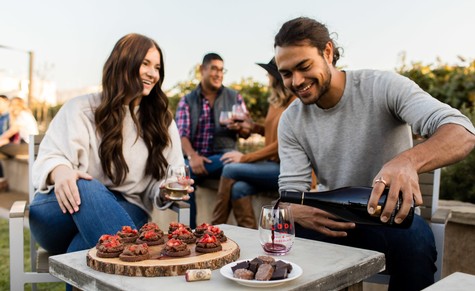 Comments