Letters from Lodi
An insightful and objective look at viticulture and winemaking from the Lodi
Appellation and the growers and vintners behind these crafts. Told from the
perspective of multi-award winning wine journalist, Randy Caparoso.

January 11, 2021 | Randy Caparoso
Alternative style Lodi wines reflecting the wave of the future — part 1, an unfamiliar white and red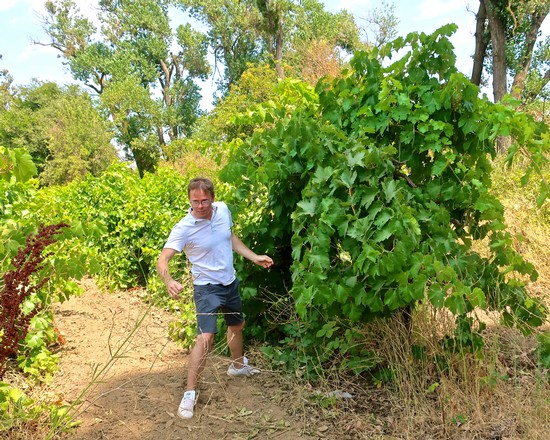 In our previous post — Discerning wines of the immediate future through what we know about the past and what's going in Lodi — we outlined three small yet significant changes in consumer tastes that are beginning to emerge, here at the start of the third decade of the twenty-first century.
• Growing interest in bone-dry whites and rosés with minimal or zero oak influence, and tart (i.e. acid-driven) as opposed to soft or round qualities, as well as qualities suggesting minerality as opposed to pure fruitiness.
• Emerging taste for red wines with less oak influence, that is lighter in body, a little more acid-driven, and often with non-fruit, often earthy qualities reflecting vineyard or regional distinctions (i.e. terroir).
• Increased appreciation for wines with more "natural," or less "manipulated" tastes, as well as wines that carry certification seals for being sustainably or organically grown.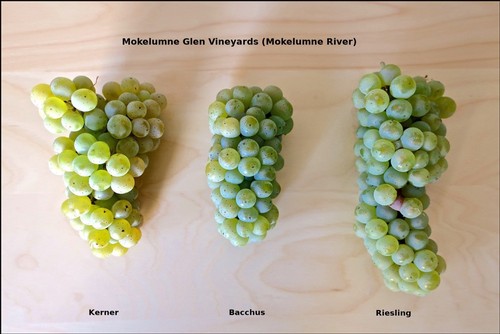 If anything, these subtle changes in consumers' sensory preferences are bound to be reflected in not just the popular wine categories (Cabernet Sauvignon, Chardonnay, Pinot Noir, Zinfandel, red wine blends, etc.), but also in the proliferating diversity of wines made from alternative grape varieties, both domestically produced and imported.
We are already seeing this transition in Lodi — particularly in terms of sustainability (re the region's industry-leading LODI RULES for Sustainable Winegrowing), as well as in the fact that there are more Lodi-based wineries producing alternative varietals such as Albariño and Tempranillo than mainstream varietals such as Chardonnay and Cabernet Sauvignon. And since it's all happening here, there is no reason not to expect it to happen across the entire country. Sooner or later.
What are some of the examples of these alternative wines that are on the brink of becoming more mainstream? Two examples, an unfamiliar white and an equally unfamiliar red, of these trending styles: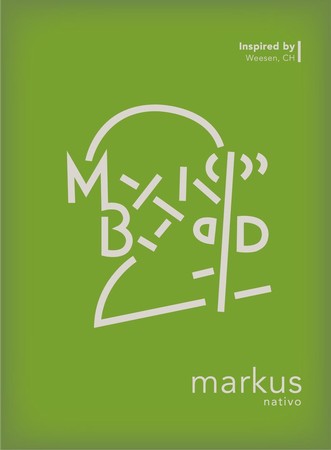 2019 Markus Wine Co., Mokelumne Glen Vineyards Mokelumne River-Lodi Nativo ($22)
This white wine is a poster child for new-style wines that are bound to proliferate in the coming years for two reasons...
1. It fulfills the growing consumer taste for wines that are 100% oak-free, "purer" in a taste reflecting native yeast fermentation and a single-vineyard origin, and predominantly tart and minerally, as opposed to the soft, fruity taste dictating commercial styles of American wine for most of the past 50 years.
2. It is made from grapes unfamiliar to most Americans — Kerner (80%) and Bacchus (11%), along with a little bit of Riesling (9%) — reflecting a growing taste and respect for blends, as opposed to varietal bottlings (red wine blends are already the third most popular commercial wine categories, after Cabernet Sauvignon and Chardonnay).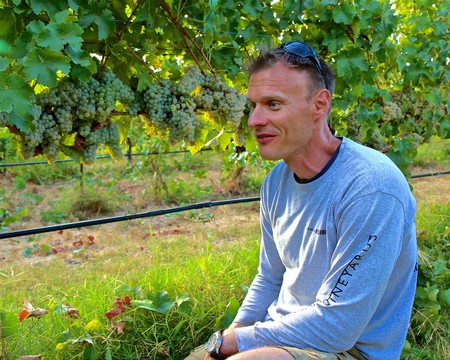 Diving into specifics, the Nativo is, in fact, as floral as it is minerally in its nose and flavor, with subtle notes of leafy garden herbs in its crisp, long, medium-bodied feel. Its provenance, distinctly manifested in Nativo's sensory profile, is entirely serendipitous. Markus Wine Co. owner/winemaker, Markus Niggli, is a Swiss-born vigneron with European sensibilities and has been honing his craft in Lodi for going on 15 years.
The vineyard source, called Mokelumne Glen, is even more unlikely, representing one family's obsession, led by owner/founder Bob Koth, with Northern European grapes, which led to the planting of over 50 varieties of German and Austrian origin on a riverside site surrounded by neighboring blocks of heritage grapes (Zinfandel, Carignan and Flame Tokay plantings dating back as far as the early 1900s) as well as more recent plantings of Albariño, Tempranillo, Graciano, Syrah and Sangiovese. In terms of sheer diversity, a most unusual little corner of the wine world.
Keep in mind, though, that even the most popular wine categories often start as anomalies. In the 1950s and early 1960s, for instance, Chardonnay was still a "cult" wine in California. In the late 1960s and early 1970s, White Zinfandel started as an experimental wine explored by boutique-sized specialists such as David Bruce and Ridge Vineyards. Wines similar to Nativo in originality and sensory profile may very well represent a much larger wave of the future.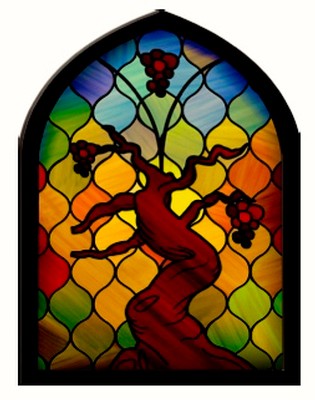 2018 The Adroît Initiative (by BOLD Wine Co.), Somers Vineyard Mokelumne River-Lodi Mission ($22)
The Adroît Initiative is the latest sommelier-owned label to be attracted to the Mission grapes in the 18-acre Somers Vineyard, planted in the early 1970s and located on a richly alluvial, low-lying site alongside the Mokelumne River, just east of the tiny Lodi community of Acampo (see our March 2020 post, New York sommelier finds his kismet handcrafting Lodi grown Mission).
In this case, the sommelier is Christopher Miller, the former wine director of the iconic Spago Beverly Hills and a Master Sommelier since 2012. Two things about sommeliers who have recently ventured into their own wine production companies:
1. They clearly prefer wines that are sharply acidic, light in body, and underripe by today's commercial wine standards —although, to these sommeliers, wines that are crisp, light, and much more subtle in fruit qualities are, in fact, finer and better balanced than more typical wines of today.
2. As a distinct minority group among commercial winemakers, sommeliers tend to have deeper respect, or faithfulness, for the sensory characteristics contributed by individual vineyard sites. In other words, they are less likely to feel compelled to "manipulate" wine qualities by, say, picking grapes when they are ultra-ripe or high in sugars (resulting in lighter, more acid-driven wines), or employing winemaking techniques such as cultured yeasts or barrels than impart strongly distinguishable flavors of oak. Sommeliers are also less likely to espouse fidelity to standard expectations of "varietal" characteristics, whether they are working with popular varieties like Chardonnay or Pinot Noir or less familiar varieties such as Mission or Carignan. Generally speaking, they could care less about convention.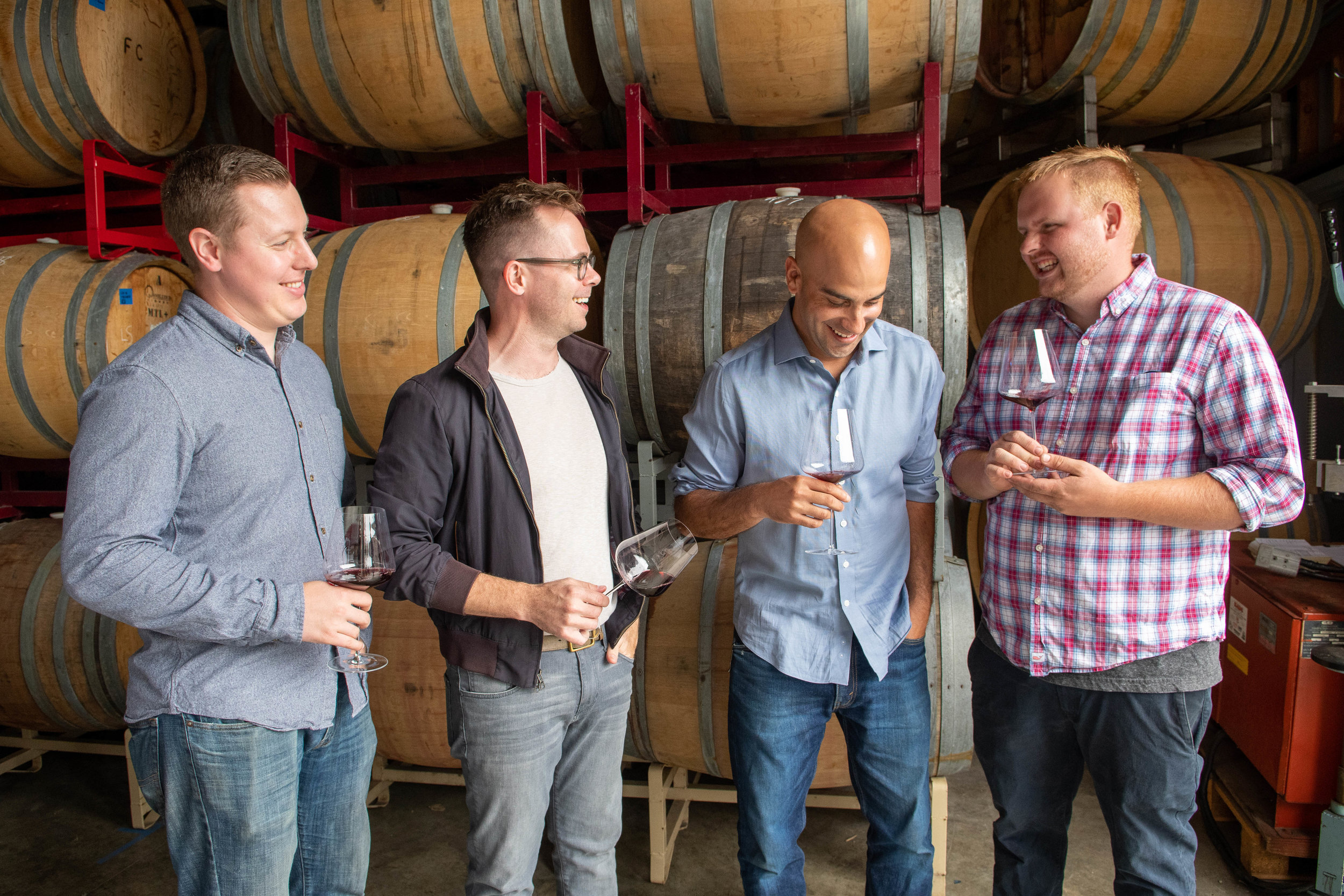 Miller's rendition of Somers Vineyard Mission is extremely high-toned, pure, and effusive — redolent with the grape's floral, fresh red berry/cherry, veering towards blueberry, perfume, and flavor — especially in its sharp-edged yet silky fine, light, and lanky (just 12.7% alcohol) profile. The grape itself is typically very light in tannin, and so it lends itself to the "sommelier" sensibility, totally unobstructed by the "big" alcohol, oak, and tannin trappings common to the vast majority of commercial red wines of today (something especially predictable in popular red wine blends).
Whole cluster/partially carbonic maceration/native yeast fermentation (partly in barrels) and 5 months aging in strictly neutral barrels exemplify this thought process of preserving, as much as possible, the taste of grapes and a vineyard, rather than a compulsion to enhance or beef up the naturally stingy, fruit-focused qualities of this varietal.
But is this style of wine a harbinger of things to come? It is if you consider the fact that sommeliers as a group are, in fact, hyper-sensitive to both practical tastes, especially in the context of foods, and in their sense of what is necessary and what is unnecessary in terms of what makes a wine attractive to the common palate. A sommelier's taste, in other words, represents a more sophisticated wine consumer's palate; and consumers, if anything, are bound to become more sophisticated with the passing of time.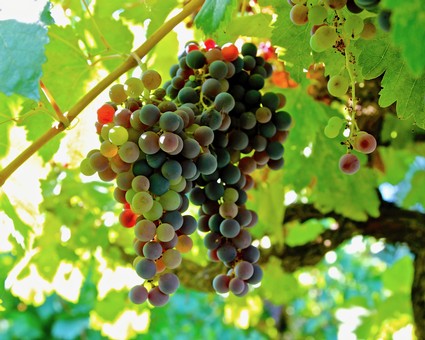 In notes sent over from Miller this past December, he commented on how he thought his Mission was a little "low" on acid, despite the wine's overtly tart edginess. Commented Miller:
The Mission, for me, is a great pizza wine. Just easy, at home on the couch. A little chill (around 50°-55° is perfect) helps to bring out the acidity. I think it's also great with roasted veggies, mushrooms, and lots of earthy flavors... the types of foods where a "bigger" red might be a little overpowering.
Commenting on his goals as a fledgling winemaker, Miller adds:
My only objective as a winemaker — outside of not screwing something up — is to listen and pay attention to what the grapes "want to do". It's not about me or my goals, frankly.
We source from great vineyards, and time our harvest for when we feel the grapes will make the best expression of that vineyard, that year. I'm genuinely not concerned about style. If I feel, based on my experience and what I'm tasting during harvest, that a vineyard will produce a "better" wine by harvesting earlier or later, for instance, I follow the vineyard's lead, not trying to force something into a "house style". The same goes in the winery — whole cluster percentage, fermentation temperatures, and vessels, length of aging… nothing is pre-ordained. We help those grapes to become the wine that we feel THEY want to become.
Our next post: Alternative style Lodi wines reflecting the wave of the future — part 2, new interpretations of heritage grapes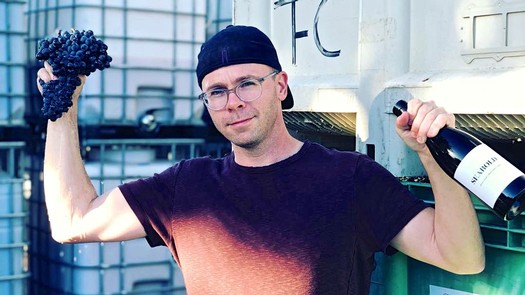 Comments