Letters from Lodi
An insightful and objective look at viticulture and winemaking from the Lodi
Appellation and the growers and vintners behind these crafts. Told from the
perspective of multi-award winning wine journalist, Randy Caparoso.

October 18, 2022 | Randy Caparoso
A long overlooked Italian grape—Nebbiolo—has found its place in Lodi hillsides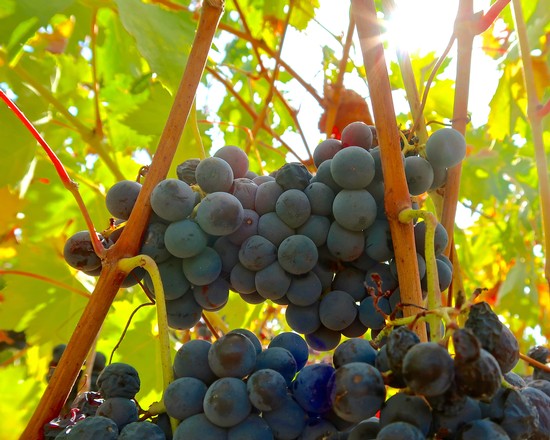 Among the many wine grapes commercially grown in Lodi—over 125 of them, at last count—there is one that has remained an obscurity in the region and throughout California, despite its supremacy in its native Italy.
We're talking about Nebbiolo, the major grape of the Piedmont region of Northern Italy. All evidence points to the long-held belief that the grape is indigenous to this region. Roman scribes were writing about the great red wines of this area 2,000 years ago, describing wines that are almost exactly like the wines now grown and bottled by the names of Piedmont's highest-ranked zones: particularly Barolo (often called the "King of Wines, Wine of Kings"), Barbaresco, and Gattinara.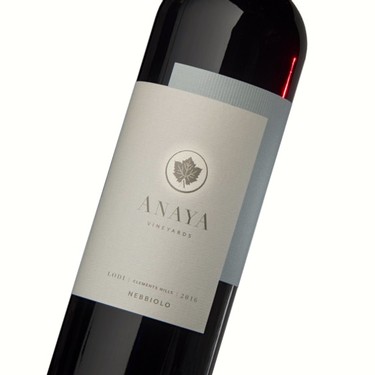 The 2019 Anaya Vineyards, Potrero Vineyard Clements Hills-Lodi Nebbiolo ($48) is a 100% pure specimen of the grape. It doesn't come out like Gangbusters, which is also a true sensory expression of the varietal, especially when bottling is less than 10 years old. The Anaya's color is brick-ish ruby; not transparent, but not particularly deep. The nose is subtle, like the awkward girl hiding in the back of group pictures: a floral scent suggesting rose petals, the sweetness of raspberry/cherry, and a backdrop of oak suggesting vanilla and cigar box.
On the palate, the wine is fairly full (14.4% alcohol), yet somewhat lean and taut in feel. You could call it a "Skinny Minnie," or maybe a "Long Tall Sally," but if you did you might miss its finer points: "Skinny," after all, can be quite attractive. In the case of Anaya's Nebbiolo, the broad taste is defined by crackling, lively acidity, which brightens the low-key floral/raspberry qualities in the mouth, while a sturdy core of fruit and oak tannin lends focus to the feel like the handsome wooden frame around a picture. Better yet, the wine finishes dry and snappy—a refreshing departure from the fat, mushy, tutti-fruity styles of California red that seem to dominate the market.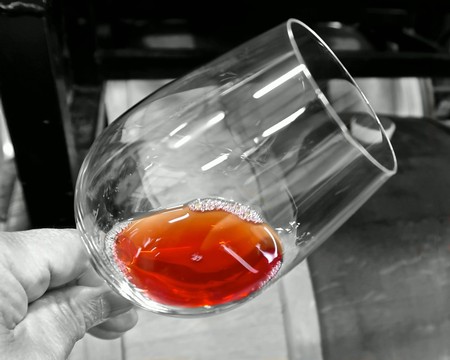 This is also the kind of wine that makes you think: Where have you been all my life? Hiding in the back?
The fact of the matter is, up until fairly recently the Nebbiolo grape has been practically nonexistent in California. U.C. Davis Professor Maynard A. Amerine's terse description of the grape in his 1976 book, Wines: Their Sensory Analysis, probably explains why that is: He lists Nebbiolo among grapes with "mildly distinctive aromas, but not strong or easily recognizable ones."
In other words, for over 100 years California vintners have tried, presumably since the late 1800s, to grow and produce red wines from Nebbiolo, and simply found them wanting. Meager in color, and negligible in fruit definition. It's really that simple. By way of contrast, after Zinfandel was introduced to California during the 1850s it immediately became the grape of choice in vineyards from Los Angeles up to Mendocino. Why? Because it produces a loud and expressive wine in California terroirs. Zinfandel became the predominant black-skinned wine grape in Lodi as well and is still cultivated throughout the more coastal regions despite the immense popularity of Cabernet Sauvignon, Pinot Noir , and Merlot.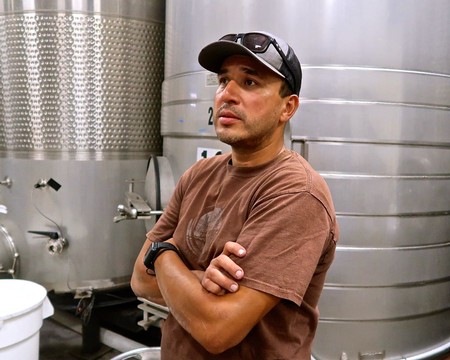 The skinny on what makes Nebbiolo suitable for Lodi
Here's an interesting tale: For many years, Lodi's Anaya family has been going back and forth between Baja California in Mexico and enjoying rich, full-bodied red wines grown in Valle de Guadalupe bottled as Nebbiolo. It was one of their favorite wines.
So in 2012, when the four Anaya brothers—Victor Jr., Ramon, Armando, and Gerardo—expanded their acreage in Lodi's Clements Hills appellation, one of the grapes they planted was Nebbiolo. Two acres of it (part of a 50-acre block they now call Potrero Vineyard). Their plant material was certified as a genuine selection of Nebbiolo, and it's two of only 142 acres of the grape (according to the 2021 California Grape Acreage Report, filed under the auspices of the USDA) currently planted in the entire state.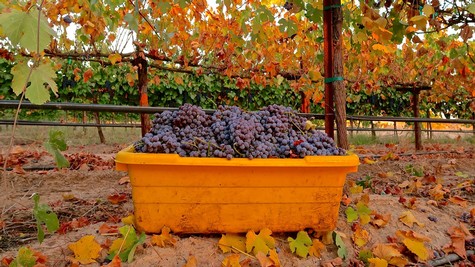 But since then, according to Anaya Vineyards owner/winemaker Gerardo Espinosa—the son of the Anaya brothers' sister, Leticia—the family has discovered that the deep-colored, rich Nebbiolo grown in Valle de Guadalupe that they loved so much is not even made from the true Nebbiolo grape!
Backing up Espinosa's observation, a couple of years ago a writer named Nils Bernstein filed a report on Baja California, Mexico wines in Wine Enthusiast. According to Bernstein:
Baja produces a lot of wine labeled as Nebbiolo. However, most are inky wines, with jammy black-fruit characteristics that show no resemblance to Italian versions... Some examples of the grapes used for these wines have been genetically tested and come back as Lambrusca di Alessandria, another Piedmontese grape that bears no relation to Nebbiolo, or even Lambrusco. But few producers are interested in testing their grapes, dare they learn the truth and risk losing the commercial cachet of calling their wines Nebbiolo.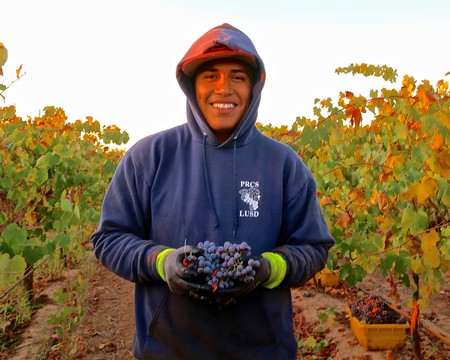 A long-told story says that the Nebbiolo planted in Baja are several varieties from Piedmont that arrived without identification tags in the 1940s. To complicate matters, there is certified Nebbiolo planted in Baja as well, which displays the grape's textbook color, aromas, and tannins.
Mr. Espinosa is forthcoming in his explanation of why his family committed Nebbiolo. "My uncles were curious, and in many ways, it was an experiment, but they truly liked the Nebbiolos they tasted in Valle de Guadalupe. It was afterward that we found out that what they call Nebbiolo in Mexico is not truly Nebbiolo. I've been told that they now have the true Nebbiolo down there, but they are still blending it because they don't want to get away from the dark color and ripe flavor that has made the wine so popular.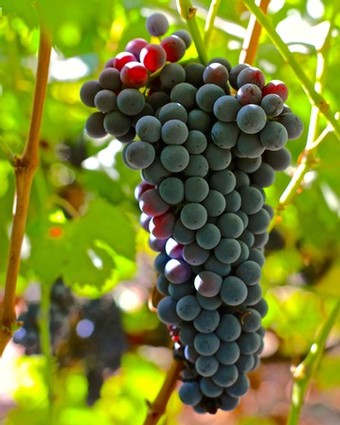 "We especially know about this now that we have produced several vintages of our own Nebbiolo. No matter what you do, it's going to be very light in color, more like the color of Pinot Noir. But it's very fragrant, and of course, it has great acidity and tannin. So much that it needs to spend at least three years in the barrel. It's not that we want it to be an oaky wine. The wine just doesn't smooth out until it hits that 3-year mark in oak. 80% of our Nebbiolo is aged in neutral barrels [i.e., barrels previously used for several vintages, which reduces the impact of barrel aging in terms of oak flavor], and all French oak, which is more subtle.
"It's also been said that Nebbiolo may be difficult to grow in California. In our vineyard it's been growing very well, easily producing at least 3 tons per acre.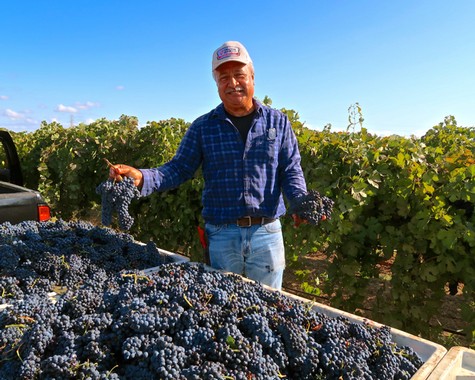 "The challenge for us is now discovering what its true identity is for our vineyard. We grow in rocky red clay soil [the hillside soil that defines Lodi's Clements Hills AVA] which helps the grapes retain lots of tannin and acidity. The nice thing about Nebbiolo is that you never need to adjust the acidity, unlike most grapes, and the wine requires a minimum amount of SO2 [sulfur dioxide]. So what you are tasting in our wine is a true expression of the Nebbiolo grape and a true expression of the Clements Hills soil and climate.
"We're very happy with our Nebbiolo. Some of the other wineries we've been selling the grapes too are also happy with it, so we are now planning to plant more. I think, in the past, Nebbiolo was thought of being a light-colored grape without a lot of flavor. But people's tastes have changed, and now they can appreciate a red wine like this. Not everything has to be like Cabernet Sauvignon or Zinfandel. We also know, from all the great Italian wines made from this grape, it will age very well. We expect the same in our own Nebbiolo.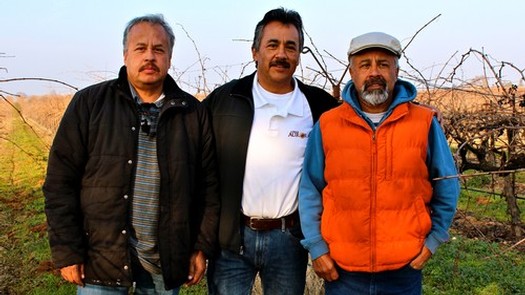 "In terms of cuisine, our heritage is Mexican, and Nebbiolo works very well with our food. It's very good with carne asada or ribeye tacos. The fat of beef mellows the wine's tannin and acid. For my uncles, it's not the same as what they were drinking in Valle de Guadalupe, but since it comes from their vineyard it's even better!"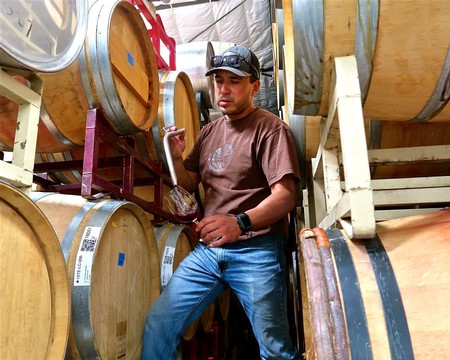 Comments