Letters from Lodi
An insightful and objective look at viticulture and winemaking from the Lodi
Appellation and the growers and vintners behind these crafts. Told from the
perspective of multi-award winning wine journalist, Randy Caparoso.

July 29, 2020 | Randy Caparoso
m2's latest wines personify Lodi's beautifully distinct sense of place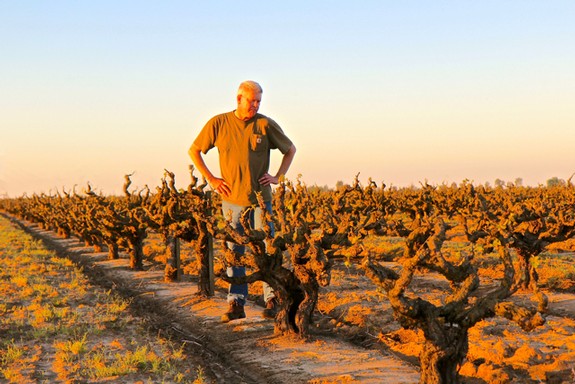 The growth and success of Lodi's m2 Wines have been intertwined with Soucie Vineyard, located at the farthest western edge of Lodi's Mokelumne River AVA, ever since this artisanal winery's founding in 2002.
m2 owner/winemaker Layne Montgomery has never been shy about saying, as a matter of factly, that "if Zinfandel is considered America's grape, Lodi is considered the home of California Zinfandel, and Soucie is one of Lodi's three or four best Zinfandel vineyards, then these are some of the finest Zinfandels in the world."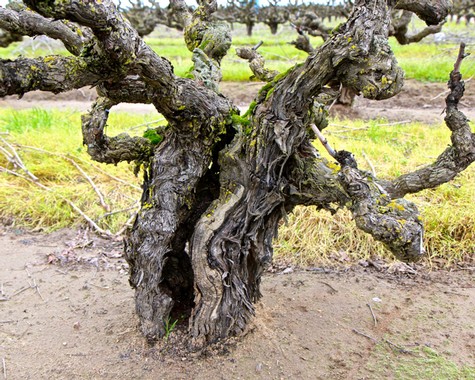 If Zinfandels were also rated on the basis of the sheer beauty of its vines, Soucie Vineyard would definitely be crowned the varietal's Miss Universe. There are few vineyards with individual plants showing off as stunning a symmetry of grace and physique as Soucie's oldest head-trained vines, planted in 1916 on their own natural roots in an ultra-fine and deep (consistent to at least 90-feet) sandy loam soil.
As much of a part of the Soucie lore is its history. The vineyard was planted and has been farmed by three generations of the Soucie family, who live on the property. The growth's current custodian, Kevin Soucie, is renowned for his meticulous farming, bordering on obsessive. Vintners chuckle that, as soon as visitors leave, Kevin can be seen getting out his rake to smooth over any footprints left between the century-old plants, anything that might disturb their vinous meditation. But to Soucie, this is no joke. In fact, he's been known to turn down large group requests to view the vineyard for exactly this reason. He isn't so much farming as curating.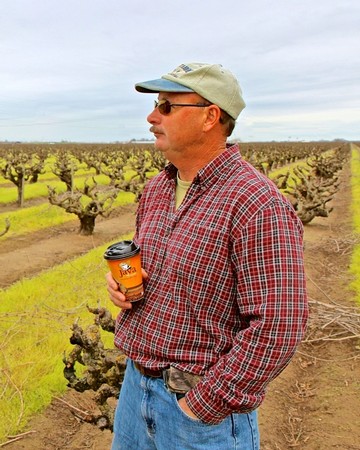 Tasting Soucie Vineyard Zinfandels from barrels with Mr. Montgomery is yet another experience — more like an existential dialogue. He questions every vintage, every winemaking decision he's ever made, everything Mr. Soucie has done in the vineyard, and the wines in each barrel take the brunt of those endless queries. This barrel tastes "undernourished," this barrel is like "a velvet painting of Elvis," this barrel is "still tasting like swamp water," "juju juice' or "mushroom broth," or the fruit in this barrel is "out of control."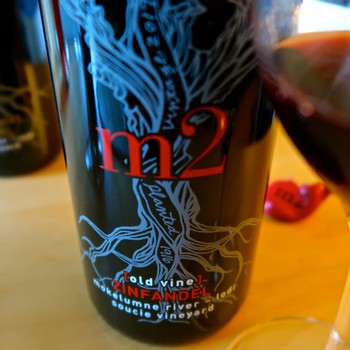 No matter, because what ends up in the bottle is always, as Larry David puts it, pretty, pretty, pretty good. The 2017 m2 Soucie Vineyard Mokelumne River-Lodi Zinfandel ($32) is effusive with classic wild berry/Bing cherry Lodi Zinfandel-ishness. You can parse the little details — like the subtle loamy earthiness giving the wine a very "Southern French" quality, or the sweet oak in the backdrop framing the vivid varietal picture — but it's the overall feel and, like that of the vines, impeccable symmetry of the wine that makes the biggest impact: a rounded, supple, fleshy texture and medium-full weight that is neither light nor overly "big," carrying the ringingly bright, earth-toned fruit across the palate like a smooth, gentle, hissing wave.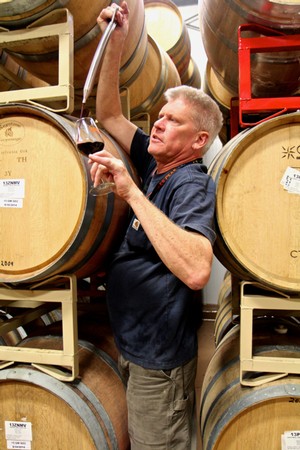 But the most important thing, as Montgomery always likes to remind you, is that "it tastes like Soucie," which in itself is an achievement. How many Zinfandels out in the market taste pretty much like any other Zinfandel — indistinguishably ripe, oaky, jammy? Like, 99% of them. But to have a wine that tastes distinctly and unmistakably like "itself" (the French would call this terroir, or "sense of place") is an event in, well, itself.
As one of the region's original members of the Lodi Native project — old vine vineyard-designate Zinfandels fermented naturally, with strictly no "adds," filtration, or new oak — Montgomery is cognizant of the value of "place" in a wine. Yet, like most Zinfandel specialists, he also reaches for the sky with at least one cuvée that pushes the boundaries of what, say, a Lodi-grown Zinfandel can be.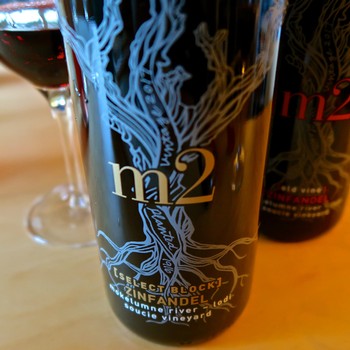 Hence, the current release of his "reserve" bottling, the 2017 m2 Select Block Soucie Vineyard Mokelumne River-Lodi Zinfandel ($69). This dark ruby red veers into the "big" range (15.5% alcohol, as opposed to the "regular" Soucie's 14.5%), but comes across as laser beam-bright, balanced, proportionate, velvety, and absolutely sumptuous in its concentrated black cherry/wild berry profile, underscored by a subtle earthiness (suggesting beef bourguignon) and filled out by firmly gripping yet rounded tannin. This is still very much "Soucie," only in spades.
Explains Montgomery: "The Select Block is exactly what it's called — a specific section of the 1916 block, cropped differently from the rest of the vineyard. It gets extensive thinning of all but the ideal clusters, no 'seconds' (i.e. smaller, underripe second-crop bunches), with meticulous canopy management and leaf thinning to get proper shading and enhance airflow. We do extensive sorting in the vineyard, plus even more careful sorting at the crusher to eliminate sunburn, any mildew, damage, or other flaws we might find in the grapes.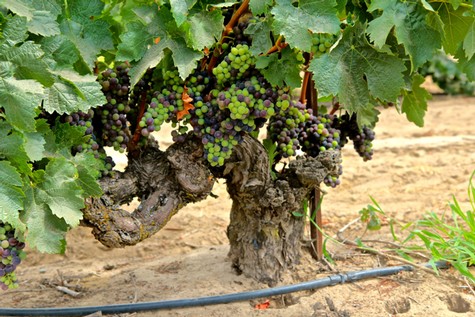 "Consequently, the Select Block tends to have better acidity and lower pH than the 'regular' harvest, requiring fewer adjustments in the winery. This also allows us to start fermentation with native yeast, which proceeds for several days before inoculating with cultured yeast.
"Finally, the Select Block sees only my best barrels — American oak only, with a lot of Demptos barrels. The wood for Demptos' American oak is sourced from Mark Twain National Forest on the Ozark Plateau in south-central Missouri and is known for the fineness of its grain. 60% of the barrels in the 2017 Select Block were new, compared to only 28% new oak in the 'regular' Soucie."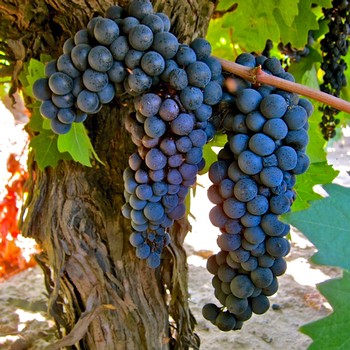 Montgomery, in fact, has always been known for saying that "putting Zinfandel in French oak is like putting lipstick on John Wayne." While there are many Zinfandel specialists inside and outside of Lodi who prefer the subtle qualities of French oak, most California Zinfandels are still aged in American oak because this wood is known to have five to ten times more aromatic compounds than European oaks, which only accentuate the naturally lush, round, fruit-driven qualities that many Zinfandel devotees love in the varietal.
"Zinfandel is the red-headed stepchild of grape varieties," adds Montgomery, "which I think is a shame. Be as it may, I am still convinced Souce Vineyard is consistently one of the top five Zinfandel vineyards in the AVA, if not the state."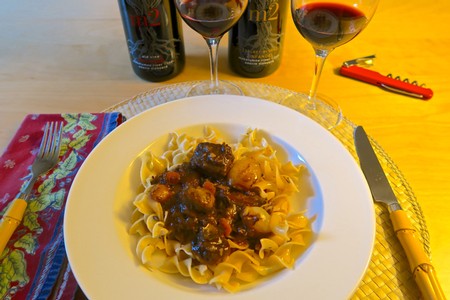 Zinfandel is also one of the world's most underrated culinary wines — its typically fruit-forward, zesty yet rounded qualities allow it to enhance many and more of the foods we love to eat. This past week, in fact, we enjoyed m2's two 2017s with a Julia Child-inspired beef bourguignon (re a tablespoon.com version here), involving a slow cooking of stew meats into melting morsels steeped in three-quarters of a bottle of a Soucie Zinfandel. At the table, the sensations of braised pearl onions, portobello buttons, carrots, and thyme intertwine with the zesty, earthy fruit qualities of the wines in the glass.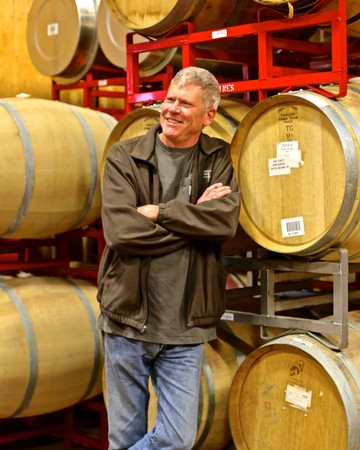 Montgomery has their own favorite food matches for Soucie Vineyard Zinfandel: "First, portobello mushrooms — heads only, soaked in Zinfandel, brushed in olive oil, grilled (preferably with charcoal), then with blue cheese (a mild version, like Cowgirl Creamery's Point Reyes) melted on the cap, sliced and served. I also like a tri-tip that has been marinated in a Chaka's (barbecue) sauce, and cooked on a Big Green Egg with cherry wood for smoke. Anything on a grill accented with cherry/berry sauces or marinades is great with Lodi Zinfandel."
m2 Wines, Montgomery also reminds us, is not just about Zinfandel. Among his other Lodi-grown reds are a pungent Cabernet Sauvignon, a typically dark and spicy Petite Sirah, and a rock-solid, notably zesty Barbera (the latter, a winner with pasta Bolognese)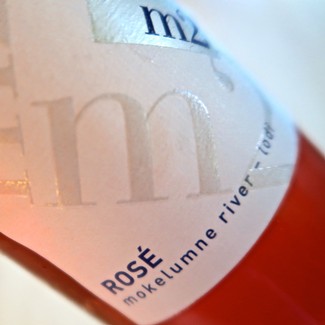 But since it's summer, we highly recommend the 2019 m2 Lodi Rosé ($13), a bone dry and joyfully strawberry/watermelon-fresh pink wine, perky, silky, and airy-light (12.5% alcohol) on the palate. Montgomery doesn't want to scare anyone away from this utterly refreshing wine, so he doesn't list the fact that 75% of it consists of Zinfandel grown around the m2 winery; but really, it's the Zinfandel component that gives this perfectly dry wine its svelte, irresistible charm. The other 25% comes from a historic 1920s Mokelumne River-Lodi Carignan planting called Mule Plain Vineyard — these venerable old vines add to the zip and red berry brightness of the wine.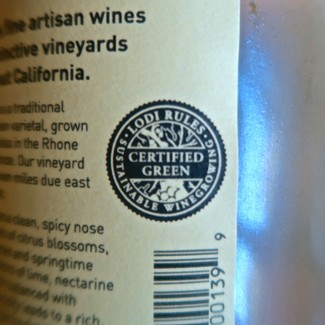 Finally, there is the 2019 m2 Lodi Vermentino ($20), a dry, edgy, minerally style of varietal white sourced from a Biodynamic farmed block grown by Lodi's Vino Farms along a super-sandy bend of the Mokelumne River. The beauty of the Vermentino grape is that it doesn't make an excessively "fruity" wine. Still, light yet fleshy flavors of citrus, orange wedges, and white peach prickle the palate, while floral and lavender-like scents tease the nose. As "Lodi" as it gets!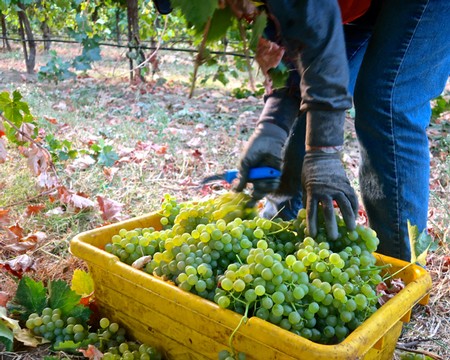 Comments