Letters from Lodi
An insightful and objective look at viticulture and winemaking from the Lodi
Appellation and the growers and vintners behind these crafts. Told from the
perspective of multi-award winning wine journalist, Randy Caparoso.

December 20, 2021 | Randy Caparoso
m2's brand new Patina tops off Lodi's "Year of Blends"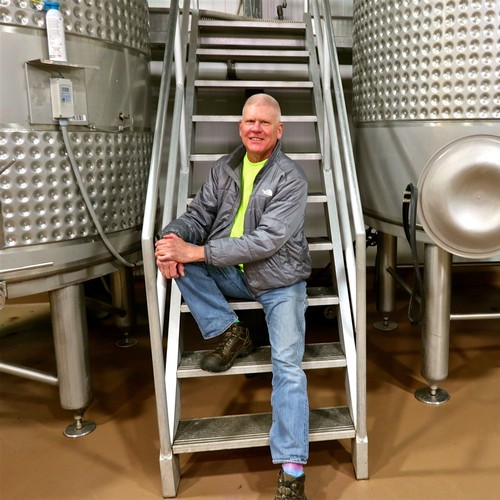 If anything, 2021 has been a great year for red wine blend releases in Lodi wine country. It seems that the most interesting new wines have not been varietal bottlings, made mostly from a single grape, but rather red wines blended from different grapes.
Three seems to be a magic number when it comes to the number of grapes in the mix: creating just enough variation of aromas and layers to strike an exciting cohesion and sense of balance. Just in time for 2021 Christmas shopping, you can now count the newly released 2019 m2 Winery Mokelumne River-Lodi Patina ($49) among the list of Lodi's most compelling three-way blends.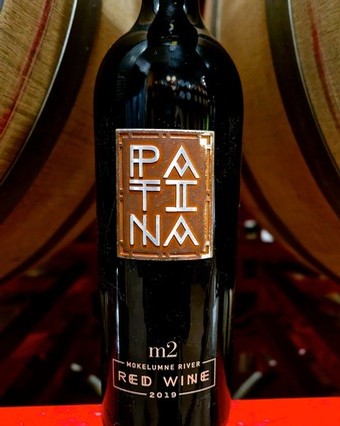 The Patina weighs in — and boy, does it weigh in with its metallic, rusted iron-like label, embossed on bottles weighing over 4 pounds each (not exactly politically correct, which always describes m2's incorrigible winemaker/co-owner Layne Montgomery anyway) — with 37% Petite Sirah, 32% Tannat and 31% Zinfandel.
The three grapes strike an almost isosceles-like sensory symmetry: opaque, purplish ruby color, a pungent black fruit nose, and dense, thick, muscular full body. The aromas suggest concentrated berry liqueurs, smidgens of herbiness (almost Cabernet Sauvignon-like, although there is not a drop of this grape in the blend), and cigar-like smoke, plus a pervasive, palate-rocking minerality that extends from the nose to the full tannin feel on the palate.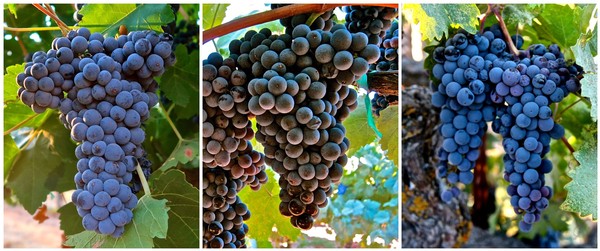 These sensory qualities can be attributed to two factors, both of which make this a very "Lodi" style of wine:
1. The varietal characteristics of all three grapes, which are planted on the m2 Wines winery estate, were established only in 2014 (the vines were only in their fifth leaf during the 2019 vintage).
2. The quickly evolving characteristic of the vineyard itself, which sits just south of Peltier Road, separating Lodi's Mokelumne River and Jahant appellations. While m2 sits on the Mokelumne River side of the divide, the topography is strongly influenced by the shallow clay hardpan typifying the Jahant AVA, which is highly conducive to red wine grapes with elevated amounts of phenolic content — meaning, deeper color and stronger tannin than what is typical of red wine grapes grown in most parts of the Mokelumne River AVA, the latter typified by deeper, porous sandy loam soils.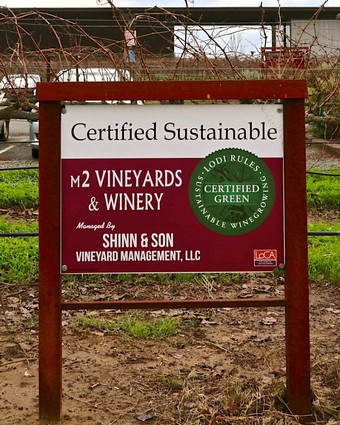 As such, the m2 Patina — the winery's first-ever bottling of this proprietary label — is very much a reflection of this unique site. All the credit in the world, in fact, goes to winemaker Layne Montgomery for being wise enough to leave well enough alone by letting the grapes planted on the estate speak for themselves, with a minimum of intervention or fussing around with percentages.
According to Mr. Montgomery: "While the vineyard is still new, it is the Petite Sirah that gives this wine its mineral character — more of the Jahant influence, with its deeper, darker fruit. Tannat is a grape that is known for its black color and huge tannin no matter where it's grown — we pressed the juice off the skins before fermentation was complete in order to lighten up on the tannin, but it still came out huge. It is the Zinfandel that gives the wine its floral, slightly jammy fruit." The overriding sense is that without the Zinfandel, there wouldn't be much of a sense of balance to this wine at all.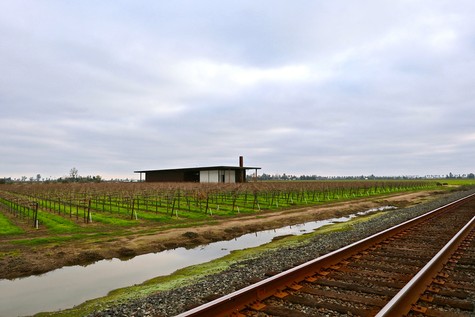 In fact, you can think of the 2019 Patina as what happens when you take a Lodi style Zinfandel — which is typically a soft, flowery, red fruit scented red wine when allowed to stand on its own — and inject it with two steroid-like (even if entirely organic) grapes, the black-skinned Tannat and a Jahant-style (i.e., mineral-infused) Petite Sirah: luscious fruit pumped up by "Terminator" muscle.
While the smoky nuances of the Patina are also indicative of French oak barrel aging, Montgomery tells us that he took pains not to go overboard with this component. "Most of the barrels were once- or twice-used," he says, "although there were a couple of new barrels in the mix." It is more than evident that this sturdy, dark wine did not need the support of a substantial amount of oak to stand on its own.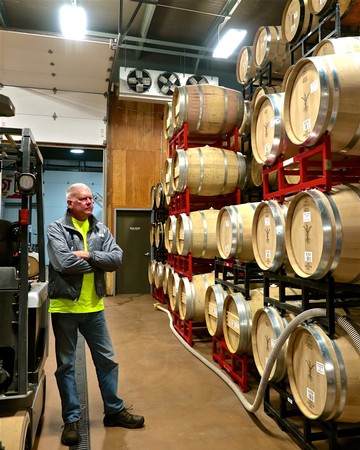 Otherwise, current visitors to m2 Wines will find that the house specialty is still, as it has been for 20 years, classic Lodi Zinfandel. The 2019 m2 Soucie Vineyard Mokelumne River-Lodi Zinfandel ($32) remains a benchmark of the west side of the appellation: intensely fragrant red fruit tinged with breathy, earthy qualities wrapped in full yet round, supple, mouth-filling sensations.
There is also a 2017 m2 Cemetery Vineyard Mokelumne River-Lodi Zinfandel ($29) which is even more flowery, lighter on its feet, and zestier with more of a purer red fruit profile (sans any earthiness) — very typical of "east side" Lodi Zinfandels.
It is a good time to revisit this modern-day Lodi icon!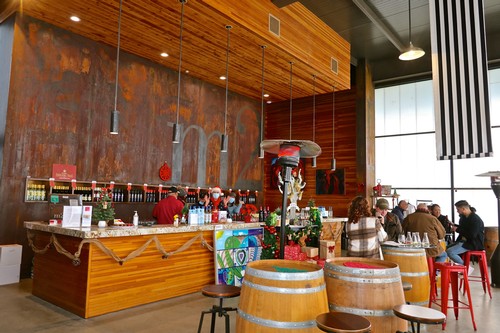 Comments