Letters from Lodi
An insightful and objective look at viticulture and winemaking from the Lodi
Appellation and the growers and vintners behind these crafts. Told from the
perspective of multi-award winning wine journalist, Randy Caparoso.

June 28, 2016 | Randy Caparoso
When weather gets hot, Lodi's exciting new whites get going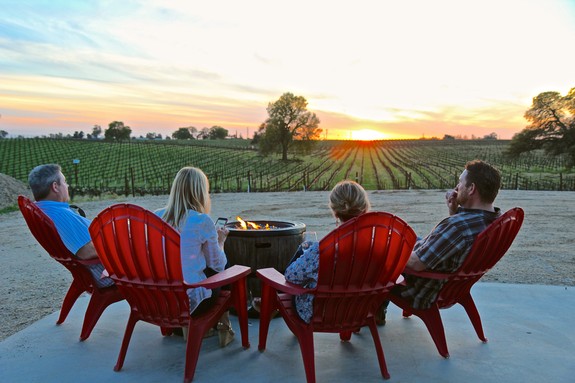 It's not quite July; yet summer, evidently, is already in full swing, at least in The Golden State.
If you're near a beach, life can be a peach. If you have a pool, then you're just way cool. But if you have neither, and are relegated to life on a patio, under a shady tree or waiting for nightfall, the last thing you obviously feel like when the weather gets too-darn-hot are heavy foods and drinks.
Summer wines are ideally white not only because of their chill-ability, but also because red wines are by nature heavier because of their tannin, the component that gives wines a harder, slightly bitter, sometimes astringent taste. It's just chemistry: red wines are fermented on their skins to extract color and tannin; whereas white wines are typically made from grapes that are pressed and separated from their skins prior to fermentation.
That's it for wine geek lessons, let's cut to the chase. What white wines are ideal for summer sipping? A lot of folks still like their wine on the sweet side; and so bottlings like the ultra-light (just 8.5% alcohol), medium-sweet Uvaggio Lodi Moscato Dolce ($16) – crafted from the rare Moscato Giallo grape, and tasting a little like honey dripped liberally over sweetly poached, ginger spiced pears and garnished with a perfumed tropical white flower – indubitably fit the bill.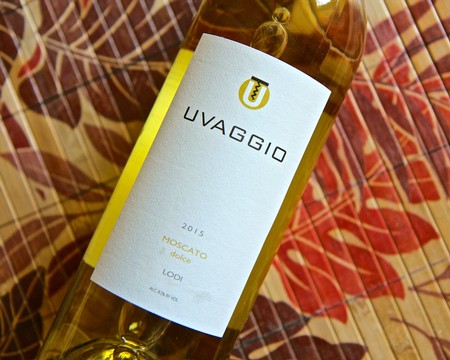 Many more wine lovers, of course, find residual sugar in their white wine to be unnecessarily filling, even annoying. The growing trend among more finicky consumers is definitely towards white wines that are not just thoroughly dry, but which also have perceptible amounts of acidity, effecting a lemony sharp or citrus fruit tartness.
Oh, there are still white wines that are finished a little fuller, rounder and softer, with a smidgen of that "buttery" or creamy texturing from barrel fermentation and aging. Two modestly crisp, artfully balanced examples of first class (i.e. as fine as any in California) quality: The 2013 Lucas Lodi Chardonnay ($25) and 2013 Harney Lane Lodi Chardonnay ($24).
Another alternative is going with a white that is technically dry, but made from grapes that are extremely fruity tasting; such as Borra Vineyards' 2015 Markus Joey Insieme Lodi White ($19; 95% Torrontés/5% Traminette), which offers mildly tart, pungently musk and white pepper spiced honeydew melon-ish fruit in a light tasting medium body, and comes across as soft and fruity even if its scant residual sugars are below a normal threshold of perception.
But if you prefer white wines that are emphatically dry, with sleeker, lighter, more sharply etched contemporary stylings, here is a round-up of some of the finest, and most exciting, white wines produced from Lodi grown grapes today:
2015 Fields Family Clay Station Vineyard Lodi Grenache Blanc ($24) – You like acidity? The acid here is razor-sharp, yet balanced to a T in a spare, lanky, emphatically dry palate feel; with aromatic sensations driven by high toned, tropical flower perfumes and a mouth-watering core of pear-like fruit, finishing with cool, refreshing sizzle.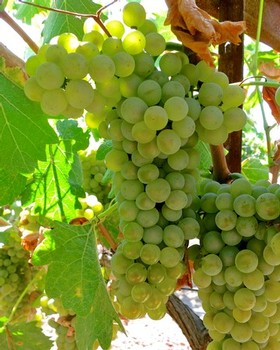 2015 Acquiesce, Lodi Viognier ($23) – Hankering for beach time on the Riviera with golden skinned hommes or femmes attending to your every need with towels and plying you with salade niçoise? If you're like most of us, you'll just have to make do with this lavender-laced herbes de Provence, lilac and lemon pepper scented white, teeming with fluid, mildly fleshy yet crisply balanced, pure fruit qualities (100% stainless steel fermented and aged – sans oak!); and which, incidentally, scooped up the "Best Viognier in California" award (on top of a "double-gold") at the 2016 California State Fair Commercial Wine Competition. We should all be so proud; especially since it saves us a plane fare to France.
2015 PRIE Lodi Vermentino ($21) – Although made from a different grape, you also find intriguingly lavender-ish, herbes de Provence-like qualities in this steely dry, light-medium bodied white wine. How is that? Vermentino is naturally an exceptionally transparent grape. When grown in France's Corsica, for instance, it takes on a notably briny quality; not surprising since Corsica is smack dab in the middle of the Mediterranean Ocean. In parts of Provence, Vermentino is known to produce white wines that taste strongly of the wild scrub that grow beside vineyards in Southern France – particularly sweet wild thyme with the resin of rosemary or sagebrush. Here in Lodi's sandy soils, the herby notes in this wine come out as flowery – more of the sweet, violet-like notes of French lavender, as opposed to soapier qualities typifying English or Spanish varieties of lavender – along with sensations of tart peach and fresh squeezed orange. Sense of place, in other words, plays as much a part as varietal fruit character when it comes to these "new" fangled white wine varieties; especially in Lodi.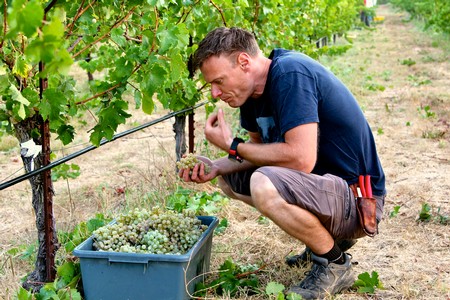 2014 Bokisch, Terra Alta Vineyard Clements Hills-Lodi Albariño ($18) – For going on some 15 vintages, Bokisch has been the Lodi leader with this Spanish grape, and they still retain the master's touch: beginning with a multi-faceted fascination of fragrances – flowery herbs (faintly, as it were, of lavender), peach, and orange wedges underlined by subtle tinges of musk and minerals – manifested on a medium bodied palate, coming across as lemony crisp and refreshingly edgy with citrus/stone fruit sensations.
2015 Sidebar, Mokelumne River (Lodi) Kerner ($25) – Produced by Sonoma's Ramey Wine Cellars (famed more for world class Sonoma Coast grown Chardonnay) from Kerner (a Germanic Riesling x Trollinger grape crossing) grown by Lodi's Mokelumne Glen Vineyards, this is a crisp edged, medium bodied white driven primarily by its steely, mineral textured composure, with wispy fragrances just brushing the nostrils with notes of citrus skin and a faintly earthy, organic nuance. If you are partial to spare, refreshing, less-is-more qualities in a white, this is the wine for you!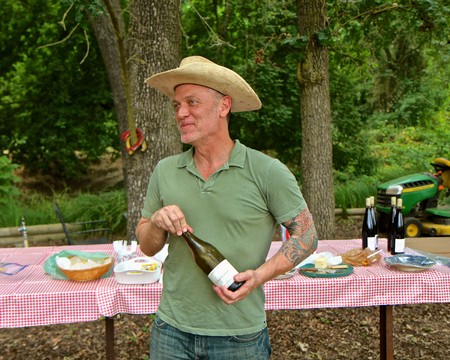 2014 Forlorn Hope, Lodi Gemischter Satz ($30) – This could qualify as absolutely the most unusual, or adventurous, white wine in the world; crafted by Matthew Rorick, one of the most "out there" winemakers in the world. Gemischter Satz translates as "mixed set" in German, and this wine goes way beyond the concept of co-fermented "field" mixes practiced all over the world: this particular white wine blend was made from no less than 48 different grape varieties, all part of Mokelumne Glen Vineyards' German and Austrian "Collection," located on a sloping sandy knoll on the east side of Lodi. The simplest way we can describe it is, amazing. Otherwise, as hard as it is to describe the undescribable, we'll say it is flowery and fragrant to an extreme – the fruit perfumes penetrate the nose with laser-like brilliance – with aromatic notes suggesting kitchen spices (anise, white peppercorn, a touch of allspice and maybe others, depending upon your mental associations) on top of petrol, leafy sweet herbs and wet stones; and on the palate, its medium body (just below 13% alcohol) is dry, zesty with natural fruit acidity, silken textured, and of course, downright vivid and perplexing in its multiplicity of aroma-related sensations. In a tasting in the vineyard last month, Mr. Rorick himself told us, "It's hard to describe this wine because when picking all these grapes together, which we foot-tread and then pressed, we were not looking for music of a solo artist, like you find in single varietal wines, but rather, music from a full choir of voices."
And all we can add is: dang, Lodi kicks butt when it comes to white wines these days.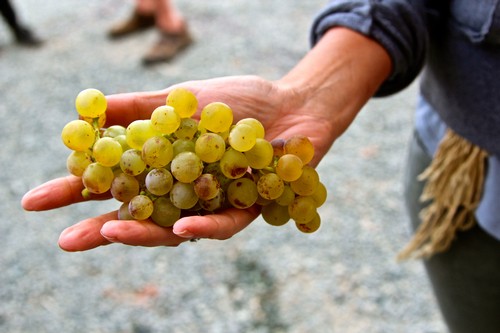 Comments