Letters from Lodi
An insightful and objective look at viticulture and winemaking from the Lodi
Appellation and the growers and vintners behind these crafts. Told from the
perspective of multi-award winning wine journalist, Randy Caparoso.

January 31, 2018 | Randy Caparoso
What makes Lodi Zinfandel different? Conversation with Mike McCay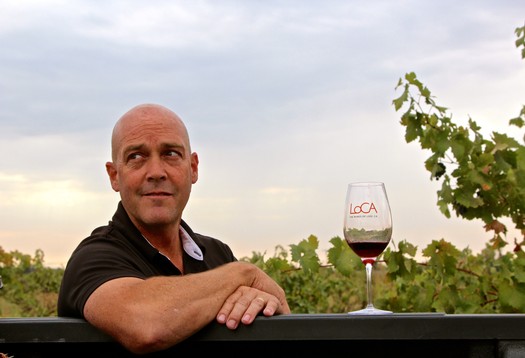 In our second interview conducted this past January 20, 2018 during the Grand Tasting/Zinfandel Experience put on by Zinfandel Advocates & Producers (a.k.a. ZAP) in San Francisco, we sat down with Michael McCay, owner/grower/winemaker of Lodi's McCay Cellars.
McCay Cellars may be small-fry in terms of commercial production – barely 5,000 cases a year, a drop in a bucket compared to Lodi neighbors Michael David Winery (over 950,000 cases) and Woodbridge by Robert Mondavi (about 10 million cases) – but has been big time in terms of contribution to the perception of "prestige" slowly but surely being accorded the Lodi Viticultural Area. Of course, this is not to be terribly naïve about this – for a lot of consumers as well as people in the wine trade, media or simply not in the know, Lodi still stands for vin ordinaire. Lodi, after all, grows the grapes for most of California's value priced wines, and California grows more than 61% of the wines consumed in the U.S. (re We've come a long way, baby).
But it's the newish little wineries (they used to be called "boutiques," until they became more commonplace) like McCay Cellars, established little over 10 years ago, that have been adding more luster to Lodi's image. Oh, you can say that a million-case winery is more "successful," and certainly more likely to reach the lips of wine lovers around the world. However, it's the 5,000-case wineries that are able to focus more on handcrafting. They do things that become impractical for high volume wineries; such as fermenting in knee-high half-ton lots, as opposed to 25, 50 or 100-ton tanks taller than any Downtown Lodi building, and harvesting of individual blocks, cherry picked on separate days, which can be isolated and highlighted in single-vineyard bottlings as miniscule as 50 or 100 cases.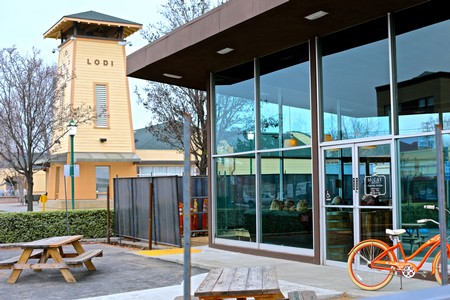 We're not saying that small means "better." Size is beside the point. What small producers like McCay are at liberty to do is delineate nuanced characteristics of individual vineyards in separate pockets of the region; and in doing so, show off the fact that Lodi, like any other noteworthy wine region, has special vineyards more than capable of expressing their own unique sensory qualities – characteristics that can't be found in wines from any other vineyards, anywhere else in the world. In other words, the things that make all great wine regions worth talking about.
Ergo: Lodi can be great! Particularly for Zinfandel, the region's heritage grape. In the following conversation, Mr. McCay talks about the role he has endeavored to play towards helping to shape the appellation's emerging identity:
R.C. I've heard you talk about Lodi old vine Zinfandel in the past as being like stumbling around a region in search of buried treasure. Talk to me about that?
M.M. You have to remember that there is a great history of Zinfandel in Lodi. Everyone knows this. We're talking about 100, 100-plus-year-old vineyards that have been around for a long time. What's really cool is Lodi also has a history of growing about 25% of the wine grapes in the state of California. We also grow more Zinfandel than any other place in California; and there's fourth, fifth generation farming families that have these beautiful vineyards that have gone to the big producers for decades. All of the sudden, we've been getting that new generation, that fourth or fifth generation farmer, who would like to see their vines produced and made on their own. And it's been a great time over these last 10 years to find these little hidden gems. We're talking about like being an archeologist, running around and finding these little treasures in the ground. I actually have a vineyard that I picked up just last year, originally planted by Ernie Spenker over on the west side of town (i.e. City of Lodi), that I just started producing Zinfandel from. No one has ever known what a Zinfandel from just that vineyard tastes like, but they will soon. Lodi is just a beautiful place to be in the Zinfandel world right now.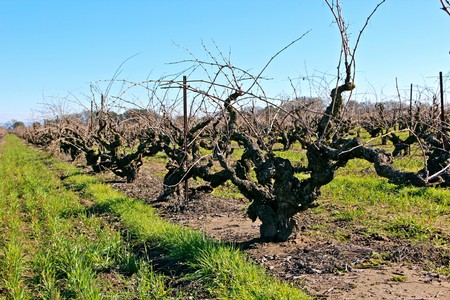 R.C. So you've been producing McCay Zinfandels for about 10 years. I assume you started out with, maybe, one or two vineyards. How many single-vineyard bottlings do you produce nowadays?
M.M. I'm a Zinhead, so I've got 8 different current releases of Zinfandel that are all vineyard designated. They're 100% from those vineyards; all native fermentation. They are a true representation of these historic, heritage vineyards that are all over Lodi. These vineyards are scattered all around the east side and west side of the Lodi AVA (i.e. American Viticultural Area), which has seven different sub-AVAs.
R.C. But most of these old vine Zinfandel vineyards are found in just one of those Lodi AVAs, immediately surrounding the town of Lodi.
M.M. Yes, most of them are in the Mokelumne River AVA.
R.C. And why is that?
M.M. If you look at the topography of Lodi, between the big hills and the flats, you find that most of the Zinfandel is located on the flatter sides. There is also a very divergent climate in Lodi. In the summer, we have beautiful, spectacular heat; and by that, I mean days in the low, mid-90°s (Fahreneit), which cool off at night. Our average temperature in the evening is 57° degrees – a temperature swing that Zinfandel obviously loves. When you think about "old" Lodi you also think about the Mokelumne River, which gives the sub-AVA its name – the river runs right through the appellation, giving it a lot of sandy soils. The result is no real phylloxera or nematode problems, and vineyards 80, 90 to 100 years old that have been able to survive for decades because of that soil profile, that coolness at night, and those ideal weather patterns. Because of that, Zinfandel absolutely thrives in Lodi.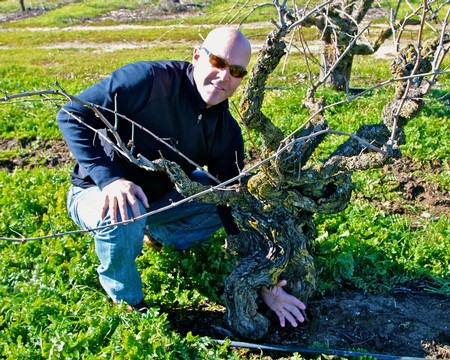 R.C. So you're saying that the Mokelumne River region is characterized by sandy soil, and therefore you find the oldest surviving vineyards there. There are also a few old vine Zinfandel vineyards in Lodi's Clements Hills AVA, which is a little hillier and characterized by gravelly clay soils, different from Mokelumne River. But you can find old vine vineyards in Clements Hills, but only in the few sandy pockets of those hills. Which brings up one of the interesting things about Lodi, which is that for many, many years up until today it was never necessary to grow Zinfandel on grafted rootstocks because of the sandy soils. They could actually grow on their own, natural taproot. Just the other day you texted me a photo of an old vine that you just pulled out of the ground, with most of its taproot intact.
M.M. I've had the wild, crazy idea for a number of years – I've always wanted to dig out an old vine to see what it looks like, from top to bottom. So I did that in our estate vineyard, called Lot 13, which was planted in 1915. It's a beautiful vineyard in the fact that about 95% of its vines are the original vines to that vineyard, growing on their own roots, never grafted. I've always known that these old vines grow on a significant taproot; and I don't mean a bunch of feeder roots and one little root going down, but an actual taproot. A friend of mine has a construction company, and I was able to Bogart a backhoe from him. We went down about 20, almost 25 feet; found the taproot, which at the start of the vine was almost about 3 inches wide. We dug as far as we can go, and at the bottom of that hole the taproot was still about 2 inches wide, still corkscrewing deeper into the ground.
R.C. Well, you figure so much, since the vine had over 100 years to develop that root system. But I have a feeling you could have dug another 30 feet, and still found that Mokelumne River sand.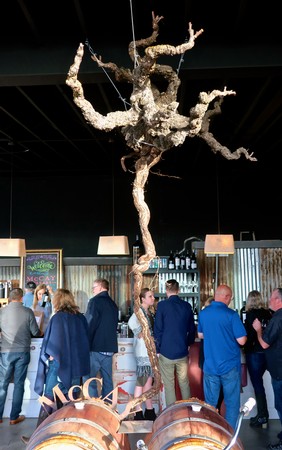 M.M. At some point when you look under a vine, at the structure under the earth, you find a feeder root system, where it's really pulling all its moisture from. Think of a palm frond in the ocean, with all its little fingers going out in a big, wavy motion. We saw none of that in our vineyard. I would say that you're more correct – we probably had a good 15, 20 feet more to go before getting towards the end of that taproot and finding its feeder system.
R.C. That's where Lodi is very unusual. There isn't another region where you're going 30, 40, 50 feet deep in pure sandy loam. And what I mean by that is that there are no rocks, not even tiny bits of gravel, in the Mokelumne River AVA. In fact, we happen to be drinking a Zinfandel from a bottle that Mike brought along, which comes from the vineyard where he recently dug out that old vine. You call this wine "Faith," but also notate the name of the vineyard, Lot 13, which I've heard you say personifies east side Lodi Zinfandel.
M.M. When we talk about Mokelumne River, we talk about it having an east side and a west side. Like other regions, there are different parameters in the region that will produce different styles, giving different characteristics to the wines. Lodi Zinfandels have distinct differences between east side and west side. West side of Lodi gets heavier wines, earthier blackberry/black cherry, tobacco, cola, definitely bigger and bolder. When you go to the east side, you get more perfume, more elegance – I say, a sexy, red fruited, racy style of Zinfandel. This is our current, 2015 release of Faith. It is a very bright, sassy, red cherry style – a very aromatic east side Zinfandel. I call it lean, but with a lot of character to it.
R.C. The 2015 might be young, but it's already extremely fragrant. In fact, all I get is a sweet black cherry perfume. You get floral notes, but also some interesting spice notes – a little touch of ginger, a little touch of black pepper – which is pretty distinctive of this vineyard, wouldn't you say?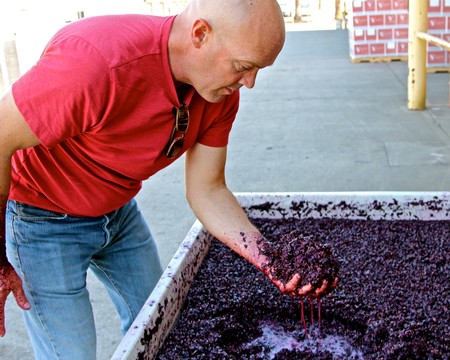 M.M. Here at ZAP today we're pouring 6 different bottlings of Zinfandel at the table. Among those, we have this vintage of Faith, the 2015, and also the 2013 release – they are very similar, but there are vintage variations.
R.C. But out of all your vineyards each year, Lot 13 tends to be extremely flowery. Whereas you have other vineyards that fall on the darker fruit/loamy/earthy side of the Lodi style of Zinfandel. Then I think you have one or two that are more like mixtures of blackberry and raspberry. I guess those differences are the reasons why you bottle these vineyards separately in the first place – so that you can let each individual vineyard express itself?
M.M. Exactly. Like we talked about in the beginning, it's about finding these hidden gems – these archeological finds. Why would I want a couple of different Zins to be exactly the same? I want each one to be different. So my goal is to always produce wines in a way that makes them true to their sense of place, to the age of the vines and to individual soils; and hopefully each wine will show its special characteristics.
R.C. So this Lot 13 comes from a vineyard that is now almost 103 years old. Here's the thing – this is an example of a wine that, just 10 years ago, the world would have never tasted because it would have been farmed by a multi-generational Lodi farmer, then sold as anonymous grapes and ended up in some gigantic vat, and turned into something called "whatever." Not anything unique.
M.M. When you see the artisanal movement of Lodi during the last 10, 15 years, there's been a few producers on the small side that have been banging the drum for a lot longer, but today there are even more artisanal producers that have been exposing the world to these wonderful Zinfandels. When you look at other regions in California, it's hard to find "new" old vine planting. Lodi still has a plethora of old vine vineyards still to be discovered. It's really kind of a cool place to be right now.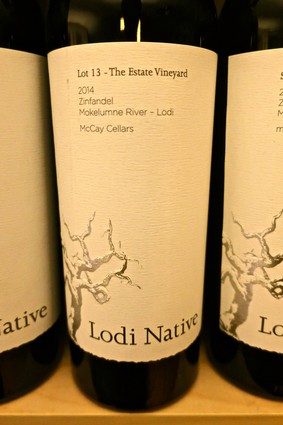 R.C. So you brought another bottle – this one called "Lodi Native," but which also comes from the same vineyard, Lot 13, and from the same vintage, 2015. What are the differences between the 2015 Lot 13s bottled as McCay Cellars and Lodi Native?
M.M. Just as we began to discover more of these special heritage vineyards, there were six of us who got together and began talking about creating a protocol, if you will, where each Zinfandel is produced the same way in each winery – no use of new oak, no adding water, no adjustments, a whole page of guidelines we agreed to follow. The idea was for each winemaker to pick one of their favorite vineyards and produce a wine on that same protocol, to see if we can end up with differences between each vineyard in each wine. And I've got to tell you, when you put six winemakers together in one room and try to get them to agree on anything, it's more like herding cats. But we did it. We all agreed to produce these vineyard-designate wines under the same protocol, and it's something we've been doing every year since 2012. A current release coming out is 2015.
R.C. How has McCay Cellars benefited from the Lodi Native program?
M.M. For me, it's been an absolute blast. What I've taken away from it is not only the camaraderie, but also the speciality of Zinfandel in Lodi, and the differences and how much the terroirs in the vineyard really matter. It's actually surprising that there is so much divergence in the wines.
R.C. So what are the differences that we should expect to find between the Lot 13 under the the McCay label and the Lodi Native labeled Lot 13 in the 2015 vintage?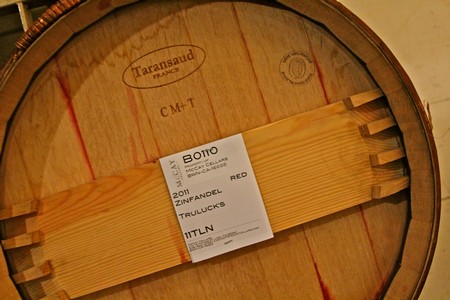 M.M. Remember, Zinfandel under the Lodi Native project involves no adds, no water, no binding, no tweaking out, no new oak, all native yeast. We'll pick a couple of times under that protocol, but it goes very quickly. For me, on our commercial wines (under the McCay label), I like the wines to spend a little more time in the barrel, typically between 24 and 36 months.
R.C. So a big difference is that the McCay Zinfandel sees more oak than your Lodi Native Zinfandel?
M.M. Yes, it's more time in the barrel for the McCay label Lot 13.
R.C. So what's the difference between using new oak and, say, an oak barrel that's 4, 5 years old?
M.M. It depends on the cooperage; whether it's American, or French or Hungarian, Russian, wherever that oak's coming from. There are so many variables – including how you toast it, the grain of it – that can change a wine just like that. The basic question of it is, when you look at a new barrel vs. a neutral barrel – let's say, 5 years is a neutral barrel – the tannins, the vanilla, the influence of a barrel on a new side can greatly influence how a wine tastes. You can hide some of the characteristics, some of the natural elegance of a wine, with a new barrel. As a winemaker, you're always looking for that balance – balancing new barrels with old barrels.
R.C. So is that why in this McCay label Lot 13 you can taste a little more sweet vanilla, wood spice and tannin structure in the wine, whereas in the Lodi Native version you get more of the pure fruit and maybe a little more earthiness?
M.M. Yes, and what's funny is that both of these wines are at 13.8%. I am true in my alcohol labeling, although the wines were treated a little different insofar as protocol.
R.C. I have to comment that the Lodi Native Zinfandel is actually very, very delicate – almost like Pinot Noir, although I'm not saying it's "Pinot Noir" because it's clearly Zinfandel. But it's structured like Pinot – it's got really good acid, a little tart in that sense, the tannins are soft, and it doesn't feel heavy and ripe. Yet a lot of people feel that when you say "Lodi Zinfandel," that means something ripe, alcoholic, and fruity. This wine is not like that at all.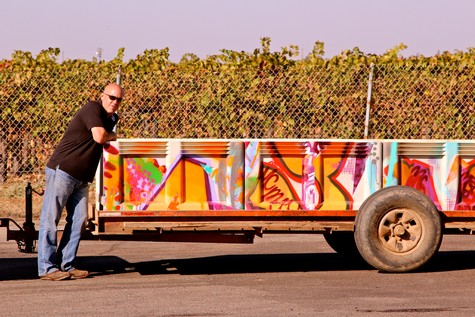 M.M. That's a great topic of discussion. Zinfandel to me is the biggest blank canvas out of any varietal. By that I mean, you can push Zinfandel to be very elegant and feminine and delicate, and you can make it big and bold. There aren't a lot of varietals that you can do that to. Usually your parameters are pretty close as to how you can push a varietal around. Zinfandel is a grape where you can really stretch, and go either way.
R.C. Well, because in the Lodi Native project you are restricted by what you can or can't do, aren't you kind of forced to pick grapes when they have higher acid, an intrinsic balance of pH, not so much sugar – because when you have less sugar in the grapes you get less alcohol – and so in this particular project you're almost forced to make a delicate style of Zinfandel?
M.M. Yes, when you start pushing Brix (i.e. sugar reading) up you run into problems where you get stuck fermentation, and so you need to have a very balanced, lean style of fruit coming into the winery in order to produce that native fermentation and get it through without any problems.
R.C. I'm going add one more thing – one of the rules of the Lodi Native project that you mentioned is you can't add water, nor can you adjust the acidity. But let's face it, most commercial California Zinfandels are all made the same – you pick them when the grapes have a lot of sugar, which can give you a lot of alcohol but also lots of flavor, the winemaking thought being that it's okay because you can always add water to lighten the alcohol, and just add acid if it's not there. Isn't that the big difference between wines like the McCay or Lodi Native Zinfandels, and the type of commercial Zinfandels most wineries are producing today?
M.M. Part of the inherent problem of Zinfandel is, once you pick the grapes and start your fermentation, whether your fermentation starts in a day or in three or four days, Zinfandel has the tendency to "soak up." By that I mean it comes into the winery at 24° or 25° Brix, and after a day, a few hours or maybe two days, it goes from that 24°, 25° Brix up to 27° or 28°. Therefore, you get bigger alcohol.
R.C. And at 27° Brix, you're talking at least 16% alcohol. But when you can keep it closer to 24° Brix, you end up closer to 14.5% alcohol. That's why adding water is standard practice, but something you never like to do; and why you prefer to pick at lower sugars.
M.M. Exactly.
R.C. So now for the six-million-dollar question – what do you think makes Lodi Zinfandel special compared to other regions?
M.M. All regions have their specialities. We talked about Lodi having its divergent weather patterns throughout the growing season. When grapes start changing color and go through veraison, somewhere around the first of July, depending on the vineyard, give or take, that's when that divergent climate really starts in Lodi. You get those hot days and cool nights that Zinfandel loves. Zinfandel is a variety that wants to be beat up during the day and then rest at night. There's not a better place for that style of Zinfandel winemaking in California.
R.C. Thank you, Mike, and here's to many more great vintages of old vine Zinfandel!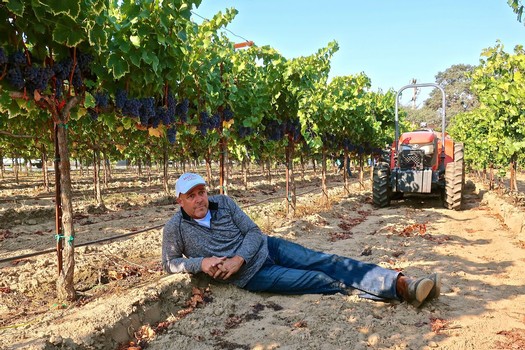 Comments