Letters from Lodi
An insightful and objective look at viticulture and winemaking from the Lodi
Appellation and the growers and vintners behind these crafts. Told from the
perspective of multi-award winning wine journalist, Randy Caparoso.

March 14, 2023 | Randy Caparoso
Tiny Christopher Cellars has emerged as a leader among Lodi's latest, handcraft, minimal intervention style wineries
This past March 4, 2023, Chris and Candice Mora celebrated their third year of doing business as owners/winemakers of Christopher Cellars, based in Elk Grove, about halfway between the City of Lodi and Downtown Sacramento.
Christopher Cellars is a small winery—currently producing just 3,000 cases yearly, putting them in a "boutique," or handcraft, category—but has dramatically grown in significance for two good reasons:
1. The quality of their products has risen in proverbial leaps and bounds.
2. They have quickly established a specific style that is very much in tune with growing consumer interest in lighter, more balanced wines more likely to express a sense of "place," or grape origin, rather than a slavish allegiance to conventional expectations of how wines should taste—especially in terms of the "varietal" character found in wines made from the same grapes grown all around the world.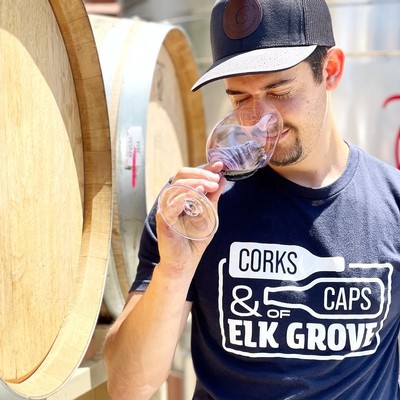 Establishing a style based upon conscientious allegiance to grapes and vineyards is one thing. Successfully executing it is another.
The important thing is that you can taste both factors in almost every one of the current Christopher Cellars bottlings. No, the wines are not perfect. Some of them have blemishes, but then again, who doesn't appreciate wines with a sense of "realness," as opposed to unblemished tastes that are entirely predictable and ultimately boring? You can find plenty of the latter on any grocery or liquor store shelf in the country. No wonder so many of us end up choosing wines based on the attractiveness of labels rather than what's actually in bottles—most commercial wines taste all the same!
Another positive thing about the Moras' approach is that they do not just speak a pretty line about what they do. They mean what they say and say what they mean, beginning with their self-identification as a "Lodi" producer.
That is to say, they are not trying to produce wines inspired, influenced or even endeavoring to rise to the standards of wines grown and produced in other regions, be it Napa Valley, Paso Robles, Washington or Willamette, or all of France, Italy, Chile or Australia. That might sound a little looney, but here's the deal: The Moras' focus is on the type of grapes grown in Lodi, the climate and soils found only in Lodi, the work of individual Lodi growers, and the natural products coming out of specifically their vineyards. Then let the chips fall where they will. This is a subtle yet important distinction, particularly in today's great, big world of copycat and wannabe wines.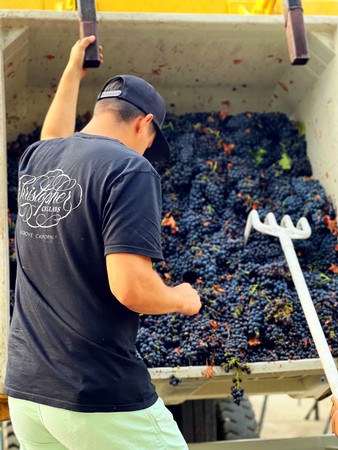 The only thing Christopher Cellars wants to be is all about "Lodi" wines.
I can talk all day about exactly how I perceive this Lodi-ness in the sensory attributes of the Christopher wines, but I recently asked Mr. Mora to explain this himself. This is what he shared:
Producing wine in Lodi is a privilege. The appellation provides access to more than 125 grape varieties. As a passionate, young winemaker, the excitement and joy I experience while exploring new grape varietals are akin to a child in a candy shop.
Our customers have come to expect unique varietals such as Cinsaut or Carignan that are not as famous as Cabernet Sauvignon. Our low-intervention winemaking approach prioritizes the grapes and their natural fermentation process, allowing them to fully express themselves and highlight the unique terroir of the vineyard and grape variety.
Although we strive to minimize intervention, we recognize that for some grape varieties, small amounts of new French oak can add nuance and balance to the wine. We use French oak sparingly and only when necessary, aiming to enhance the wine's complexity without overpowering its natural flavors. Our goal is to achieve a delicate balance that accentuates the grape varietal's unique characteristics while aligning with our vision for the final product.
When executed well, our wines represent a perfect harmony between the natural expression of the grape and the added dimension of French oak, showcasing the best of both worlds.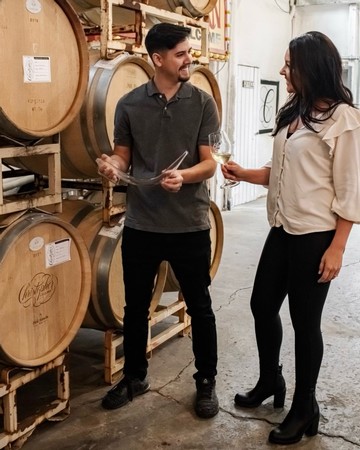 Without further ado, remarks on some (not all) of the current Lodi-grown wines of Christopher Cellars:
2021 Christopher Cellars, Mule Plane Vineyard, Mokelumne River-Lodi Carignan ($38)
Carignan—which, not too long ago, was considered something of an "ordinary" grape (at least compared to, say, Cabernet Sauvignon or Pinot Noir)—can be special, especially for the reason encapsulated in this bottling: It comes from a vineyard planted in the late 1920s (nearly 95 years ago!) by the same family that is still farming it today (the Shinns). This kind of legacy is the story of Lodi.
The wonderful thing is that Christopher Cellars pays homage to that by minimizing the usual trappings of contemporary wines or winemaking, such as "oak" aromas that dominate the senses, blending with other grapes to "enhance" the varietal expression of Carignan grown in this specific vineyard, or picking grapes at high sugars to maximize the sweetness of aromas or to achieve a "big" flavor or presence in the mouth.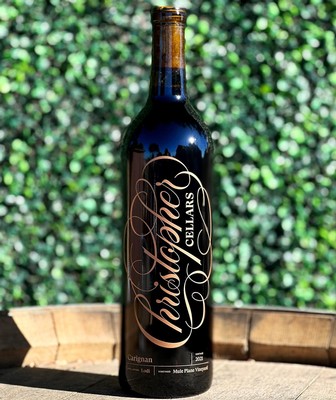 This Carignan, in fact, is just "medium" in the body—meaning, it tastes almost light by the standards of most California red wines of today (even most American Pinot Noirs taste "bigger" than this wine)—but what it does, instead, is absolutely soar in the natural, unfettered perfume of Carignan (which suggests fresh May season cherries, bursting from the skins), which is manifested by plump, buoyant flavors driven more by a natural fruit acidity than hardening tannin (which is just moderate in weight in this wine) or oak (just the slightest sliver of vanilla, reflecting mostly neutral, or older, French oak aging). More than anything, the overall sense of restraint is due to the grapes being picked early in the season, at just 23° Brix (i.e., grape sugar reading), resulting in conversion to a natural alcohol level barely reaching 13%.
The overall effect is prickly on the palate, and titillating to the senses. When you taste it, you almost immediately begin to crave sustenance such as wood-grilled salmon, summery pasta in fresh primavera sauces, or even sushi composed of tuna, salmon, or fish roe.
But to wine geeks, the most important part might be that this wine tastes exactly like what it's supposed to be: a Carignan from very old vines grown specifically in one Lodi vineyard. Not like Grenache, Cabernet, or Pinot cultivated anywhere else in California, nor like a red wine made from grapes grown in Southern France, South Australia, Spain, or anywhere else in the world. Hallelujah, this is Lodi Carignan, no more, no less.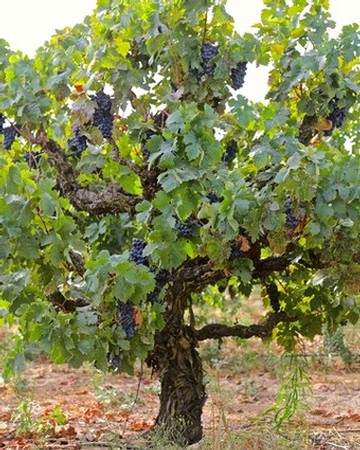 Christopher Cellars, Sprague Family Vineyard, Clements Hills-Lodi Cinsaut ($38)
One of the reasons why Lodi has become famous for its Cinsaut—one of the black-skinned grapes long associated with the Rhône Valley region of France—is because the region's oldest vineyard, called Bechthold, consists of Cinsaut grapes originally planted way back in 1886. Gordon Sprague planted his 4-acre block of Cinsaut on the east side of Lodi, close to the little one-horse town of Clements, in 2018.
Sprague Family Vineyard may be a fledgling Cinsaut planting, but one whiff of the Christopher Cellars bottling—positively exuding Bing cherry and strawberry fragrances—tells you why Lodi has recently become well known for its quintessential Mediterranean climate. A climate that makes the region a virtual second home for grapes of Mediterranean origin, such as Cinsaut.
Cinsaut as a cultivar also typically produces plump clusters approaching the weightiness and moderate skin density of table grapes, which results in red wines of moderate to minimal tannin, which you find in Christopher's round, gentle, eminently refreshing iteration of the varietal—despite 60% whole cluster fermentation (that is, fermenting of whole bunches with all the stems intact, rather than separated during the usual destemming process).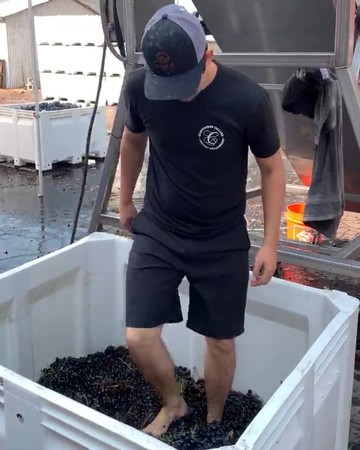 Winemaking decisions pretty much duplicate what is done with the Carignan, and all the Christopher reds for that matter: Fermentation is strictly native yeast—resulting in a purity of undiminished, organic fruit qualities in the nose and flavor—and grapes are picked at low sugars (21.5° Brix, finishing at just 12.5% alcohol) allowing natural fruit acidity to be the primary driver of the vibrant fruit qualities in the aroma and mouth. Finally, oak influence (just 3 months in neutral French oak barrels) is virtually nonexistent. All you taste is Cinsaut—beautiful, mouth-watering, Lodi-grown Cinsaut.
Our advice: enjoy this red wine almost like you would a white or rosé—slightly chilled (30 to 45 minutes in the fridge), maybe with spring-fresh salads or root vegetables, white meats or lean cuts of red meats, or with nothing at all, just Cinsaut in a glass!
2020 Christopher Cellars, Stampede Vineyard, Clements Hills-Lodi Zinfandel ($50)
2020 Christopher Cellars, Cherryhouse Vineyard, Mokelumne River-Lodi Zinfandel ($32)
These two vineyard-designate Zinfandels, both grown by Jeff and John Perlegos, were produced in the same fashion: picked at moderate sugar levels (around 24° Brix, ending up at around 14.5% alcohol), native yeast fermented, and seeing the same amount of time in French oak (40% new barrels, 60% previously used) which gives just enough of a supportive amount of wood tannin and vanillin flavor to enhance a pure quality of Zinfandel fruit, unadorned by any other fruit (these bottlings are unlike the vast majority of California Zinfandels, which are blended with Petite Sirah or other grapes to add deeper colors and to bolster tannin to give a "bigger" sense of body and weight on the palate).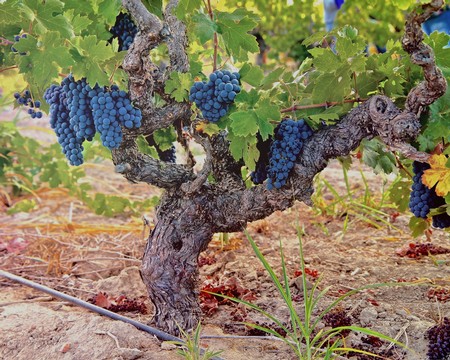 But because these two Zinfandels are grown on opposite sides of the Lodi appellation—the Stampede Vineyard located east of Clements where it almost touches Amador County, and Cherryhouse grown in the heart of the west side of Lodi, off Davis Rd., not far from Interstate 5—tasting these two wines together presents a perfect opportunity to contrast "east vs. west" styles of Lodi Zinfandel.
Allowed to shine unperturbed by excess ripening, alcohol, or oak influence, the 2020 Stampede Zinfandel absolutely explodes in the nose with vivid, spiced cherry/raspberry perfumes, which come across in silken fine waves pushed by zesty acidity on the palate. The 2020 Cherryhouse projects a similar cherry/berry fragrance, only with slightly darker berry (or black cherry-like) tones touched by smidgens of an organic earthiness not found in the Stampede, which become stronger as the Cherryhouse seeps onto the palate.
Both wines, however, share a round, lush feel pushed by natural acidity as opposed to oak tannin or flavor, and end up tasting almost light-weight and flowery in comparison to the gigantic "fruit bomb" style of the varietal typical of many California Zinfandels today. In fact, what they taste like are pure "Lodi" styles of Zinfandel—take it or leave it. (although, for now, you'd have to leave the Stampede Vineyard Zinfandel no matter what your preference, since this release recently sold out).
If you're looking for a big, black, gooey, chewy Zinfandel, these bottlings won't be for you. But if you like gentle, floral, silky, and acid-driven styles of Zinfandel, these two Christopher bottlings would be right up your alley!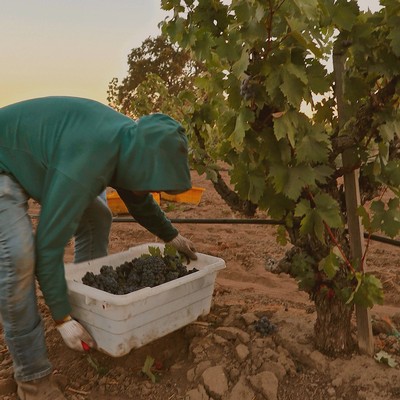 2022 Christopher Cellars, Noma Vineyard, Mokelumne River-Lodi Barbera Rosé ($26)
2021 Christopher Cellars, Mokelumne River-Lodi Bella Rossa (Barbera/Montepulciano) ($28)
Both of these wines, a bone dry rosé, and a red wine blend, are based on an old vine block of Barbera owned and cultivated by Leland Noma, on the east side of Lodi's Mokelumne River appellation where the soil is extra-sandy. This is a decrepit-looking trellised vineyard originally planted in the 1970s that, theoretically, should have been pulled out at least 20 years ago—the vines produce meager amounts of clusters, no bigger than hand grenades (young, vigorous Barbera plants produce bunches of four or five times bigger, in Lodi and everywhere else the grape is grown).
But the Noma Vineyard Barbera block lives on because, well, it still produces a high-quality wine: brightly fruited and zesty in acidity (few red wine varieties yield wines as tart as Barbera). More importantly, it produces a Lodi style of Barbera, which is not quite as ripe tasting or high in alcohol as Barberas from other regions (most California-grown Barberas top 15% or even 16% alcohol because growers typically wait for the grape's high acidity to drop, necessitating harvesting at high sugar levels).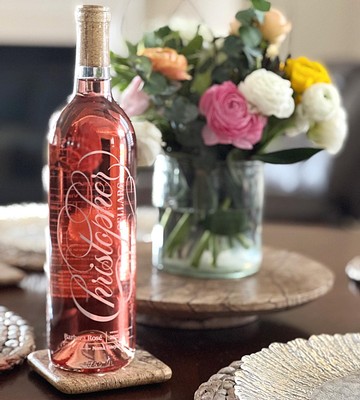 The Barbera fruit going into the Christopher rosé was picked at just 21.5° Brix, resulting in a light and edgy body weighing in at 12.8% alcohol. Yet there is plenty of fruit flavor to go around—cranberry tea fragrances laced with a faint earthiness (whiffs of dried straw mixed with humus), hitting the palate with bright, tart, extra-dry, and lip-smacking qualities.
In 2021 the Noma Vineyard Barbera destined for Christopher's red wine lots was picked at 22.5°, resulting in a body weighing in at just 12.5% alcohol. The wine was aged for a year in 25% new French oak (the rest, "neutral" barrels), resulting in a wine almost pomegranate-like in its red fruit perfume and sharpness of acidity.
The winery did bottle a 100% Barbera, but it is the Bella Rossa—Barbera blended with 12% Montepulciano (another black-skinned, native Italian grape)—that more successfully captures the old school California idea of an "Italian style" wine. That is a wine harking back to the 1960s and '70s when California producers of Italian heritage (Sebastiani, Martini, Mondavi, etc.) were still producing light and dry, zesty red wines meant for actual consumption, rather than to impress wine critics who "score" wines based upon size and intensity (as opposed to balance and unabashed drinkability).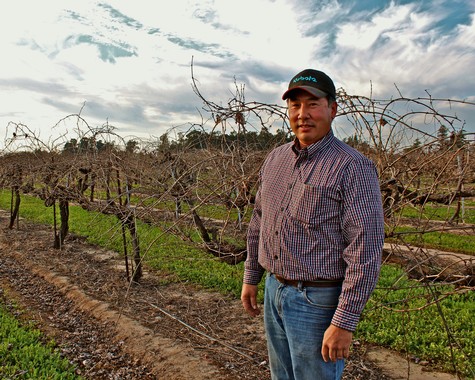 In that sense, the Bella Rossa captures a seamlessly textured medium body (not too heavy, not too light) punctuated by palate-tingling acidity and an unobtrusive amount of tannin (adding to the dryness without tasting bitter or astringent), combined with aromas and flavors that sing "Lodi" (high toned notes of blackberry and raspberry). This zingy fruit profile is enhanced by touches of cigar box derived from a little more conscious use of toasted oak barrels than in other Christopher reds; otherwise, the overall feel is smooth, svelte, long, and lingering.
2022 Christopher Cellars, R-N-R Vineyard, Clements Hills-Lodi Orange Muscat ($26)
Speaking of "old time" tastes, this slightly sweet white wine strikes a technical balance—11.5% alcohol (50 years ago, all California table wines were barely 12% alcohol) and 12.5 grams of residual sugar (an amount that used to be considered "dry" in the '60s and '70s)—that is, needless to say, highly appealing to the wine lover who just wants a wine that goes down as easily as possible.
Although this white is made from the highly perfumed Orange Muscat grape, the varietal "muscaty-ness" is very subdued, coming out as flowery (the Moras liken it to magnolia blossoms) and citrusy, suggesting the scent of those little "Cutie" clementine oranges that linger on your fingers after peeling and popping the wedges. The wine is every bit as refreshing, seeing no oak (bottled straight from the fermentation tank) and subjected to absolutely no winemaking fussiness.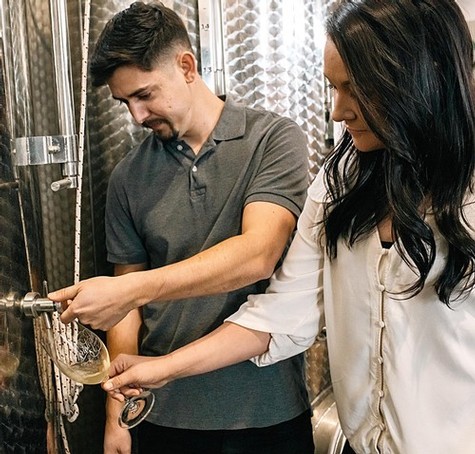 Comments