Letters from Lodi
An insightful and objective look at viticulture and winemaking from the Lodi
Appellation and the growers and vintners behind these crafts. Told from the
perspective of multi-award winning wine journalist, Randy Caparoso.

September 7, 2021 | Randy Caparoso
The meaning of brix and the start of Lodi's 2021 harvest

Brix and alcohol levels in wines
The term Brix (also called Balling) is the name of the system for measuring sugar content in grapes, fermenting grape juices (musts), or finished wines developed by Adolph Brix in the early 1800s. Brix is credited with adding precision to the measurement of sugar content on a density scale known as Balling.
Grape sugars have a direct impact on the alcohol levels of wines and the resulting sense of body in the taste. Potential alcohol by volume (i.e., ABV) is typically calculated by multiplying Brix readings by .55. However, the reality is that conversion rates can be as high as .64, especially for grapes such as Zinfandel or Chardonnay that are known for uneven ripening (clusters with "hens-and-chicks"-sized berries), which usually results from millerandage or shot berries.
Therefore, grapes picked at 22° Brix can be expected to finish anywhere from 12.1% to 14.8% alcohol. Grapes picked at 24° Brix can finish as low as 13.2% and as high as 15.3% alcohol. Picked at 26° Brix, grapes can produce wines finished at 14.3% to 16.6% alcohol. The latter is not a preferred ABV for most commercial wines and therefore is usually remedied by adding water to fermenting must, with the use of "low alcohol" selections of yeast (Saccharomyces cerevisiae), or by employing any number of post-fermentation alcohol reduction methods (e.g., by reverse osmosis through membrane filtration) or simply by blending with cuvées finished at lower alcohols.
Finally, because federal guidelines for wine labels allow for a little leeway, American wines weighing in at 16.5% or 16.6% alcohol can, in fact, be legally bottled with 15.5% or 15.6% ABV listed on the label. Fudging ABV on wine labels is practiced all over the world, not just in the U.S. This is the reason when you see a label stating that wine contains 13%, 14%, or 15% alcohol, you should always assume that this is an approximate ABV, not an exact one.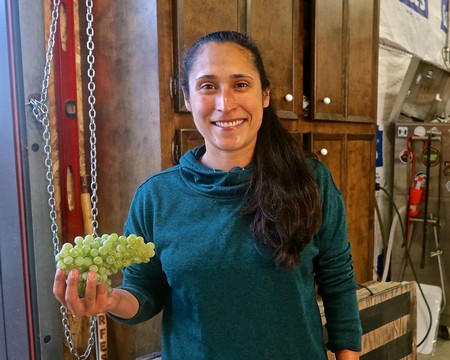 The start of the 2021 harvest
While earlier in the summer, many Lodi growers and vintners anticipated an earlier than usual harvest because of smaller crop loads, indicative of smaller cluster sizes, in reality, the 2021 harvest started no sooner or later than in previous years. Lodi's LVVR Sparkling Cellars, for instance, began their grape harvest with Chardonnay on August 9. In previous years, they have started as early as the last week of July.
LVVR begins harvest earlier than the vast majority of wineries because they only produce sparkling wines, which need to be light and tart. Therefore, they start each year's harvest with Chardonnay and Pinot noir grapes picked around 18° or 19° Brix, 20° at the highest. This converts to alcohol levels of less than 12% after primary fermentation. Because they produce champagne method sparkling wines, LVVR adds yeast and sugar to finished wines in bottles to start secondary fermentation. This second fermentation yields another 1.1% of alcohol.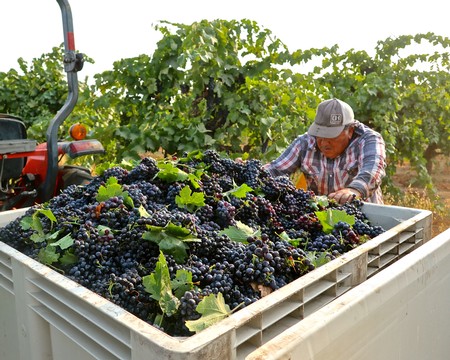 Michael David Winery, which also produces sparkling wines, always starts each year's harvest with their Bare Ranch Chardonnay, on the west side of Lodi's Mokelumne River AVA. Kevin Phillips of the Phillips family, who own Michael David, reports that they picked their first 2021 Chardonnay on July 26. Says, Mr. Phillips, "The grapes came in at 20.2° Brix, about half a point higher than our usual goal." Over the past two weeks, as the sugar levels have increased, Phillips Farms has continued to pick Bare Ranch Chardonnay for both their sparkling wines and their regular (or table wine) bottlings of Michael David Winery Chardonnay. For their Chardonnay bottlings, Michael David will pick grapes as high as 25° Brix, at which point the grapes produce wines that are lower in acidity, higher in alcohol, but richer and more tropical in their varietal aromas and flavors.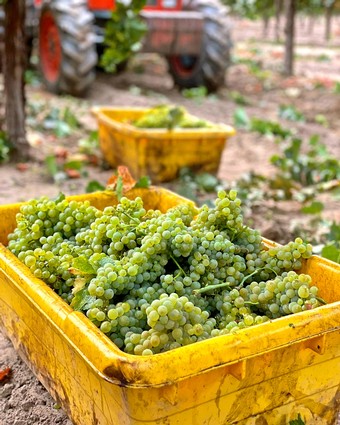 2021 table wine picks
Among grapes grown for table wines, Albariño is typically picked earlier than almost all other grapes each year — typically, for Lodi vintners, at no higher than 21.5° or 22° Brix, which produces dry white wines no higher than 13.5% ABV, or as low as 12.5% ABV if possible. In 2021, Bokisch Vineyards started their Lodi Albariño harvest on August 6. Harney Lane Winery began picking their estate-grown Albariño on August 9, and their first Chardonnay (from their Scottsdale Vineyard) on August 19.
There was a time, about 10 years ago, when Lodi wineries were picking Albariño a little later, at higher sugars, in order to achieve intensely fruited wines. But they have all since learned that, when they pick earlier, they still get all the flower and fruit fragrances intrinsic in the grape at lower sugar levels, but with lower alcohol levels and crisper natural acidity which are far more preferable for this varietal. Picking at lower sugars/higher acid levels also yields Albariño with more of the mineral or steely sensory qualities which consumers love in this wine.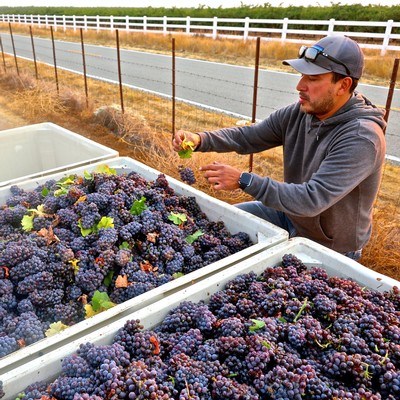 The white wine grape harvest for Lodi's Acquiesce Winery began on August 17 with their estate-grown Piquepoul, followed by Grenache Blanc and rare Southern French specialties such as Clairette Blanche. Pinot Gris is another grape that vintners tend to pick on the early side in order to produce light, zesty dry white wines, and by August 18 Lodi growers like Anaya Vineyards and Vino Farms were starting to bring in their Pinot Gris (also often bottled as Pinot Grigio).
Black-skinned grapes — such as Zinfandel, Grenache, or Tempranillo — are typically fermented with their skins, which contain all the pigment and tannin in these grapes, to produce red wines. However, each year's first picks of Zinfandel, Grenache, or Tempranillo typically go into pink wines (i.e., rosé or "blush" wines), which are produced by pressing the juice of the grapes from their skins immediately (before beginning fermentation). Pink-colored Zinfandel, of course, is more popularly known as "White Zinfandel," a commonly known misnomer.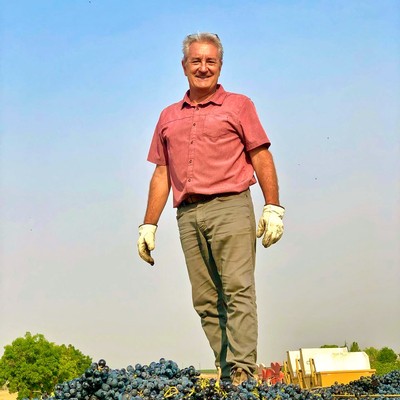 On August 16, Turley Wine Cellars picked their first 2021 Lodi-grown Zinfandel, destined for their dry-style White Zinfandel. Bokisch Vineyards began picking Tempranillo for their dry rosé program on August 19. Grenache, like Zinfandel and Tempranillo, is one of those grapes picked for both pink and red wines; although, when destined for pink wines, grapes are usually picked at slightly lower sugars when they possess more acidity, which is better for rosé quality. Abba Vineyard's Phil Abba, who grows Grenache for a number of top producers, explained the vagaries typical of the yearly harvest:
We grow Grenache in two blocks. One block is cropped for slightly higher yields, about 6 tons [per acre], which is better for rosé. We do more thinning of our Grenache meant for premium red wines, usually cropped under 5 tons; because of the lower tonnage, this block also ripens a little faster. Therefore, one of our smaller producers, Enfield Wine Co., could pick Grenache for both rosé and red wines on the same day, on August 18, when grapes for the rosé block were at about 21°, 22° Brix, and the red wine rows were about 23° Brix.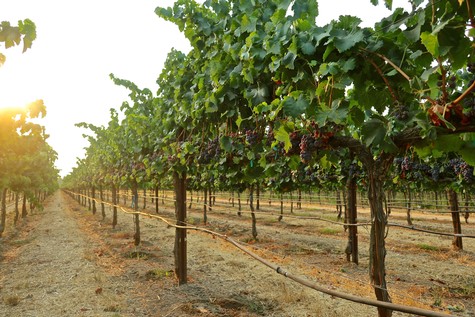 On August 19, another small winery, Maître de Chai, came to Grenache for their red wine. I think they picked at around 22°Brix, which they prefer because they're one of those producers that prefers their grapes at lower sugar to make red wines lower in alcohol and higher in acidity. When Mike McCay [of Lodi's McCay Cellars] came for his rosé pick on August 22, the Grenache was already up around 23.5° Brix, even though he usually prefers it about 22° for rosé. And by the time Mike came back to pick up Grenache for his red wine, on August 29, the sugars were up to 25.5°.
The 2021 harvest of old vine Lodi Zinfandel for red wines began in earnest on Tuesday, August 31. On that day, Turley Wine Cellars started picking Zinfandel in Kirschenmann Vineyard (planted in 1915), Schmiedt Ranch (a 1918 planting) as well as in Steacy Ranch (vines planted as far back as 1907). The following day, September 1, Lodi grower Craig Rous picked his Rous Vineyard Zinfandel (planted in 1909) for McCay Cellars and Macchia Wines, and for Ironstone Vineyards on the following two mornings. Turley Wine Cellars finished picking Zinfandel in their Dogtown Vineyard in the Clements Hills AVA this past weekend (September 4-5).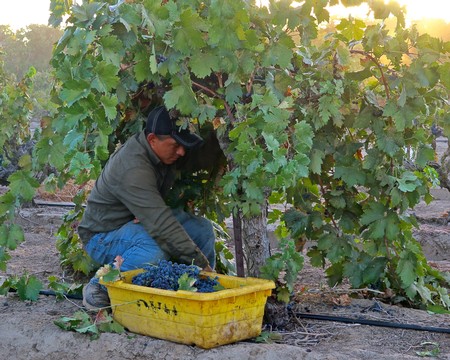 The 2021 harvest of Lodi's historical Bechthold Vineyard — 25 acres of Cinsaut originally planted in 1886 — began at 3:00 a.m. last week Thursday, September 2. In recent years, the Bechthold Vineyard harvest has started as early as the last week of August. The first grapes to be picked are typically at the south end of this block, closer to a Woodbridge Irrigation canal, which produces grapes with lower sugar and higher acidity, ideal for Cinsaut rosés. The first grapes picked for Bechthold Vineyard red wines were harvested this past Saturday, September 4.
Early this morning (September 7), Speaker Ranch owner/grower Greg Burns picked the Carignan from his family's 1900 block for several wineries — including Greg La Follette's Marchelle Wines, Neyers Vineyards, Monte Rio Cellars, Turley Wine Cellars, and Sandlands Wines. According to Turley winemaker Tegan Passalacqua, the Brix for the Spenker Ranch Carignan came in at about 22.7°, which he anticipates will produce red wines at about 13.5% ABV.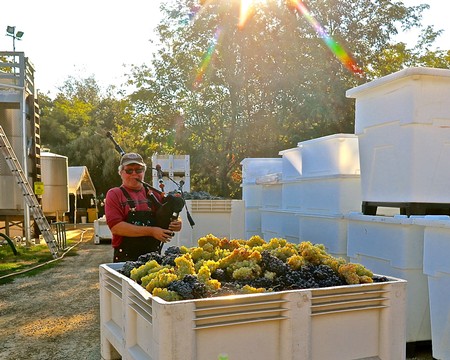 And this, of course, is just the start of the 2021 harvest, which should continue through the month of October. Mother Nature, as usual, will be the final arbiter of when grapes are ready to pick. In a world and times full of fires and any number of natural disasters, Lodi growers and vintners continue to count their blessings and hope for the best.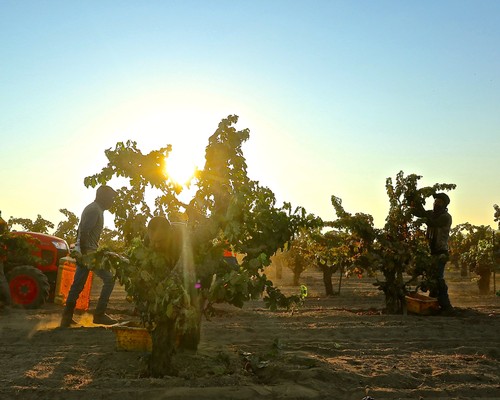 Comments