Letters from Lodi
An insightful and objective look at viticulture and winemaking from the Lodi
Appellation and the growers and vintners behind these crafts. Told from the
perspective of multi-award winning wine journalist, Randy Caparoso.

September 5, 2023 | Randy Caparoso
The new, lighter, sharply terroir-driven styles of Lodi reds ideal for September sipping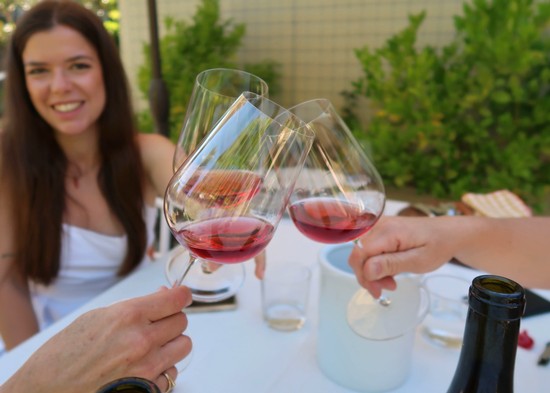 Toasting with a lighter style red wine—zestier in natural acidity, lower than 12% alcohol—crafted by Lorenza from classic Lodi grapes.
Thank you for your wine, California
Thank you for your sweet and bitter fruits
—Keith Richards/Mick Jagger (The Rolling Stones)
Strange and numerous fruits have been a thing in Lodi for longer than most people can remember. The region's most widely planted grape over most of the past century, for instance, was a variety called Flame Tokay. There isn't even a Wikipedia page for Flame Tokay, despite the fact that it was Flame Tokay that originally brought wealth to the City of Lodi during the turn of the last century.
In its wisdom, UC Davis' Foundation Plant Services does have a page on Flame Tokay, identifying its original moniker as a Vitis vinifera (i.e., belonging to the classic European family of wine grapes) as Ahmeur bou Ahmeur. That should tell you Lodi growers aren't crazy. Flame Tokay exists, even if you don't know it.
So do over 130 other grape varieties commercially grown and sold in Lodi, as we speak.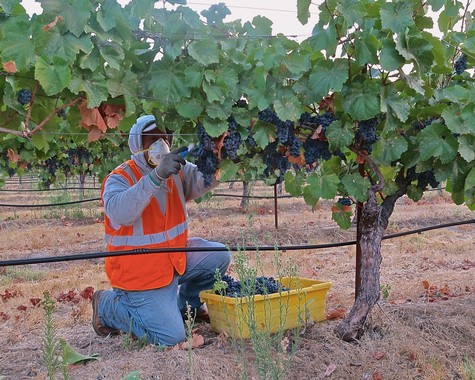 Therefore, you can say, diversity is nothing new to this AVA. What is new is how many of those grapes are now being processed. Let's cut to the chase: More and more of these grapes—especially the black skinned varieties going into red wines—are now being turned into wines that are a lot different from the type of wines in biggest demand from consumers over the past twenty or thirty years.
For one, more and more of these newer styles of wines are a lot lighter than predominant commercial styles. Weight, or "body," in wines is primarily determined by alcohol levels, and most of the popular varietal wines of today—made from grapes such as Cabernet Sauvignon, Merlot, Chardonnay and Pinot noir—contain at least 14% alcohol, if not at least 15%. This is because of the prevailing consumer taste for wines that are very ripe and fruit-driven in profile, and soft rather than sharp or tart in acidity.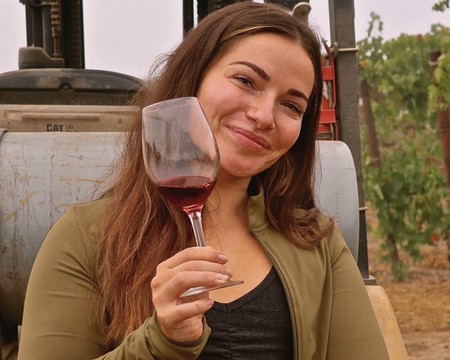 Therefore, the most popular wines of today are typically made from grapes that are harvested when they are high in sugar and lower in acidity, which results in the high alcohol levels and rounder textures of most of today's standard commercial wines.
But times, and consumers, eventually change. There is a growing segment of consumers demonstrating a preference for wines that are lighter in alcohol and zestier in acidity, resulting from grapes picked earlier in the season when they are lower in sugar.
Many of these same consumers are also buying wines made by wineries who use fewer or zero amount of new oak barrels when aging their red wines. The result is red wines with less ripe yet more delineated fruit aromas, more often than not showing more floral notes and a little more earthiness, plus a lighter, slightly sharper feel on the palate. These are all sensory qualities that result when grapes are picked a little earlier.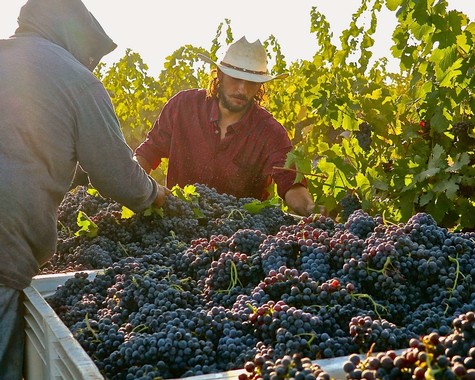 The alcohol levels of this emerging style of red wine generally hover closer to 12% or 13% ABV (i.e., alcohol by volume), and less than 14%. Ironically, it might be more accurate to describe this style as "retro" rather than "new," because up until the 1970s the average California wine was, in fact, about 12.5% ABV. Super-fruity, soft, heavily oaked, high octane styles of wine didn't become popular until the mid-1980s, around the same time that lower priced Chardonnays, Cabernet Sauvignons and White Zinfandels suddenly began to flood the American market.
This is not to say that there was ever anything wrong about consumer preferences for ultra-ripe, higher alcohol wines. The customer, in fact, is always right. It's just that more and more of them are changing, especially as they find more and more wineries—most of these wineries considered less commercialized, and more "handcraft"—willing to produce lighter alternative styles of wine for them.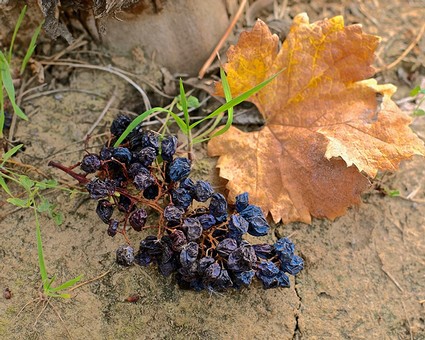 Eight ideal Lodi reds for September
September is a great time of year for these lower alcohol, more sharply defined and, often, notably earth-nuanced wines falling a little outside the norm. While the weather is still a little warm, it gets cooler seemingly by the day—external signs that send signals to the brain to start appreciating red wines. That is, wines with a little more richness, a little more touch of umami (i.e., savoriness from increased amino acids), yet not too dark and heavy, since we're still a few months away from winter.
Just this past Labor Day weekend, for instance, we were enjoying freshly tossed Caesar salad and home-ground steak tartare with a couple of lighter style red wines with decidedly pungent, peppery spices and rose petal-like fragrances. Many of the new style red wines coming out of Lodi taste exactly like this because they are typically made from grapes picked earlier in the season, thus lower in sugar, producing red wines more likely to exhibit nuances such as peppery spice, earth tones and/or rose petal-like scents. September wines.
The wonderful thing about Lodi, of course, is its sheer diversity of wine grapes. Therefore, you can now find these new styles of red wines made from a good range of different varieties. Eight edifying examples: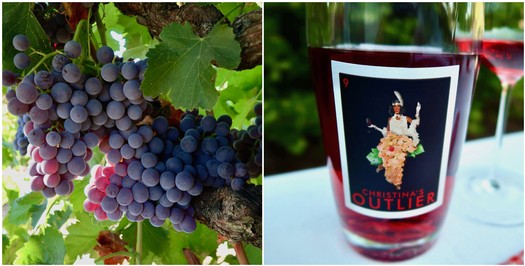 2022 Acquiesce Winery & Vineyards, "Christina's Outlier" Mokelumne River-Lodi Grenache ($32)
This wine was released barely a week ago, but if you like the way it's described you'd best decide quickly—last year "Christina's Outlier" sold out in two weeks. Why? As we said, the consumer taste for lighter style red wines seems to be growing by the day. This wine qualifies as "light" because its alcohol level is less than 13%. In fact, the Grenache grapes going into it were originally picked to produce a rosé. When vinified into a red, however, Grenache grapes produce a wine that is a transparent rosy red and airy, almost ethereal in its lightness and silkiness, yet palate-slaking in natural acidity. Aromatically, the fruit manifests itself in a summery watermelon/cherry/pomegranate-like profile, tinged by orange peel and a subtle blackpepper spice. Aged just three months in neutral (i.e., previously used oak barrels imparting no "oak" flavors), all you taste is the pure, penetrating freshness—and intrinsic complexity—of the Grenache grape. Like Mother Nature blowing a kiss—a perfect "September red."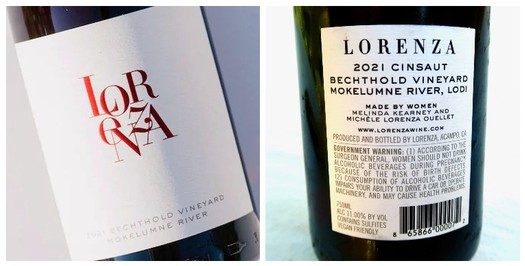 2021 Lorenza Wine, Bechthold Vineyard Mokelumne River-Lodi Cinsaut ($36)
Bechthold Vineyard, Lodi's oldest vineyard (planted in 1886) needs no introduction to longtime Lodi wine lovers; but this rendering may need one: Like Acquiesce's "Outlier," it is made from grapes (in this case, 100% Cinsaut) originally picked for a rosé. The sugar levels were so low, the resulting ABV is barely 11%, and the natural acidity is pinpointedly tingling. Yet the wine has all the intensity of virtually any red wine—soaring raspberry and cherry infused with deep, pervasive kitchen spice (cardamom, mace, clove, a twist of peppercorn) in the nose—while veering into still another dimension, vibrant in pure freshness, on the palate. And as in virtually all these new style reds, oak influence is a complete non-factor (the wine was fleshed out by 18 month in stainless steel and neutral oak barrels).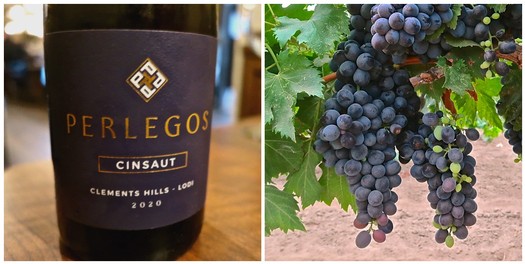 2021 Perlegos Family, Clements Hills-Lodi Cinsaut ($28)
This "young vine" Cinsaut—sourced from Sprague Family Vineyard planted in Lodi's Clements Hills in 2017—demonstrates the ease in which grapes of Mediterranean origin (Cinsaut is a workhorse cultivar native to France's vast Provence region) have adapted to Lodi, lending itself perfectly to today's newer, lighter styles of red wines. In this case, a wine flush in red berry/cherryish fruit tinged with spice (cardamom/pepper), neglible tannin and oak giving a fine, supple feel on the palate, while weighing in at an easy-as-pie 12.2% ABV. 100% whole cluster fermentation with native yeast and aging strictly in neutral French oak enhance this wine's bonafides as contemporary style red.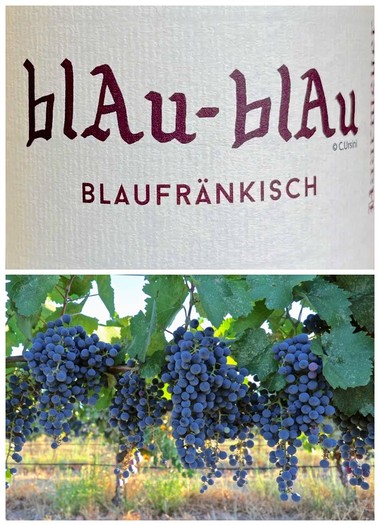 2022 Haarmeyer Wine Cellars, "blAu-blAu" Mokelumne River-Lodi Blaufränkisch ($30)
This wine would qualify as a contemporary "cool kid" wine on the basis of its light and lean profile and native yeast fermented regime if not for the fact that winemaker/owner Craig Harmeyer is really no kid. He is, rather, a wily (besides talented) old hand at minimal intervention style winemaking grounded in a fundamental philosphy that wine should taste like where it is grown (something generally described as terroir). In this case, Blaufränkisch—a cultivar of Slovenian origin now grown throughout Austria, Germany, Czech Republic and Hungary—grown on a sand dune along the banks of the Mokelumne River on Lodi's east side, in a vineyard called Mokelumne Glen. Consequently, the wine is floral and absolutely redolent with blueberry and violet perfumes. Its perky edginess has more to do with lip smacking natural acidity than tannin (which is moderate, despite 25% whole cluster fermentation) or oak (virtually non-existent). ABV weighs in at a light and breezy 12.5%.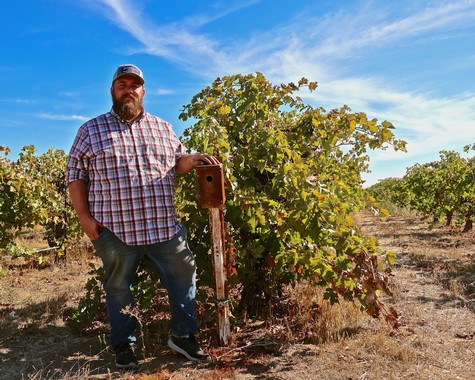 2021 Monte Rio Cellars, Teresi Vineyard Mokelumne River-Lodi Red ($26)
This vineyard-designate red is a 50/50 Zinfandel/Petite Sirah blend. That said, think of this bottling as a wine in which Zinfandel makes Petite Sirah taste twice as good, and Petite Sirah makes Zinfandel far more interesting than typical bottlings of varietal Zinfandel. The moderate ABV (just 12.5%) and zingy acidity of early picked grapes only add to a sense of place (i.e., east side Lodi fruit) rather than focus on varietal character of either grape. Yet the aromas and flavors sing with almost uncontained intensity, notwithstanding a berry liqueur-like concentration. The meatiness and earthiness permeating the wild berry profile strongly suggests Mediterraneanish herbs (particularly thyme/rosemary-like resiny notes, with anise and lavender), while ringing with black peppercorn spice. A liquid embodiment of today's alternative style reds.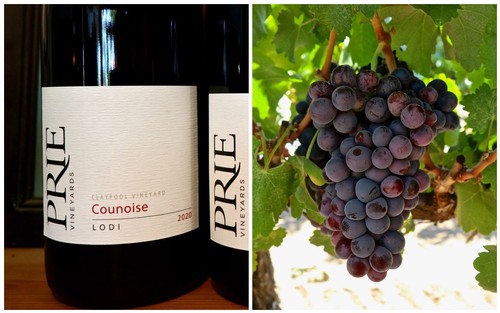 2020 PRIE Winery, Mokelumne River-Lodi Counoise ($33)
The vast majority of wine professionals have no idea what pure Counoise tastes like; and to be honest, neither do we—this varietal is so new to everyone. But I can tell you exactly what this wine, grown in Claypool Vineyard on Lodi's west side, tastes like. It is a taste that is probably made all the more vivid precisely because its grapes were picked early enough that the wine barely tops 12% ABV, and ends up mercifully free of the typical commercialized excesses such as overwrought oak or raisiny fruitiness. Instead, clearly defined aromas exude fresh picked red and black cherry, a plump plumminess and high toned red licorice. There is a notable thread of spry acidity and rounded tannin clearly defining the varietal character; both attributes drawing attention to the wine's silky texture and feathery yet bright, exuberant, unabashedly perfumed fruit profile.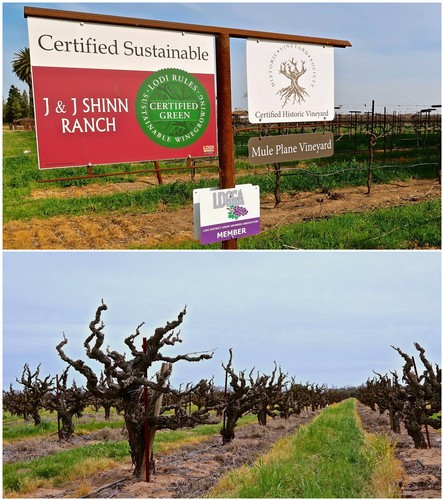 2020 Stonum Vineyards, KMS Collection, "Unbroken" Mokelumne River-Lodi Carignan ($35 )
This 100% varietal bottling, sourced from the Shinn family's Mule Plane Vineyard (planted in the late 1920s), makes the palate salivate for dishes such as raw tuna tacos or tartare, grilled or wood roasted salmon, or pastas in red, zesty primavera sauces. It is the light (just 12% ABV), nimble yet naturally prickly feel of pure ancient vine Carignan—a grape that was historically grown precisely for the natural acidity that the variety adds to red wine blends—tinged with faint earthiness, that conjures up these cravings. The Stonum family's restraint (neutral wood aging and native yeast fermentation) adds to the laser-focus on the varietal's raspberry/cherry/rose petal-like character.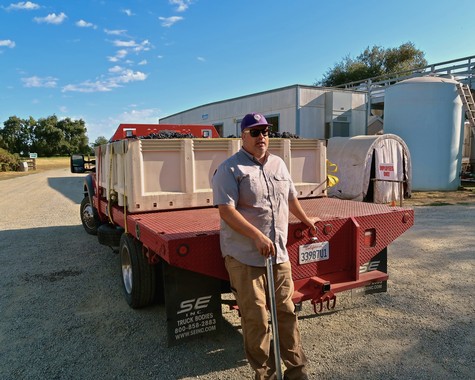 2021 Sandlands, Mokelumne River-Lodi Carignan ($28)
Among modern day vintners, Sandlands owner/winemaker Tegan Passalacqua has practically written the book on contemporary style winemaking; particularly pertaining to grapes coming off own-rooted ancient vine Lodi blocks such as in this bottlling (sourced from Spenker Ranch, planted in 1900). He recently explained how he is able to extract the pure and penetrating black cherry varietal profile accentuated by violet, lavender-like and faintly earthy perfumes; packing this multifaceted intensity into a light and mineral textured sense of body, revved up by a high energy, blood orange-like fleshiness and edginess: "We can get this freshness by picking early enough so that the wine finishes at just 13.2% alcohol. We ferment the Carignan with 100% whole cluster, doing pump-overs to avoid reduction [i.e., off flavors resulting from contact with dead yeast cells]... all native yeast, no acid adds or new oak, aged only in 3- to 8-year-old barrels." A lesson, if anything, on how to bring out the most in wines grown in Lodi's unusually rich, porous and phenomenally deep (in most places, close to 90 or 100-ft.) fine sandy loam soils.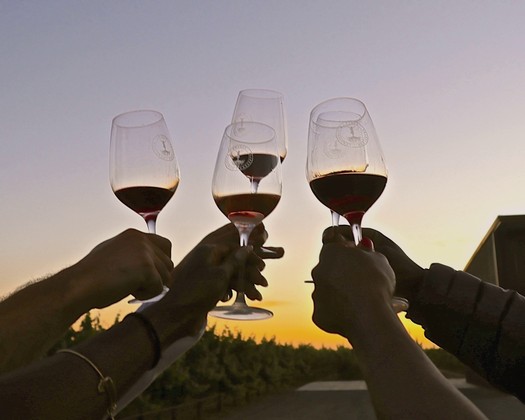 Comments