Letters from Lodi
An insightful and objective look at viticulture and winemaking from the Lodi
Appellation and the growers and vintners behind these crafts. Told from the
perspective of multi-award winning wine journalist, Randy Caparoso.

June 14, 2018 | Randy Caparoso
The Zen of barbecue: Michael David's Petite Sirahs and two ways of baby back ribs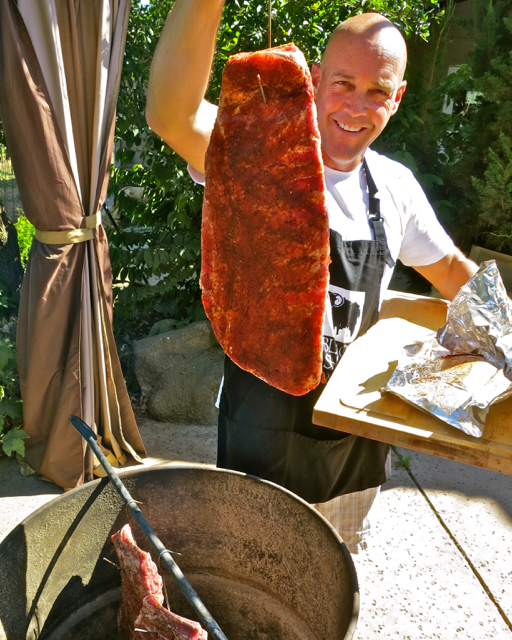 The summer of 2018 is upon us (starting June 21st!), and you can almost hear the squeaky sound of grills being wheeled out into backyard patios in preparation for that season of all seasons for the outdoorsy, culinary minded: Barbecue!
Barbecue is like Zen, in that (to borrow an analogy from zen-buddhism.net) when trying to describe the taste of barbecue to someone who has never tasted it, you can try to explain the aromas and sensations of it, or you can compare and correlate it with similar foods. However, barbecue is barbecue... when you live it, you know it!
And what we know is that barbecue is not the same kind of food you prepare indoors, in your kitchen. Barbecue means foods with smoky or even charred and caramelized flavors. Maybe it's the caveman in all of us, but for some reason that taste sensation gets the mind, and palate, salivating. And like cavemen, we frequently need a good beverage; perhaps beer or iced tea, but preferably a good, zingy wine of a certain type.
When it comes to meats or seafoods cooked on the grill, the natural inclination is also to pile on the other elemental sensations with our seasonings or sauces to rev up the experience to an nth degree: Namely, peppery as well as hot/spicy, sweet and sour, salty as well as umami (i.e. savory) ingredients.
They say that you can taste basically five sensations on the tongue (sweet/sour/salty/bitter/umami). During barbecue season, both peppery/hot spices and smoky/charred/caramelized flavors become the sixth and seventh basic food sensations. It's, like, a transcendence thing.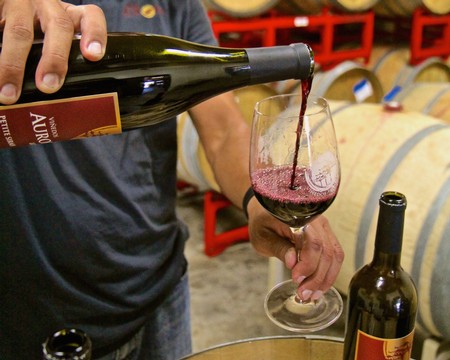 In that case, it stands to reason that the ideal wines, particularly for barbecued meats and seafoods, are:
• Red wines – which have some degree of tannin (the mildly bitter component derived from skins and seeds of grapes, as well as from oak aging) to help absorb fatty meats, from beef and pork to chicken at fish like salmon.
• Wines that see a little oak aging, which often have the vanillin, toasty or even charred qualities of wood to match the smokiness of barbecues.
• Wines with some degree of peppery spice in their intrinsic varietal make-up (examples: Zinfandel, Grenache, Syrah and Petite Sirah) to connect with the spiced qualities of barbecue seasonings and/or sauces.
• Wines with lush enough fruit qualities to balance the sweetness, tartness and often hot spices in barbecued foods.
This, of course, is a lodiwine.com blog, and you can see where we are leading you with this logic: Lush fruit qualities are what set Lodi grown wines – particularly the region's reds made from Zinfandel, Grenache, Syrah or Petite Sirah – apart from wines of other regions.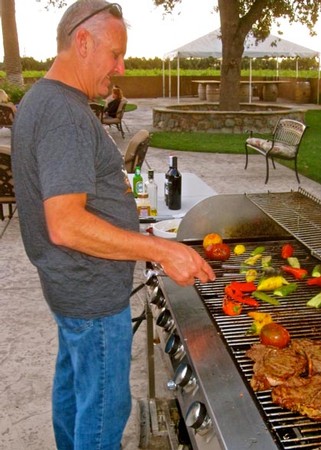 Like most of California's coastal regions, Lodi enjoys a steady Mediterranean climate. The Lodi Viticultural Area experiences hot summer days, with summer nights cooled off by chilly air moving in through the Delta directly from San Francisco Bay; only, our night-time lows are just 2 to 3 degrees warmer than, say, Napa Valley's or Sonoma County's (to be precise, averaging about 55° compared to Napa's 53° and Sonoma's 52°), yet our day-time highs are not much warmer (91° in Lodi, compared to Napa's 90° and Sonoma's 89° – for the past century's average temperatures, see our post on How warm or cool is Lodi?).
More than any other factor (and there are myriad factors accounting for terroir related differences between any two regions), this subtle variation in the Mediterranean climate classification is what gives Lodi wines significantly rounder, more fruit forward qualities. A Napa Valley Petite Sirah, for instance, tends to be more structured (i.e. slightly harder or firmer) in tannin than a Lodi Petite Sirah; and Sonoma County Zinfandels are also more structured than Lodi Zinfandels, as well as slightly jammier and zestier in their varietal fruit profile.
It's all good – we want Napa Valley and Sonoma wines to taste different from Lodi wines, and vice-versa – but the point is that it is precisely the accentuation of lush fruit qualities in Lodi wines that makes them ideal to drink with sweet/spicy/salty/sour/fatty sensations typical of barbecued foods. Lodi grown reds, in this food context, are naturally more pliant, or giving, even with foods with the most extreme barbecue seasonings – from the raging sauces of Kansas City or the Carolinas to the fiery spices of Texas, the dry rubs of Memphis or the exotic, ginger and soy sauce based Asian styles of Hawaii.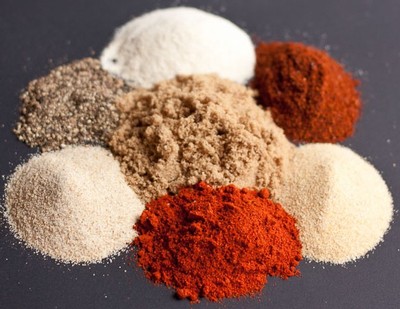 Of course, like variations of barbecue, there are variations of barbecue-friendly wines. Michael David Winery – the largest of Lodi's home-grown, family owned wineries (now nearing a million-case yearly production) – produces two styles of Petite Sirah: the red wine varietal that is perhaps the essence of barbecued food-friendliness because of its natural penchant for fruity qualities generous in blueberry/blackberry flavors, often spiked with peppercorn qualities derived from higher-than-average (compared to any other wine) spice components scientists have recently identified as rotundone (for more details, see our post, The smell of spice in autumn wines).
Petite Sirah is also a varietal that seems to possess generous amounts of tannin that are both sturdy and rounded; and so the taste tends to be "big" yet fleshy or giving on the palate. This combination, along with the intensely sweet/spicy varietal aromas and typically full alcohol (usually at least 14%), is what makes this varietal particularly conducive to oak aging – generous amounts of smoky, vanillin oak flavors only seem to enhance the overall effect. Hence, Petite Sirah can be described as the perfect (or at least near-perfect) "barbecue wine."
The two different versions of Michael David Petite Sirah: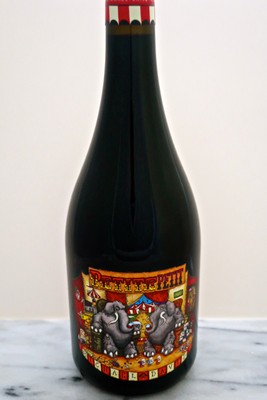 2015 Lodi Petite Petit ($18) – So-named because it is a blend of 85% Petite Sirah and 15% Petit Verdot. Both grapes contribute to the wine's vivid purplish red color; and the combination of peppery spiced blueberry from the Petite Sirah and zesty (i.e. good acid zing), concentrated raspberry from the Petit Verdot add up dense, meaty, layered flavors that are both intense yet rounded; with smoky oak nuances filling in between the grains.
2015 Earthquake Lodi Petite Sirah ($26) - The first thing to note about the Earthquake Petite Sirah is that it goes slightly beyond "big" – the alcohol tops 15.5% (making the full bodied Petite Petit's 14.5% taste almost puny by comparison), and the second thing is that it is pure "Petite." That is: an even blacker, opaque, violet-red; an even more fragrant blueberry nose with nostril tingling cracked peppercorn spice; and consequently, more generous, toasty oak encasing the opulent fruit, adding up to flavors that are meaty, fleshy, yet cushiony in their roundness.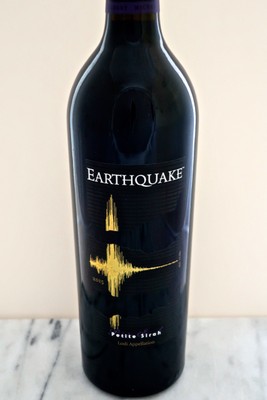 While both the Petite Petit and Earthquake by Michael David are optimal barbecue wines, we'd recommend them with slightly different dishes. If, for example, we're talking about two variations of baby back pork ribs, the zestier, more moderately sized Petite Petit can more easily handle the sharp, perceptively hot/sweet/tangy sensations of baby backs slathered in a "Szechuan" spiced sauce (see our recipe below for a version made famous by the celebrated Hawaiian chef, Roy Yamaguchi).
For the more brutally peppery, smokier, high octane tannin/body style of the Earthquake, the ideal style of baby backs might be a classic Memphis dry rub; with its complex layering of spice sensations inundated with smoke and served with no sauce – just a focus on the crunchy, joyously fatty/meaty/seasoned taste of the ribs.
But we understand, grasshopper, if you think differently. Our suggestion? Try both styles of baby backs with both wines, and decide for yourself!
The two recipes: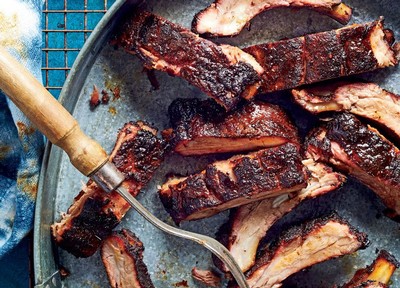 Southern Living's Memphis Dry Rub Baby Back Ribs
(Recipe courtesy of southernliving.com)
2 (2 1/2- to 3-lb.) slabs baby back pork ribs
1/3 cup kosher salt
1/4 cup packed dark brown sugar
3 tablespoons paprika
1 tablespoon black pepper
1 tablespoon garlic powder
1 tablespoon onion powder
1 tablespoon dry mustard
1 tablespoon chili powder
1 tablespoon ground cumin
1 tablespoon ground allspice
1 tablespoon herbes de Provence
1 cup apple cider vinegar, divided
1 cup water, divided
2 handfuls wood chunks for smoking (hickory, oak or pecan)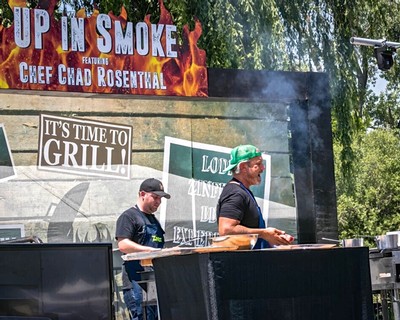 Pat both sides of slabs dry with paper towels. Using a sharp knife, remove thin membrane from back of each by slicing into it and pulling it off with a paper towel. (This will make ribs more tender and allow meat to absorb the rub better.) Combine salt, brown sugar, paprika, pepper, garlic powder, onion powder, dry mustard, chili powder, cumin, allspice, and herbes de Provence in a medium bowl. Rub 3/4 cup mixture evenly over both sides of slabs, and let stand at room temperature 30 minutes.
Prepare a charcoal fire in smoker according to manufacturer's instructions, substituting a mixture of 3/4 cup each of the vinegar and water in drip pan. Bring internal temperature to 250°F to 275°F, and maintain for 15 to 20 minutes. Place wood chunks on coals. Place slabs on smoker, meaty side up; cover with lid.
Smoke ribs, maintaining inside temperature between 250°F and 275°F, until meat is tender to the touch and pulls away from bones on the ends, 3 hours to 3 hours and 30 minutes. Remove ribs, and place on a baking sheet. Stir together remaining 1/4 cup each of vinegar and water. Spritz or brush vinegar-water mixture on both sides of ribs to thoroughly moisten. If desired, rub remaining 1/2 cup brown-sugar mixture on both sides of the ribs. Slice ribs between the bones, and serve.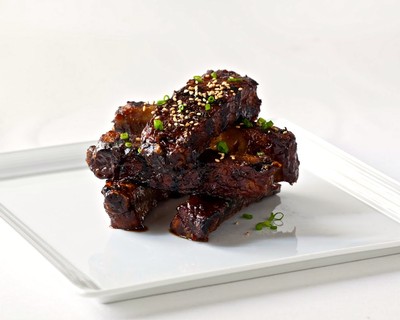 Roy's Wood Smoked Szechuan Spiced Baby Back Ribs
In the early 1990s Bon Appétit magazine ran a feature article on Roy's Restaurant that included this recipe for smoked ribs. This has long been considered one of Chef Roy Yamaguchi's signature dishes, found in every Roy's Restaurant from Hawaii to Florida.
Szechuan Marinade
5 tablespoons white miso (shiro miso)
2/3 cups hoisin sauce
1 ½ tablespoons minced ginger
1 ½ tablespoons minced garlic
1 ½ tablespoons sake
1 ½ tablespoons soy sauce
2 teaspoons sugar
1 tablespoon chili paste with garlic (preferably Lan Chi brand)
Ribs
2 ½ pounds baby back pork ribs
3 quarts chicken stock
1 tablespoon minced ginger
2 teaspoons minced garlic
2 tablespoons minced fresh parsley
2 tablespoons minced fresh cilantro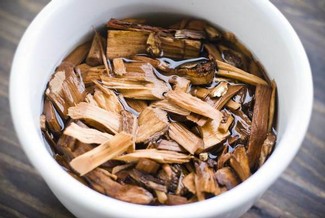 Combine the marinade ingredients together in a bowl and refrigerate overnight. Place the pork ribs in a large saucepan with the chicken stock, ginger, garlic, parsley, and cilantro, and simmer for about 30 minutes, or until tender. Remove the ribs, and reserve the broth for soup or freeze for another time. Immediately brush the ribs with the Szechuan marinade, and let cool. Meanwhile, prepare the grill and soak some kiawe or mesquite wood chips in water in preparation for smoking the ribs.
Brush the ribs again with the marinade before roasting, and slowly cook the ribs over the woods chips on a covered grill until nicely browned and smoky (about 15 to 20 minutes). Serve with extra Szechuan marinade on the side.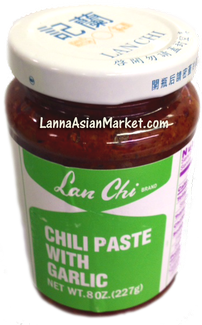 Comments