Letters from Lodi
An insightful and objective look at viticulture and winemaking from the Lodi
Appellation and the growers and vintners behind these crafts. Told from the
perspective of multi-award winning wine journalist, Randy Caparoso.

November 13, 2018 | Randy Caparoso
Thanksgiving shopping list: One dozen "very Lodi" wines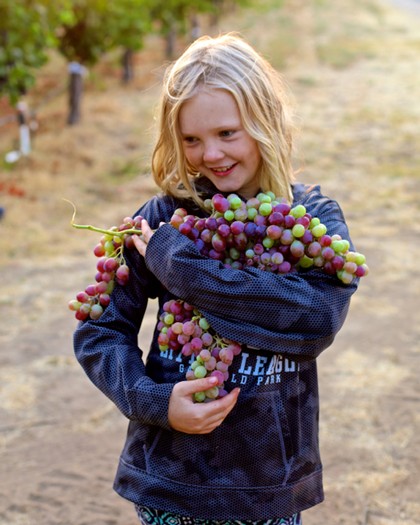 What makes a wine "very Lodi?"
First, it's more than just grown and produced in Lodi. It's also a wine that would be hard to duplicate elsewhere in the world.
The finer white wines grown in Lodi, for instance, tend to be light, fresh, and ringingly pure in their fruit qualities. The region's dependable Mediterranean climate and well drained sandy soils dictate a lot of that. Lodi's white wine specialists tend to pick their grapes early in the season – early August is the norm, but sometimes it's as soon as late July – before the grapes reach higher sugar levels and before they lose their natural acidity. Lower sugars means moderate alcohol levels (12% to 13%), and more natural acidity means tingly tart tastes; framing the natural fruit aromas and flavors in a pristinely fresh, crisp packages.
Lodi experiences the growing season diurnal shifts – warm summer days over 80º and nights dipping down to the mid 50°s – typifying nearly all of California's coastal regions, from Mendocino, Napa and Sonoma all the way down to Monterey, San Luis Obispo, and Santa Barbara. But at the same time, Lodi's temperature swings are not exactly the same.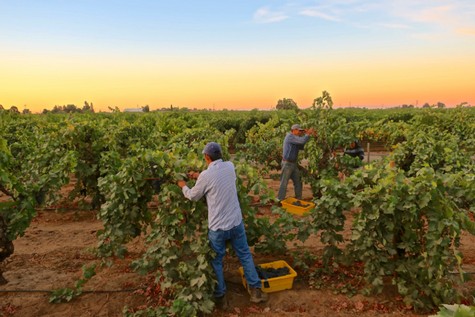 It gets even hotter in the day and colder at night, for instance, in Paso Robles. Much of Napa and Sonoma see more early morning cloud cover due to immediate proximity to the Bay Area. San Luis Obispo and Santa Barbara are even closer to the coast; hence, their climate is marked by cooler days, significantly narrowing their diurnal swings.
Lodi is also influenced by cool ocean air flowing through the flat (generally below sea level), levee-quilted expanse of the Sacramento-San Joaquin River Delta, representing the only break in the coastal mountain range in the entire state. At the same time, Lodi is just far enough from the coast that fog is not a factor between April and October; and so grapes – and the leaves that generate fruit qualities through the process of photosynthesis – see full sun from dawn to dusk. Hence, the bright fruit qualities of white, red as well as rosé style wines grown in Lodi.
This climatic influence explains why descriptors such as "round," "smooth" and "gentle" typify Lodi grown reds. Lodi reds tend to be softer in tannin compared to tannin levels typical of reds grown in other California regions. When Lodi reds as well as rosés are vinified and aged with restraint in a winery, the wines are often tinged with unmistakable earthy qualities – vestiges of the porous yet vigorous sandy loam soils around the City of Lodi, or the shallower, rocky clay soils of hillsides predominating along the eastern edges of the Lodi appellation. And that sums up a "very Lodi" taste.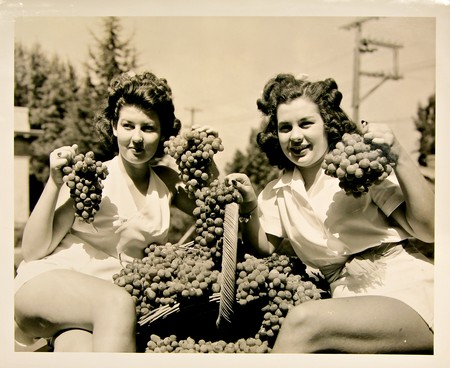 As we approach the 2018 holidays – marking approximately two decades of a "Renaissance," of sorts, for more artisanal style Lodi based winemaking – what wines would we single out as "very Lodi," at this particular juncture? With an additional thought on wines that would also be ideal for Thanksgiving celebrations, here are our dozen choices:
2017 Van Ruiten Family Winery, Lodi Sparkling Rosé ($20) – There is wet kiss of sweetness in this emphatically crisp, bracing, pink sparkler, crafted entirely from estate grown Syrah, which lends a "very Lodi" exuberance of flowery, strawberry/watermelon fruit qualities. Think of it as like a sophisticate's White Zinfandel. Yes, it's ideal for people just getting into the joys of fermented grapes – not everyone gathering around a Thanksgiving table has to be a wine nut or geek – but think of this wine in another way: Classic holiday turkey is typically slathered in sweet, zesty cranberry relish. Why? Because that's the way virtually everyone loves their turkey. And not just turkey, but also the salty/sweet taste of baked hams slathered in their own sweet glazes. So pooh-pooh Van Ruiten Family's fruity, bubbly rosé all you like; but even the most seasoned connoisseur cannot deny the wisdom of matching all-time favorite dishes with sensibly endowed wines.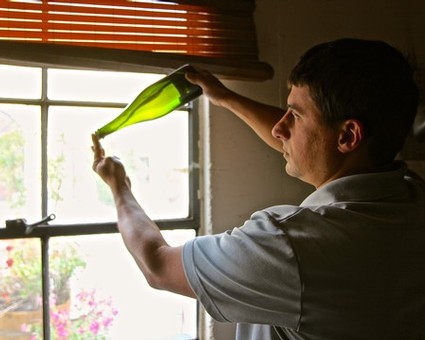 LVVR Sparkling Cellars, Lodi Rosé ($24) – If you haven't yet heard the news – and we can't blame you if you haven't, since we're talking about a one-man, under-the-radar operation quietly crafting tiny quantities of wines – Lodi is now home to a winery (LVVR Sparkling Cellars) producing authentic, champagne style sparkling wines. Meaning, the bubbles are induced by "secondary fermentations" in each individual bottle, as opposed to the mass production style of manufacturing bubbles in large tanks. Sparkling wines produced in the original French fashion tend to yield finer bubbles, and also flavors laced with the fresh biscuit-like qualities resulting from the autolysis of expended yeast cells trapped in every bottle. It's like the scent of an early morning bakery laced with, in this case, the citrus and rose petal fragrances of "very Lodi" grown grapes. Here, the residual sugar is restrained enough so that the sweetness is more like a whisper on the tongue; while bubbly fruit qualities are braced by the palate slaking zest of natural grape acidity. This is an ideal turkey wine – it revs up the taste of the bird without clobbering it with sweetness – but like any good, off-dry sparkler, it is a pure joy to sip on its own.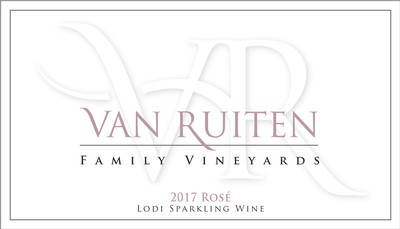 2017 St. Amant Winery, Lodi Barbera Rosé ($15) – Three of the twelve wines we are recommending for your upcoming holiday meals are unabashedly pink styles of wines; and not just for culinary reasons – what can be more food-versatile than wines made from red wine grapes in the fashion of white or sparkling wines? – but also because they do indeed represent unique aspects of Lodi winegrowing. Red wine grapes absolutely love the warm, steady Mediterranean climate of Lodi; yet even when picked early, still bristling with sharp natural acidity, they've still absorbed enough of the Delta sun and breeze to retain exuberant expressions of the grape. In this case, it's Barbera – a Northern Italian grape notorious for producing red wines so high in acid and tannin, none but the connoisseurs of pain and liquid leather usually indulge in it. In St. Amant's iteration, crinkly skinned grapes from an old vine block (planted in the early 1970s – which is ancient by the standards of trellised Barbera) ring out notes of cranberry, strawberry and rhubarb with twists of lemon peel and iced tea; finishing bone-dry, tart-edgy yet deftly fluid and balanced on the palate. If your holiday meals are typically American – meaning, a wide range of foods (from turkey and seafood to meats and greens) – there may be no better overall match than this "very Lodi" dry rosé.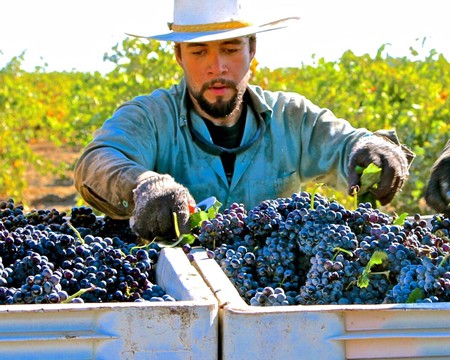 2017 Sand Point, Lodi Sauvignon Blanc ($12) – Earlier this year we pointed out the reasons why this $12 wine won "Best of Class" at the 2018 International Women's Wine Competition, which is judged entirely by women wine professionals. It is, basically, a light (12.5% alcohol), clean, crisp and refreshingly dry white. Not sweet, not exactly soft, but eminently easy to drink. But when you dig a little deeper, the Sand Point – which is one of the labels grown and produced entirely by Lodi's LangeTwins Family Winery & Vineyards – has a lemon/citrus nose (mixing the scent of the oils in the rind with the fresh fruit quality of the pulp); and on the palate, the lightly tart flavors are neatly folded with something of a precise origami edge, finishing with a smidgen of honeydew, a touch of mineral, and lingering depth of grapefruit – all with a sense of unfettered purity (that is, not weighted down by woody oak or excess alcohol). In that sense, a "very Lodi" white; particularly for its lack of pretension (and not in the least because of its ridiculously good price). And since Thanksgiving turkey is, after all, essentially a white meat (even the dark meat is not that dark as, say, a duck's or goose's), it is ideally matched with perfectly balanced, light and dry whites like the Sand Point. But if dishes like Dungeness crab, shrimp and oysters are also part of your usual holiday menu, all more reason why you should be drinking this Lodi grown varietal.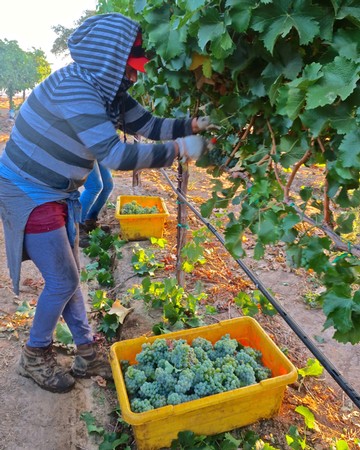 2017 Fields Family Wines, Delu Vineyard Alta Mesa-Lodi Grenache Blanc ($24) – If Lodi is the epitome of Mediterranean winegrowing, Grenache blanc is the epitome of a Mediterranean white wine grape. It produces floral scented wines that are just quietly perfumed; sometimes suggesting violet, sometimes lavender. Its fruit qualities are also more like suggestions – pear, green apple, maybe a sliver of apricot, then again maybe not. The feel is light, airy, with an edgy tartness, but also a touch of fleshiness – like a glimpse of skin peeking out of an otherwise modest dress. In the case of this interpretation crafted by Fields Family (stainless steel fermented, finished in neutral barrels), the tartness is almost sharp, cutting to the point of puckering. Nothing wrong with that, because a palate made ready by puckering is even readier for the taste of foods. Let's come out and say it: a good Grenache blanc is come-hither without actually having to say it. It just is; unlike, say, typical Chardonnay, where what you see is what you get because, well, Chardonnay usually lets it "all hang out." You may prefer Grenache blanc; no one says you have to. These oak-free renditions may come across as a little demure, but are always "very Lodi."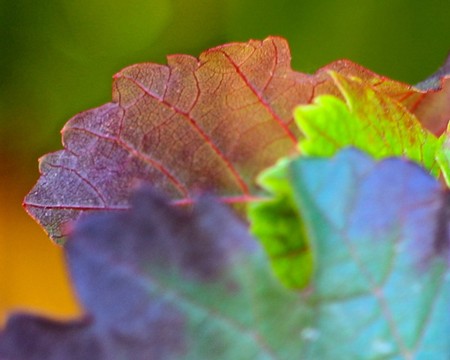 2017 Oak Farm Vineyards, Lodi Estate Chardonnay ($28) – Speaking of which: If you're looking for typical California Chardonnay in this bottling, turn around and go the other way. Not all California Chardonnays are Oklahoma! girls – you know, the ones who cain't say no. What's becoming increasingly clear from wines like this is that Lodi grown Chardonnays are clear and bright with the apple/pear/whipped cream qualities associated with the varietal, but they don't bang it against your eardrums like a marching band. The issue, of course, is that it's the Chardonnays with the big, gigantic fruit aromas – the "hedonistic" oodles of so-called varietal character – that usually get the most fanfare. Still, quietly, effectively, Lodi based wineries like Oak Farm Vineyards (and The Lucas Winery and Harney Lane Winery, to name two more) have been crafting Lodi grown Chardonnays with plenty of clarity of fruit, wrapped in lower key, silken textured packages with just the right amount of crispness and unpresuming je nais se quois. Plus, as any longtime Chardonnay lover knows, this varietal is tailor-made for Thanksgiving turkey; especially with the traditionally saged bread or crouton stuffing and golden brown natural gravy. If you happen to smoke a turkey in something like a Big Green Egg, all the more reason to open a judiciously oaked Chardonnay like Oak Farm's. It's a combination that, as Madonna once described Streisand (in Saturday Night Live), "is like buttah" (or, "two sticks of buttah lashed together in a rough hewn manner").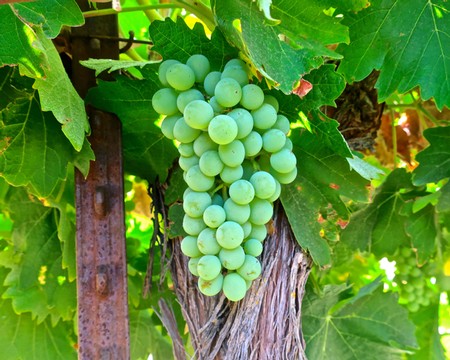 2017 Peltier Winery, Black Diamond Lodi Vermentino ($18) – Vermentino is another true-azure Mediterranean white varietal, but with even more of a transparency (that is, a tendency to express sense of place, or terroir) than, say, Grenache blanc or the more familiar Viognier. Last we checked (re the 2017 USDA California Grape Acreage Report), there was a total of 91 acres of Vermentino grown in California; 32 of which are in Lodi. Which makes sense, since few American wine regions have the steady yet moderate sun drenched weather reminiscent of Provence, Corsica and Sardinia – regions where the grape is known to excel (whereas plantings of grapes like Chardonnay and Sauvignon blanc are near near-negligible). Vermentino in Lodi has smidgens of the pervasive minerality found in European versions; as well as the bracingly tart and phenolic edged dryness plus moderation of weight (that is, restrained alcohol) characteristic of the varietal. Peltier Winery's Cosumnes River-Lodi's provenance is reflected in its savory/salted honeydew melon/lemon/kiwi/white pepper profile, and a mouth-watering, meaty taste suggesting the stringy flesh around the pit of a peach. In other words, "very Lodi," yet very Mediterranean – perfect for a holiday feast of turkey meat, ham, Dungeness, or even lobster.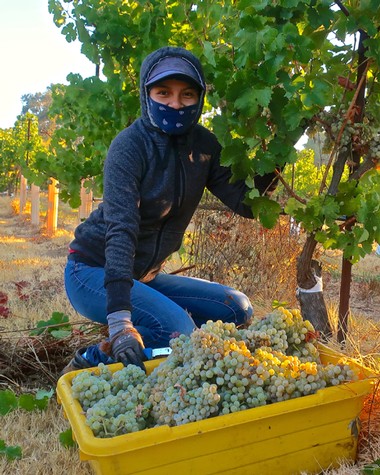 2016 Markus Wine Co., Mokelumne Glen Vineyards Nativo ($12) – Much of what makes a Lodi wine "very Lodi" is its sense of originality, which can verge on iconoclasticism. Blending can be free-form – done in a fashion that works in Lodi and maybe not elsewhere (and vice-versa) – which is reinforced by the fact that there are over 100 varieties of wine grapes commercially grown in the region. Case in point: The recent work of winemaker/owner Markus Niggli with grapes grown by the Koth family's riverside Mokelumne Glen Vineyards – consisting of over 50 grapes of German or Austrian origin. On paper, a wine critic might say that a Mediterranean region like Lodi has no business planting grapes from Germany or Austria. But guess what? Not all of Germany and Austria is ice-cold. There are warmer parts of these countries, and that's where grapes like Kerner (69% of Niggli's Nativo) and Bacchus (21%) come in. The balance of Nativo – which is a field crush (i.e. all the different grapes harvested at one time) and native yeast co-fermentation – is 20% Riesling, which has also been known to adjust to a surprising range of climatic conditions around the world. What matters most, of course, is that this blend ends up being a steely dry white driven by a pervasive minerality, eclipsing even the floral/citrus notes typical of Kerner and Riesling. Its ultimate objective is to express a single vineyard (Mokelumne Glen) and one winemaker's aesthetic disposition; not the "varietal character" of grapes. Where else in California is a white wine that comes even close to this description even grown? Yet it happens – at least in Lodi. So if you're into incorporating very special and unique (yet extremely food-versatile) wines into your Thanksgiving agenda, you can't do much better than Nativo.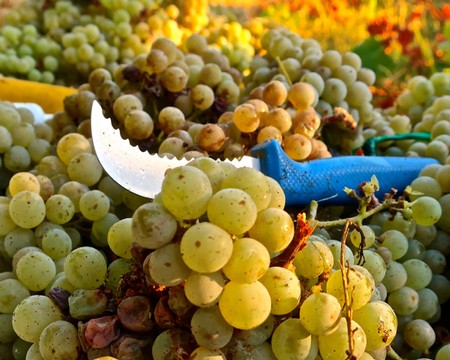 2017 McManis Family Vineyards Lodi Estate Grown Pinot Noir ($12) – Much of what Lodi does falls in the "proof-is-in-the-pudding" category. Hey, we all know Pinot noir grows beautifully in places like Sonoma Coast, Santa Barbara and Oregon's Willamette Valley. But here's a question: Can these vaunted regions produce an exceptional $12 Pinot noir? Maybe they could, but would it be with the exuberance of this McManis Family bottling, which absolutely exudes varietal fruit in an unabashedly fresh, pristine, strawberryish spectrum, with loamy and sweet tea-like undertones underlined by a soft, round, supple, medium bodied feel, unfettered by external sensations like oak tannin and aromas. Over 90% of the fruit going into this wine is Lodi grown (the rest comes from McManis Family's River Junction Vineyard further south). The beauty of any good Pinot noir, of course, is that it is hugely food-versatile – soft enough to enhance white meats and seafoods, yet just grippy enough to go with red meats. If your Thanksgiving menu happens to mix in, say, roast beef or lamb along with the turkey and/or ham, lush, rounded reds like the McManis Family Pinot Noir could be heaven-sent. A lot of this versatility is built into the varietal character of the grape itself; but a lot of it from the fact that it is grown in Lodi, where roundness and purity of fruit expression happens to be a signature of the region.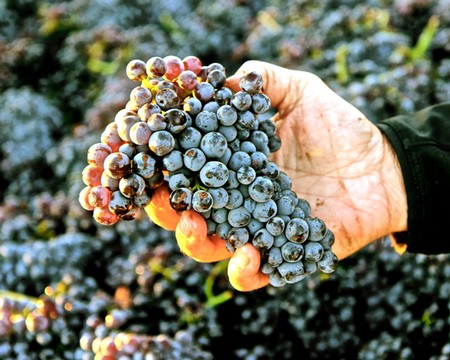 2014 McCay Cellars, Abba Lodi Grenache ($35) – This red wine is "very Lodi" on several levels. Some say, for one, that Grenache may be the "Pinot noir of Lodi" – since Grenache is a decidedly Mediterranean grape (certainly not grown in places like Bordeaux or Burgundy), yet produces round, sensuous reds with its own brand of perfumed complexity. This bottling by McCay also represents an approach to winemaking more and more vintners, inside and outside of Lodi, are taking to capture the subtleties of Lodi grown fruit; particularly native yeast fermentation, aging in strictly "neutral" oak (older barrels that don't impart the flavor of wood that might obscure nuances of the fruit), and minimal handling (such as zero filtration) all the way to bottling. The result is a wine bursting at the seams with more pepper/cardamom (or is that clove or allspice?) than you can shake a grinder at. No other region on the West Coast grows Grenache like this (we know because we've done the blind tasting tests). As it were, the spice is also part of a nose plump in red cherry varietal fruit qualities, a discreet scoop of loamy earthiness (another "very Lodi" giveaway), and the zippy yet soft tannin sensations also characteristic of the grape. It's the roundness and spice, of course, that makes this an ideal holiday red: smelling like the cooking coming out of the kitchen, and making itself perfectly at home with practically any dish, from white to red meats and sweet to savory sauces and relishes.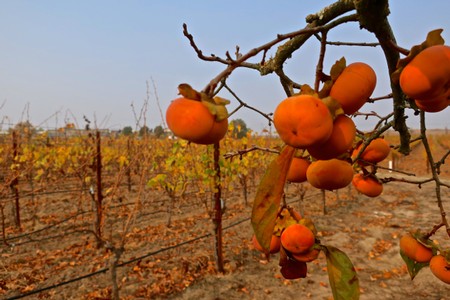 2015 PRIE Winery, Spenker Ranch Block 4 (1900) Lodi Carignane ($27) – Lodi is known for its old or "ancient" vine Zinfandel; but also surviving through the rigors of time and ever-changing markets are a small number of venerated plantings of Carignan, dating as far back as 1889. When you think of it, there's really no reason for it. There was never a "White Carignan" craze. And sure, Carignan was a major ingredient in the jug wine "Burgundies" of yesteryears, but those days are long gone, too. The reason a few of these plantings have survived growers' usual urge to pull and replant with Cabernet Sauvignon, Chardonnay, Merlot, etc. are: 1) Even the creakiest, most grizzled century-old Carignan plants can still produce a generous crop because this Mediterranean variety is as conducive to old fashioned, free standing head training as it is to Lodi's sun soaked climate; and 2) these old plantings of Carignan still mean a lot, on a personal level, to the longtime Lodi families who stubbornly cling to them, like living heirlooms. Like the generosity of fruit rewarding these growers, ancient vine Carignan has its own generosity of charms; particularly bright cherry/rhubarb/cranberry perfumes with leafy and brown spice undertones, and zippy (Carignan was always valued as a higher acid grape), mouth-filling yet soft and sumptuous flavors that can buoy the palate like Santa's bowl full of jelly. You find all of that in PRIE's modern day rendition of the grape; smartly picked early enough to give a zesty, restrained feel (expect the opposite of a fat, raisiny fruited red). Bring on the dark meat, fennel sausage stuffing and cranberry sauce!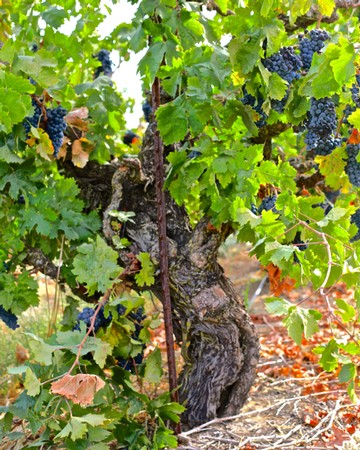 2016 Bokisch Vineyards, Lodi Graciano ($25) – Continuing our exploration of holiday kitchen smells, here is a varietal red that, when done right, suggests the scent of baking berry pies with whiffs of anise and dried fruit; and on the palate, touches the tongue from front to back, side to side – the rounded tannin filling out the fruit, resulting in a dense yet curvaceous feel. Lodi is by no means the only California wine region exploring this grape (about 10 of the state's 50 or so acres are grown here), whose traditional role in Spain has primarily been as a "blender" (particularly to enhance Tempranillo dominated reds). Still, Bokisch Vineyards deserves a ton of credit for being among the first of the New World grower/producers to recognize Graciano's qualities as a "stand-alone" varietal, and celebrate it as such. Largely, of course, because the grape seemed to take to Lodi's warm yet moderated Mediterranean sun like fish to water. The bonus is that this red wine's intrinsically rich yet svelte feel and generosity also makes it ideal for holiday tables set with "everyone's" favorite dishes; be it the traditional turkey or ham, roasted beef or game, vegetables casseroles or the invariable fruit compotes. A red wine, that is, that everyone can love. "Very Lodi."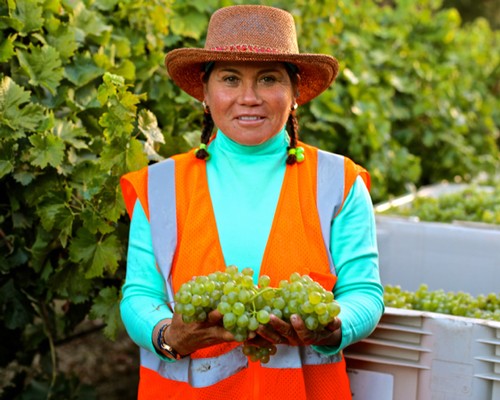 Comments