Letters from Lodi
An insightful and objective look at viticulture and winemaking from the Lodi
Appellation and the growers and vintners behind these crafts. Told from the
perspective of multi-award winning wine journalist, Randy Caparoso.

November 9, 2023 | Randy Caparoso
Story of an appellation—Part 8, Lodi's shift to premium grapes and first wave of independent wineries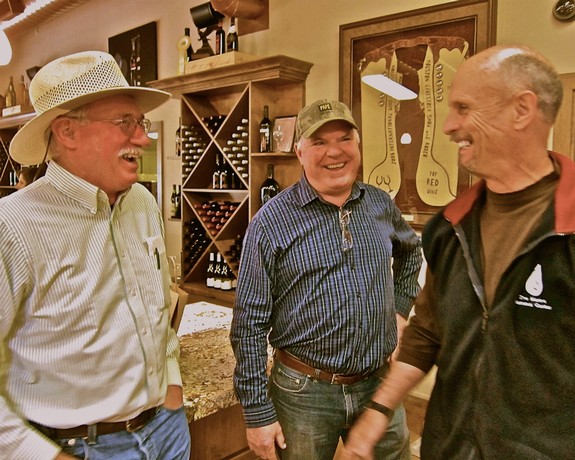 Continued from Story of an appellation—Part 7, Lodi's iconic Mission Arch
Dawn of a "Golden Age"
Robert Mondavi was a Lodi Union High School graduate who will always be remembered for significant accomplishments in the wine industry. First, he convinced his father, Cesare Mondavi, a Lodi businessman who entered the grape industry during the early 1920s as a grape packer, to buy Napa Valley's Charles Krug Winery in 1943. Robert and his brother Peter Mondavi operated Charles Krug until their famous falling out, which led to the founding of the groundbreaking Robert Mondavi Winery in 1966.
In 1979, Robert Mondavi purchased an Acampo facility operated by a Lodi grower-cooperative by the name of Cherokee Wine Association. Prior to that, Cherokee had produced wines for Charles Krug Winery, and inventory at Cherokee was part of Mondavi's eventual settlement with his family for his share of Charles Krug.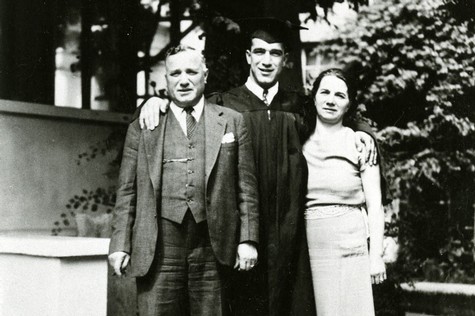 Mr. Mondavi established his Lodi outpost as Woodbridge Winery (now called Woodbridge by Robert Mondavi). While the Woodbridge brand is associated with value-priced wines, in terms of incentivized vineyard contracting and winemaking techniques, the Mondavi team was the first to introduce state-of-the-art wine production to the Lodi region. More importantly, it was Woodbridge that contributed enormously to the mindset among Lodi growers, pushing them to make the transition from large volume, commodity grape growing to higher quality winegrowing.
Woodbridge's first releases were generic style "Table Red" and "Table White" blends available in both 750 ML and 1.5-liter sizes. Rather than in a squat, round bottle typical of jug wines of the day, Mondavi's 1.5-liters were packaged in tall, magnum-shaped bottles, more like classic French Bordeaux—although many a consumer had problems finding a refrigerator shelf tall enough to accomodate the white wine bottle.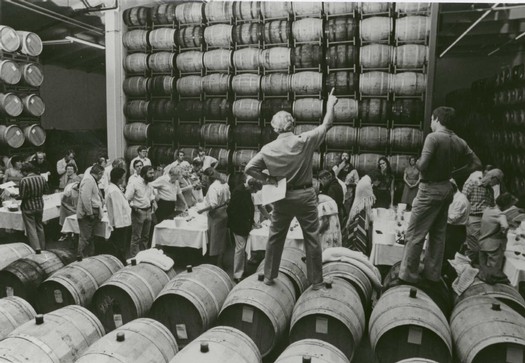 Lodi locals shortened the names of the first Woodbridge wines to "Bob Red" and "Bob White." Within a few years, however, Woodbridge began to transition away from generic style blends to premium varietal bottlings, while playing a major role in encouraging Lodi growers to change over from "bulk wine" grape growing to quality focused winegrowing.
Make no mistake: The stated goal of Mr. Mondavi's Bob Reds and Bob Whites was to produce the "best everyday wines in the world." Mondavi truly believed California could do that, and that Lodi was the place to make it happen.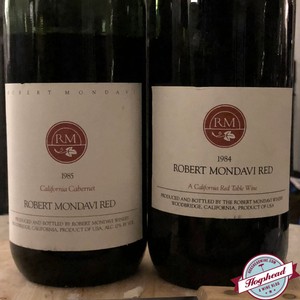 As it were, the 1980s was the decade when Lodi growers were looking for some kind of direction or leadership. Quickly shifting markets necessitated the phasing out of grapes such as Flame Tokay (primarily a table grape, but no longer in favor because of its seeds), Palomino (used for sweet fortified wines no longer favored by consumers after the 1970s), and white wine grapes such as Colombard and Chenin blanc (growing less important to a domestic wine market transitioning from generic or jug wines to premium varietal wines).
To develop their varietal program, Mondavi and his team at Woodbridge labored diligently to persuade Lodi growers to replant with classic French grapes such as Cabernet Sauvignon, Chardonnay, Sauvignon blanc and Merlot; which, along with Zinfandel and Petite Sirah, are now the most widely planted grapes in the Lodi appellation.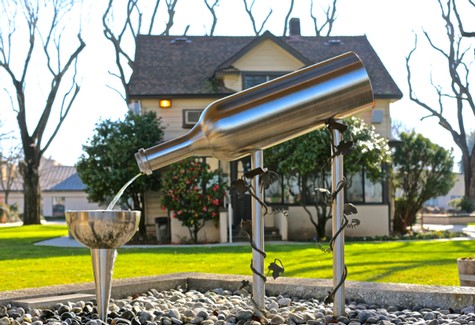 Per corporate Mondavi strategy conceived in Napa Valley, Woodbridge introduced its QET (Quality Enhancement Team) protocols, working closely with growers on a program that increases understanding of how vineyard practices directly impact sensory qualities of resulting wines.
Even the growers who did not have contracts with Mondavi could see the writing on the wall. One by one, the grower-cooperatives that had dominated the Lodi winegrowing industry since the end of Prohibition began to dissolve. While Lodi is still, for all intents and purposes, more of a farming region than a place for wineries, the influence of Robert Mondavi as a company led to a cultural shift making way for the modest number of small, premium wineries for which Lodi is equally known today.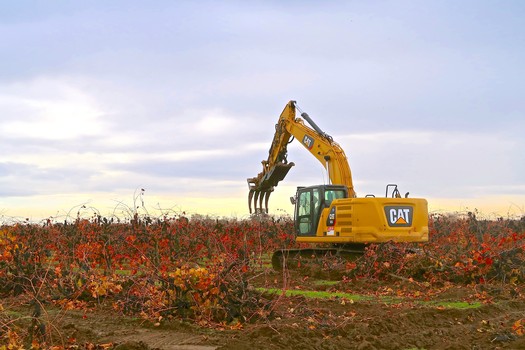 The first of Lodi's modern day premium producers
Among other things, Mr. Mondavi also coined the expression "The Golden Age of California Wine," mostly in reference to the exciting quality of wines coming out of regions such as Napa Valley and Sonoma County during the '60s and '70s—culminating, symbolically, in the 1976 "Judgement of Paris," after which even French experts were forced to admit that California was capable of producing world class wines.
This "Golden Age" sparked by energetic visionaries such as Mondavi, fueled by the groundswell of consumer interest in higher quality table wines, was what finally pushed Lodi growers to make the transition to grapes more suitable to the premium market. If anything, this allowed Lodi growers to take fuller advantage of the region's natural environment, which has always been conducive to an enormous range of varieties. Not just Zinfandel, Chardonnay or Cabernet Sauvignon, but also lesser known (at least to the domestic market) grapes such as Albariño, Tempranillo, Piquepoul, Grenache blanc, and the full range—over 100 varieties now commercially grown—of grapes now associated with Lodi's accommodating terroir.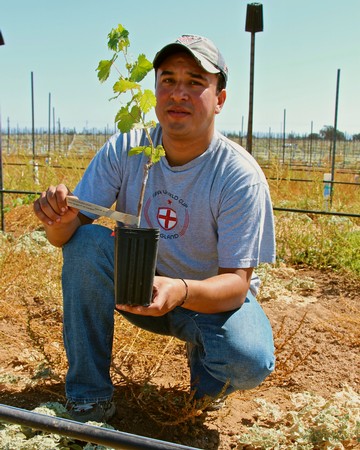 While Lodi growers focused full bore on wine grapes—growing into easily the largest winegrowing region in the country by the early 2000s—a proliferation of smaller, independent, craft style wineries, similar to those of regions such as Napa Valley and Sonoma County, became an inevitability.
In 1975, third-generation Lodi grower Steve Borra quietly attained a bond for tiny Borra Vineyards, which became the first of Lodi's modern-day small, or "boutique" style, wineries. After a few ebbs and flows during its first 25 years, Borra evolved into one of Lodi's most innovative family wineries, before finally closing shop following Mr. Borra's retirement in 2018. While Borra Vineyards is no more, local followers can now find solace in the wines of Markus Wine Company crafted by Markus Niggli, the winemaker of note during Borra's last few glory days, when the brand became known for exquisitely handcrafted blends.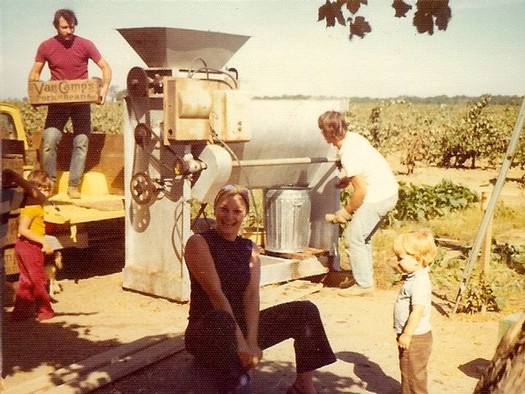 Soon after Borra's start, two more independent premium-quality wineries were established in Lodi:
• The Lucas Winery, founded in 1978 by David Lucas, a longtime former vineyard manager and grower liaison for Robert Mondavi Winery.
• Phillips Winery, founded in 1984 by Michael Phillips—changed a few years later to Michael David Winery after the discovery of a trademark conflict with another winery, and also reflecting the co-ownership of Michael's brother David Phillips.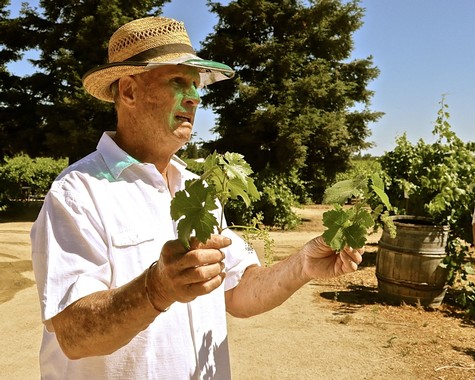 The Lucas Winery "ZinStar"—since 2001, farmed and crafted by Mr. Lucas' acclaimed winemaker/wife Heather Pyle—has remained a singular sensory reminder of what old vine Lodi Zinfandel is all about: Silken fine and balanced rather than big or rough, pure and fragrant as opposed to jammy and oaky. All the qualities that make it "Lodi," not "Napa," "Sonoma," "Amador" or anything else.
While The Lucas Winery, like Borra Vineyards, never grew out of its boutique, handcraft scale, its influence has been quiet yet effective. "What's really magical," David Lucas has recently told us, "is what's happened to Lodi over the past 30, 40 years. A lot of people have put in a lot of time and effort to bring this region up to this level where we can talk about it in the same way we talk about a Napa Valley."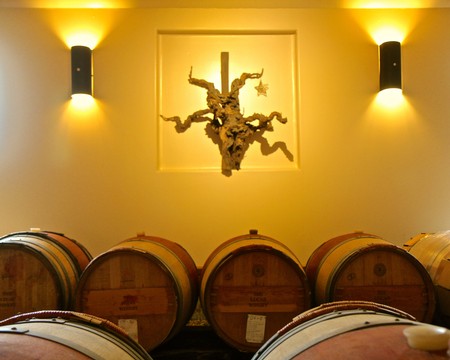 On one hand, the aforementioned declaration may sound like a little bit of a reach; on the other, Mr. Lucas (as well as Heather Pyle) did work for Robert Mondavi Winery for nearly 20 years—he has an insider's perspective on the impact of brands, big and small.
"When you think about it, the reason the region has been successful," adds Lucas, "is because of men like Mike Phillips and Steve Borra, who started Lodi's first wineries. Without Steve's influence or Mike's encouragement, I may not have had the courage to start my own winery!"
If you visit The Lucas Winery tasting room today, you will see a framed photograph of Steve Borra. Of Borra, Mr. Lucas still says, with great emotion, "We ought to build a monument to this important man, and monumental grower—it will be a crime if we don't!"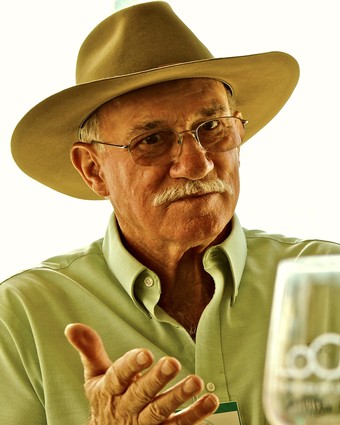 How the Phillips family led the way
Lodi's Phillips family—along with their close cousins, west side growers such as the Bishofbergers and Maleys—were originally descendants of Andrew Harshner, who arrived in Lodi right after the Civil War, in 1867. Harshner purchased a 160-acre farm on Turner Road, on the west side of today's Mokelumne River-Lodi AVA. Harshner left a legacy of wiliness, establishing a market-flexible polycultural business ranging from fruits and vegetables to nuts and dairy ranching. Upon Andrew's death in 1913, his son Scott inherited 80 acres of the Harshner estate, and planted 55 of those acres to Zinfandel and Flame Tokay.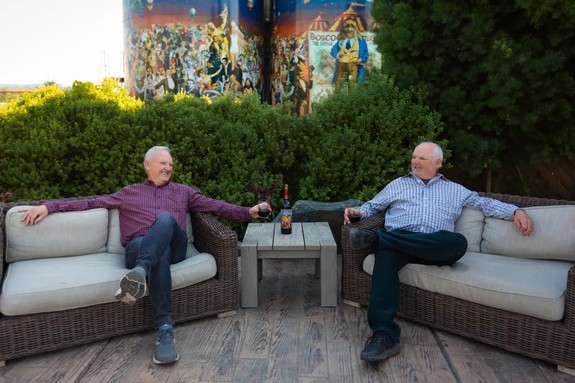 Don Phillips (1924-2015), Michael and David's father, represented the family's fourth generation of Lodi farmers. Don established his direct-to-consumer Phillips Farms business in 1950. Old-timers remember Don's first fruit stand as little more than a card table set up on Turner Road, near Davis Road. Over the years there have been several Phillips Farms locations around town; including, in 1976, the breakfast/lunch café and fruit/vegetable/homemade pie stand on Highway 12 which over the past 25 years has morphed into an expansive indoor/outdoor visitor center catering to entire families looking for a Lodi wine country experience—the opposite of many wineries today which are kid-unfriendly.
Up until his death, as a matter of fact, Don Phillips maintained a menagerie of farm animals for the pleasure of the children, along with a large pick-your-own flower garden. The flowers are still there, and the coops and cages have been replaced by multiple play areas and tables where families can enjoy pizzas prepared by the winery's own wood-fired oven, and salads, paninis or sandwiches.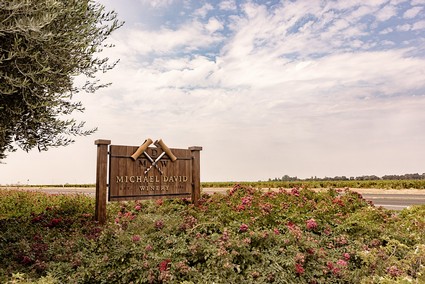 David Phillips joined his brother Michael in the winery business in 1989. Like other Lodi grape growing families who have ventured into wine production, the Phillips brothers were motivated by a sense of self-preservation: Rather than remaining a supplier of fruit to wineries calling all the shots when it comes to grape prices and what varieties to grow, it made more sense to begin producing their own wines in order to dictate all the terms to themselves.
Twenty years ago the 750 acres of vineyards owned by Phillips Farms primarily supplied other wineries. Up until ten years ago, Michael David Winery was still selling as much as 150,000 cases of product as bulk wine, sold to other wineries. Today Michael David utilizes 100% of what they own and grow for their own wines, and also buy from dozens of other Lodi growers in order to keep up with their sales, growing as much as 30% each year.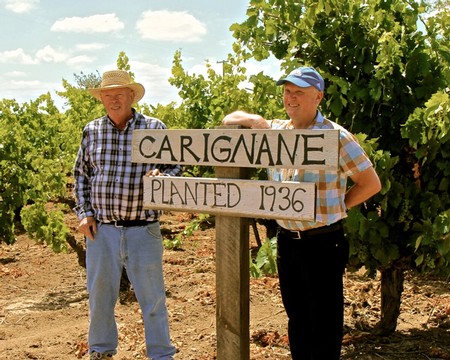 Michael David's first serious market breakthrough came in 2000, with the release of a varietal Zinfandel epitomizing the soft, sumptuous, balanced style of the varietal grown in Lodi, carrying an equally compelling proprietary name, 7 Deadly Zins—the "7" originally referring to seven growers (most of them, west side relatives of the Phillips) specializing in old vine Zinfandel.
Within a decade and a half, those seven growers grew to closer to forty growers contributing fruit to this bottling, successfully sold in markets from China to Scandinavia. Seemingly the entire world had become familiar with the taste of Lodi's old vine Zinfandel.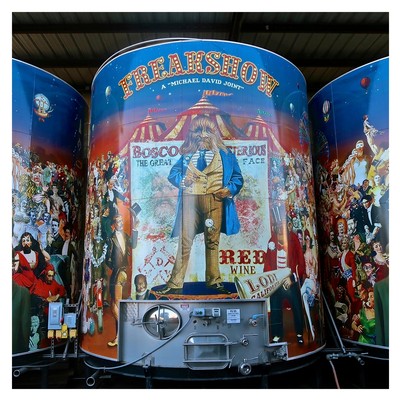 In 2018 the 7 Deadly Zins brand was sold to a corporate interest, enabling the winery to expand its Lodi winery operation. While, at the time of its sale, 7 Deadly Zins represented approximately half of Michael David Winery's production, the winery has since expanded its portfolio with multi-varietal Freakshow bottlings, their ever-popular Petite Petit (Petite Sirah blended with Petit Verdot) and 6th Sense (a Syrah that continues to defy this varietal category's market expectations), plus higher tier wines sold under the Earthquake, Inkblot, Reserve ($50-$55 varietals) as well as signature Michael David labels.
Today, Michael David Winery produces over 700,000 cases/year—sold in every state and virtually every country where wine drinkers can be found—making the Phillips family, arguably, the best known of the homegrown ambassadors of Lodi wine in markets around the world.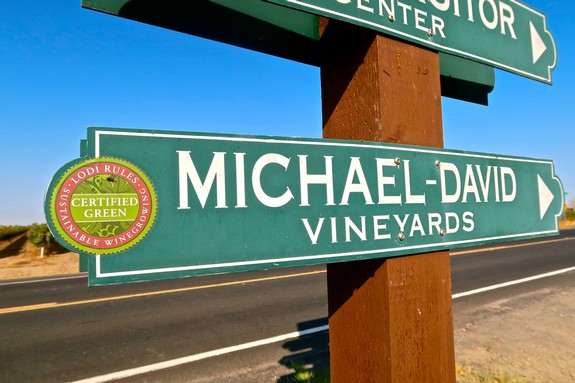 In 2020 Wine Enthusiast Magazine named Michael David their "American Winery of the Year." Consider the fact that, the last time WineBusiness Monthly counted, there are nearly 12,000 wineries in the United States. In recent interviews, Michael's son Kevin Phillip has explained some of the sound and practical reasons behind his family's phenomenal success:
We were a farming family for multiple generations, growing wine grapes and doing diversified farming, My dad came into the business in the late 1970s and was a home winemaker while working for his dad in the farming operation. My dad started the winery almost as a hobby, and 1984 was the first year we were bonded and started selling wine...
My family has been a pioneer in showing that Lodi can compete with all the great wine regions in the world—Napa, Sonoma, France, Italy, you name it. Just by creating a brand and tapping into this concept that we can have a $22 bottle match up with a $50 or $80 bottle from Napa. A person can say "Oh, that's a cool label." They buy it and we have one chance; we have to over-deliver on quality. Every time."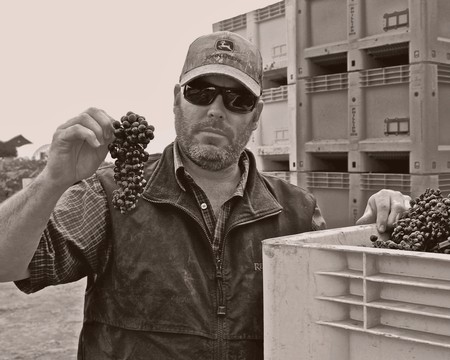 If anything, Kevin Phillips understates his family's success. One component that is overlooked is the family's support of LODI RULES for Sustainable Winegrowing since its inception in 2005. It's not so much that Phillips Farms faithfully follows sustainable practices. From the beginning they have also been paying bonuses to all their growers supplying certified sustainable grapes; setting a standard, according to lodirules.org, that has resulted in over $13 million paid to LODI RULES sustainable farmers between 2010 and 2022 alone.
Awarding fellow grape growers, mind you, is a Lodi thing. Although no winery in or outside of Lodi is required to pay bonuses for sustainably grown grapes, we know of no other regions or sustainable organizations in which bonus incentives for farming practices has become a norm. A lot of this, no doubt, grew out of Lodi's culture or self-identification as an agricultural region. The idea that we take care of our own. But a lot of it is, simply, because of the values ingrained in the Phillips family, passed down from generation to generation.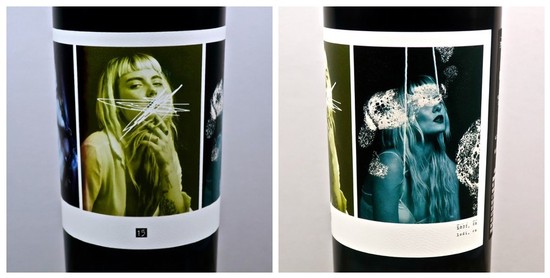 On a quality level, for going on twenty years Michael David Winery has been producing wines that have won every possible gold medal, "Best of Class" and even "Best of Show" accolades there is to win. Sure, in order to achieve this they have been making wines in a way that captures sensory qualities comparable to wines grown in other regions—as Kevin Phillips put it, competitive with "Napa, Sonoma, France, Italy, you name it."
Point being: Even though, say, Michael David's reserve level Cabernet Sauvignons have been designed to duplicate the body and intensity of Napa Valley style Cabernet Sauvignons, or their Zinfandels have been closer in style to Sonoma than other Lodi Zinfandels in terms of color and weight, they have at least been proving that Lodi grapes can be just as good or better than grapes from anywhere else, standard bearer regions included.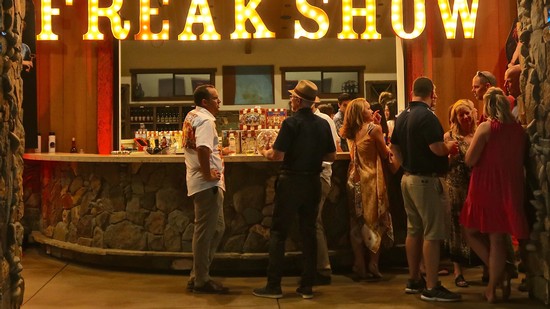 As the Wine Enthusiast's Jim Gordon put it, when recognizing Michael David as their 2020 winery of the year, "The current reinvigoration is part of a... legacy of innovation, creativity, leadership in promoting Lodi as a quality grape-growing appellation and foresight in sustainable farming..."
There is just no way of giving enough credit to the Phillips family for their leadership, ushering in the modern era of Lodi winegrowing.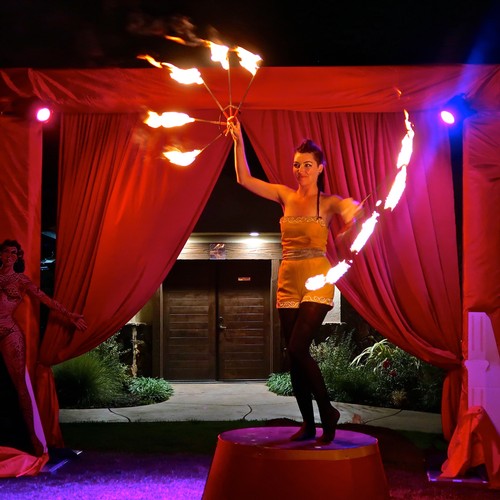 Comments