Letters from Lodi
An insightful and objective look at viticulture and winemaking from the Lodi
Appellation and the growers and vintners behind these crafts. Told from the
perspective of multi-award winning wine journalist, Randy Caparoso.

October 21, 2015 | Randy Caparoso
Lodi's fascinating history as a Johnny-come-lately wine region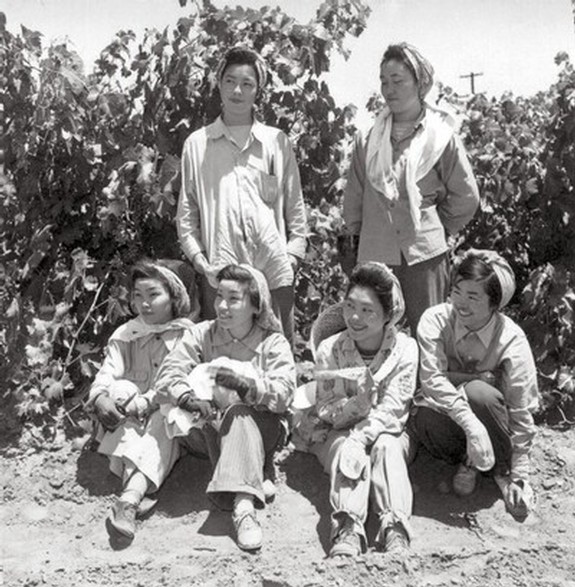 Japanese leaf thinning crew; Lodi, circa 1945
Since 1991 the Lodi Winegrape Commission has diligently worked to fulfill one of its original mandates: raising awareness of the intrinsic quality of Lodi Viticultural Area grown wine grapes, now evidenced by the ascendant quality of Lodi wines.
But the evidence hasn't always been readily apparent. Significant wines with Lodi on the label did not even appear on the market until the mid-1990s; a good 10 to 30 years after other West Coast wine regions – from Washington's Columbia Valley all the way down to Santa Barbara – were established as sources of premium quality grapes and wines.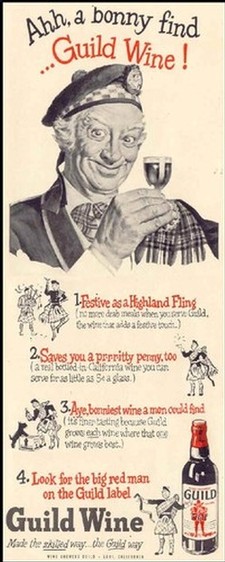 So the question is: why, for a region known for plantings of wine grapes since the 1860s, did it take Lodi so long to make its move? Let's discuss.
The reasons can be boiled down to essentially two historical factors:
1. The wine production industry in Lodi has been dominated by grower organized and operated cooperatives during most of the past 115 years.
2. These co-op wineries were focused primarily on the types of wines that dominated the domestic wine market during the decades following Prohibition (ending in 1933) up until the early 1970s – primarily sweet, fortified "dessert" wines.
Lodi, in other words, found itself behind the eight ball by the mid-1960s when producers of more classic, European style tables wines such as Robert Mondavi were first proclaiming a "Golden Age of California Wine."
Even in 1967, when statistical data revealed that, for the first time since pre-Prohibition days, Americans were finally consuming more dry table wines (52% of sales) than sweet wines, the Lodi grower/winery infrastructure was still geared towards sweet fortified wine production. According to Teiser and Harroun in the Book of California Wine (1984, University of California Press), it took until 1980 for the country to reach the point where California was "selling five and a half bottles of dry wine to every one of sweet wine."
Today, sweet wines like Thunderbird (E. & J. Gallo's famously popular sweet fortified wine, flavored with lemon juice), Muscatel, Sherry, Port and Madeira are hardly on anyone's lips.
E. & J. Gallo – historically, a huge buyer of Lodi grown grapes – has always been market savvy. Anticipating the shift in consumer tastes, this Modesto based winery was already full swing into its "Hearty Burgundy" and "Chablis Blanc" phase during the 1960s. These may have been generic "jugs," but at least they were signaling consumer enthusiasm for lighter table wines. By the late 1970s E. & J. Gallo was exploring dryer, new fangled varietal categories along with the rest of the wine industry, led by wineries such as Robert Mondavi, Louis M. Martini and Wente Brothers, who were pioneering premium quality wine production.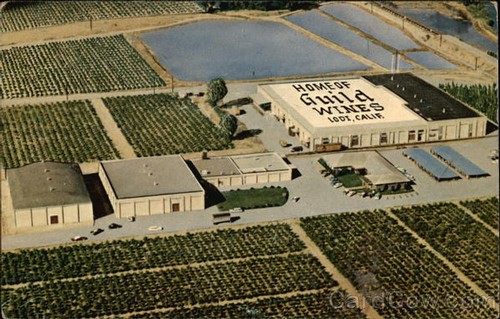 Aerial of Guild Wine Company, once America's largest co-op producer
On the other hand, to give you an idea of what was happening in Lodi 40 years ago, on September 9, 1975 the Lodi News-Sentinel published an extensive report on the state of the Lodi wine industry. In an article entitled Lodi wineries ingrained in heritage, Myrtle Mays wrote:
Forty years ago (in 1935) there were 13 wineries in the Lodi area and today there are still 13 wineries. Many of the names have been changed during the four decade period and many are no longer in operation. But new and modern plants have been built and millions of gallons of wine are being produced annually...
The list of wineries in 1935 include Acampo, Bear Creek, Bradford, Community, Eastside, Victor, Monarch, Puente de Madera, Rancho Del Oso, Roma, Sebastiani, Shewan-Jones and Lodi wineries...
The wineries now in the Lodi area include Alexander, Barengo, Bear Creek, Eastside, Del Rio, Felice, Guild, Liberty, Lockeford, Lodi, Rio Vista, United Vintners and Woodbridge Vineyard Association.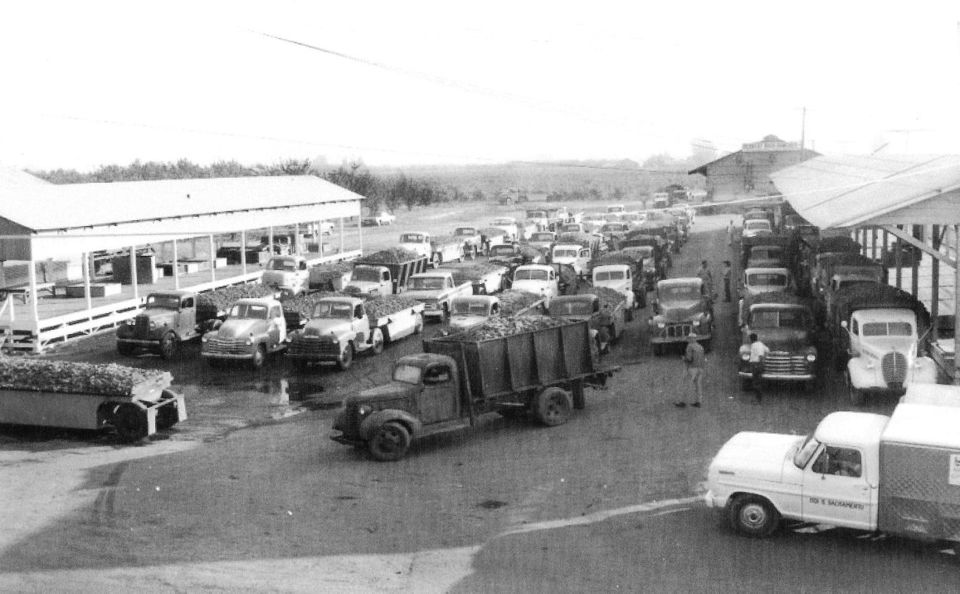 Grape-laden trucks lined up at Liberty Winery in 1955 (photo courtest of Lodi historian Ralph Lea)
Most of the Lodi wineries in existence at the time of this 1975 article were grower-cooperatives; largely industrial sized, and specializing in bulk wine, sweet fortified dessert or "aperitif" wines, and/or brandy production. Among the exceptions, Barengo was a family owned winery (founded by Bernardino "Dino" Barengo, but closed upon his retirement in 1976) specializing in generic wines, a few varietal table wines (notably, Barengo's Ruby Cabernet), dessert wines, plus a specialty aged red wine vinegar. Today the old Barengo facility houses McCormack-Williamson Winery/Dancing Coyote Wines in the little CDP of Acampo, north of the City of Lodi.
Otherwise, 40 years ago Alexander Winery primarily produced grape concentrate, sold wholesale to other wineries. Liberty Winery crushed for E. & J. Gallo; its production trucked to Modesto for finishing, bottling and distribution. Both Bear Creek (today, a custom-crush/bulk wine facility run by the Kautz family, who also own Ironstone Vineyards) and Del Rio were part of the vast Guild Wineries & Distilleries production system (a cooperative made up of multiple cooperatives); at the time, the third largest producer of bulk wine and brandy in the U.S.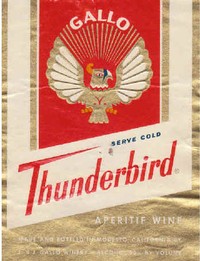 Among the wineries listed as operating in 1935, Rancho Del Oso – in a building still standing on the site of Phillips Farms' Bare Ranch, at Woodbridge and Davis Roads – was an independent mid-sized winery owned by J.V. Bare, until its shuttering in the early 1950s. Roma Winery, founded in 1922 by brothers J.B. and Lorenzo Cella, would become one of California's largest independent producers; establishing a facility on the north side of Victor Rd. (across the road from East Side Winery), which continued operations in Lodi even after the company moved to a larger facility in Fresno in 1933.
Woodbridge Vineyard Association is listed as operating in 1975, but not in 1935; even though this Lodi grower driven bulk wine and brandy producer actually dated back to 1905: it was Lodi's first cooperative winery (and likely the oldest in California). The group closed up shop during Prohibition, but resuscitated itself in 1933 – the second time around, starting back up in a winery in Sacramento County (hence the reason it was left off the 1935 list of Lodi wineries).
In the Lodi Historian newsletter (Autumn 2007), Ralph Lea and Janice Roth described Woodbridge Vineyard Association's original business plan:
39 growers agreed to deliver 8 tons of wine grapes for each share they owned. 3,138 tons were placed in the pool. An index was used with Zinfandels rated at 100%, Tokays 75% and other varieties in between. They made dry wine the first year and operated until 1918, the start of Prohibition. The group sold their plant at that time but re-organized in 1933 with the repeal of Prohibition... In 1946 they built a new winery at Villinger Station on the Western Railroad at Turner Road.
The giant plant-like facility built by Woodbridge Vineyard Association in 1946 is now the site of Turner Road Vintners, taken over by Sebastiani Vineyards in 1987, then later by Constellation Brands in 2001. The cooperative – headed up by some of Lodi's oldest grower-families (the Shinns, Bishofbergers, Mills, Langes, Maleys, etc.) – remained active until finally dissolving in 1997.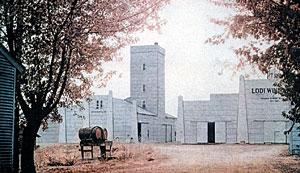 The Lodi Winery, Inc. cooperative in 1935 (site of Urgon Winery, founded in 1900)
Lodi's cooperative wineries rose out of the adversity of growers around the turn of the last century. Up until 1900, most of the wine grapes grown in the Lodi region went to El Pinal Winery in Stockton, founded in 1858 by George West and his brother William B. West. The problem with this was that hauling grapes 12 miles to El Pinal by horse and wagon was an all-day ordeal for Lodi growers, and they were forced to accept payment of as little as $4 per ton (according to Ralph Lea and Christi Kennedy in a Lodi News-Sentinel article entitled German winemaker started Lodi wine industry, September 16, 2015).
In 1899 an enterprising native of Germany named Adolph Bauer got together with a friend, Lodi butcher John Guggolz, to open up the San Joaquin Valley Winery at the corner of Sacramento and Lodi Avenue in Lodi. In 1900 Bauer partnered with Jacob Brack to found Urgon Winery on the north side of Lodi, at the Urgon Station along the Southern Pacific Railroad tracks (today, the site of Lodi Vintners along Woodbridge Rd.). For a brief time, growers were able to sell their grapes to Bauer's two wineries for $20 to $22 per ton.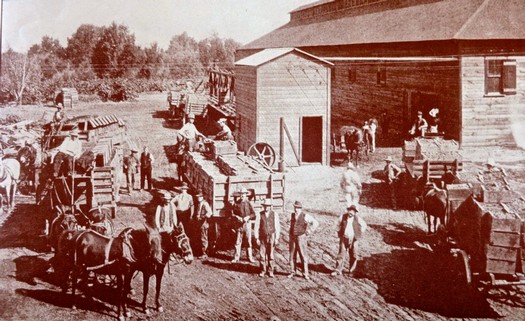 Cart and horse grape delivery at Community Winery, one of Lodi's earliest co-ops
But this did not last long. George West & Son Winery (the reincorporated successor to El Pinal Winery) bought out San Joaquin Valley Winery in 1901, and Urgon Winery in 1903, retaining Bauer as superintendent. Growers were back to getting as little as $3.50/ton for their wine grapes. This led to the incensed growers coming together to establish their own production wineries as co-ops; the first being Woodbridge Vineyard Association in 1905, followed soon after by Farmers Mutual Company (1907), Lodi Cooperative Winery (started in 1909, but snatched up by George West & Son in 1912 and renamed Mokelumne Winery), Community Winery (1922), and several more.
Prohibition grounded all but sacramental wine production in 1919, and closed down the old El Pinal winery in Stockton for good. But after 1933 Lodi growers banded together again to form new co-ops; including Cherokee Vineyard Association (as many as 190-members-strong), East Side Winery (today, the site of Oak Ridge Winery, owned by three former co-op grower/members), Del Rio Winery, and then later, a reactivated Woodbridge Vineyard Association, as well as Wine Growers Guild (which would morph into the multi-co-op Guild Wineries & Distilleries) and Lodi Winery (a co-op established on the site of the old Urgon Winery).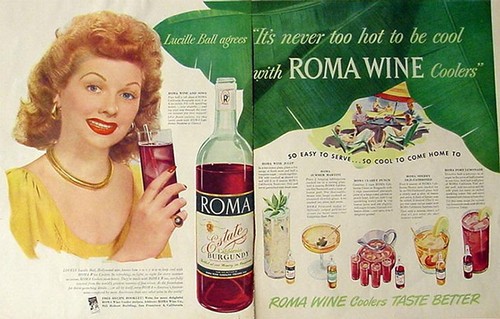 1950s ad with Lucille Ball touting Roma Burgundy as "what's cool" to drink
This remained the face of "Lodi wine" up until 1975: a mirror opposite of the "handcraft" image of fine wine producers of the sort associated with, say, Napa Valley and Sonoma County. Then again, this was a reflection of what most American wine consumers were actually drinking up until the mid-1970s. Connoisseurs of fine wine existed, but were as rare as California wines that could be considered truly world class. The vast majority of people drank simple, inexpensive, sweet, high alcohol wines. A "Two Buck Chuck" would have been considered splurging, or a little weak.
Later in 1975, third-generation Lodi grower Steve Borra would quietly attain his bond for tiny Borra Vineyards – the first of Lodi's modern-day small (or "boutique") style wineries. After a few ebbs and flows during its first 25 years, Borra has endured as one of Lodi's most innovative family wineries.
In 1979 Robert Mondavi returned to Lodi (before moving to Napa Valley in the 1940s, the Mondavis were successful Lodi grape packers) to purchase the defunct Cherokee Wine Association facility in Acampo and start his Woodbridge Winery (now called Woodbridge by Robert Mondavi). Mondavi's first Woodbridge wines were a generic "Table Red" and "Table White," but they would quickly transition to premium varietal bottlings while playing a major role in encouraging Lodi growers to change over from "bulk wine" grape growing to quality focused "winegrowing."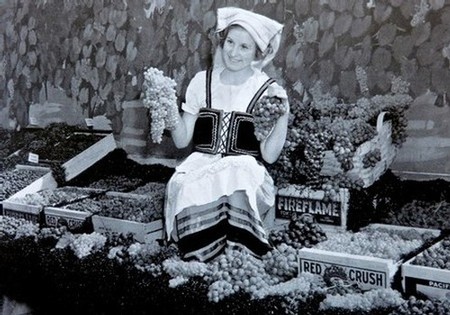 1937 Tokay Festival grape beauty
Insofar as other early premium quality driven Lodi wineries: David Lucas founded his The Lucas Winery in 1978, and in 1984 Michael Phillips launched Phillips Winery (quickly changed to Michael David Winery after discovery of a trademark conflict). Tim and Barbara Spencer founded their Lodi based St. Amant Winery in 1972; although during their early years they specialized in fortified wines made from their vineyard in nearby Amador County – developing their lofty reputation for Lodi grown Zinfandel and Barbera only during the past 15 years.
There is, finally, a third factor accounting for Lodi's relatively late entry into the premium wine market: the region's historic success with the table grape, Flame Tokay – Lodi's most successful crop during most of the past 150 years. Most growers didn't begin pulling out Tokay plantings until the 1980s, and only because of a concurrent set of circumstances: the advent of seedless eating grape (better suited to warm regions in the south end of California's Central Valley), and the sudden demand for more premium quality wine grapes (i.e. Chardonnay, Cabernet Sauvignon, Merlot, etc.).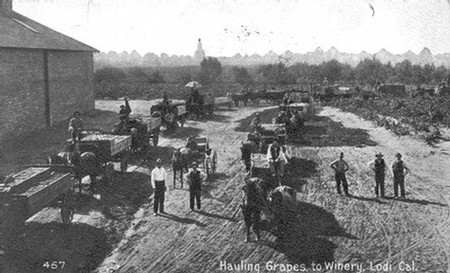 Postcard depicting cart delivery of Lodi grapes in 50-lb. lug boxes
Today, Lodi's wine grapes go primarily into table wines; the vast majority into voracious pipelines feeding giant companies such as Woodbridge by Robert Mondavi, or "parent" producers of numerous popular sub-brands (those of E. & J. Gallo, Constellation's former Sebastiani brands, The Wine Group/Franzia, Trinchero Wine Estates/Sutter Home, etc.).
It has taken a while, but most recently Lodi has become known for top quality wines crafted by much smaller producers. Out of the 45 or so independent bonded wineries physically based in the Lodi region today, all but one produce well less than 30,000 cases a year, and most them less than a third of that.
The wines produced by these small wineries are of impressive quality for the same reason why grapes like Tokay and Zinfandel have always been able to thrive in the region: Lodi's mild Mediterranean climate and well drained soils are naturally conducive to Vitis vinifera (the family of top European wine grapes).
Consumer tastes may have evolved considerably since 1900, but ideal terroir is ideal terroir – something that's always been there!
A few photos of how some of Lodi's historic old facilities look today: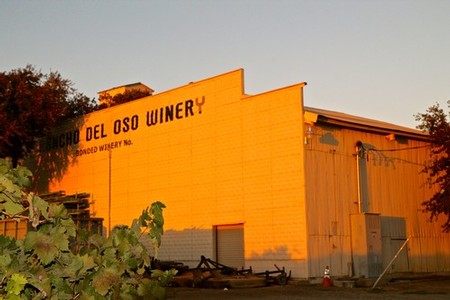 Remains of the old Del Oso Winery on Phillips Farms' Bare Ranch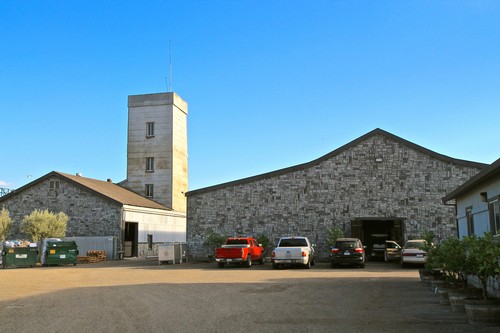 Lodi Vintners today, on the site of the original Urgon Winery (in the 1940s, the Lodi Winery co-op)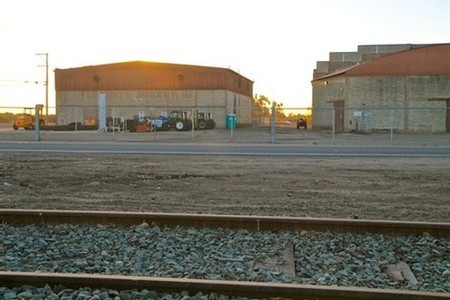 What used to be the old Liberty Winery on Acampo Rd.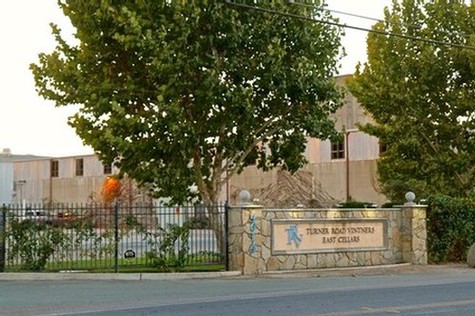 Turner Road Vintners; formerly the Woodbridge Vineyard Association co-op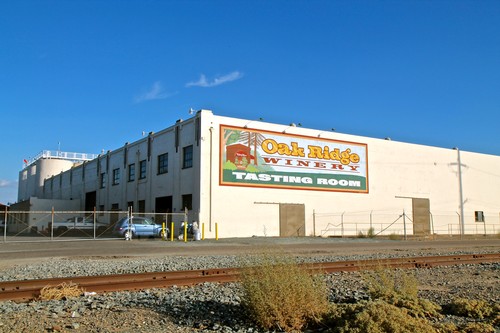 Oak Ridge Winery, the former East Side Winery cooperative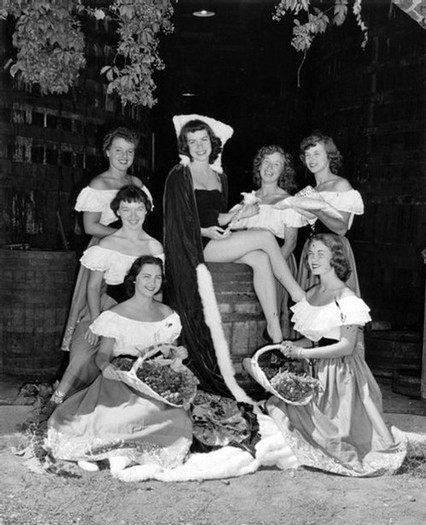 Lodi Grape Festival court, circa 1940s
Comments