Letters from Lodi
An insightful and objective look at viticulture and winemaking from the Lodi
Appellation and the growers and vintners behind these crafts. Told from the
perspective of multi-award winning wine journalist, Randy Caparoso.

April 8, 2020 | Randy Caparoso
Sheltering with red wines, steaks and salmon exuding comforting black pepper spices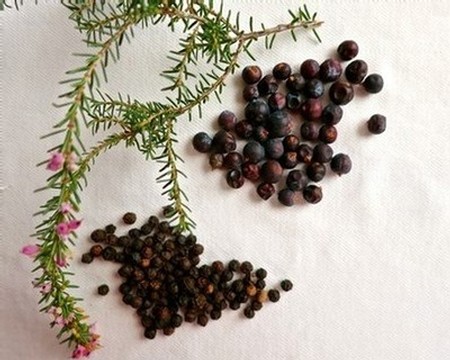 Deep into our third week of life safely ensconced (we hope!) in our homes, with the comfort of our books or high-def streaming services, familiar foods and (if you're a wine lover) favorite wines, what better time to geek out on our favorite subjects?
Here in Lodi we love to talk about... rotundone.
Ro-what? Rotundone is the aromatic compound (a sesquiterpene) responsible for the "spicy" or "peppery" aroma and taste commonly found, first in foremost, in peppercorns, but also in other plants like juniper, geranium, or at varying degrees in kitchen herbs such as marjoram, oregano, rosemary, basil and thyme.
Among grapes and wines, this peppery spice is also most common in black skinned varieties such as Zinfandel and Petite Sirah — two of the most important grapes in the Lodi winegrowing industry — as well as in Syrah, Grenache and Cinsaut (the latter, little known to most of the world for having peppery qualties, but well known here in Lodi because we happen to have a historic vineyard consisting of the oldest Cinsaut vines in the world).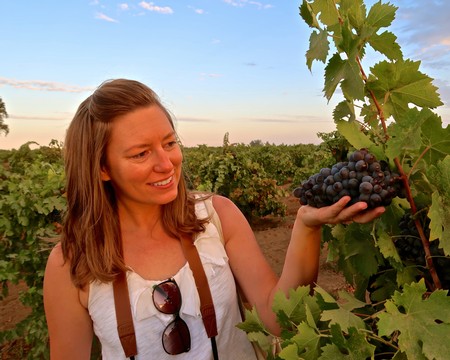 Not everyone immediately picks up the scent of rotundone in red wines. Researchers seem to think that only about 20% of wine drinkers readily recognize the peppery spice qualities in wines. A year ago I sat in a 6-hour class in Napa Valley led by a French perfumer named Alexandre Schmitt, who teaches the science of fragrance recognition. One of the scents that Schmitt tried to get his class of about 25 wine professionals (mostly winemakers) to memorize was black pepper, which according to Schmitt "is not always identified because individuals have varying degrees of sensitivity to it. But it is a 'hot' feeling spice smell derived from the presence of rotundone, and sometimes suggests pine or cedar. You might unconsciously smell pepper in a wine, and only notice it through the process of 'anamorphism' — that is, once it's suggested to you, which allows you to perceive it through different way."
And in fact, in practice we have found that this is exactly what happens. For instance, you can take a contemporary, handcrafted style of Zinfandel (a Zinfandel, that is, which tends to be less oak influenced and have more of a pure aroma and taste of the grape because of practices like native yeast fermentation and minimal intervention in the cellar), and enjoy its typically berry-like aroma and flavor. If it's a Lodi grown Zinfandel, it might also have some noticeably earthy (like composted loam) aroma to go along with its fragrant fruit character.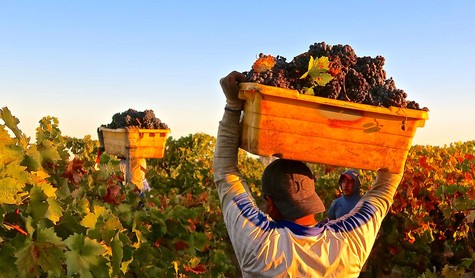 But if you sit down at a table with a glass of the same Zinfandel and a plate of, say, striploin of beef that has been open fire grilled with a generous coating of cracked peppercorn, all of the sudden that combination of wood char and peppercorn in the steak is likely to make you taste a peppery spice quality in the wine that you didn't notice before you sat down to eat. That's Schmitt's anamorphism in action.
Of course, you might notice a nuance like peppery spice simply by having someone suggest it to you; but it is more likely to happen when the suggestion is in the form of a foodstuff that you can actually smell and taste for yourself. If you're also sitting around the house with a glass of Zinfandel, Petite Sirah or Grenache in your hand (like many of us during this current health crisis) and you're curious about the scent of rotundone/pepper in wine, simply pick up a pepper grinder and put your nose to the bottom. Then swirl and smell the wine. That's self-anamorphism.
Naturally, over this past weekend I practiced a little self-anamorphism of my own with a glass of 2019 Fields Family Wines Sans-Souci Lodi Red ($24 ) — a native yeast fermented, unfiltered/unfined blend of Cinsaut (34%), Carignan (33%) and Syrah (33%). Right out of the bottle, this cherry-red colored wine was bright with a floral cherry fragrance, not unlike an east side Lodi Zinfandel (although obviously there isn't a speck of Zinfandel in this blend). But on the palate, the feel and grip of the wine was totally un-Zin-like — falling on a lean and lanky tart/edgy side, with a surprisingly grippy yet mild tannin, and a finish in which the elevated acid/tannin profile of the wine seemed to combine with the fruit to give subtle sensations of peppery spice.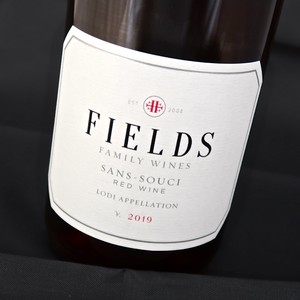 The Sans-Souci, incidentally, is Fields Family's first-ever bottling of this wine. Winemaker Ryan Sherman calls it "the perfect Quarantine refresher," even if the Frenchy name suggests being "without a care" (I guess we we can all care about what's going on, while temporarily suspending fears while the bottle is open).
Then I sat down with the Sans-Souci to eat with peppercorn sauced cut of sirloin prepared from a recipe from the internet, purportedly adapted from the classic cookbook, The Joy of Cooking. I was interested in this recipe because it employs heavy cream in the sauce, which I thought my help cushion the little bit of edginess I found in the wine. Veering from the actual recipe (just below), however, I cut down on the searing time and substituted leftover red wine from another bottle for the brandy called for in recipe. I also went even heavier on the peppercorns (mixing smoked peppercorns with regular peppercorns). True enough, the steak brought out even more of the peppery spice in the wine — the actual taste in the mouth (not just the smell) will do that. Re: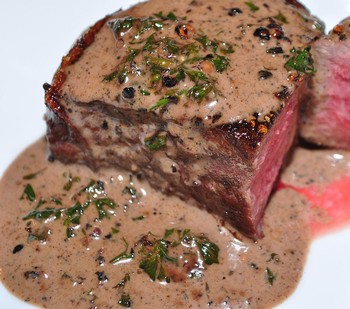 PEPPERCORN STEAK
4 good-sized steaks (1/2 pound to a pound each, allow for 1/2 pound per person)
Salt
2 tablespoons extra virgin olive oil or canola oil
3 tablespoons black peppercorns, cracked
1/4 cup finely chopped shallots or onions
1/4 cup cognac or other brandy
1 cup beef broth or stock
1/4 cup heavy cream
1/4 cup finely chopped parsley
Salt the steak and let sit at room temperature. Sprinkle salt generously over both sides of the steaks and let them come to room temperature, about 30 minutes.
Heat oil in large sauté pan over high heat (cast iron or anodized aluminum recommended). When the oil begins to smoke, take the pan off the heat. Pat the steaks dry with paper towels (steaks brown better if they are patted dry first) and place in the hot pan. Return the pan to the heat and turn the heat down to medium-high. Sear, without moving the steaks, for at least 4 minutes. Try to pick up a steak with tongs, and if it comes clean, flip it and turn the heat down to medium. If it sticks to the pan, let it cook for another minute or two on that side. Sear on one side on high heat, and cook on lower heat on the other side. This way you get great flavor from the seared side, and better control over how done you want your steak by cooking the other side more slowly.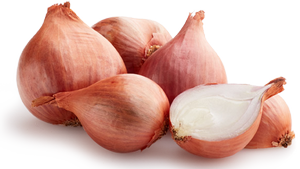 Use the finger test for doneness or a meat thermometer. For rare, remove the meat from the pan when the inside reaches 120°F, for medium rare 125-130°F, for medium 140°F, and medium well 155°F. Once the steak is done to your liking remove the meat to a baking sheet and sprinkle on a generous portion of crushed black peppercorns on both sides of each steak. Tent with aluminum foil and let the steak rest while you are preparing the sauce.
Sauce: Add the shallots to the pan and sauté for 2 minutes. Add the brandy and as it boils, deglaze the pan by scraping the bottom of the pan with a wooden spoon (helps to have one with a straight edge) to dislodge all the browned bits. Once the brandy is almost cooked away, add the beef stock and turn the heat to high. Boil the sauce down until there's a noticeable trail when you drag a wooden spoon through the center of it (4-5 minutes). Pour in the heavy cream and resume boiling. Again, boil down until you can make that telltale trail from the wooden spoon.
Turn off the heat and add the parsley and any remaining black pepper (no more than 1 Tbsp, the rest should have already been used to pepper the steaks). Taste for salt and add if needed. Pour the sauce over the steaks right when you serve.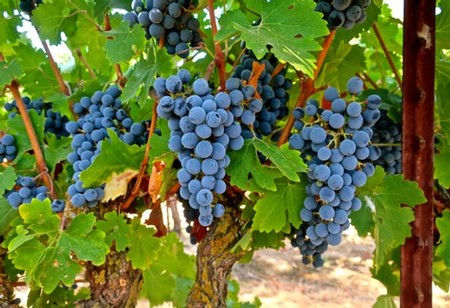 Syrah
As more and more wineries are beginning to adapt lower intervention approaches to their winemaking, the easier it is getting to find red wines with distinctively peppery spiced qualities. Make no mistake, rotundone is a subtlety, or nuance. Vintners who practice more straightforward winemaking, and go easier on the oak, are more likely to produce wines with that spice note.
Syrah is usually the first grape many wine aficionados turn to when they think "spice." Interestingly, with the peppercorn spiced steak I enjoyed this past weekend, I also had a bottle of 2015 Fields Family Wines Estate Vineyard Lodi Syrah ($28). Maybe it was just me, but I didn't find it to be "peppery spiced" per se — the flavor profile was more of a floral/red berry liqueur-like intensity, and the feel was substantially fuller and meatier than the Fields Family Sans-Souci. Perhaps it was the comparatively lighter weight of the Sans-Souci blend that gave it more of a peppery spice quality than the Syrah.
Otherwise, Fields Family Wines as well as Klinker Brick Winery (especially the latter's Grand Reserve) have been Lodi's premier Syrah specialists over the past 10 years, whereas I would describe Michael David Winery's 6th Sense Syrah (at just $16) as consistently Lodi's best darned value.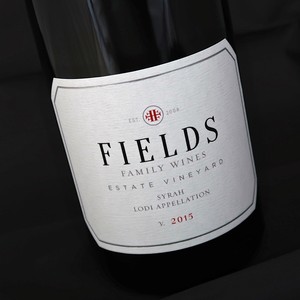 Petite Sirah
Petite Sirah — a clonal offshoot of Syrah (a nineteenth century crossing with Peloursin) — is often associated with peppery qualities; the spice notes more often than not embedded in an ultra-ripe fruit profile, often suggesting blueberries.
Intuition tells you that the biggest and richest of Lodi Petite Sirahs — such as the outstanding Earthquake (by Michael David Winery), Mettler Family Vineyards and Peltier Winery's Black Diamond labels — would also be the spiciest. But guess what —they're not. You actually find more of the distinctive blackpepper quality in the lighter, softer tannin bottlings of Petite Sirah: particularly those of Ironstone Vineyards (super spice!), Mountain Tides (super-friendly), and the Old Soul brand (pepper-bomb) produced by Oak Ridge Winery. No doubt, moderation of tannin and alcohol has a lot to do with this peculiarity of the varietal category.
Otherwise, you'll find varying degrees of peppery spice mixed with the lush, generous fruit of Lodi grown Petite Sirah in bottlings by Harney Lane Winery, Heritage Oak Winery, LangeTwins Family's One Hundred Vineyard, m2's Nancy's Vineyard, McCay Cellars, Mikami Vineyards, or Van Ruiten Family's Signature Reserve.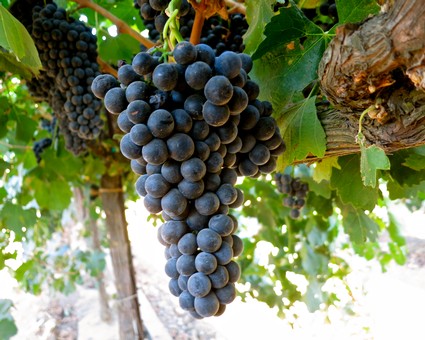 Zinfandel
Zinfandel lovers know this much to be true: Zinfandels come in all sizes, shapes and styles. For a good reading of that, take a gander at our recent post on How to delineate the proliferating styles of today's Lodi Zinfandels.
But if you are seeking Zinfandels with the most distinctive notes of peppery spice, as with Petite Sirahs we would recommend the lighter, more supple and "natural" styles of Zinfandel, rather than the bigger, heftier, oakier ones. Three leading examples: The Lucas Winery's ZinStar Vineyard, the Lodi Native Zinfandel produced by Maley Bros., and the Ironstone Vineyards Rous Vineyard Reserve. Estate Crush's Stellina label is also a consistently solid yet sleek, almost feminine style of Zinfandel that invariably mixes cracked peppercorn nuances with violet and blueberryish notes. Also look for Klinker Brick's Marisa Vineyard Zinfandel, which shares that "pretty," ultra-fine stylistic affiliation with the Stellina, as well as any of the intricately scented Lodi vineyard-designate bottlings by Turley Wine Cellars.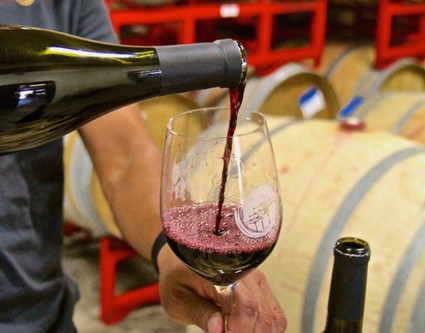 Cinsaut
The unique aspect about Lodi grown Cinsaut is that is comes from just one 25-acre vineyard: the historic Bechthold Vineyard, planted in 1886 and now managed by Phillips Farms (the farming arm of Michael David Winery).
About a dozen wineries produce Cinsaut from this vineyard each year, all with generally an easy tannin structure pushing a bright strawberry/rhubarb/holiday cranberry fruit profile. The spiciest examples tend to be the native yeast fermented styles —particularly those of Fields Family Wines, McCay Cellars and Turley Wine Cellars — although there is a pungent kitchen spice in virtually all the Bechthold Vineyard Cinsauts to be found. These other producers include, first and foremost, Michael David Winery, as well as Onesta Wines, Jessie's Grove Winery, Estate Crush, Scholium Project, Two Shepherds, and BIRICHINO.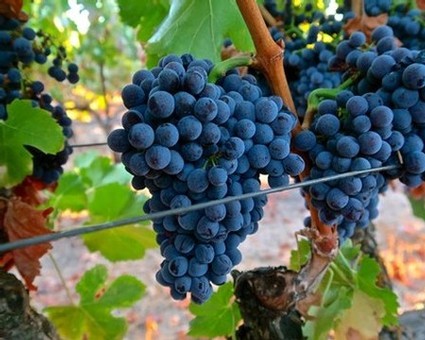 Grenache and Peppercorn Salmon
Then there is Grenache: We've never quite understood why, but for some reason Lodi grown reds made from the Grenache grape have been some of the spiciest examples of this varietal on the entire West Coast. Maybe it's the warm, relatively steady Mediterranean climate of the region that allows the grape to ripen into literal spice bombs. Two classic examples: Bokisch Vineyards' Terra Alta Vineyard Clements Hills-Lodi Garnacha (utilizing the Spanish name for Grenache), and McCay Cellars' Abba Vineyard Grenache.
The other advantage of Grenache over other spice varietals is the grape's natural propensity towards a softer, kinder, gentler tannin structure, which is exactly the reason why Grenache is also the international wine industry's #1 choice of grape when it comes to the production of dry rosé. It is simply a grape that packs a lot of power and perfume in a round, plush package.
Hence, our #1 choice of dish for an ultra-spiced red Grenache: a cracked peppercorn crusted salmon. The key to this match is the soft tannin and zesty acidity intrinsic in Grenache, which makes it ideal for a fleshier, fattier fish like salmon; while the mild bitterness of peppercorns do a double duty of balancing the mild tannin of the wine and enhancing the spice notes in a red Grenache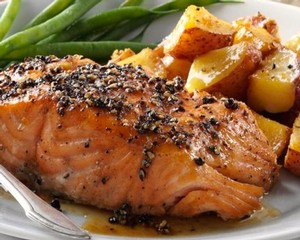 Peppercorned salmon is also, as it were, one of the quickest and easy-peasiest dishes to prepare, which is what we need in these times of sheltered living. A recipe copped from food.com:
CRACKED BLACK PEPPER SALMON
1/4 cup fresh ground black pepper
2 salmon filets or salmon steaks
2 teaspoons olive oil
Spread half the black pepper on a plate. Smear 1 teaspoon olive oil over one side of the salmon filets. Lay the filet oiled-side-down in the pepper. Lift and put on a baking sheet, peppered side up. Repeat process with second filet. Bake at 350° F. for around 20 minutes, or until the fish flakes easily.
Stay safe!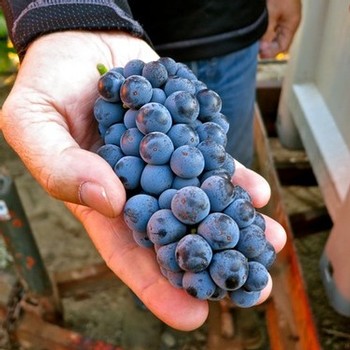 Comments