Letters from Lodi
An insightful and objective look at viticulture and winemaking from the Lodi
Appellation and the growers and vintners behind these crafts. Told from the
perspective of multi-award winning wine journalist, Randy Caparoso.

April 21, 2020 | Randy Caparoso
Sauvignon blanc and roasted lemon chicken make quarantined living that much more simple, and civilized!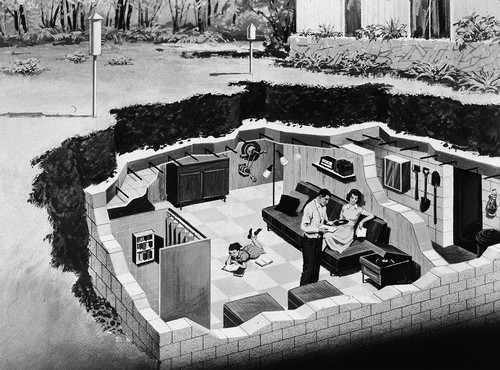 After five weeks of self-quarantined lifestyle, I suppose we are all getting better at it. Sure, it's challenging. Can't even get into the local hardware store for nails or lightbulbs without standing in a 10-minute line. Our friendly neighborhood bankers no longer want to see us — it's machine only, buddy. But you have to admit that there are some perks — like being able to snack, sip coffee, or loll around in pajamas while "attending" our live-streamed church services. Whoda thunk?
If anything, all this extra time on our hands also allows us to be more civilized in our dinner services. Restaurants are closed, but we can get plenty of "fancy" at home. Light up candles, bring out the crystal, and think a little longer and harder about the best wines for our favorite dishes.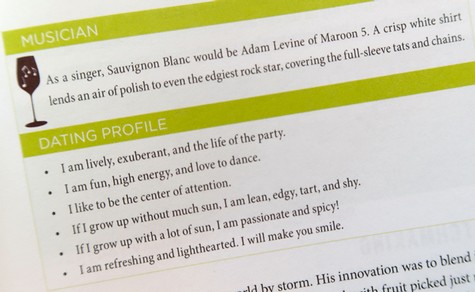 Like chicken. Who doesn't love chicken? We can make it a complicated dish (see our take on Julia Child's Coq au Vin from two weeks ago), or we can make it as simple as A, B, or C, like the late, great Marcella Hazan's Roast Chicken with Lemon, from her "Essentials of Classic Italian Cooking" (please see our adaption of her recipe below).
We're recommending this dish because it goes together with white wines made from the Sauvignon Blanc grape like a hand-in-glove. And Sauvignon Blanc — especially those of California, and Lodi in particular — is always a perfect fit with our sheltered-in lifestyle because it is fine as any wine, yet you can buy the finest examples for $12 to $28, and very seldom higher. Ah, the civilized life!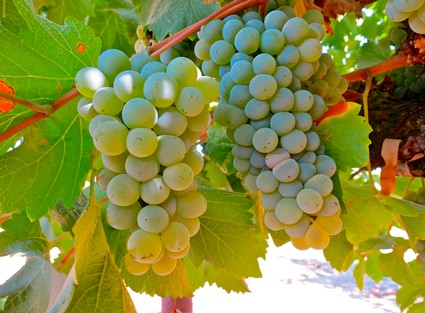 Why Sauvignon Blanc Kills with Lemony Dishes
The first duty of every Zinfandel, we always say, is to be a red wine. By the same token, the first duty of a Sauvignon blanc is to be white wine that is
1. Crisp, almost lemony in natural acidity
2. Light to medium bodied at the most
3. Dry, dry, dry
That's all we ask — mostly because this is exactly what is required for Sauvignon Blancs to fulfill their other ultimate goal, which is to go great with food.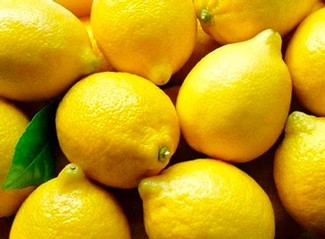 Foods, that is, that would normally be enhanced by a squeeze of lemon. Oysters, shrimp, or a filet of white fish, for instance. Green beans, asparagus, spinach, and arugula are among the many vegetables that are greatly enhanced by lemon — throw some diced mushrooms and a splash of Sauvignon Blanc into the pan, then you're really in business. Then there are the "other white meats," primarily pork and chicken (but don't forget a winey veal alla piccata), which we often cook with lemon — lots of lemons! — because, well, it stands before reason!
So it makes sense that the best wines for these dishes are lemony crisp white wines like Sauvignon Blanc. Instead of squeezing more lemon onto the food while we eat, we simply raise our glass of this varietal white, and take another sip. Think of Sauvignon blanc as a delicious variation of lemon — only, of course, with the added benefit of the grape's natural little touches of leafy green herbiness, which only add to the combinations of white meats and green vegetables so quick and easy to prepare in the kitchen.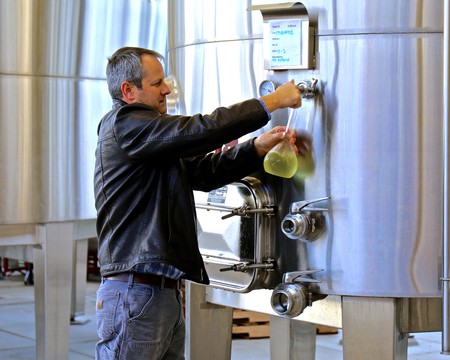 A Few of Our Favorite Lodi Sauvignon Blancs
While many California Sauvignon Blancs are made in moderately to richly oaked styles (especially those of Napa Valley), the vast majority of Lodi Sauvignon blancs veer towards purer, 100% unoaked expressions of the varietal fruit, fermented and finished entirely in stainless steel tanks. A quintessential example is the 2019 Heritage Oak Winery Lodi Sauvignon Blanc ($18.50), which is crisp, lithe, and silky, with all the herby-green "grassiness" and green melon-like fruit we love in the grape. Equally "varietal" from head to toe? The vineyard-designate labeled 2018 LangeTwins Family Winery & Vineyards Jahant Woods 01 Vineyard Jahant-Lodi Sauvignon Blanc ($20) — bone dry, notably bright and pinpoint in its lemon/citrus and grassy/herby profile.
Even more pungent and multi-faceted is the 2018 Peltier Winery & Vineyards Estate Lodi Sauvignon Blanc ($18) — lemony/citrusy on the palate, but also with a palpable viscosity to go with the tart, mouth-watering edginess. And if you like super "green," almost weedy notes to go with whiffs of kitchen herbs, lemon, and lime, go with the 2019 Oak Farm Vineyards Lodi Sauvignon Blanc ($20), which finishes with just a whisper of sweetness (the winery reports .55% residual sugar, which is just a hair over the threshold of dryness for most people) to balance its true-to-the-varietal tartness.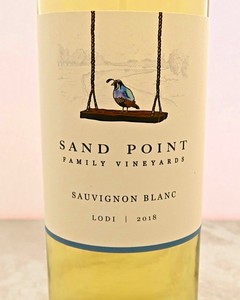 Lodi's best Sauvignon Blanc value? It may very well be the 2018 Sand Point Family Vineyards Lodi Sauvignon Blanc ($12), a LangeTwins Family sub-label that bursts with Mandarin orange/lemon freshness, tinged with a palate-ringing green herbiness, not unlike many New Zealand-grown imports. Another best buy is the 2018 Michael David Winery Lodi Sauvignon Blanc ($16), which veers towards a more jubilant tropical fruit (guava and white flowers) character, with a crisp yet fleshy, silky feel giving the wine a consumer-friendly feel.
While on the higher side, the 2018 McCay Cellars Lodi Sauvignon Blanc ($24) nails the varietal weediness and crispness down in its pure, unadulterated, native yeast-fermented iteration of the grape. The 2018 Oak Farm Vineyards Estate Grown Lodi Sauvignon Blanc ($26) shows off the varietal character with just a sliver (not too obvious, but with a thereness) of vanillin oak character to add a rounded, textured feel to a zesty, intensely melony core of fruit.
Two more excellent values: Try the flowery/melony 2018 Van Ruiten Family Vineyards Lodi Sauvignon Blanc ($16), which injects an intriguing hint of tropical papaya/guava fruit (if you can't get to Hawaii, might as well smell it in a glass!) into its light and refreshing taste. Then there's the 2018 Rippey Family Vineyards Overboe Vineyard Lodi Sauvignon Blanc ($20), which also falls squarely in the lush, ripe, slightly tropical/green melon spectrum of the varietal profile; its varietal herbiness defined by licorice/fennel notes in the nose and a roundness balanced by a grapefruity freshness on the palate.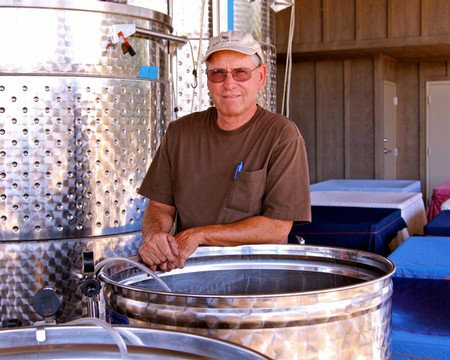 Marcella Hazan's Roast Chicken with Lemons
White meats cooked with lemon positively scream for Sauvignon Blanc, the way chocolate chip cookies scream for milk. Thus, this easy-peasy recipe for ultimate "comfort" sensations, which is an adaption of an adaption that has appeared in The New York Times:
3- to 4-pound chicken
Salt
Black pepper, ground fresh from the mill
2 rather small lemons
Preheat oven to 350 degrees. Wash the chicken thoroughly in cold water, both inside and out. Remove all the bits of fat hanging loose. Let the bird sit for about 10 minutes on a slightly tilted plate to let all the water drain out of it. Pat it thoroughly dry all over with cloth or paper towels.
Sprinkle a generous amount of salt and black pepper on the chicken, rubbing it with your fingers over all its body and into its cavity.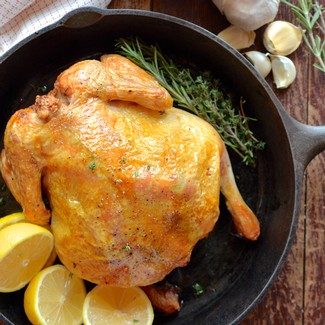 (image courtesy of Ciao Chow Bambina)
Wash the lemons in cold water and dry them with a towel. Soften each lemon by placing it on a counter and rolling it back and forth as you put firm downward pressure on it with the palm of your hand. Puncture the lemons in at least 20 places each, using a sturdy round toothpick, a trussing needle, a sharp-pointed fork, or a similar implement.
Place both lemons in the bird's cavity. Close up the opening with toothpicks or with a trussing needle and string. Close it well, but don't make an absolutely airtight job of it because the chicken may burst. Run kitchen string from one leg to the other, tying it at both knuckle ends. Leave the legs in their natural position without pulling them tight. If the skin is unbroken, the chicken will puff up as it cooks, and the string serves only to keep the thighs from spreading apart and splitting the skin.
Put the chicken into a roasting pan, breast facing down. Do not add cooking fat of any kind. This bird is self-basting, so you need not fear it will stick to the pan. Place it in the upper third of the preheated oven. After 30 minutes, turn the chicken over to have the breast face up. When turning it, try not to puncture the skin. If kept intact, the chicken will swell like a balloon, which makes for an arresting presentation at the table later. Do not worry too much about it, however, because even if it fails to swell, the flavor will not be affected.
Cook for another 30 to 35 minutes, then turn the oven thermostat up to 400 degrees, and cook for an additional 20 minutes. Calculate between 20 and 25 minutes of total cooking time for each pound. There is no need to turn the chicken again.
Whether your bird has puffed up or not, bring it to the table whole on a platter or dish with raised sides to catch drippings. Leave the lemons inside until it is carved and opened. Be sure to give the lemons a good squeeze (not too hard, they may squirt) to let the delicious juices pour out onto the dish, and spoon them over the chicken slices. Savor with Sauvignon Blanc!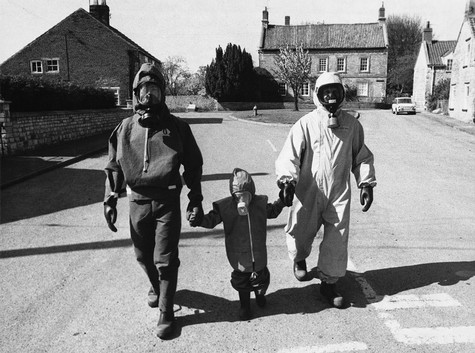 1950s radiation suits for the entire family (image courtesy of Hulton-Deutsch Collection/CORBIS/Corbis via Getty Images)
Comments