Letters from Lodi
An insightful and objective look at viticulture and winemaking from the Lodi
Appellation and the growers and vintners behind these crafts. Told from the
perspective of multi-award winning wine journalist, Randy Caparoso.

April 13, 2020 | Randy Caparoso
Gimme shelter with Lodi's bevy of dry rosés enjoyed with Coq au Vin Rosé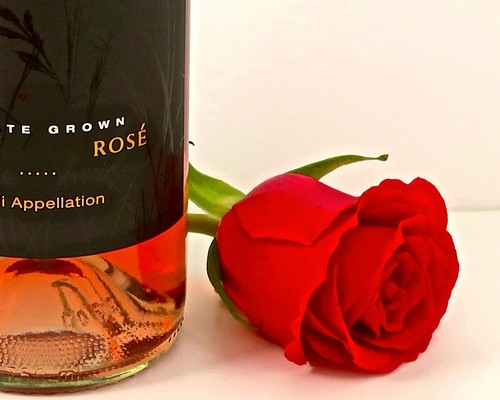 Not quite three and a half weeks into our compelled sheltering, with no real end in sight. How are you holding up? Reading all the books you've always wanted to read? Binge-watching the shows that you once only dreamed about binging out on?
And if you are no different than zillions of stay-at-home wine and food lovers, dietary restraint can become an issue. My doctor (who is one of those impossibly 2% body-fat marathoners) recommends walks — lots and lots of long walks. And when I walk, I think about... wine and food. Can't wait to get home to start cooking, and pop a bottle!
Wine, of course, is the perfect balancing act for food — especially thoughtfully prepared dishes (the more intricate a dish, the more appealing the wine match). Wines have sensory qualities (particularly fruit-related qualities balanced by fresh acidity, and meaty tannin in the case of reds) that complement ingredients in dishes; and when consumed in moderation, they don't seem to bloat the constitution like beers, milk or even iced tea. Wines also contribute a lightening yet filling feel to the palate, which helps to keep the consumption of food (and calories) to reasonable proportions. So instead of two heaping plates of, say, spaghetti and meatballs, the body seems to be satisfied with one discreet serving. No wonder the fruit of the vine plays such an important role in the classic, healthy Mediterranean diet!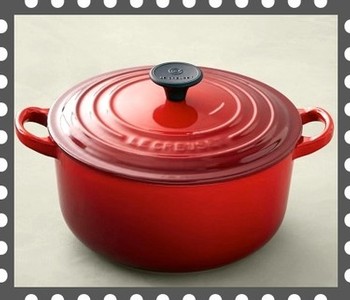 The Lodi appellation, as we love to remind everyone who cares to listen, is a quintessential Mediterranean-type of winegrowing region. April can bring a few showers and showy white clouds, but by the time summer swings around there won't be a drop of moisture in the sky. Unlike other parts of the California coast, we really don't experience fog during the growing seasons, and so wine grapes can work on their tans from the second the sun rises to the second it goes to bed, whereupon nights sink into the mid-50°s so that vines can also get their beauty sleep. Ergo, lots and lots of flavor-enhancing phenolics build up in the grape skins, and a nearly perfect amount of acidity is retained in the pulp thanks to the steady diurnal temperature swings. And that's your "Lodi 101" lesson for today.
Do you know what a nearly "perfect" Lodi wine is? It's pink — as in the myriad styles of dry or pretty much nearly dry rosés coming out of the Lodi AVA these days. Why rosés? Basically, because you drink dry rosés like you do white wines (nice and chilled), but unlike white wines rosés are made from black-skinned grapes, the same that goes into red wines. Despite the fact that fermenting juices of rosés are typically pressed off their skins right off the bat at the winery, a typical rosé retains a smidgen more of the flavors from grape skins than white wines, plus a tiny bit of the feel of phenols and polyphenols extracted from the skins which contribute a textural quality not found in many white wines.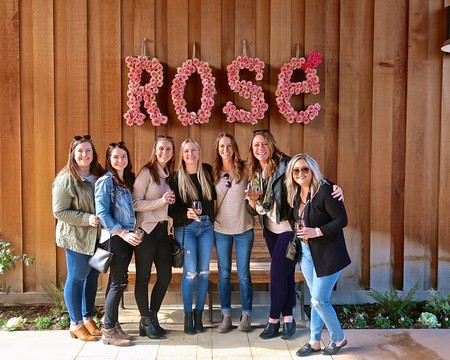 In a way, this makes dry rosés almost the perfect "food wines." Not to say that white or red wines aren't also fantastic with foods (of course they are), but it's just that dry rosés have a way of complimenting many of the light, "white" dishes that go great with white wines as well as many of the meaty, "red" dishes that we love with red wines. Dry rosés — especially the many fresh, zesty, tart-edged, yet exuberantly fruit-scented styles being produced today — are just that much more versatile.
A perfect case in point: the recently released 2019 Peltier Winery "Diamond Rouge" Lodi Rosé of Cabernet Sauvignon ($20). If you've been sampling different Lodi-grown rosés lately, you know darned well that these days there are more first-class rosés being produced by our local wineries than you can shake a stick at. This particular rosé is interesting because it's made entirely from Cabernet Sauvignon, an ultimate "red wine" grape because of its intensity of flavor and tannin. So even if you press off the juices from the skins to get the pretty, transparent pink color you find in Peltier's "Rouge" rosé, you still end up with an opulence of aroma and flavor.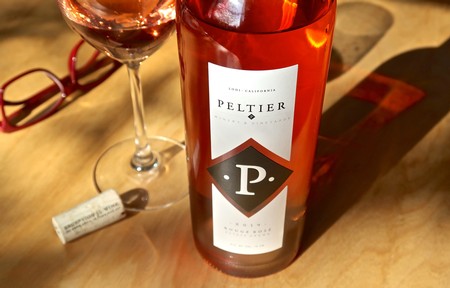 In this wine, a pungent combination of strawberry, watermelon, and cranberry — the latter sensory component following up in the flavors on the palate, which is notably tart-edged while having that smidgen of grippy dryness similar to what you get when sipping cranberry juice. At the same time, there is a discreet amount of residual sweetness lurking just below the threshold of perception — it's like the wine flashes a sense of lush fruitiness while retaining an overall sense of dryness, the same way a hula dancer flashes a little leg from out of a grass skirt while she does her wholesome yet winsome dance.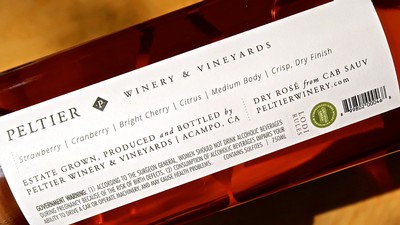 One particular "ideal" recipe for a wine like the Peltier "Rouge" rosé: We're sold on a dish called Coq au Vin Rosé (detailed recipe at the end of this post), which is a variation of the classic French dish, Coq au Vin, usually made with red wine. When you utilize rosé instead of red wine, the braising stew (chicken cooked in an entire bottle of wine with bacon, pearl onions, mushrooms, and garlic cloves) is not quite as intense or earthy; rather, it ends up with more of a lip-smacking zestiness, while still savory enough to call for a deeply flavorful wine. Honestly, white wine goes great with this dish (it's chicken, after all, which loves white wines), and so do lighter-style reds (think red Grenache, Pinot noir, or easy-peasy Zinfandels). Yet in a way, a good, dry rosé — which has the savoriness of a red with the zestiness of a white — is pretty much the "perfect" match.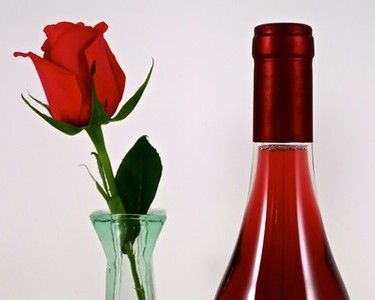 Other Excellent Lodi Dry Rosés
Another cool thing about Lodi-grown rosés is that they are made from a bevy of different grapes, reflecting the diversity of a region where well over 100 varieties of wine grapes are commercially grown — another advantage of Lodi's squarely "Mediterranean" climate.
Peltier Winery, for instance, also produces a Rosé of Pinot Noir ($26), which is markedly more demure, and lighter and airier in feel, than their Rosé of Cabernet Sauvignon, with more of a fresh sour cherry perfume and flavor. LangeTwins Family Winery & Vineyards is another winery that produces two different dry rosés with flavor profiles that are fascinatingly varied: a River Ranch Vineyard Aglianico Rosé ($22) with its exotic spice-tinged nose of strawberry and rhubarb and zesty acid balance, and the lighter, more delicate Estate Grown Sangiovese Rosé ($15) with its cherry/berry fragrance and citrusy fresh tartness.
The Barbera grape — sort of an "old-timey" variety in Lodi, once used by wineries like E. & J. Gallo for their "jug" reds — not only produces phenomenal red wines but also a unique style of rosé that retains the naturally high acidity of the varietal. And if anything, you want rosés to have an elevated acidity giving them that bright, palate-bracing quality. Don't be fooled, for instance, by the ridiculously reasonable price of the St. Amant Winery Lodi Barbera Rosé ($15), because this is a seriously fine and unique rosé— watermelon fresh, cranberryishly crisp, yet svelte, fluid, round, and savory in its long length of flavors.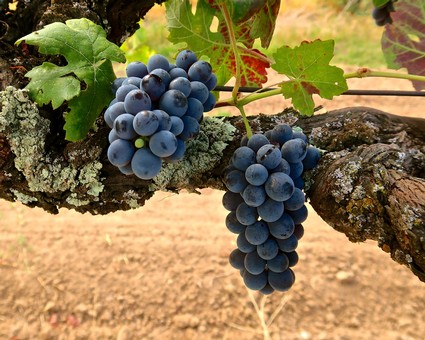 There are a number of producers who produce dry rosés from Cinsaut grapes grown in Lodi's Bechthold Vineyard — a historic 25-acre site planted in 1886 (!). The Michael David Winery Bechthold Vineyard Cinsault Rosé ($25) is a classic; showing the wispy strawberry/cranberry scent of the grape with just a whiff of loamy earthiness in the backdrop, and a palate feel that is both sturdy yet fine and gentle. The Onesta Wines Rosé of Cinsaut ($20) is usually a little more intense and meatier than Michael David's — almost like a red wine "disguised" as a pink — yet still finishes with a round, svelte, bone-dry feel. And if you're looking for something totally different, McCay Cellars produces a Reserve Rosé ($32) woven from both Bechthold Vineyard Cinsaut and Abba Vineyard Syrah, although the predominant quality of the wine is the allspice nuanced strawberry/rhubarb fruit of the Cinsaut grape, enhanced by a subtle yet distinctive earthiness (like organic loam) often associated with west side Lodi plantings such as Bechthold Vineyard.
Lodi grew Zinfandel, of course, was once used to produce vast amounts of sweet, tutti-fruity, "blush" colored wines collectively known as "White Zinfandel," but lately it's been turned into a bone-dry style of rosé by a few, small, handcrafted producers. Michael Klouda Wines' MK label, for instance, recently came out with a 100% Zinfandel called Retro Rosé ($19) that is appealingly crisp, light, and a little minerally in its strawberry/tea-like quality. The Monte Rio Cellars Dry White Zinfandel ($20) is another 100% varietal with a light and easy bone-dry feel, and a cherry/berry/pomegranate-like fruit profile tinged by the faintest whiff of dusty earthiness. The Mikami Vineyards Lodi Rosé ($24) made entirely from estate-grown west side Lodi Zinfandel, on the other hand, tends to be a deeper shade of coral pink than the MK and Monte Rio Zinfandel rosés, and its aromas and flavors are like raspberry tea couched in a nearly red wine-like meatiness and grip to its dryness.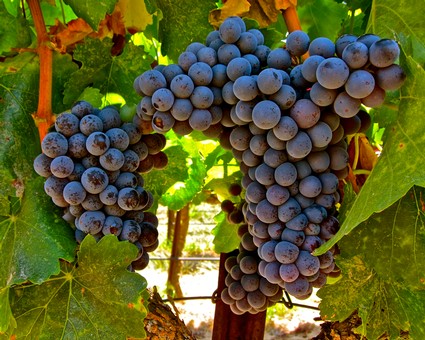 Finally, the all-time favorite black-skinned grape for dry rosé production around the world is still Grenache; and Lodi produces a number of bottlings from this classic variety, all redolent with the lush strawberry/watermelon qualities of the grape. One contemporary classic is the Acquiesce Winery & Vineyards Grenache Rosé ($25), which almost always recalls the sea of classically dry, fleshy yet eminently drinkable rosés produced by France's Provence region. The Bokisch Vineyards Terra Alta Vineyard Clements Hills-Lodi Garnacha Rosé ($20) is fashioned in a more delicate style than Acquiesce's, emphasizing a little less of an unabashed strawberry-fruit exuberance and more of the grape's fresh, zingy acidity, while finishing with a tingling touch of minerality in the feel.
The McCay Cellars Rosé of Grenache ($24) retains the plump, pliant, strawberry/cherry-infused varietal character of Grenache, plus an intriguing splash of earthiness reflecting the winery's 100% native yeast fermented philosophy of winemaking. For the sheer, lavish intensity of Grenache fruit character, look for the Oak Farm Vineyards Estate Grown Rosé ($26), which combines a citrusy fresh tartness with nostril-tingling strawberryishness. But for a more intricate thread of sensations, the Klinker Brick Winery "Bricks & Roses" Rosé ($15) flashes floral, rose petal, cherry, and strawberry notes in its blend of Grenache, Carignan, Syrah, and Mourvèdre grapes, with a passionate kiss of meridional sun-soaked fruit — a Lodi fruit freshness! — in its barely off-dry finish.
So let's get cookin'!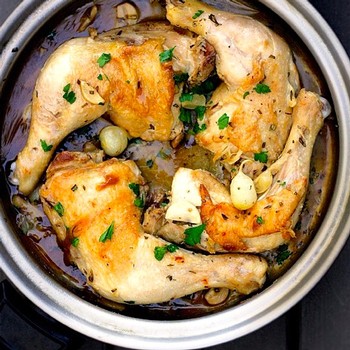 Coq au Vin Rosé (image courtesy of deliciouslife.com)
Rihana's Coq au Vin Rosé
The following recipe is admittedly a little more involved in the execution because it adapts a number of steps suggested by Julia Child in her classic Mastering the Art of French Cooking. You can take shortcuts, but in our experience, you get the best experience — a luxurious taste of the coq and vin-enriched braise — when you patiently take the time, of which we all seem to have plenty in these challenging days, weeks, and perhaps months!
8 pieces chicken thighs (mostly) and legs (or one 5 lb. chicken, cut into serving pieces)
24-30 pearl onions
Salt and fresh ground black pepper
6 oz. bacon strips or slab, squared or cubed
8 oz. button mushrooms, quartered
1 tbsp. unsalted butter
1 bottle (750 ml.) dry rosé
1 medium yellow onion, quartered
2 stalks of celery, quartered
2 medium carrots, quartered
3 cloves garlic, crushed
6-8 springs fresh thyme
1 bay leaf
2 cups chicken stock or broth
Cut off the root end of each pearl onion and make an "x" with a knife in its place. Bring 2-3 cups water to a boil and drop in the onions for 1 minute. Remove onions from the pot, allow to cool, and peel (onions should slide right out of the skin). Set aside.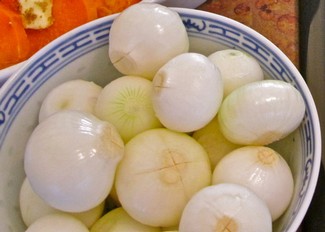 "Scored" pearl onions
Blanch bacon briefly in boiling water; drain, and dice or cube. Fry to render fat; remove meat and set aside, and save fat for frying.
Sprinkle chicken pieces on all sides with salt and ground pepper. Place chicken pieces, a few at a time, into a large (1-2 gallon) sealable plastic bag along with flour; shake to coat chicken completely. Remove chicken from the bag, and fry in bacon fat, just until the crust is crisp. Set chicken pieces aside.
In the same pan, add pearl onions to the fat, sprinkle with salt and pepper, and sauté until lightly brown (approximately 8-10 minutes). Remove onions from the pan and set aside. Transfer chicken into a 7-8 quart enameled cast (like Le Creuset) or cast iron Dutch oven.
Add mushrooms to the same 12-inch sauté pan, adding 1 tbsp. butter if needed, and sauté until liquid is released (approximately 5 minutes). Store onions, mushrooms, and bacon in an airtight container in the refrigerator until ready to use.
Pour off the remaining fat and deglaze the pan with approximately 1 cup of the rosé. Pour this into a Dutch oven along with chicken stock, quartered onion, carrots, celery, garlic, thyme, and bay leaf. Add all of the remaining rosé. Preheat oven to 325° F.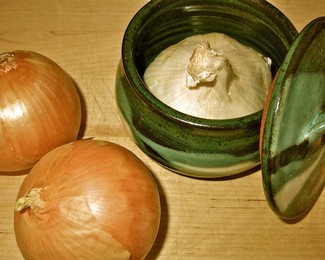 Place chicken in oven and cook for 2 to 2-1/2 hours, or until chicken is tender. Maintain a very gentle simmer and stir occasionally.
Once the chicken is done, remove it to a heatproof container, cover it, and place it in the oven to keep warm. Strain the sauce in a sieve and degrease (discard carrots, celery, thyme, garlic, and bay leaf). Return the sauce to a pot, place over medium heat, and reduce by 1/3 (depending on how much liquid you began with, this should take 20-45 minutes).
When the sauce has thickened, add pearl onions, mushrooms, and bacon, and cook another 15 minutes or until heated through. Taste and adjust seasonings if necessary; remove from heat, add the chicken, and serve.
Serve from a Dutch oven with either long-grained white rice or lightly buttered egg noodles. (Note: if the sauce is not thick enough at the end of reducing, you may add a mixture of equal parts butter and flour kneaded together, starting with 1 tbsp. each; whisk this in the sauce for 4-5 minutes, and repeat if necessary).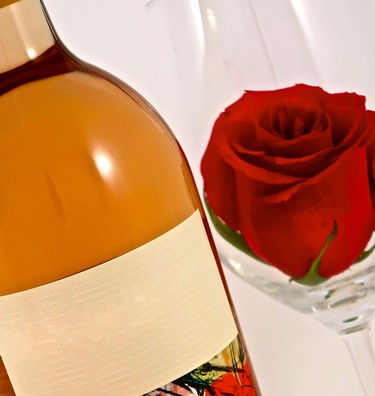 Comments