Letters from Lodi
An insightful and objective look at viticulture and winemaking from the Lodi
Appellation and the growers and vintners behind these crafts. Told from the
perspective of multi-award winning wine journalist, Randy Caparoso.

June 5, 2017 | Randy Caparoso
Riaza's unorthodox interpretation of Lodi grown fruit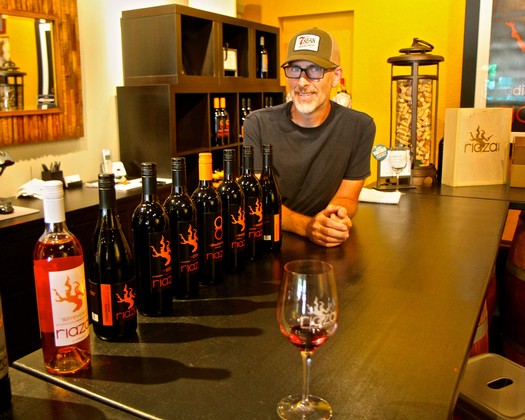 First things first: Riaza Wines is different from other Lodi based wineries.
The back-story, perhaps, may not be so different: A young couple sharing a love of wine travel to Spain (finding a little town called Riaza, as it were), fall in love with the culture and gastronomy, and come home determined to produce their own Spanish inspired wines.
That was just nine years ago. Fortuitously, the couple – Rick and Erin Taylor – happen to live in Lodi, where Spanish grape pioneers Markus and Liz Bokisch have also set up shop, prompting several other Lodi growers to follow suit with their own plantings of Tempranillo, Graciano, Albariño, et al. And so by 2010, the Taylors were able to burst out of the gates with their first commercial bottlings, sold under their colorful Riaza label.
This is where the story veers off the usual course: From the beginning the Taylors have been crafting small lot wines expressing sensory qualities unique to their own sensibilities. Riaza label wines, for one, are not chubby with pure fruit qualities like those of most Lodi producers. Instead, by and large, they are lean and lanky to the point of sharpness. If you prefer your wines zesty and edgy rather than soft and mushy, Riaza Wines is for you.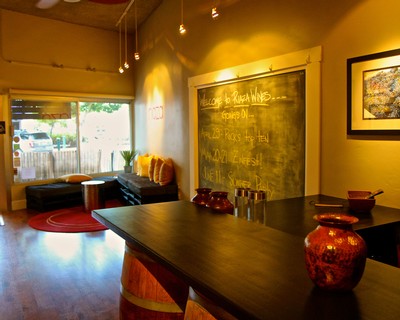 Although their average alcohol levels are about 14%, the wines of Riaza fall on the lighter side of "medium" in body. Red wine tannins tend to be smooth and rounded, and oak qualities are underplayed to the point of being barely noticeable. Again, if this is your style, Riaza is for you.
But most of all, Riaza wines are more tart than "fruity." On top of having his fruit harvested earlier than most producers – when natural acidity in the grapes are on the higher side – Mr. Taylor even prefers to leave tinges of sweet/sharp acid sensations in his wines, which is like adding little drops of winey balsamic vinegar in your cooking.
Consequently, the Taylors have developed their own, almost fanatical, following of people of like mind and tastes. In fact, says Mr. Taylor, this is what has made the entire "long strange trip" worthwhile for them; telling us earlier in the month: "2017 will mark our ninth harvest, and we're up to about 1,600 cases in yearly production.
"We are glad we took the leap because we're having a sh—load of fun, getting to hang out with a lot of cool people. Erin and I talk about the people in our wine club as being more like folks riding on our bus. We couldn't have picked better ones if we picked them organically – people who are invested in this, who want to have fun with us and explore the whole relation-side of the business.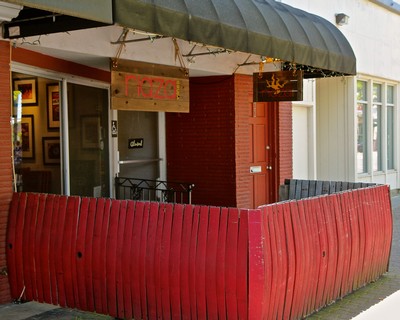 "We have attracted a lot of cool, different types of people because we started out with Spanish varieties, which are a little different. Even when we began to produce Zinfandel, just to be able to offer something a little more familiar to people walking into our tasting room, we are still producing Zinfandel in a style that is a little outside the box.
"Stylistically, we want our reds to be on the lighter, lean side of things. We think that by dialing back on the fruit, this style pulls out a different kind of layering and complexity. People tell us they love our wines precisely because they are different. We wouldn't trade those people for anyone else!"
Sound good? Then I would drop into the Riaza Wines tasting room (open Fridays through Sundays, and on Thursday nights during Lodi's Farmers Market season) on Elm St. in Downtown Lodi to find out for yourself what the growing crowd of Riaza-fanatics are excited about.
A sampling:
2014 Riaza, "The O.G." Clements Hills-Lodi Graciano ($30) – Sweet toned, black, plummy fruit aroma with an almost mole-like chocolaty richness in the nose; but on the palate, sharply dry with zesty acidity and velvet textured and moderate tannin, packed into a medium-full body. Grown by Bokisch Ranches.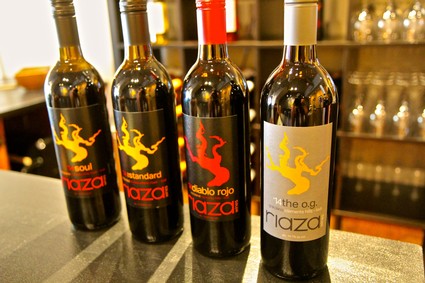 2014 Riaza, "Soul" Mokelumne River-Lodi Carignane ($26) – The red cherry nose is true to the varietal; but the rest of the wine is emblematic of the house style in its lean, lanky, tart/edgy dryness, combining with soft tannin and a light-feeling body to taste almost like a zesty white wine rather than a red. Sourced from a 75-year old block of ancient vines farmed by Keith Bussman.
2015 Riaza, "Crux" Mokelumne River-Lodi Carignane ($26) – An almost Old World (i.e. old vine European) style of the grape, from a tiny, approximately 60-year-old planting owned by Chris Storm. Compared to the "Soul" Carignane, a little deeper, black cherry aroma tinged with the high-acid Riaza touch (like a deepening drop of balsamic vinegar). Firm yet rounded tannin holding up the tightly wound, palate prickling, zesty medium-full body.
2015 Riaza, "Unorthodox" Mokelumne River-Lodi Syrah ($26) – If you've been looking for a lean, zesty, moderately weighted style of Syrah (as opposed to the fat, hunky, sweetly fruited style more typical of California), look no further. The nose is low-key yet floral; and on the palate, moderate tannin and slightly sharp acidity brace the palate with an edgy yet savory feel. From Fields Family Vineyard.
2014 Riaza, "The Standard" Mokelumne River-Lodi Zinfandel ($26) – This wine is "standard" only in the sense that there are lots of other Lodi Zinfandels to choose from. But if you prefer a lighter weight, almost bony, acid-driven style, you've come to the right place. There is, however, a sense of lushness in the red cherry/cranberry perfume; but on the palate, zingy acid and moderate tannin emphasize the lanky feel. Sourced from Aaron Shinn's Cemetery Vineyard on Lodi's east side.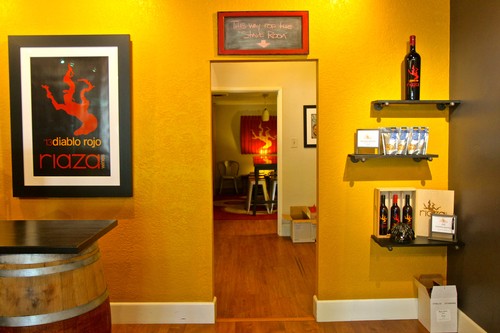 Comments