Letters from Lodi
An insightful and objective look at viticulture and winemaking from the Lodi
Appellation and the growers and vintners behind these crafts. Told from the
perspective of multi-award winning wine journalist, Randy Caparoso.

July 9, 2018 | Randy Caparoso
Pop-up restaurant dinners come to Lodi wine country!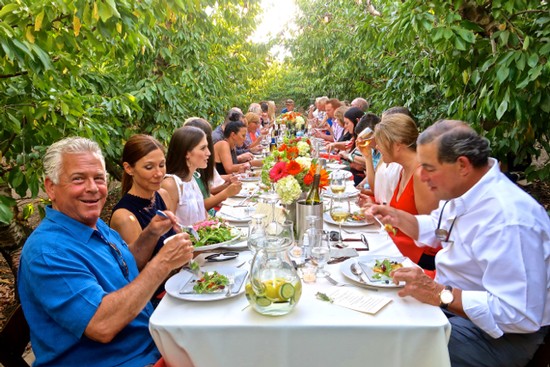 "Welcome to our family's first 'Evening In the Orchard!'" exclaimed Drew Rotner, co-owner of R&G Family Farms, to a table of 24 Lodi wine and food lovers set in the shade of 29-year-old Bing cherry trees.
For the event, the Rotner and Gotelli families collaborated with three extraordinarily talented chefs with Lodi backgrounds, now working as independent contractors in the modern day tradition known as "pop-up restaurants." Pop-ups are more like restaurants with no walls: Chefs put together gourmet meals, usually very adventurous multi-course affairs, and invite "friends" to sit down and enjoy. For a set fee, of course. It can take place in the rented space of a warehouse, an old Victorian, a penthouse or professional catering kitchen; or maybe in someone's backyard, the middle of a desert or top of a remote, forested hill. Or in this case, this past Saturday (July 7, 2018), the pop-up happened in the middle of a Lodi Bing cherry orchard planted in 1989 by Gotelli family.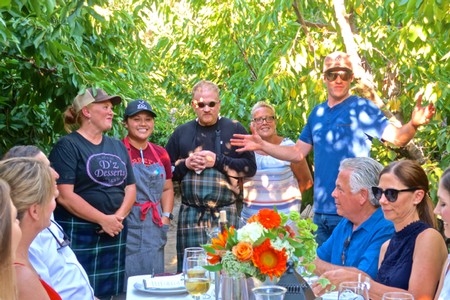 One of the three chefs, Dawnelle O'Brien, acts as sort of a spokesperson for this particular group. Ms. O'Brien is the former Pastry chef at Wine & Roses Hotel's Towne House Restaurant in Lodi, where she worked with her other two pop-up partners-in-crime, so to speak: John Hitchcock (former Executive Chef of Towne House Restaurant) and Danica Aviles (former Town House Restaurant Chef de Cuisine).
At one time, very recently, all three chefs were working under the guidance of Wine & Roses Hotel's legendary, James Beard Award winning Culinary Director, Bradley Ogden. But today, all three are pursuing separate independent careers: O'Brien as the owner of her own, Stockton-based cake company, D'z Desserts; Aviles as co-proprietor of the San Francisco-based pop-up restaurant called Pinoy Heritage (specializing in contemporary, Filipino-inspired cuisine); and Hitchcock, who now labors as what he calls a "machinist" for his family's Lodi-based hydraulic company (although Chef Hitchcock primarily spends his time at a computer, designing equipment with 3-D CAD software).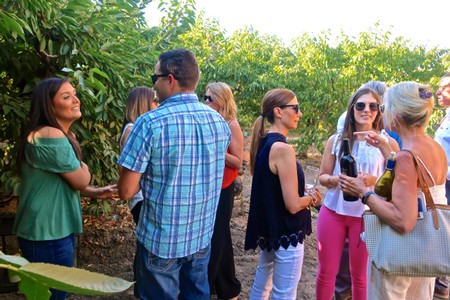 "When we get together," says O'Brien, "we call ourselves a 'trifecta,' or 'three amigos.'" You might also think of them as like Crosby, Stills & Nash getting together; because, set free from the four walls of Wine & Roses Hotel's lavish Town House Restaurant, these three chefs are now soaring with dishes singing with culinary imagination like never seen before in Lodi wine country, as evidenced by their pop-up dinner menu in the Gotelli orchard. And believe you us, these dishes looked and tasted even better, and fresher, than they sound on paper:
Stone Fruit, Arugula, Chèvre, and Pickled Red Onion in Vanilla Bean Vinaigrette
Heirloom Tomato and Burrata in Calivirgin EVVO and Aged Balsamic
Duo of Fresh Summer Beans
Thyme Confit Marble Potatoes
Brentwood Corn Salad, Medley of Peppers and Heirloom Cherry Tomatoes
Fresh Ratatouille
Roasted Skuna Bay Salmon and Chimichurri
Mary's Airline Chicken and Lemon Jus
36-Hour Sous-Vide Short Ribs in Pinot Noir Jus
Lemon Posset with Macerated Fruit (R&G Family Peach, Blueberry and Blackberry)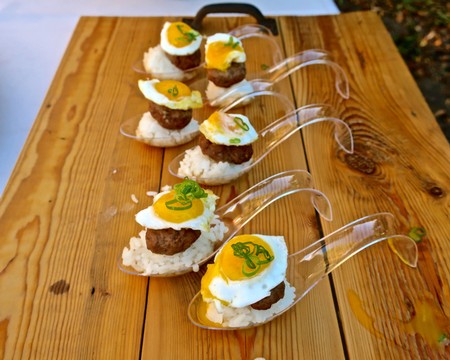 Pictures tell thousands of words, and so we'll let our images do the talking, and unleash your imagination.
While the pop-up "Evening In the Orchard" took place on the bare, fluffy, sandy dirt between Bing cherry trees that, less than two weeks ago, gave up the last of Lodi's 2018 harvest, you can clearly see that the table setting was befitting the most lavish multi-star-restaurant. That is because the chefs and Rotner/Gotelli families also enlisted another well known Lodi talent, Pati Waggoner-Myers: Director of Operations for the Bella Festa party planning company, and who has also coordinated countless weddings at Wine & Roses Hotel.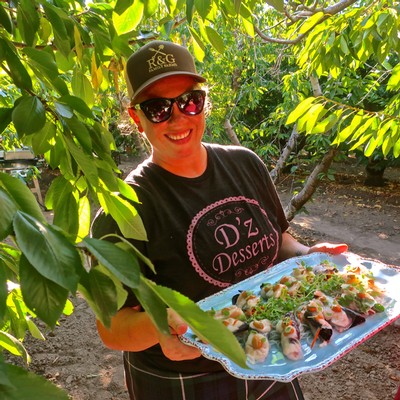 Assisting the chefs, and responsible for the stunning flower arrangements on the pop-up dinner table, was Lorraine Hitchcock: the former Culinary Education Coordinator of Wine & Roses Hotel (who also happens to be Chef Hitchcock's mother and, of course, lifetime head cheerleader).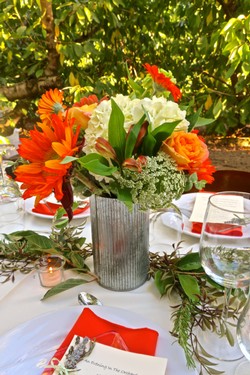 As if the 10-course menu wasn't enough, the 24 paying guests were also treated to an apéritif of fresh white peach sangria (heaven-sent at the end of another warm, sleepy, dusty Delta day); served with a bewildering array of hors d'oeuvres that included Fried Oyster Gribiche, Fresh Tomato Water Paté de Fruit with Spiced Cherry Preserve, Shrimp Summer Rolls with Peanut Dip, and the tiniest version of the Hawaiian dish called Loco Moco (ground beef layered with a quail's egg, rice and a smidgen of pan gravy) ever assembled.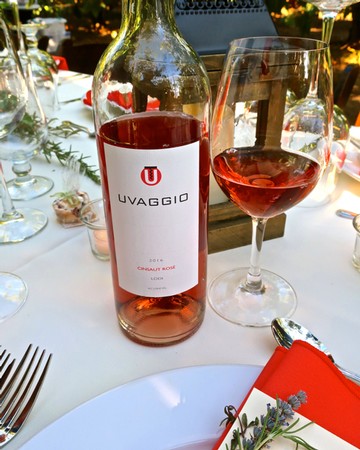 Once seated at the table at 7:00 PM, all the guests uncorked their own bottles of wine (BYOW is typically part of pop-up restaurant dining), which were readily shared with newfound table partners. Our own contribution to the communal table:
• A soulful, bone dry and meaty textured 2016 Uvaggio Bechthold Vineyard Lodi Cinsault Rosé (crafted from Lodi's oldest vines, planted in 1886)
• A crisp, perfumey, silken fine 2017 Oak Farm Mohr-Fry Ranches Lodi Sauvignon Blanc
• An ultra-spiced, nostril-tingling, layered, lithe and lingering 2016 Turley Steacy Ranch Lodi Zinfandel (from an ancient vine planting dating back to 1907)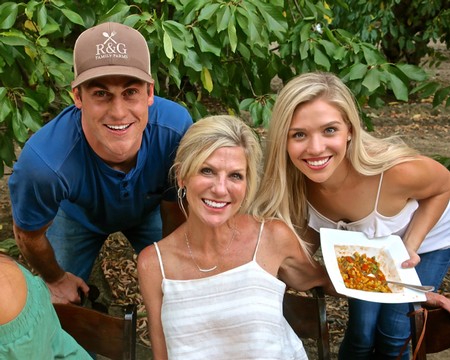 When greeting the adventurous diners at the table, Mr. Rotner – standing alongside the chefs and his wife, Ashley Rotner (of the Gotelli family) – told the visitors to his family's farm: "When we first started talking to the chefs about a pop-up, we said how cool would it be to do it on long table set in the middle of the orchard. This would be taking farming-to-fork to the next level. This is our first pop-up, but we definitely something plan to do more in the future."
Mr. Rotner acknowledged his in-laws, Tom and Missy Gotelli, also seated for the dinner in the orchard. "Ashley's grandparents established their farm in the 1920s, and together we started up R&G Family Farms three years ago, selling primarily to local restaurants, which is how I got to know this motley crew of chefs."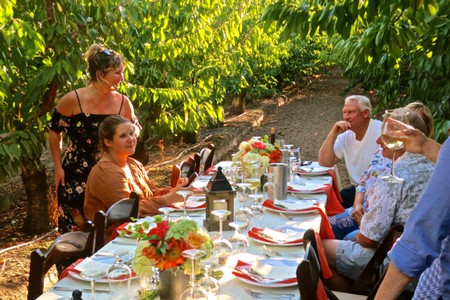 Rotner, as it were, understates the impact of his increasingly significant role in the Lodi region's blossoming culinary culture. He is already known for his willingness to pack up boxes of fresh picked pomegranate, or cherry, pumpkin, peach, blackberry, blueberry or walnut and deliver to a local restaurant in the middle of an evening shift, if a kitchen happens to run out of anything. And these include a good number of San Joaquin Valley's finest restaurants: besides Towne House Restaurant, also Downtown Lodi's Rosewood Bar & Grill (where Rotner once tended bar) and Fenix, Pietro's Trattoria, and Market Tavern in Stockton.
Longtime Lodi Certified Farmers Market patrons are also long familiar with the family that Mr. Rotner married into: Missy Gotelli and her two daughters, Ashley and Shelby, qualify as School Street institutions; offering tastes of their Lodi grown cherries to everyone and anyone ever since the girls were 4-year-olds (the two, irresistibly cute, cherry-hawking "kids" are now grown up, with husbands).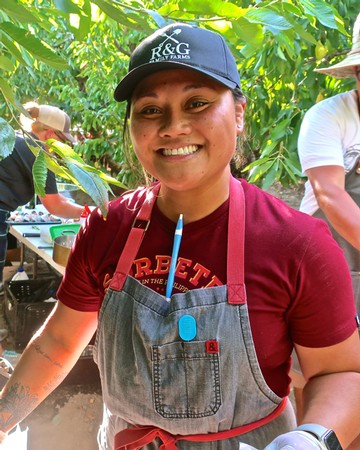 If you are interested in keeping track of future R&G Family farm-to-fork events, you may inquire with Drew and Ashley Rotner at rgfamilyfarms@gmail.com.
As for the three-amigo chefs, the best way to keep tabs on future pop-up dinners (their trifecta dinner in the orchard was just their second collaborative event) may be through the Facebook page of Chef O'Brien's D'z Desserts, where you can contact her directly.
A few more delectable shots: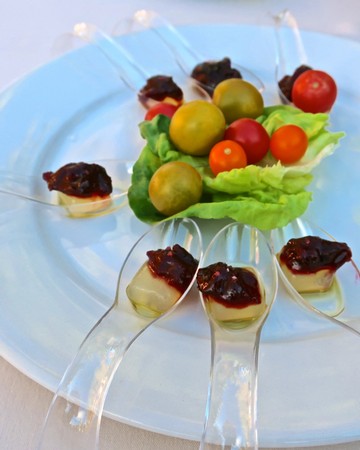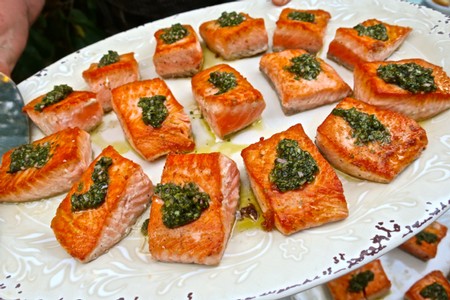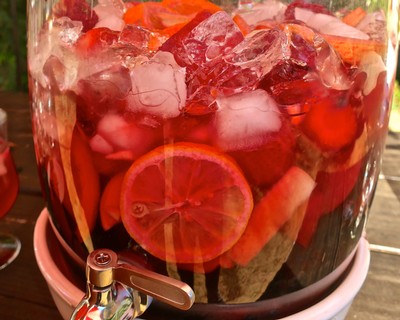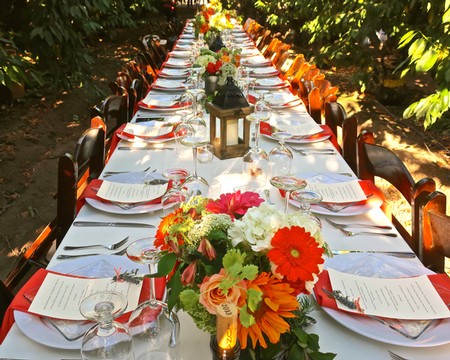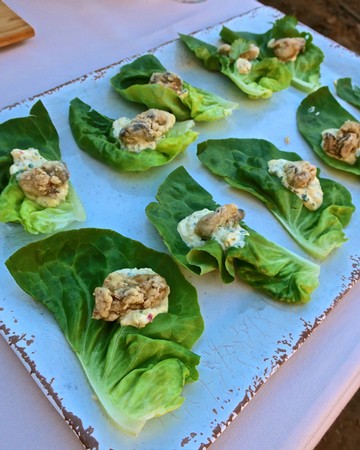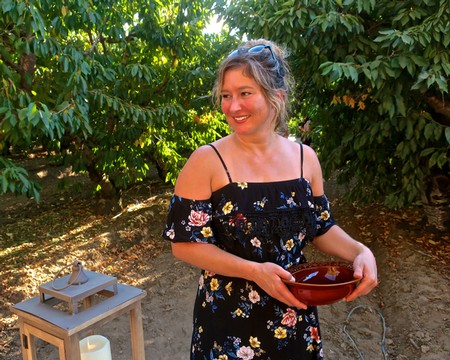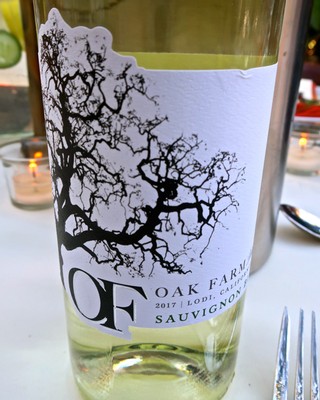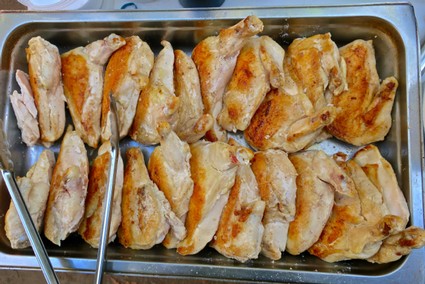 Ultra-tender airline chicken (slowly sous-vide cooked, seared and served with lemon jus)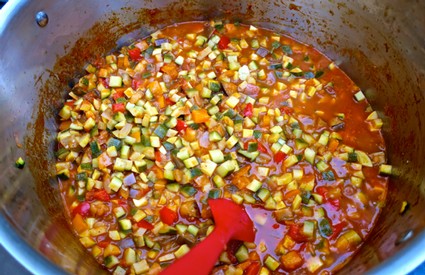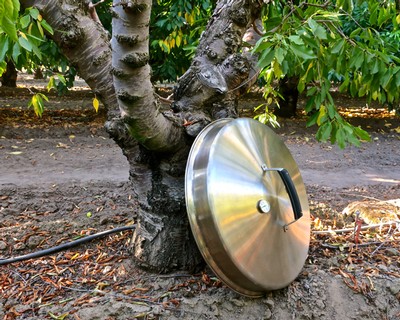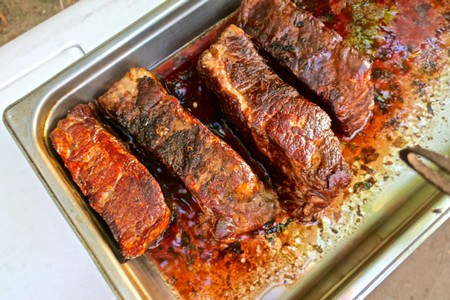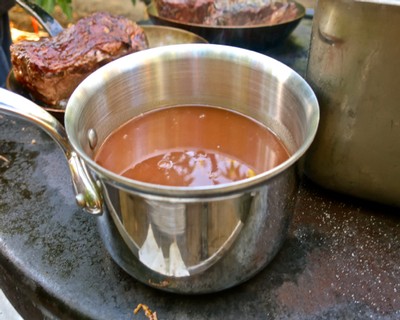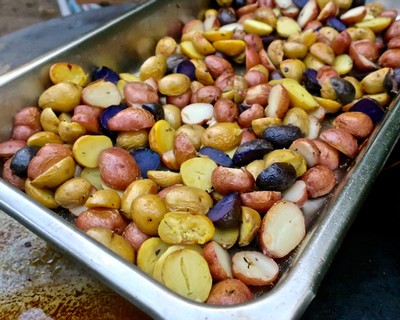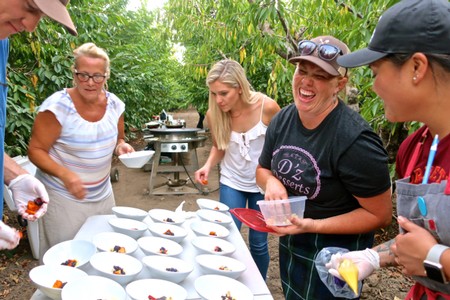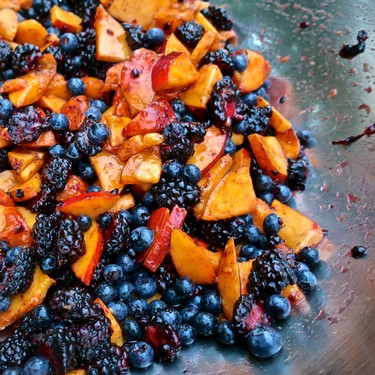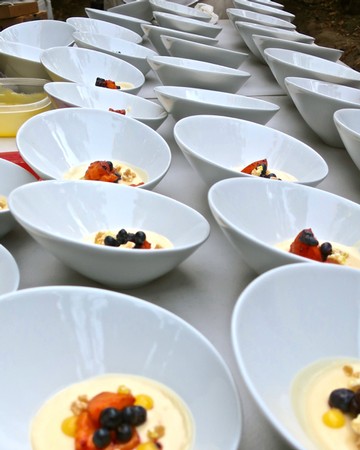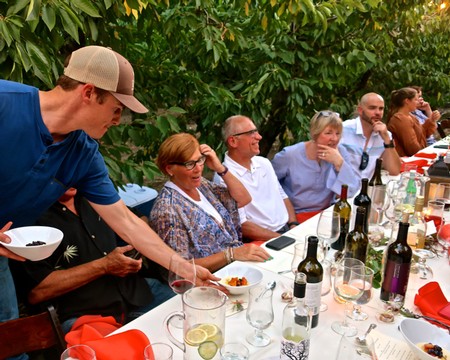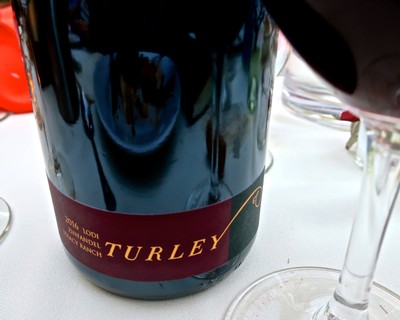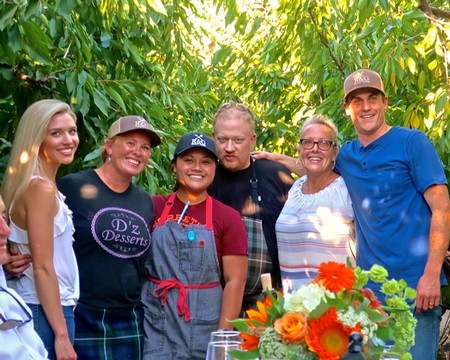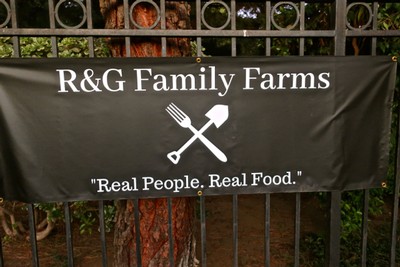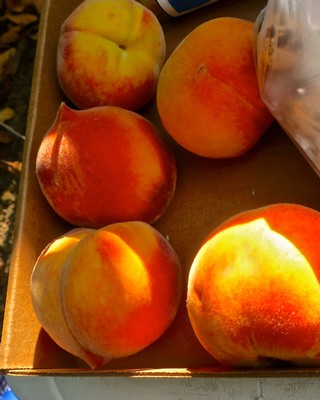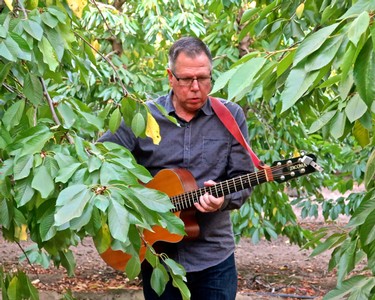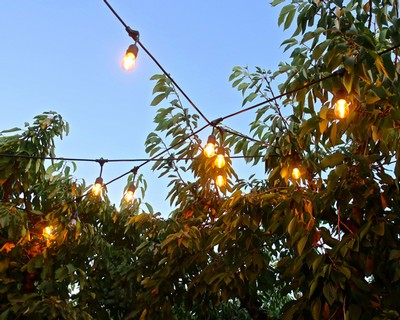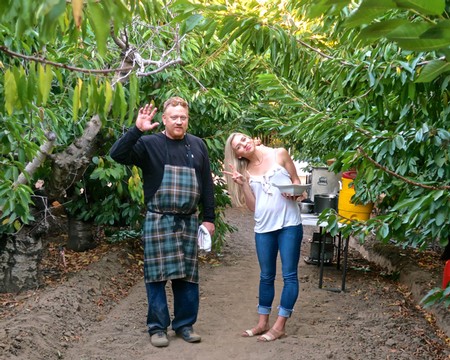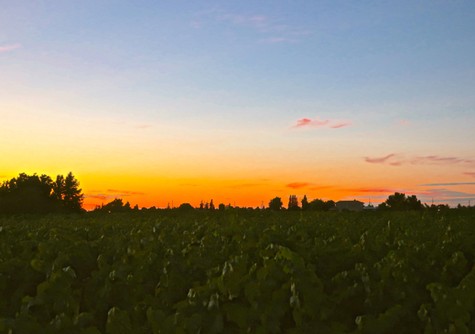 Comments