Letters from Lodi
An insightful and objective look at viticulture and winemaking from the Lodi
Appellation and the growers and vintners behind these crafts. Told from the
perspective of multi-award winning wine journalist, Randy Caparoso.

April 27, 2020 | Randy Caparoso
Perfect time to try your own hollandaise with asparagus, beef and Claret style Lodi reds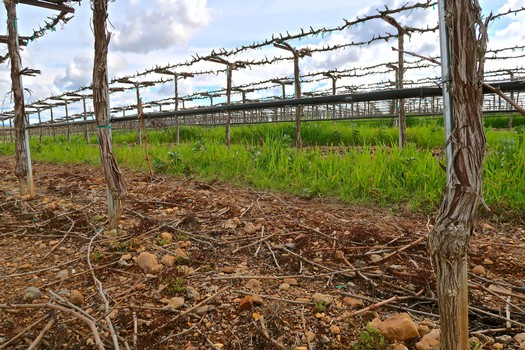 Coming into week #6 of shelter-in-place living — why does it feel like 6 months? If we weren't still living under the 6-ft. rule, I'd suggest we all gather in a circle and pat each other on the back for a job well done. We may have turned a corner (operative term, "may"), but as Charles Barkley once said, "Sometimes that light at the end of the tunnel is a train."
But one thing about everything: We've found ourselves with time, lots of time. Time to tackle that home improvement project we've been putting off for years. Time to actually converse with our spouses, kids, or grandkids. Or time to finally read "that book" (never read War and Peace? — always highly recommended, but if you're a real glutton for pleasurable punishment try Proust's Remembrance of Things Past, or all the Dune books before the latest movie remake comes out).
In the kitchen, going by the acute shortage of flour and yeast in stores, it seems that zillions of Americans have been discovering the joy of breadmaking. Good on ya'. There's something Zen-like about the kneading dough (it's violent, yet sensuous), and there's nothing like the smell of baking loaves in the house (if Proust was a baker, he'd've probably written 20 volumes of Remembrance instead of his measly seven).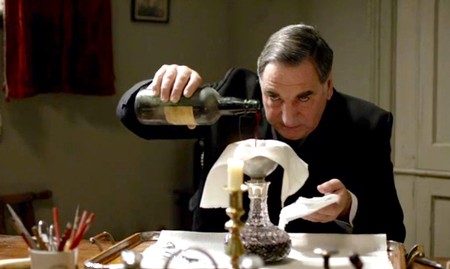 But here's another culinary DIY you may consider doing if you've never had the pleasure: hollandaise sauce! The thought came up because last week Bruce Neyers, the venerated owner/grower of Neyers Vineyards in Napa Valley, sent out an e-newsletter talking about his wife Barbara Neyers coming home with a bundle of fresh asparagus and announcing that she was going to make hollandaise (please see Barbara's fabulous recipe at the end of this post).
This triggered a Proustian memory for Mr. Neyers — about the time he dropped by a favorite Parisian restaurant before returning home after a 2-week road trip, and where he learned that asparagus season had just started (Neyers thinks it was in March 2011). He recalls ordering three bottles of St.-Estèphe (a Bordeaux commune specializing in Cabernet Sauvignon-based reds), and as his story goes...
Our server gave the order to the bartender — who was also the owner and the sommelier — and he looked at me, smiled, and gave a thumbs up. We were going to be fine. The wine was served, and after a brief wait, a cadre of kitchen staff and servers began to work their way to our table with platters loaded with fresh asparagus, steamed to perfection. Each of us received a healthy portion. The chef himself followed and, pouring from a large ceramic pitcher, covered each mound of asparagus with a generous serving of the most beautiful hollandaise sauce I've ever seen — rich and aromatic. The wine too was delicious, and I couldn't recall ever enjoying a red Bordeaux more.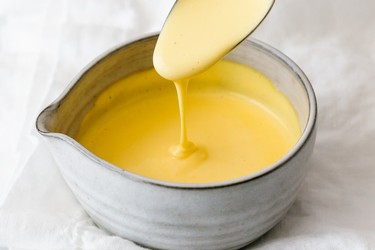 (image of hollandaise sauce courtesy of downshiftology.com)
Ever since then, I haven't been able to look at a plate of asparagus without thinking of Chez Villaret (the restaurant), hollandaise sauce, and a bottle of Cabernet Sauvignon. I knew hollandaise sauce was something that even talented cooks find difficult, but Barbara's recipe was easy, she assured me, and an hour or so later we sat down to dinner. The California-grown asparagus was magnificent, Barbara's hollandaise sauce was extraordinary, and the bottle of 2016 Neyers Ranch Cabernet Sauvignon that I opened has never tasted better...
So how about sitting down to dinner with your own version of hollandaise à la "Chez Lodi?" Accompanied, of course, by fresh steamed asparagus, some crunchy, pungent, spongy French bread (to soak everything up), and maybe a side of grilled hanger or striploin of beef (hollandaise, to me, is a lot better with steaks than oily, melted butter).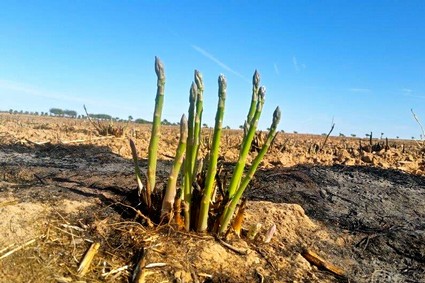 California-grown asparagus (image courtesy of thepacker.com)
Cabernet Sauvignon-based reds have an affinity with asparagus because of the grape's intrinsic herby-green and sometimes minty or green peppery qualities (called pyrazines, in geek lingo). The trick to a good match is to choose a bottling that is not excessive in tannin, the phenolic qualities derived from skins and seeds of grapes that can sometimes give wines made from thick-skinned Cabernet Sauvignon grapes a hard, bitter quality. Neyers Vineyards produces intense Cabernet Sauvignons, but the "house style" of all of this winery's products dictates a rounder, smoother "balanced" taste.
Neyers Vineyards, alas, does not produce a Lodi-grown Cabernet Sauvignon. They do, however, produce a style of Lodi-grown Zinfandel that old-timers in their antiquated language would describe as "Claret-like" — that is, made in a moderately weighted, zestier, smoothly textured style (i.e. restrained in alcohol, tannin, oak and ripeness of fruitiness) reminiscent of red Bordeaux, which the Brits used to call "Claret" (Downton Abbey fans will recall that Mr. Carson was always decanting either a Port or Claret in his side-room).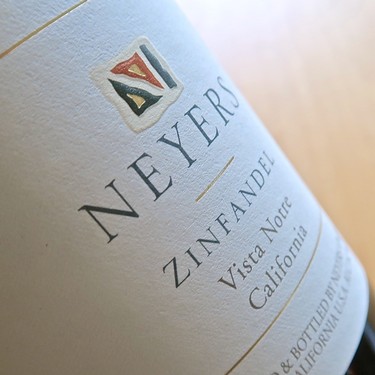 The 2018 Neyers Vineyards Vista Notre Zinfandel ($29) is sourced predominantly from Bokisch Vineyards' Vista Luna Vineyard, on a rocky, red clay hillside in Lodi's Borden Ranch AVA, blended with another site farmed by Lodi's Mettler Family Vineyards. Mr. Neyers likens this wine to the style of Sierra Foothills, although this part of Lodi is more like the Sierra "to hills" (where elevations are in the low to mid-200-ft. levels). The wine, as it were, combines the zestiness and restraint of Foothills style Zinfandels with the effusive, pliant, come-hither qualities that are quintessentially "Lodi." In the latter respect, the Zinfandelishness is absolutely brimming in pure, unfettered raspberry/cherry sensations. If a wine could sing (which this one does), it would be a young and tender, cherry red lipsticked Natalie Wood voiced over by Marni Nixon (I feel pretty...).
Neyers himself does not exaggerate when he describes the Vista Notre's palpable exuberance and grace as a "combination of minerality coupled with freshly squeezed raspberry" that is basically "irresistible."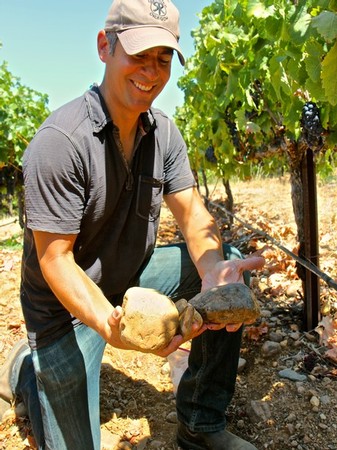 Going further, Mr. Neyers tells us:
For the past decade or so we relied on a single vineyard in the Borden Ranch AVA for these grapes, but in 2018 we added fruit from two neighboring vineyards, each with similar characteristics. We can no longer call the wine "Vista Luna Vineyard" now, so we call the wine "Vista Notre," thinking of it as our vision of Zinfandel grown in these conditions. All three vineyards are in the same general area of the Sierra foothills, so they share a similar terroir and climate. The result is a style built around ripeness with low alcohol, and we've grown increasingly comfortable with this combination of bright fruit, low alcohol, and attractive minerality.
Needless to say, if you're going to have your hollandaise, asparagus, French bread, and steak celebration, a choice of almost any of Lodi's own Cabernet Sauvignons or more balanced styles of Zinfandel (see our post on How to delineate Lodi's proliferating styles of Zinfandel) would serve you well.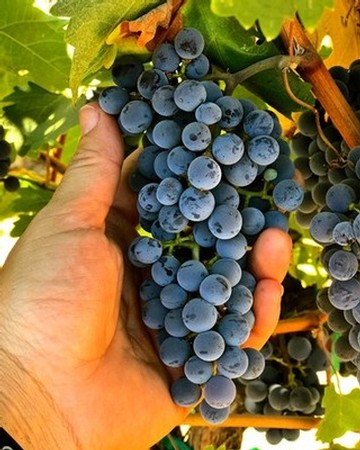 Cabernet Sauvignons grown in Lodi are, by nature, smooth and round, owing largely to the region's benign Mediterranean climate: wine grapes growing in Lodi soak in ceaseless light from the second the sun rises over the Sierras to the second it sinks into the Delta, and then get their beauty sleep when evening summer temperatures dip into the 50°s. This softens tannin and intensifies varietal fruit qualities in black-skinned grapes like Zinfandel and Cabernet Sauvignon — hence, the inherently round and friendly "Lodi" style of these wines. Very hollandaise-and-asparagus friendly.
Case in point: The latest pair of Delicato Family Wines' Cabernet Sauvignons bottled under their "1924 Limited Edition" label, both grown primarily in the family's Clay Station Vineyard located in the rolling, rocky, red clay-crusted slopes of Lodi's Borden Ranch AVA, just on the other side of the hill from Bokisch's Vista Luna Vineyard.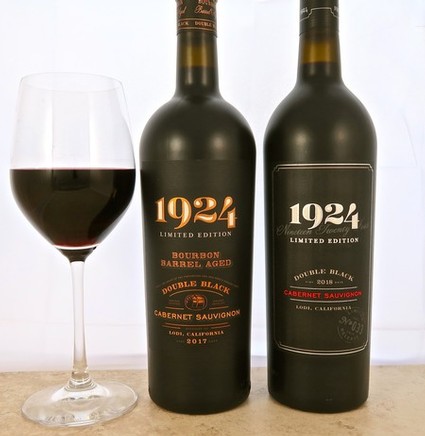 The 2018 Double Black 1924 Lodi Cabernet Sauvignon ($12-$13) is bright and buoyant in black cherryish varietal fruit, with discreet vanillin/spice notes of oak adding to a velvety smooth, medium-bodied feel.
The 2017 Double Black 1924 Bourbon Barrel Aged Lodi Cabernet Sauvignon ($12-$13) is the aforementioned wine's near-twin in its round, velvety, black cherry profile; only, with a little more vividly red "lipstick" in a way of a slightly smoky, caramelized note adding a touch of va-va-voom to the appeal. There is a well-known winemaker in Lodi who often says, "Putting Zinfandel in French oak is like putting lipstick on John Wayne" — whereas Cabernet Sauvignon has always been known to soak up lots of any kind of oak barrel aging, French or otherwise. Unlike Zinfandel, it's hard to "over-oak" Cabernet Sauvignon.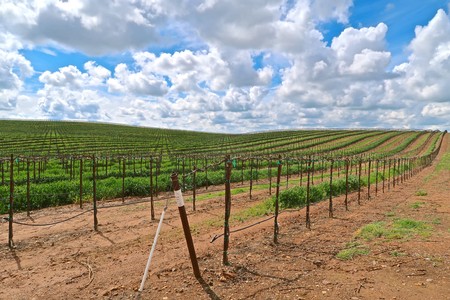 For a deeper dive into Lodi's most recent releases of premium ($18 to $50) to ultra-premium (anything over $50) bottlings of Cabernet Sauvignon, please visit our recent post on Lodi-winemakers assess a current crop of Lodi-grown Cabernet Sauvignons.
Barbara Neyers' Classic Hollandaise Sauce
Yields 1 cup
4 egg yolks
1 tablespoon freshly squeezed lemon juice
1/2 cup unsalted butter melted
Pinch of salt
Whisk egg yolks and lemon juice in a stainless-steel bowl until the mixture is thickened. Place the bowl over a saucepan containing barely simmering water (you can use a double boiler). The water should not touch the bowl. Continue to whisk and slowly drizzle in the melted butter until the sauce is thickened and doubled in volume. Remove from heat and whisk in the salt.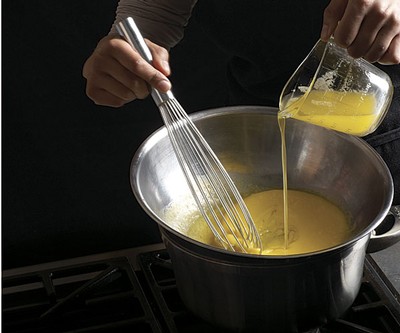 Whisking in butter to make hollandaise (image courtesy of finecooking.com)
Comments