Letters from Lodi
An insightful and objective look at viticulture and winemaking from the Lodi
Appellation and the growers and vintners behind these crafts. Told from the
perspective of multi-award winning wine journalist, Randy Caparoso.

June 15, 2019 | Randy Caparoso
Part 2: The Wine Compass' opus on the unique, unusual and unconventional wines of Lodi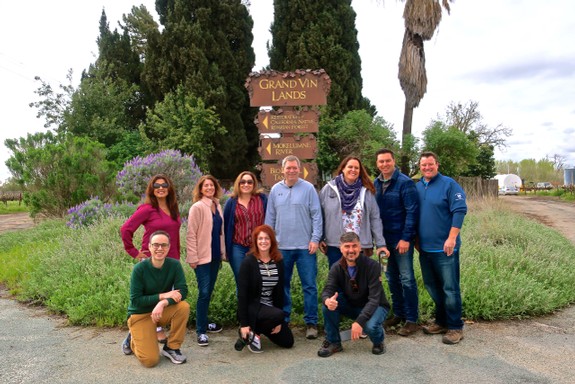 Continuation from The Wine Compass' opus on the long history and new iconic whites of Lodi (Part 1)
Is that all there is? -Peggy Lee
Much of the wine media, including almost everything you find in the blogosphere, is focused on same ol', same ol'. Yeah, we know that French grapes like Cabernet Sauvignon, Chardonnay and Pinot noir produce great wines, which is why Americans, Australians, Chileans, Canadians, Texans, South Africans, and seemingly everyone else is the world is obsessed with producing pretty much the same kind of stuff.
But for wine scribes like Wine Compass' Todd Godbout, this is just not enough. His curiosity leads to discovery of vinous joy in the most unsuspected (at least to anyone but Godbout) places.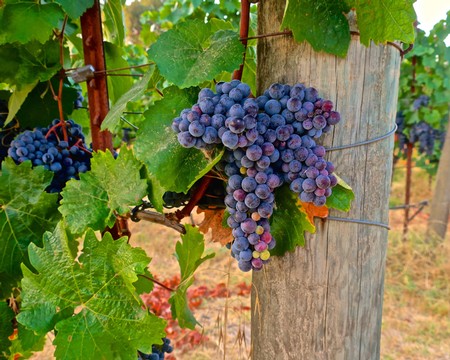 Mr. Godbout's most recent blog post, for instance, is on Missouri winegrowing at Vox Vineyards. But not the usual Missouri wines, but rather on wines made from grapes like Albania, America, Brilliant, Carman, Cloeta, Delicatessen, Favorite, Lenoir, Lomanto, Marguerite, Muench, and Wetumka. Writes Godbout, "These are winegrapes that were once grown in Missouri and middle America prior to Prohibition" – all but forgotten, but for "the rigorous breeding programs of viticulture pioneers Thomas Volney Munson, Hermann Jaeger, George Husmann, and Isador Bush."
Historic grapes rescued from neglect, passionate growers, intrepid vintners, and the result: genuinely interesting, exciting wines, worth any wine aficionado's time and attention.
Hence, Mr. Godbout's fascination with the grapes and wines he has found in Lodi as a result of a recent 4-day swing, this past March 31-April 4, with five other high profile contributing editors for Snooth, the immensely popular online buying guide and wine store.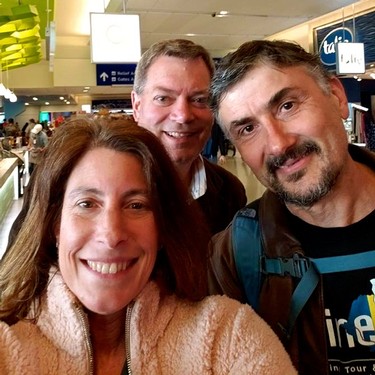 In "Part 2" of our compilation of Mr. Godbout's recent seven posts on Lodi wines and winegrowing, we're covering the following three of his chosen subject matters:
• Turley Wine Cellars Old Vine Cinsaut and Zinfandel
• Prost from Mokelumne Glen Vineyards (German and Austrian varietals)
• Lodi Wine – the Unique, Unusual and Unconventional
Not too many journalists of any sort, for one, have the opportunity to taste, with acclaimed winemaker Tegan Passalacqua, a vertical (i.e. multiple vintages) Turley Wine Cellars Zinfandel from Lodi's Dogtown Vineyard – one of the five Lodi vineyards sourced by this prestigious Zinfandel specialist – going back to 1997. By the same token, not too many American vineyards bother growing grapes like Kerner, Zweigelt, Blauefränkisch, Dornfelder or Mencía, and Godbout duly reports on these Lodi grown wines with the same zeal and thoroughness he applies to Missouri grown Albania and Wetumka. Someone has to, and kudos to Godbout for having the journalistic cojones to do that!
Mr. Godbout's final three chapters, originally posted in Wine Compass, rounding out his Lodi opus: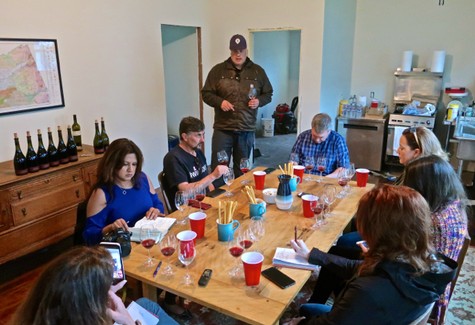 Lodi Wine: Turley Wine Cellars Old Vine Cinsault & Zinfandel
The quality of Lodi wine grapes is not only evident in the excellent wines made by Lodi wineries, but also the wines produced by non-Lodi wineries. One example is Turley Wine Cellars, who largely make single vineyard-designate wines, with several focusing on Lodi old vine Zinfandel and Cinsaut. This Napa Valley based winery has tasting rooms in Paso Robles and Amador County, and sources fruit from several of Lodi's old vine vineyards such as the Bechthold Vineyard, Kirschenmann Vineyard, Dogtown Vineyard, and Steacy Ranch. During our Snooth-Lodi visit, Turley Director of Winemaking Tegan Passalacqua introduced us to these vineyards through a couple of verticals within a single vineyard-designate and a horizontal across multiple vineyards.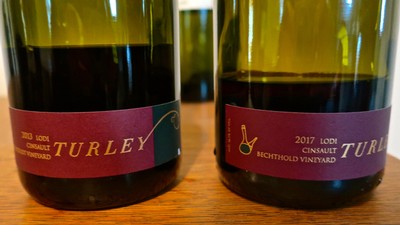 The Bechthold Vineyard
Much has been written about the famous Bechthold Vineyard – not only the oldest continually planted vineyard in Lodi but also in the world. The vineyard was first planted by Joseph Spenker in 1886 as Black Malvoisie. The self-rooted vines are not as susceptible to phylloxera (a root louse that eats away at roots near the surface) because of the extremely sandy (Tokay series) soils in the Mokelumne River AVA. That was not the case in Europe where phylloxera ravaged vineyards in the late 19th century until their vines were grafted upon American rootstock. Because the Bechthold grapes were believed to be Black Malvoisie, they carried little interest to commercial winemakers and were instead sold to home winemakers or shipped out of state. Al Bechthold, who farmed the vineyard from the mid-seventies until 2008, claimed "I came very close to pulling the entire vineyard several times… the only thing that kept that from happening was my age!" Fortunately, before he could replant the vineyard, Kay Bogart from the Department of Viticulture & Enology at UC Davis suggested DNA testing, and in 2003 UC Davis determined the grapes were Cinsaut.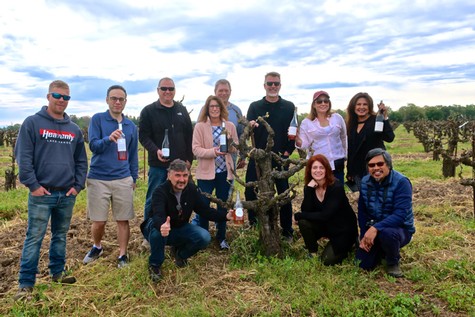 Turley is one of nearly a dozen wineries able to source this fruit from Bechthold where they harvest a plot at the north-west corner of the vineyard. Passalacqua was attracted to the vineyard because "...wet years, dry years, early years or late years – there's nothing an old vineyard like this hasn't seen and almost nothing that it can't adjust to on its own. And Bechthold Vineyard defies what a lot of people think of Lodi wines. It makes a red wine that is not heavy, not high in alcohol, but rather, light and refreshing. It reminds me of crus Beaujolais in some ways – it has structure, but also high drinkability, and its aromatics are intoxicating, extremely perfumed. Some say, as a grape, Cinsault makes a simple wine, but we do whole cluster fermentation, which adds a lot of complexity."
We compared two Cinsauts by Turley, the 2013 Lodi Cinsault Bechthold Vineyard and the 2017 Lodi Cinsault Bechthold Vineyard ($20). The later is fresh and bright with a solid fruit structure of tart raspberries. The grapes were fermented whole clustered so expect subtle tannins but loads of acidity. The 2013 retains similar brightness with the acids pushing the fruit forward. There was also more tannic structure providing a denser wine. Two delicious wines.
Dogtown Vineyard
The Dogtown Vineyard was planted own-rooted in 1944 and is located on the eastern side of Lodi within the Clements Hills AVA. The region is warmer and wetter with more clay and volcanic soils in contrast to the sandy Mokelumne River AVA. Turley took over management in 1997, which required the replanting of dead spots with vines grafted to St. George rootstock. And even these juvenile vines are head-trained like the original vineyard; this trellis system creates the gnarly look of each vine and limits yields. Dogtown is also dry farmed because, says Passalacqua, "dry farmed vineyards produce superior wine" (citing Caparoso, lodiwine.com). All of Turley's wines are fermented using wild yeast as Passalacqua noted this "gives you more complex wines, with more terroir distinctions." During our visit with Tegan, he presented a vertical tasting of three Dogtown Zinfandels: the 1997, 2010, and 2013 Lodi Zinfandel Dogtown Vineyard. The 2013 showed noticeable leather and tea mixed with sour cherries and great acidity. Still a show-off. The 2010 had lower amounts of each characteristic but the wine's acidity still made it playful. Finally, the 1997, the first vintage after Turley took over the property's management, still shows the potential of the vineyard. The fruit is slightly waning but there are boosts of acid that keep the wine lively and not flabby.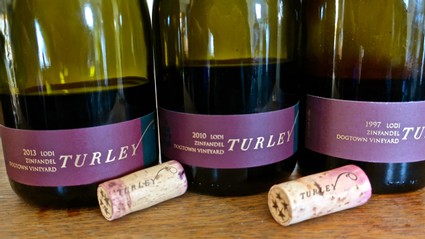 Kirschenmann Vineyard & Steacy Ranch
The Kirschenmann Vineyard hosts ancient vine Zinfandel as it was planted, own-rooted, back in 1915. Passalacqua owns and farms this vineyard which contains the ultra-sandy soils of the east side of the Mokelumne River AVA. Tegan has also discovered that deeper sediment contains limestone – a most coveted soil type. Like Dogtown, the vineyard is dry farmed and head-trained, but unlike Dogtown the vineyard receives a heavier dose of the Delta breezes which help cool the grapes (Caparoso).

The Steacy Ranch is another ancient vineyard (first planted in 1907) located on the east side of the Mokelumne River AVA, but this is the oldest vineyard in Lodi planted on St. George rootstock. Like the rest it is dry farmed and the soils consist of sandy soil typifying the Mokelumne River. The older vines are harvested together to form the Turley Lodi Zinfandel Steacy Ranch, whereas the younger vines are picked separately and designated for Turley's "Juvenile" program.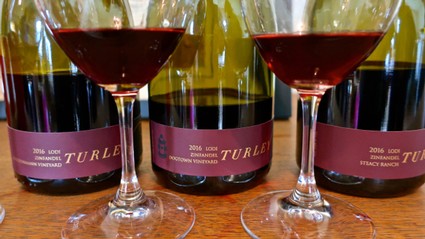 Tegan provided an opportunity for a horizontal tasting for 2016 across these two vineyards as well as the 2016 from Dogtown Vineyard. Each was distinct, representing the features of each vineyard. The 2016 Lodi Zinfandel Kirschenmann Vineyard ($39) was the lightest and brightest of the trio with bright, bright cherries. Passalacqua noted this was the most Pinot-ish of his Zinfandels. The 2016 Lodi Zinfandel Steacy Ranch ($30) was meatier in the classic east side Mokelumne River style. The wine was darker, firmer, zestier, with some black tea, but abundant acids. The 2016 Lodi Zinfandel Dogtown Vineyard ($44) was the biggest with solid tannins and funk but still finishing with bright acids. Of the three vineyards, the Dogtown has the smallest clusters and yields resulting in a dense wine. Cheers to Tegan Passalacqua and Turley Wine Cellars.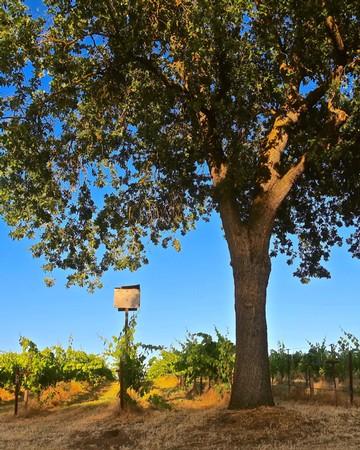 Lodi Wine: Prost from Mokelumne Glen Vineyards
During our Snooth trip to Lodi, a major theme stressed was the large diversity of grape varieties grown in the AVA. Over 100 in fact. But this number results primarily from the unique endeavor of one family, the Koths and Mokelumne Glen Vineyards. This vineyard is located on the east side of the Mokelumne River AVA right alongside the Mokelumne River, and is planted with more than 50 German and Austrian grapes. It's hard to imagine that there are even that many such grape varieties, but the Koths found them. Their entire portfolio is listed below, but we will be focusing on a few grapes: Kerner, Bacchus, Dornfelder, Blaufränkisch, and Zweigelt.

It all started in the early 1990s when Bob Koth and his wife Mary Lou started traveling to Germany to visit their daughter Ann-Marie, who was studying abroad on a Fulbright scholarship. After becoming acquainted with German wine, Koth was determined to grow the Northern European grapes in Lodi's Mediterranean climate. Randy Caparoso, in the Lodi Wine Blog, explains how this was possible:
No doubt, the immediate proximity to the river's cool, refreshing waters (you still find local kids splashing away on hot summer days) helps to moderate the Mediterranean climate in the Koth family's lush, shaded corner of the wine world.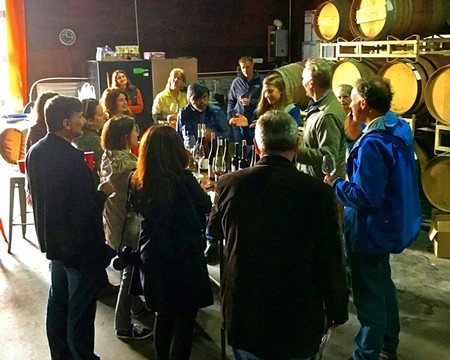 Furthermore, classic Mokelumne River AVA Tokay sandy loam – basically, a deep, fertile yet porous, slightly alkaline (pH of 7.0 to 7.5 below 4 feet) pile of finely crushed granite accumulated over thousands of years of run-off from the Sierra Nevada mountains to the east – helps contribute to retention of natural acidity in grapes cultivated by Koth, even in this Mediterranean setting.
Our group was introduced to Mokelumne Glen Vineyards through a tasting of various wines produced by MGV grapes and a vineyard tour led by vineyard manager Brett Koth. The vineyard itself is nondescript and overgrown with cover crops. Walking deeper into the vineyard leads to newer plantings and a slope down to the Mokelumne River which often floods lower plots. But out of these seemingly abandoned and overgrown vines derives wonderful and complex wines.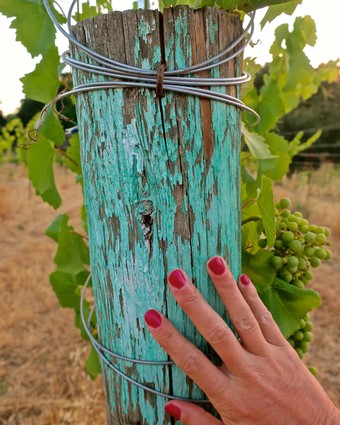 A perfect example is the Markus Wine Company Markus 2016 Nativo ($22), a blend of 69% Kerner, 21% Riesling, 10% Bacchus. MGV is the only source of the rare Kerner grape in California and accounts for 50% of the total crop in the United States. This was my favorite white of the tasting and one I brought home with me. The three lots are picked on the same morning and pressed together to co-ferment as a traditional field blend. The wine aged on its lees, which provides a little texture for this citrus, stone fruit, and minerally driven wine. The winery also produces the Markus 2016 Nimmo ($24) which is a 64% Kerner, 16% Riesling, 5% Bacchus blend from MGV plus 15% Gewürztraminer from Grand Island Vineyards, Clarksburg. Here's how Markus Niggli describes the wines and Mokelumne Glen Vineyards.
I applaud the Koth family for having so much passion for these unknown varietals that they are willing to plant them, even facing the troubles of selling them. I believe others can learn from them. The microclimate at the lower level of the vineyard is very diverse. It is the coolest spot in the morning but restores the warmth at the end of the day. A perfect site to grow grapes. We are trying to showcase that in our wines. Our wines are light and refreshing, the acid is focused and the fruit is showcasing what Lodi can offer. A perfect example is the Nimmo blend: The Kerner has the minerality and flintiness, the Riesling the sweetness, the Gewürztraminer the spice, and the Bacchus the acidity, layered by the oak profile.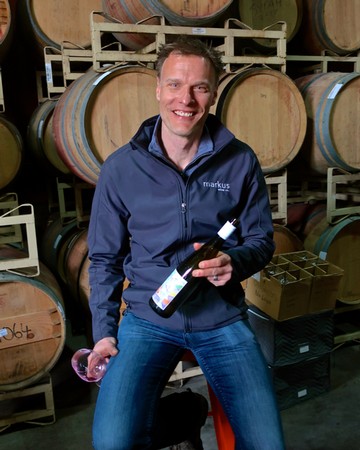 Mokelumne Glen grapes are also in high demand outside of Lodi with Sonoma's Sidebar Cellars also attracted to Kerner. Sidebar is a project from David Ramey and Ramey Wine Cellars focused on "fun and diverse" grape varieties. And their 2018 Kerner Mokelumne River-Lodi ($25) is fun; expect bright floral aromas and acidity enveloping a textured citrus and peach core with layers of minerals and spices. According to Ramey's Associate Winemaker Lydia Cummins:
We have been working with the Bob and Brett Koth since 2014. Collaborating with such passionate growers is a true pleasure... Kerner is an aromatic white grape that was developed in the late 1920s in Germany. It is a cross between Trollinger (a red variety also known as Schiava) and Riesling and is grown most widely in Germany, Austria and in Northeastern Italy in Alto-Adige. Kerner produces wines with some of the best qualities of Riesling (the gorgeous aromatics and crisp, mineral-laced acidity) paired with the mouth-filling, beautiful palate of Gewürztraminer. Some Kerners are made with residual sugar to balance acidity, but they can be problematic when pairing with food. We make ours dry so it pairs exceptionally well. We whole cluster press our Kerner for phenolic delicacy. We ferment the juice in small stainless steel barrels using native yeast and age the wine sur lie for three months. It does not go through malolactic fermentation. We lightly fine our Kerner and bottled unfiltered.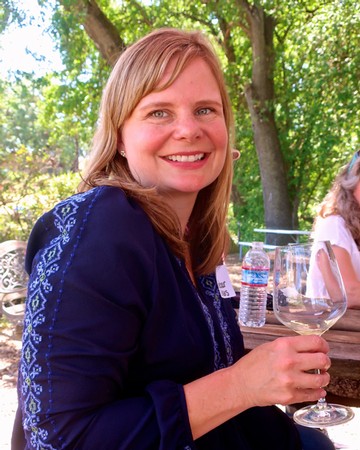 Dornfelder is one of the 16 red grape varieties grown by Mokelumne Glen Vineyards and is a dark-skinned German variety. It was created by August Herold in 1955 at the grape breeding institute in Weinberg. PRIE Winery crafts the 100% 2017 Dornfelder ($27) using a combination of MVG's older (~70%) and newer (~30%) plantings. Like a good German grown Dornfelder, this wine has rich layers of black and blue fruit with approachable tannins and acidity. And quite savory.

Trail Marker Wine Company is another non-Lodi operation sourcing MGV fruit and owners Drew Huffline and Emily Virgil were present to pour their unique California Zweigelt and Blaufränkisch. They noted that:
We fell in love with the story of the Koth Family planting all these ultra-obscure varietals out in the middle of Lodi. We were also drawn to the varietals themselves and the opportunity to tell our own story with these wines. Trail Marker's focus is primarily on Chardonnay and Pinot Noir but at this point, just about everyone has an opinion of what "California Chardonnay" or "California Pinot Noir" should taste like - for better or worse. NO ONE has an opinion of what "California Zweigelt" or "California Blaufränkisch" should taste like!
And with the Trail Marker 2017 Lodi Zweigelt ($27), expect a similar profile as the PRIE Dornfelder but replace the black and blue fruit with sour cherries.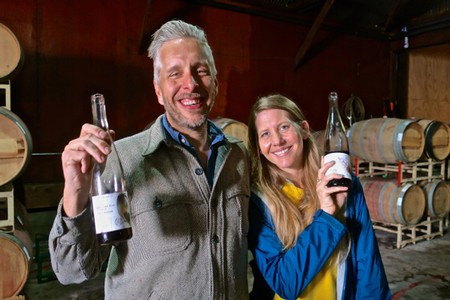 Regular readers of Wine Compass are familiar with our obsession with Blaufränkisch and its Hungarian equivalent Kékfrankos, so I was pleased to see the Trail Marker 2017 Lodi Blaufränkisch on the tasting menu. In general, Hungarian Kékfrankos provide similar weight, acid, and structure as old world Pinot noir with more spice and tarter fruit flavors. The Trail Marker Blaufränkisch has a similar character with more expressive fruit and less spice.
Hatton Daniels Wine Cellars also produces a pleasant and well-made MGV Blaufränkisch. Owner/winemaker Dan Fishman prefers to source fruit from vineyards where the owner/manager actually lives on-site, as "this is better than any certification for indicating someone who really cares for the land, and obviously the Koths exemplify this idea." He also believes that Mokelumne Glen Blaufränkisch provides the most depth and character of the MGV red grape varieties he works with and comes close to the Austrian versions "in terms of the fruit character and complexity." Their Hatton Daniels 2018 MGV Blaufränkisch ($24) is both weighty and complex with bright fruit and approachable tannins. Cheers to Blaufränkisch and the other Mokelumne Glen grape varieties.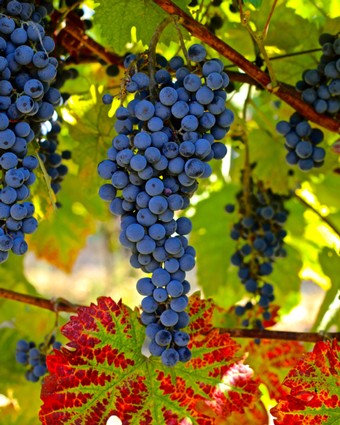 Mokelumne Glen Vineyards Red Grapes
Affentaler, Blaufränkisch, Blauer Portugieser, Cabernet Dorsa (Dornfelder x Cabernet Sauvignon), Domina (Blauer Portugieser x Pinot noir), Dunkelfelder (Färbertraube x Blauer Portugieser), Dornfelder (Helfensteiner x Heroldrebe), Frühburgunder (a.k.a. Pinot noir Précoce), Regent ([Silvaner x Müller-Thurgau] x Chambourcin), Rondo (Zarya Severa x St. Laurent), Rotberger (Trollinger x Riesling), Schwarzriesling (a.k.a. Pinot Meunier), Spätburgunder (a.k.a. Pinot noir), St. Laurent, Trollinger, Zweigelt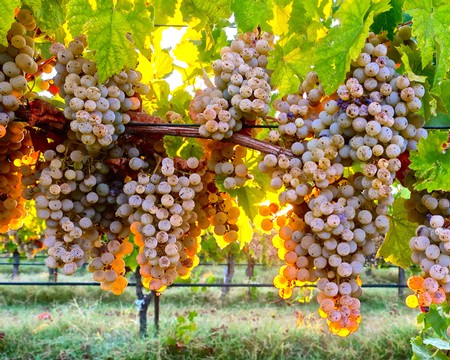 Mokelumne Glen Vineyards White Grapes
Albalonga (Riesling x Silvaner), Arnsburger (Riesling Clones 88 x 64), Bacchus (Silvaner x Riesling), Ehrenfelser (Riesling x Silvaner), Faberrebe (Pinot blanc x Müller-Thurgau), Forta (Silvaner x Madeleine Angevine), Gewürztraminer, Grüner Veltliner, Gutedel (a.k.a. Chasselas), Huxelrebe (Gutedel x Courtiller musqué), Kanzler (Müller-Thurgau x Silvaner), Kerner (Trollinger x Riesling), Morio Muscat (Silvaner x Pinot blanc), Müller-Thurgau (Riesling x Madeleine Royale), Noblessa (Madeleine Angevine x Silvaner), Optima ([Riesling x Silvaner] x Müller-Thurgau), Oraniensteiner (Riesling x Silvaner), Ortega (Müller-Thurgau x Siegerrebe), Perle (Gewürztraminer x Müller-Thurgau), Phoenix (Bacchus x Villard blanc), Prinzipal (Geisenheim 323 58 x Ehrenfelser), Räuschling, Riesling, Riesling Clones (49, 110, 198, 239, 218 N356, Martini S10), Roter Veltliner, Rotgipfler (Traminer x Roter Veltliner), Rulander (Pinot gris), Scheurebe (Riesling x unknown), Schönburger (Pinot noir x [Chasselas x Muscat Hamburg]), Siegerrebe (Madeleine Angevine x Gewürztraminer), Sirius (Bacchus x Müller-Thurgau), Silvaner, Traminer, Weißburgunder (Pinot blanc), Würzer (Gewürztraminer x Müller-Thurgau)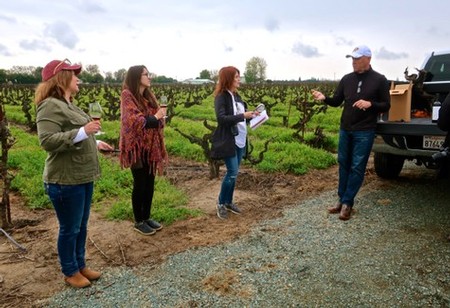 Lodi Wine: The Unique, Unusual, and Unconventional
During our Snooth-Lodi Wine trip there were dozens of wonderful wines that we sampled that could keep us writing for months. But in order to conclude our series on Lodi wines, this post will focus on several wines worth mentioning – emphasizing wines made from unconventional grapes or a unique Lodi heritage. Note also that most of the information regarding the grape varieties come from wine-searcher.com.
Reds
St. Amant Winery 2017 Lodi Barbera ($18) - Barbera is a dark skinned wine grape variety found in several Italian wine regions, including its native Piedmont, Emilia-Romagna, Puglia, Campania and even the island regions, Sicily and Sardinia. At the turn of the 21st century, it was Italy's third most-commonly planted red wine grape, after Sangiovese and Montepulciano. In Lodi, Barbera thrives in its Mediterranean-like climate and this wine derives from a 57-year-old vineyard. It's also one I brought home afterward.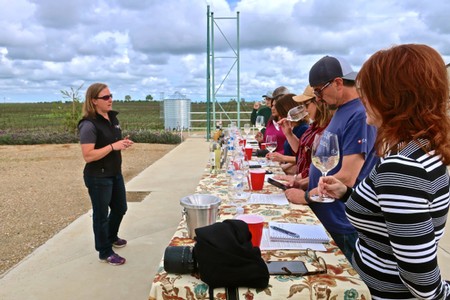 Bokisch Vineyards Las Cerezas Vineyard Mokelumne Glen-Lodi Graciano 2016 ($28) - Graciano is a black-skinned wine grape from northern Spain, grown principally in Navarra and Rioja where the classic Graciano wine is moderately tannic, deeply colored and intensely perfumed, with aromas of mulberry, violets, and chocolate. Bokisch Vineyards is the leading producer of Spanish style wines in Lodi, as founder Markus Bokisch's family history is centered upon Catalonia, Spain. This wine nails the chocolate descriptor and is noted for its long silky smooth finish.

Anaya Family Vineyards 2016 Clements Hills-Lodi Nebbiolo - Nebbiolo is the quintessential Piedmontese wine grape – the dominant variety in five of the region's DOCGs and numerous DOCs, the most notable of which are Barolo and Barbaresco. Nebbiolo reds are distinguished by their strong tannins, high acidity, and distinctive scent. Anaya Family is a new Lodi winery located in the Clements Hills AVA that has been growing grapes for over a decade, and is now venturing into producing their own label. Besides the intense tannins and acidity, this wine is very drinkable now but these characters will allow it to age wonderfully.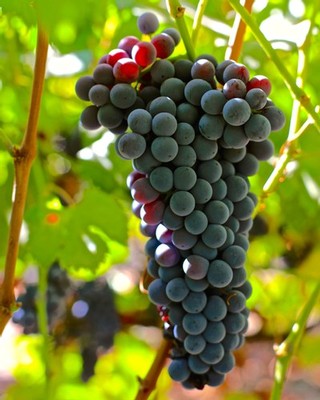 Fields Family Winery 2011 Lodi Tempranillo ($28) - Tempranillo is a red grape variety which forms the backbone of some of the finest wines from Spain and Portugal. Almost every red wine from Rioja and Ribera del Duero has Tempranillo at its core, and in Portugal, the variety is widely used in the Douro Valley – under the name Tinta Roriz – both for table wines and fortified wines (Port). It is a thick-skinned red grape making deeply colored wines with moderate tannins. The grapes for Fields Family Wines' Tempranillo are from the McCay Cellars' Lot 13, a vineyard originally planted in 1915. Lot 13's Tempranillo was planted in the late 1990s, and was among the first Tempranillo vineyards in Lodi. This wine explodes in the mouth, like Pop Rocks, juicy, then structured and has a pleasant finish.

McCay Cellars 2015 Lodi Grenache ($35) - Grenache (a.k.a. Garnacha) is a red wine grape grown extensively in France, Spain, Australia, and the United States. It is particularly versatile both in the vineyard and the winery, which may explain why it is one of the most widely planted grapes in the world. The fruit for McCay Cellars' Grenache comes from the Abba Vineyard in the Mokelumne River AVA and it is fresh and clean, fruit forward, and was also excellent with Lodi's M Sushi Bistro's tuna tartare.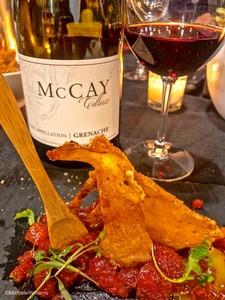 Mettler Family Vineyards 2015 Lodi GSM ($35) - A beautiful blend of three Rhône varietals: Grenache, Syrah, Mourvèdre. All three of these varietals trace back to the Mediterranean coast and thrive in the Lodi climate. Mettler Family blends the three grapes poetically together, each bringing a different flavor profile. Grenache adds a fresh raspberry flavor. The Syrah brings savory dark fruit flavors and a velvety mouth-feel. Mourvèdre adds a nice tannin structure and herbaceous aromas.

Klinker Brick Winery 2015 Lodi Carignane ($25) - Carignan or Carignane (Cariñena in Spain) is a black skinned wine grape variety, most likely native to Aragon. The variety is found in wines along the Mediterranean coast, particularly in northeastern Spain and in France's Languedoc-Roussillon region. It is used most commonly for blending with many of the region's other key varieties – most famously Grenache, Syrah, and Mourvèdre. The grape prefers warm, dry climates when the grape can express high tannins, acid, and color. The Klinker Brick Winery's Carignane is produced from a 108-year-old, single vineyard block that, according to winemaker Joseph Smith, produces gripping tannins that only accentuate the soft cherry and earthy aspect of the wine.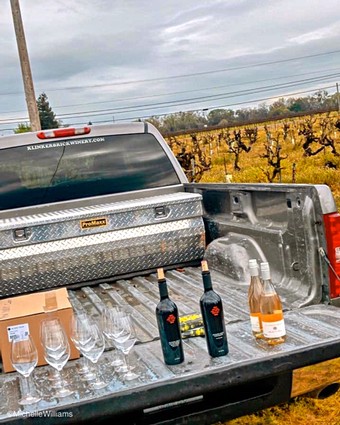 Todd Godbout enjoying Lodi hospitality at Mettler Family Vineyards
Mencía grown in Alta Mesa-Lodi's Silvaspoons Vineyards
Whites
Oak Farm Vineyards 2017 Estate Lodi Fiano ($25) - Fiano is a high-quality, white wine grape variety used widely in Southern Italy, particularly in Campania and the Fiano di Avellino DOCG. Used mainly as a varietal wine, Fiano is nutty and textured with floral and honeyed notes, spice and tropical fruit flavors like pineapple. In Lodi, Fiano was particularly special to the owners (the Panella family) of Oak Farm Vineyards because both the grape and the Panellas originated from Avellino in Italy.

Heritage Oak Winery 2018 Lodi Chenin Blanc ($18) - Chenin blanc is a versatile white-wine grape variety that has been cultivated in France for nearly 1300 years. It is most commonly associated with France's Loire Valley, and its high acidity levels mean it can be vinified in a number of different styles: as lusciously sweet, botrytis-affected dessert wines, light, honeyed sparkling wines and as full-bodied, still white wines. The Heritage Oak Chenin Blanc's lemon/pear fruit and fresh acids paired excellently with Lodi's M Sushi Bistro's seared filet of Hawaiian amberjack.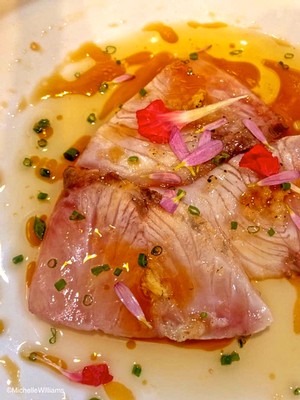 Klinker Brick Winery 2018 Mokelumne River-Lodi Grenache Blanc ($18) - Grenache blanc (Garnacha blanca in Spain) is the light-skinned mutation of Grenache noir. Although it is native to northern Spain, Grenache blanc is best known for its role in southern French white wines and in particular as part of the Châteauneuf-du-Pape blanc blends. Paired with oysters at M Sushi Bistro, the shellfish's saline character blended beautifully with the citrus and light pear flavors of the Grenache blanc.

Acquiesce Winery & Vineyards Mokelumne River-Lodi 2018 Clairette Blanche ($28) - Clairette blanche is a light-colored grape variety that grows throughout Southern France. This Acquiesce wine follows the LODI RULES certification for sustainable winegrowing, and the one-acre lot was planted with Tablas Creek (Paso Robles) cuttings from the famous French Château de Beaucastel estate in the Châteauneuf-du-Pape region. This wine is a light, refreshing, and an easy sipper.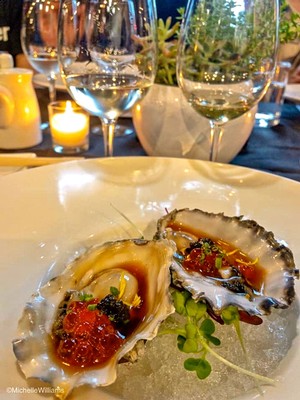 Acquiesce Winery & Vineyards Mokelumne River-Lodi 2018 Picpoul Blanc ($28) – Picpoul blanc (a.k.a. Piquepoul) is an ancient white wine grape variety of the traditional and prolific Languedoc-Roussillon region in southern France. The name pique-poul translates literally as "stings the lip", and is a reference to the grape's mouthwateringly high acidity. This Acquiesce wine also follows the LODI RULES certification for sustainable winegrowing, and the 1.3 acres are planted with Tablas Creek cuttings from the famous Château de Beaucastel in Châteauneuf-du-Pape. This is one refreshing wine, playful throughout.

Bokisch Vineyards Clay Station Vineyard Borden Ranch-Lodi Verdejo 2018 ($20) - Verdejo is the aromatic grape variety behind the crisp white wines of Rueda in central Spain. Full-bodied Verdejo wines are held in high regard, displaying herbaceous, nutty characters with balanced acidity and some cellaring potential. Once again Bokisch Vineyards excels with this Spanish varietal, which features creamy pears and a zesty finish.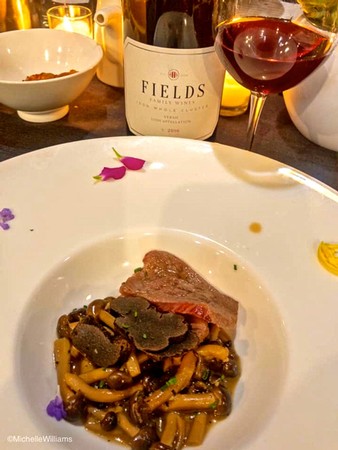 Ironstone Vineyards 2017 Obsession Lodi Symphony ($14) - Symphony is a Californian crossing of Muscat of Alexandria and Grenache gris developed in 1948 (but not commercially released until 1982) by the late Harold Olmo, professor of viticulture at the University of California, Davis. As its pedigree suggests, it is an aromatic variety with slightly spicy flavors. This version is highly aromatic with a fresh and spicy finale.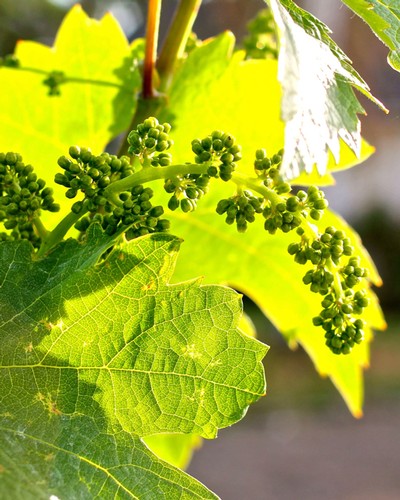 Comments