Letters from Lodi
An insightful and objective look at viticulture and winemaking from the Lodi
Appellation and the growers and vintners behind these crafts. Told from the
perspective of multi-award winning wine journalist, Randy Caparoso.

August 31, 2022 | Randy Caparoso
PRIE Vineyard's road to discovery of new grapes and wines ideal for Lodi's Mediterranean terroir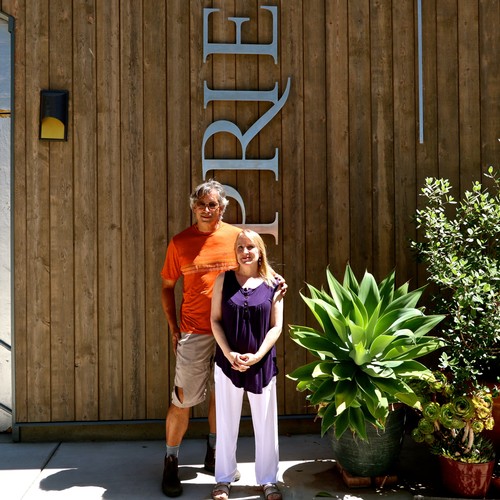 It was only ten years ago when PRIE Vineyard & Winery's John and Lisa Gash moved from Livermore Valley to join the Lodi winegrowing community by purchasing a home and 8.5-acre vineyard on Alpine Rd. previously planted to Cabernet Sauvignon. They built a spiffy, new winery with a 2,000-case capacity—the most they originally planned to produce—and a cozy tasting room (opened to the public in 2015) that eventually proved to be so inadequate that they now do their tastings outdoors, under the shade of their towering oaks.
That wasn't the only thing that didn't go exactly according to plans. The major changes actually have more to do with an evolving approach, or philosophy, pertaining to winemaking and wines in general. "It's been a 10-year project," explains Mr. Gash, "switching out from Cabernet Sauvignon to other grapes, particularly Rhône varieties which stand a better chance of withstanding the heat, the water conditions and global changes in weather we're now experiencing."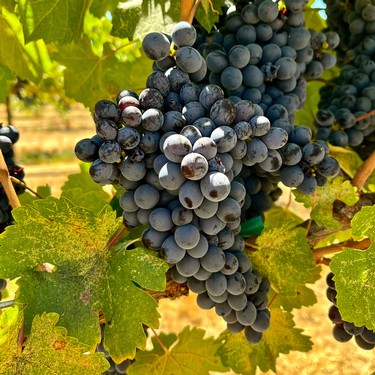 As of today, only two and a half acres of the original Cabernet Sauvignon vines remain, which the Gashes plan to tear out and replant very soon. Ms. Gash describes the newly planted grapes, seven different varieties in all, as reflections of "a road less traveled." These are largely underappreciated cultivars such as Grenache, Mourvèdre, Mencía, and Prieto Picudo. The latter, a grape that originated in Northern Spain, is unknown to virtually everyone, consumers and wine industry professionals alike, on this side of the Atlantic.
That said, who in their right mind would plant a grape called Prieto Picudo? The Gashes had their reasons. "We did our research," says Ms. Gash. "We already knew we love Mencía, and Prieto Picudo is a grape that is known to blend very well with Mencía"—the latter, a more widely known black-skinned Spanish grape because it is imported into the U.S. under varietal labels. The Gashes first began working with the Mencía grape, which produces deep-colored and sturdy red wines, five years ago (PRIE's original bottlings of Mencía were sourced from Silvaspoons Vineyards, located in Lodi's Alta Mesa AVA).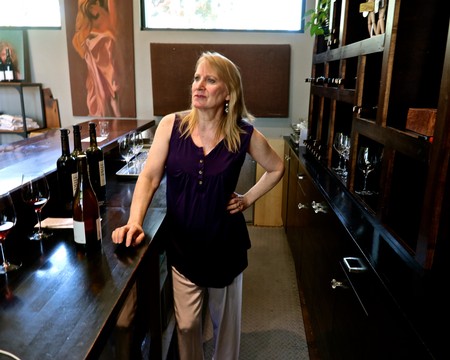 "I admit that we also planted Prieto Picudo going on a little bit of faith," adds Ms. Gash. "But descriptions of the grape sounded even more interesting than Mencía! You can also say we did it just for fun. After all, our entire vineyard has been a labor of love."
But here's the thing about the 2021 PRIE Mokelumne River-Lodi Estate Prieto Picudo ($35): It is a totally delicious, zesty, moderately weighted (at 13.3% alcohol, neither light nor heavy) red wine! The nose is nuanced, showing notes of dried berries (suggesting currants), a touch of blue fruit or elderberry-like ripeness, a smidgen of kitchen spice, plus a touch of minerality that lingers on into the finish on the palate.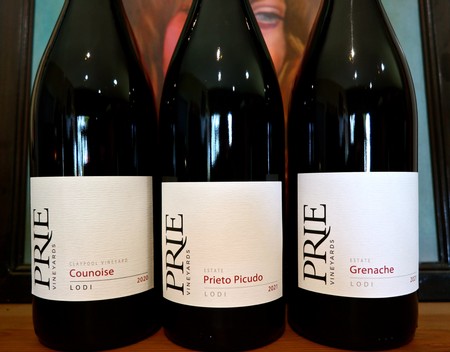 Another positive aspect of PRIE'S recent evolution has been a steady movement towards less and less oak influence in their wines. Their red wines benefit from barrel aging—in the case of the Prieto Picudo, the grape's evident intrinsic acidity as well as mildly gripping tannin are rounded out by a short time in oak—but what you perceive is the natural taste of the grape, not the toothpick-like bitterness so common in commercial red wines.
Another recently released red wine reflecting the Gashes' recent adaptation to the evolving Lodi environment is their 2021 PRIE Mokelumne River-Lodi Estate Grenache ($31), which weighs in at a lithe and nimble 12.8% alcohol. According to Ms. Gash, their estate Grenache was planted in 2017, primarily to the highly regarded Alban clone. This Grenache has a pale, slightly murky reddish color, reflecting the Gashes' preference for not filtering (if not very little filtration of) their wines, but the nose has a bright, ringing, floral quality suggesting red cherry/strawberry, a touch of black pepper spice, and a suggestion of grapefruit foreshadowing a soft yet lightly tart, zesty edged levity and feel.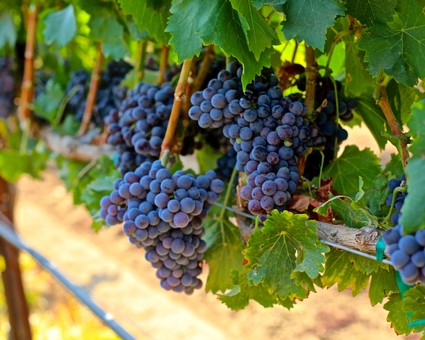 No wonder Grenache has been called, by other vintners, "Lodi's Pinot noir." Not that it is Pinot noir; but in Lodi's quintessential Mediterranean climate it yields red wines with a pervasive spice, perfume, and natural balance of acidity, tannin, and body that recall a good Pinot. "Grenache also makes a red wine that is definitely chillable," remarks Ms. Gash, "it can be enjoyed almost like a white wine, and with the same foods you'd drink with white wines."
Perhaps the most pleasantly surprising of all the wines in this winery's increasingly adventurous portfolio is their 2020 PRIE Claypool Vineyard Mokelumne River-Lodi Counoise ($33). As stated on the label, rather than grown in the Gashes' estate on the east side of Lodi, this wine comes from a vineyard owned by Dave and Tally Claypool, located along W. Sargent Rd. on the west side of the city.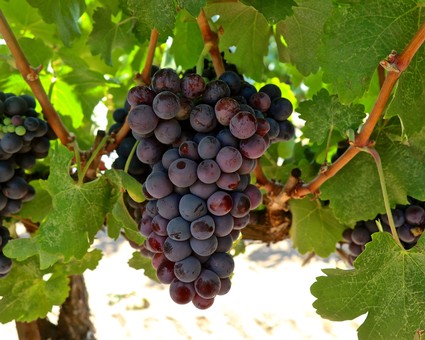 Mr. Gash explains how the Counoise came about: "The Claypools' property is farmed by the same people who manage our vineyard. When they were looking to replant, they asked us what grape we might want to see. Since one of the grapes on our own wish list was Counoise [a long overlooked black-skinned variety associated with France's Rhône Valley], I told them, 'If you plant Counoise, I'll buy it from you.'
"Counoise is perfect for a region like Lodi because it attains full ripeness at a lower Brix [i.e., grape sugar reading], so it can be picked earlier in the season with plenty of acidities yet lots of color and flavor. The Counoise we get from the Claypools, for instance, produces a full-flavored wine that is barely 12% alcohol. It is a grape that can do well in a warm climate. When you look at Lodi, it is at an intersection of what you find in Southern France and Spain."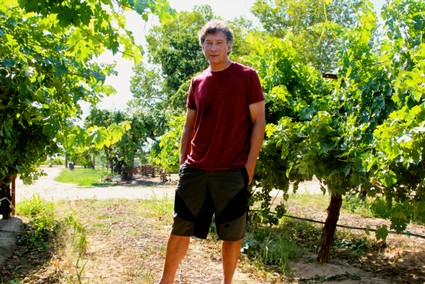 PRIE'S 2020 Counoise, in fact, is beautifully intense, while eminently bright, light, zesty, and silky. The aromas exude red and black cherry, fresh plum, and red licorice; the tannins are soft and rounded, but it is the natural acidity of the grape that plays up the exuberant fruit qualities which, in the PRIE style, are mercifully free of excesses such as oak or raisiny over-ripeness. Truly, the "discovery" of still another grape that is already proving to be ideal for Lodi's Mediterranean terroir!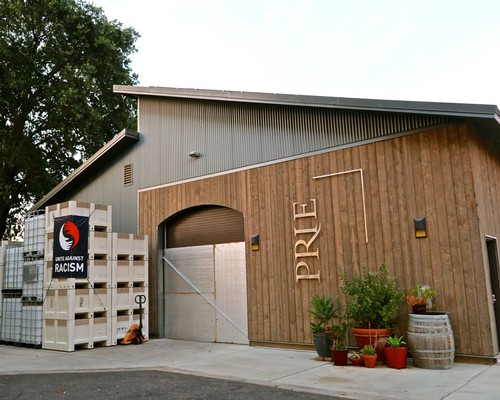 Comments