Letters from Lodi
An insightful and objective look at viticulture and winemaking from the Lodi
Appellation and the growers and vintners behind these crafts. Told from the
perspective of multi-award winning wine journalist, Randy Caparoso.

November 23, 2015 | Randy Caparoso
Oak Farm's contemporary style Grenache and Indigenous Zinfandel are perfect for Thanksgiving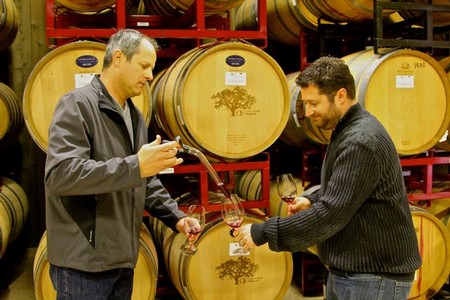 Chad Joseph and Dan Panella of Oak Farm Vineyards
It's been a good year for the Panella family of Oak Farm Vineyards. Visit Lodi! named Oak Farm their "Winery of the Year." And also this past spring, the 2014 Oak Farm Lodi Albariño ($19) received a unanimous Double Gold and was named "Best in Show White" as well as "Best in Region White" at the 2015 California State Fair Commercial Wine Competition.
The latter honors mean exactly what is implied: A white wine grown and produced in Lodi, according to a majority of judges after blind tasting through thousands of other wines, was good enough to be proclaimed the "best wine in the entire state," of any type, from any other California wine region, period. "It's the gift that keeps on giving," Oak Farm winemaker Chad Joseph tells us, in reference to the attention and industry-wide respect this recognition has achieved for the entire Lodi wine community.
It's been a good year for Lodi (see Why is Lodi the Wine Region of the Year?).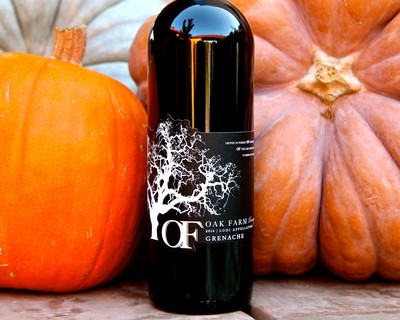 So then... what wine does Oak Farm Owner/President Dan Panella and his wife Heather Quaschnick Panella (General Manager) plan to enjoy with their Thanksgiving dinner (Heather is planning a barbecued turkey) next week? "No question, it's our 2014 Grenache," says Mr. Panella. Why the 2014 Oak Farm Lodi Grenache ($28)? "It's a light colored red wine that's definitely not light on flavor," he explains.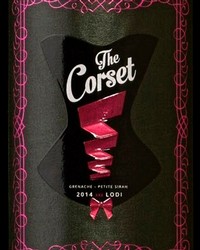 For such a pale colored red wine, the nose of the Oak Farm Grenache, to borrow a Trumpism, is huge – very pretty strawberry-towards-Bing-cherry fragrance tickling the nostrils like a feather – while on the palate, the feel is of lush, soft yet somewhat fleshy, mildly zippy flavors. Mrs. Panella comes right out and says, "It's my favorite Oak Farm wine – I just fell in love with it the first time I tasted it right out of the tank."
Funny thing, though, the Oak Farm Grenache was a wine that the Panellas and Joseph never intended to make. Says Mr. Panella, "We originally got the grapes from Ron Silva at Silvaspoons Vineyards with the idea of producing a red wine blend; since the industry has been trending towards blends, and customers in the tasting room are always coming in and asking, 'do you have some kind of blend?'"
Continues Panella, "We had a name and label designed. The wine was going to be called The Corset, and the plan was to blend the Grenache with Petite Sirah to make a wine that's rich and smooth, with a feminine touch. But once we combined all the barrels into a tank, the pure Grenache tasted so good we decided to hold some back to bottle separately."
Adds Mr. Joseph, "It's already been said that Grenache is the 'Pinot Noir of Lodi,' and I have to agree. The Grenache has the strawberry character like a lot of Pinots, and is somewhat Pinot-ish in terms of its light grip and long finish."
As it were, the winery is now offering its new blend of Grenache and Petite Sirah (22%): the 2014 Oak Farm Lodi The Corset ($27). In this wine, the pretty, red fruit perfume of the Grenache grape remains intact, but with touches of peppery spice and even a little bit of herbiness – like the woody stems of kitchen herbs – contributed by the addition of Petite Sirah. The feel is even rounder and fleshier than the pure Grenache, but is still soft, pliant, even delicate in the finish.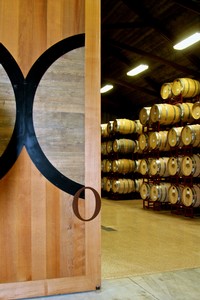 Says Joseph, "By naming it Corset we are suggesting a feminine take on a blend, and the wine is like that – pretty, subtle, and graceful despite the addition of Petite Sirah." Mr. Panella adds, "The Petite Sirah almost takes over the wine – it definitely changes it – so you can see why we wanted to bottle some of the Grenache separately."
That said, during Thanksgiving week the Oak Farm team is also proudly unveiling a third exciting release: the 2014 Oak Farm Indigenous Cemetery Vineyard Lodi Zinfandel ($32). Cemetery Vineyard is a moderately young planting (29-year-old head trained vines) located in Lodi's Alta Mesa AVA managed by Aaron Shinn, of a well respected multi-generational Lodi farming family.
The Indigenous moniker refers to the use of 100% native yeast fermentation – a slower method of fermenting wine than the conventional use of cultured yeasts, which more often than not results in a unique spectrum of flavor and textural nuances. In the case of the Indigenous, this is an extremely floral yet subtle style of Zinfandel, as opposed to one that is monochromatically fat and fruity in the ripe berryishness character more typical of Zinfandel bottlings.
The nose of the Indigenous is violet-like, with fragrant red cherry-berry undertones. Joseph describes the scent as "watermelonish, with herbal green notes sort of like thyme or tarragon, which linger in the finish." The wine glides gently onto the palate, with the lacy perfumed flavors revved up by zesty natural acidity, flowing like fingerlets through round tannins and a refreshingly restrained body (13.5% alcohol, which is low by conventional zin standards of today).
As a founding member of the Lodi Native group – which has been making waves over the past year and a half as Zinfandel specialists employing minimalist methodology to highlight qualities of select heritage vineyard sites – Mr. Joseph has had plenty of practice with this restrained style of Zinfandel, emphasizing balance and elegance rather than sheer weight and fruitiness. The only real difference between the Oak Farm Indigenous and the Lodi Native Zinfandels is that the Indigenous sees partial time in new French oak barrels (about 20%), which adds just a smidgen of smoky sweetness to the nose (Lodi Native rules prescribe aging only in older "neutral" barrels).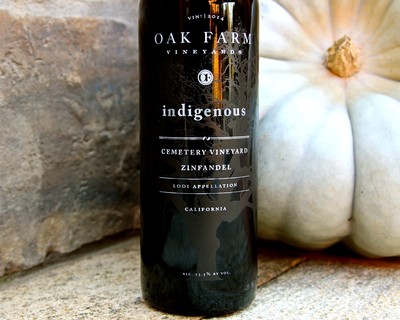 But between the Oak Farm Grenache, The Corset, and Indigenous Zinfandel, imagine the advantages of softer, mildly spiced, refreshing (as opposed to bludgeoning) styles of these red wines for dishes like, say, this Food Network recipe for North Carolina style barbecued turkey; which calls for brining in brown sugar, coriander and ginger, and a sauce of cider vinegar, ketchup, sugar, honey, kosher salt, cracked peppercorns and red pepper flakes.
With a turkey that glorifies a discreetly bodacious dose of fire and sweetness, you want softer style of red wines with with a little sass yet moderate alcohol levels that roll rather than fight with sweet/spicy/sour sensations in a dish. Getting hungry and thirsty yet? Bring on the Thanksgiving cheer and trimmings!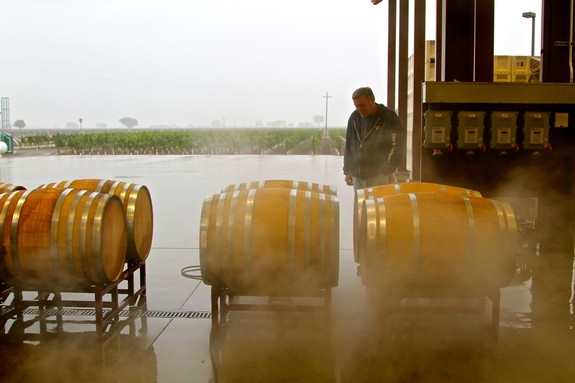 Oak Farm Cellarmaster Randy Ziegler steam cleaning barrels on overcast November day
Comments