Letters from Lodi
An insightful and objective look at viticulture and winemaking from the Lodi
Appellation and the growers and vintners behind these crafts. Told from the
perspective of multi-award winning wine journalist, Randy Caparoso.

April 15, 2021 | Randy Caparoso
Neyers Vineyards' Vista Notre Zinfandel signals deeper commitment to Lodi vineyards by Napa Valley wineries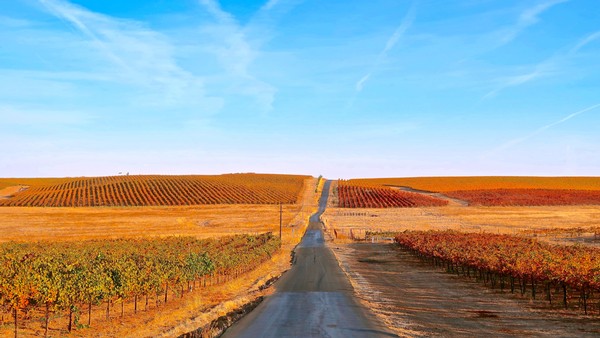 The 2019 Neyers Vineyards Vista Notre Zinfandel ($29) is a quintessential Zinfandel and a quintessential Lodi Zinfandel. Aromatically, it is brimming with bright, fragrant, red berry/cherry fruit (very "Lodi" qualities), while also bristling with black peppercorn spice (one of the varietal's more distinctive markers). On the palate, it is firm with moderate tannin and zesty with notable acidity and comes across as moderately full-bodied without the heavy or plodding mouth-feel typifying "big" styles of Zinfandel. In that sense, this is almost an "un-Zin" — a Zinfandel that is and isn't. There are also "fancy" French oak flourishes in the backdrop, but these are extremely subtle, almost fleeting to the senses.
After a few minutes in the glass, mineral/earthy sensations start to pop up in the nose, seeping onto the palate. The sensations are almost umami-like, like the hit of Parmigiano and roasted garlic in a dish, adding a distinct savoriness. It's almost like the wine itself is saying, "I am Zinfandel... I am not shy, but I believe in a little bit of subtlety." We enjoyed the Vista Notre with a leg of lamb dabbed with a little green-herby salsa verde. The combination was sensational.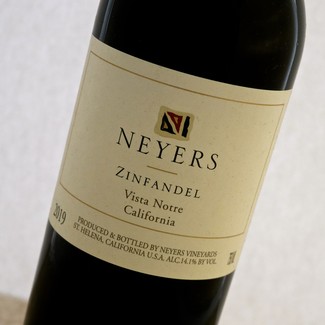 Three Lodi vineyard sources
So let's dig into the evolution of this wine, which is sourced from three different Lodi vineyards, located in two of Lodi's sub-appellations, Borden Ranch and Mokelumne River. While based in Napa Valley, Neyers Vineyards has continued to expand its Lodi vineyard sourcing over the past twelve and a half years. Owner Bruce Neyers has recently written, "As our wine industry and everything associated with it goes through a period of substantial change, we have only increased their association with Lodi-grown grapes, as has many of our friends and neighbors."
These close "friends and neighbors" include Turley Wine Cellars, which draws fruit from no less than six Lodi vineyards, including the historic Bechthold Vineyard, Lodi's oldest continuously cultivated vineyard (25 acres of Cinsaut, over 90% of the vines planted in 1886). Two more of those vineyards, Dogtown Vineyard (oldest vines dating back to 1944) and Steacy Ranch (1907), are completely controlled by Turley Wine Cellars on long-term leases; and Kirschenmann Vineyard (1915) is owned outright by Turley Wine Cellars winemaker Tegan Passalacqua.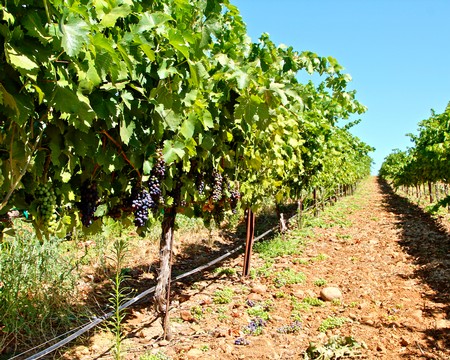 Neyers Vineyards' own foray into Lodi began in 2008 with a much younger block of trellised Zinfandel in Vista Luna Vineyard, owned and farmed by Bokisch Vineyards in Lodi's Borden Ranch Viticultural Area. The attraction of Vista Luna's young vines (planted in the early 2000s), according to Mr. Neyers, is that it is located in "the gently rolling hills east of Lodi, and are influenced by the wind generated by the 'Sierra Rotor' phenomenon, which artificially cools some of these vineyards. The soils are sandy, with clay and quartz so they yield small berries that ripen evenly and can be harvested at lower sugar levels."
The Sierra Nevada Rotor that Neyers is referring to is the impact of the Borden Ranch AVA's 150 to 250-ft. elevation slopes in the lower foothills (one grower calls them more like "toe hills") of the Sierra Nevada range. The climate in this area is classified as "Hot Summer Mediterranean," exactly the same found in Lodi's Mokelumne River AVA surrounding the City of Lodi (and much of Napa Valley, Sonoma County, and nearby Amador County and Livermore Valley as well). The difference is the natural phenomenon unique to the lower foothills' westerly winds, which cause a horizontal rotation (or "rotor") in the atmosphere.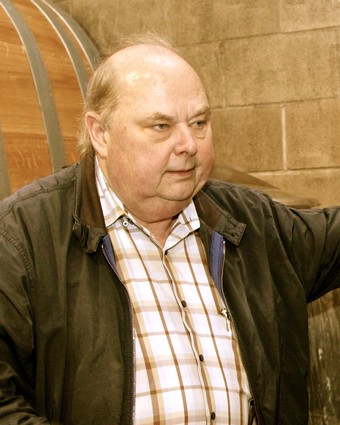 Markus Bokisch says this contributes to slightly wider diurnal temperature swings than what you find nearer to the City of Lodi. Says Bokisch, "The warm days concentrate the flavors of the wines and serve to balance the tannin, yet this area also enjoys some of the coolest nights of any Lodi AVA. This allows the grapes to retain their acidity and also provides further balance to the robust tannic and flavor profiles."
Neyers adds that when you factor in the rocky/clay Redding series soil found in most of Borden Ranch, which helps to concentrate phenolic content in black-skinned grapes, "Grapes are ripened slowly, yet allows us to harvest earlier — at lower sugar levels so we can produce a wine that is made from fully ripened grapes, yet has only about 13% ethyl alcohol.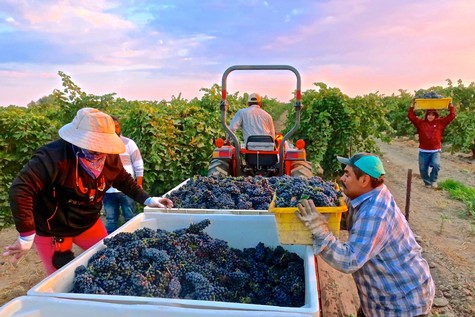 Up until the 2017 vintage, Neyers Vineyards produced a Zinfandel coming solely from Vista Luna Vineyard, with labels carrying a vineyard designate and Borden Ranch appellation. Adds Mr. Neyers, "In 2018 we expanded our reach, and for greater complexity added fruit from two neighboring vineyards, each with similar characteristics. By doing this, of course, we lost the right to label the wine as Vista Luna Vineyard, but chose instead the name Vista Notre ['our view'] to reflect how this style of Zinfandel has developed as a result of our long-standing perspective, or view on the grape variety."
Neyers Vineyards is also guided by the unerring hand of one of the most talented winemakers in the country, named Tadeo Borchardt. According to Mr. Borchardt, "The Vista Notre Zinfandel is a neat representation of Lodi, with vineyards in the Mokelumne River and Borden Ranch AVAs. Each wine from each vineyard is distinct, each bringing character to the blend."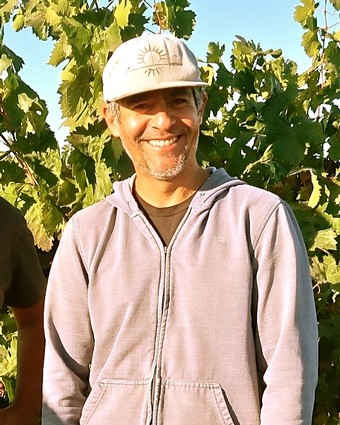 One key component, complimenting the bright, zesty qualities brought by the Vista Luna Vineyard/Borden Ranch fruit, is called Fathom Vineyard, a classic, own-rooted block dating back to the mid-1920s, owned and farmed on the east side of the Mokelumne River AVA by Jason Eells, who also manages Arbor Vineyards owned by the Mettler family (of Mettler Family Vineyards). Says Borchardt, "This vineyard has sandy soils contributing more aromas and softness."
The third component is another Mokelumne River AVA vineyard located about two miles north of Fathom Vineyard: Turley Wine Cellars' 40-acre Steacy Ranch, known for wines of finely delineated, almost feminine varietal profiles. Neyers draws fruit from the center of the Steacy block, planted on St. George rootstock in the 1950s and 1960s. Says Borchardt, "All three vineyards play beautifully together to express our take of an aroma-driven, moderate alcohol style of Zinfandel, which we think of as something of a throwback approach to the varietal."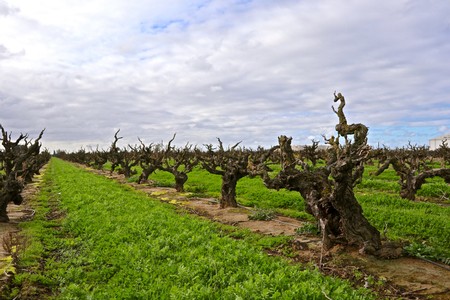 Indeed, in a recent review by Wine Spectator magazine, which in the past has unabashedly given more credence to "bigger" wines, one of the qualities cited about the Vista Notre is that it is "not over the top." The magazine also recommends, "Drink now." In our experience, however, it is balanced, restrained styles of Zinfandels such as the Vista Notre that are more likely to benefit from bottle aging for as long as 10 to 20 years (see one of our previous posts, Do Lodi Zinfandels age?). You can definitely enjoy the Vista Notre right now, but savvier wine lovers will probably be rewarded by buying at least a case (12 bottles) and enjoying the wine over the next two decades.
Bruce Neyers' recommended dish — South-West French cassoulet
Adds Mr. Neyers, "Every time I taste a bottle of Zinfandel brimming with that irresistible fruit of fresh blackberry and fraises des bois [i.e., wild strawberry], I'm reminded of my old pal Joe Swan [the late, great founder of Sonoma County's Joseph Swan Vineyards] and his annual Cassoulet dinner, at which he'd open a half-dozen or so bottlings of his Zinfandel to see how they were doing.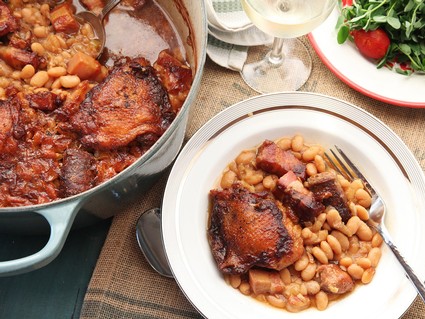 Traditional South-West French-style cassoulet (photo by J. Kenji López-Alt and courtesy of Serious Eats)
"One year, Joe joined us at Chez Panisse for dinner on my birthday. To recognize Joe and his wines, Chefs David Tanis and Jean-Pierre Moullé collaborated to make a special Cassoulet, using a customized, shallow copper pan to maximize the crust surface. As a final touch, they topped it off with shaved white truffle. That dish would go well with this Zinfandel."
Neyers' recommendation is salivating and compelling. In the introduction to her recipe in How to Make Traditional French Cassoulet, Ann Mah remarks: "Cassoulet comes from a region of southwestern France historically known as the Languedoc, a cradle-shaped territory that's also famous for its sunshine, grapevines, and medieval hill villages. The cuisine matches this rustic landscape, with specialties like duck confit, foie gras, and, of course, cassoulet washed down with robust local wine."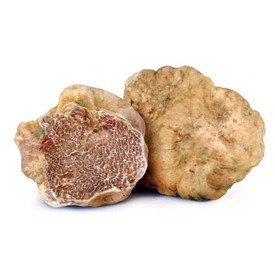 White truffles (image courtesy of Flavor Perfection)
Writes J. Kenji López-Alt on his recipe in How to Make Traditional Cassoulet, which combines chicken, pork, and sausages: "The first time I had cassoulet in its home turf [in Languedoc's historic city of Carcassonne] it was a revelation. This loose, almost soup-like stew of beans and meat was so far removed from all versions of cassoulet I'd had in the United States, or even in other parts of France. It was a large, bubbling vat of beans and meat, covered in a crust so dark that it was almost black. Rich, meaty, and overwhelmingly simple, the main flavor was just that of the cured meat, a good stock, and beans."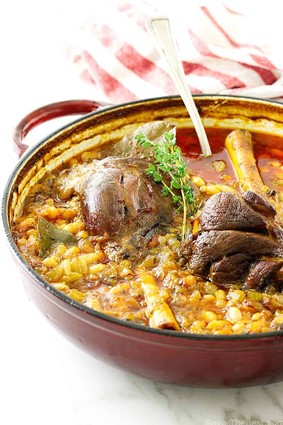 Cassoulet with lamb shanks (image courtesy of Savor the Best)
Still, another approach that may highlight the Vista Notre Zinfandel's mineral/earthiness is Epicurean Escape's Truffled White Bean Cassoulet, which employs duck confit with a delectably discreet infusion of white truffle oil
We, of course, enjoyed the 2019 Neyers Vista Notre Zinfandel with a leg of lamb. Slow-braised lamb shanks, in fact, is also not an uncommon component of French-style cassoulets. Re this savory Recipe for lamb cassoulet found in The Boston Globe's online files.
Bottom line: The sensory qualities intrinsic to specifically Lodi-grown Zinfandels — floral red fruit, bright acidity, and spice, moderate tannin, umami-like earthiness, and a general avoidance of "bigness" — can also be part of a recipe for easy peasy culinary matches. As high-profile Napa Valley wineries like Neyers Vineyards well know.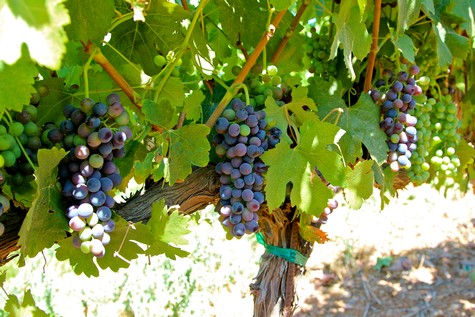 Comments