Letters from Lodi
An insightful and objective look at viticulture and winemaking from the Lodi
Appellation and the growers and vintners behind these crafts. Told from the
perspective of multi-award winning wine journalist, Randy Caparoso.

February 3, 2018 | Randy Caparoso
Mary Orlin on Lodi's 2018 Wine & Chocolate Weekend - love is in the air and in the glass!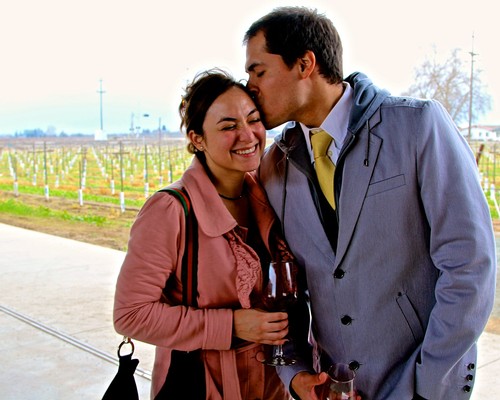 First, Lodi Wine is pleased to welcome our guest blogger Mary Orlin, who brings amazing credentials to our page. Orlin is the former wine and food writer for San Jose's The Mercurey News (2014-2017), a James Beard Award and Emmy award-winning journalist, a Certified Sommelier and WSET Advanced Certified Wine Professional, and frequent professional wine judge. Prior to 2014, Orlin contributed to local and national wine publications; most notably, producing the wine TV show "In Wine Country" on NBC for nine seasons. Her journalism career began at CNN in Atlanta, and she continues to blog her own WineFashionista site.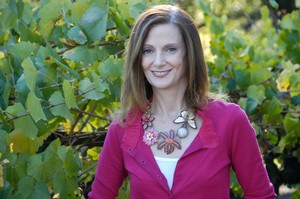 Take it away, Mary!
Love Is in the Air
Your perfect wine match is waiting to be discovered. With some 125 varietals growing in the Lodi region, there's a wine for every taste, from aromatic whites, bold and spicy reds to sparkling bubbles and crisp, dry rosé. And the best way to discover something new? Sipping and noshing your way through the 21st annual Lodi Wine & Chocolate Weekend, Feb. 10-11, 2018.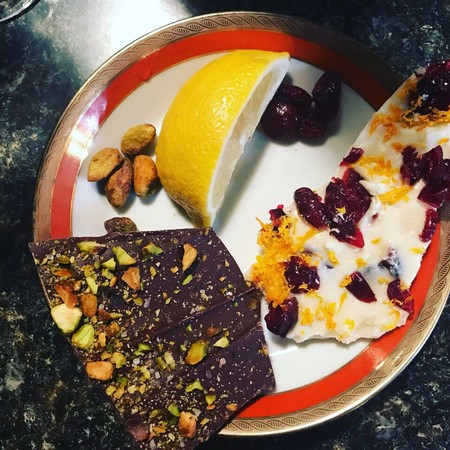 More than 50 Lodi wineries are pulling out all the stops, pouring special wines and new releases, offering barrel tastings and, best of all, pairing those wines with scrumptious, decadent bites. Think chocolate-spiked mole, hearty chocolate chili, churros dipped in chocolate port sauce and chocolate-infused meatballs galore.
Lodi's Wine & Chocolate Weekend kicks off Valentine's Day celebrations, and love is swirling in the air and in the glass. You may just witness a wedding proposal or impromptu dancing to live music, and you'll certainly fill your Instagram feed with selfies taken in tasting room photo booths. And, you may just find a new wine — or two or three — to love. Here's a taste of where you can indulge.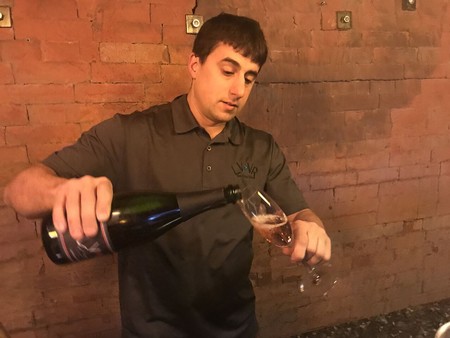 A Bubbly Affair
The bubbles served at this winery and tasting room inside a former brandy house are legit. LVVR Sparkling Cellars Winemaker Eric Donaldson is Lodi's sole traditional method sparkling wine producer — meaning he makes his bubbly just like they do in Champagne, France. And there's no more fun chocolate pairing than his Brut, Rosé, bone dry Reserve and slightly sweet Demi-Sec sparklers with neighboring Grateful Gypsy Bistro's pistachio and sea salt milk chocolate or white chocolate citrus zest and dried cranberry barks.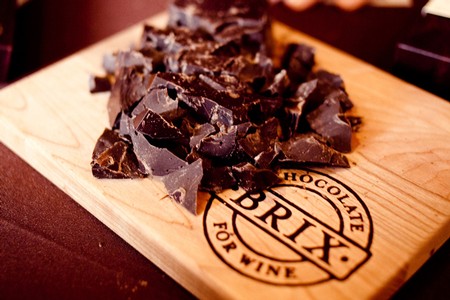 Death by Chocolate
What's more decadent than a chocolate fountain? Pairing rivers of chocolate with luscious wine. Dunk fresh fruit in gushing chocolate layers at Klinker Brick Winery as you enjoy the winery's hearty Zinfandels. Or, savor Italian varieties over at Sorelle Winery, where a chocolate fountain flows along with Barbera, Sangiovese and Primitivo.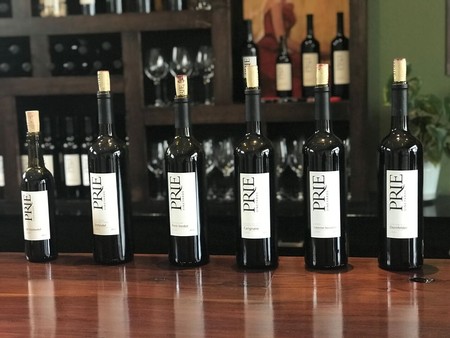 Best of Class
Scientists and artists by day, and winemakers by night, PRIE Winery's John and Lisa Gash have a knack for handcrafting Zinfandel, Cabernet Sauvignon, Carignan and the exotic German varietal Dornfelder. Head here for PRIE's latest star, the 2015 Soucie Vineyard Zinfandel. The 2018 San Francisco Wine Competition judges just named PRIE's zin 2018 Best of Class, Zinfandel $28-$31.99, and the winery is giving Wine & Chocolate Weekend guests a sneak peek one week before its official debut. While you are there, nibble on wine and chocolate pairings and artisan cheese, then groove to live music and snap a few selfies in the photo booth.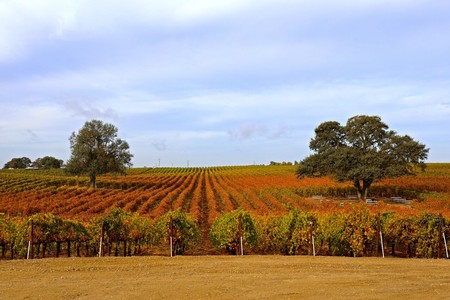 ¡Mole Olé!
Mexican mole was made for Wine & Chocolate Weekend, the perfect match for Lodi's bold red wines. This earthy, soulful Oaxacan sauce — a dried chile, dried fruit, nut, seed, spice and chocolate-infused concoction — takes days to make. Get your fill at Mettler Family Vineyards with their "Holy Mole" meatballs and rich zinfandels, or try Pondl Winery's savory chicken mole.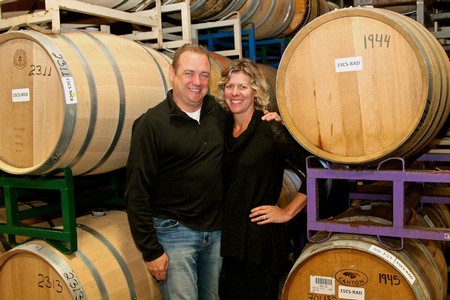 Since we're talking Latin-inspired cuisine, churros, those deep-fried, fluted pastry tubes, sprinkled with cinnamon sugar, are always a crowd pleaser. You can get your fix — along with fantastic Spanish varietal wines and breathtaking views at Bokish Vineyards. While you dip that churro in thick Spanish-style hot chocolate, wash it all down with Bokish's lovely 2014 Late Harvest Graciano, which has a chocolate-covered blueberry fruit character and silky texture.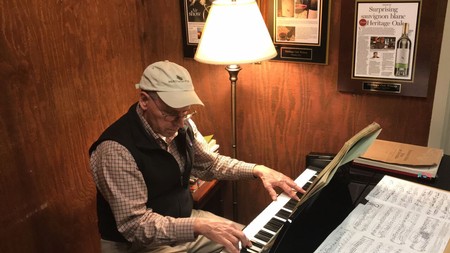 The Blend Master
Classical pianist Tom Hoffman favors Domenico Scarlatti compositions and Zinfandel blends. When he's not tickling the mini grand piano keyboard at his Heritage Oak Winery tasting room, Hoffman's behind the bar pouring fun, approachable blends. For Wine & Chocolate Weekend, he's popping the cork on Zinfadelity, a fruity, easy drinking Zinfandel and Cabernet blend Hoffman calls an "adulterous." Then there's Zinhead, a dark, inky wine blended with a little Petite Sirah. Be sure to try Spanish Suite, a floral, spicy and elegant Tempranillo, Grenache and Syrah blend that will knock your socks off. On your way out, fill up a bag of chocolates to take home.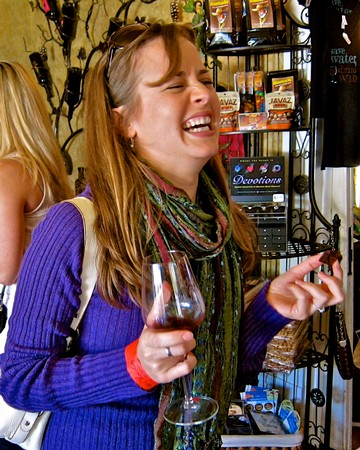 Famous Bites
Some Wine & Chocolate pairings have earned quite the cult following. You won't want to miss Macchia Wines' habanero port reduction-soaked meatballs and Mischievous, a blend of fruit from seven zinfandel vineyards. Estate Crush's Bob and Ali Colarossi are serving up Bob's Famous Tri-tip, marinated in a chocolate port wine reduction sauce at their downtown tasting room. It's a heavenly match with their voluptuous 2012 Stellina Reserve Old Vine Zinfandel.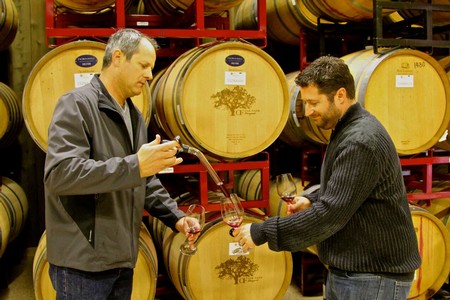 A Movable Feast's Cajun Shrimp and signature Amazing Chicken Pesto sandwiches and epic smothered fries will be served at the super glam Oak Farm Vineyards tasting room (where you can soak up sunshine on a nice day in the large courtyard patio). Wash them down with Oak Farm's first ever Grenache Rosé (a special Wine & Chocolate Weekend release), full of strawberry and spice, or their proprietary Tievoli, a rich and earthy zinfandel-dominant red blend bursting with blackberry fruit, cola, black pepper and baking spice notes.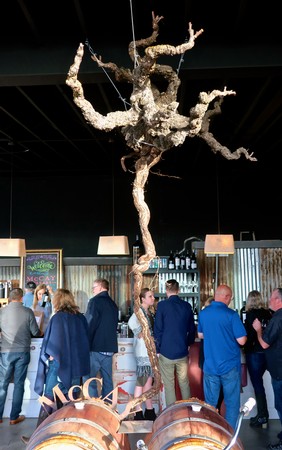 New Digs
Have you ever seen a grapevine's root system? Hidden below the soil, a vine's roots shoot deep down into earthen, rocky layers in search of water and nutrients. Visit McCay Cellars' brand spanking new downtown Lodi tasting room — nestled between the historic train depot and IDOL Beer Works — and you'll see a 103-year-old Zinfandel vine with a 20 foot long tap root hanging from the rafters. While you are in the "Palate Room," don't miss McCay's zesty, minerally Chenin Blanc, the intensely plummy, floral and spicy Cinsault from Bechthold Vineyard's heritage vines planted in 1886 or the Lodi Native Zinfandel series, which features the region's signature grape made with minimal intervention, expressing a specific place in Lodi. Be sure to have Alex Andre tag your wine glass with his graffiti art, and check out wine barrel furniture craftsman Black Bear's repurposed creations. GUANTONiO's Wood Fired Cuisine will be on hand with a mobile wood burning oven to serve up chocolate pizza and more, and Bam Treats is brining their famous chocolate-covered English toffee for your pairing pleasure.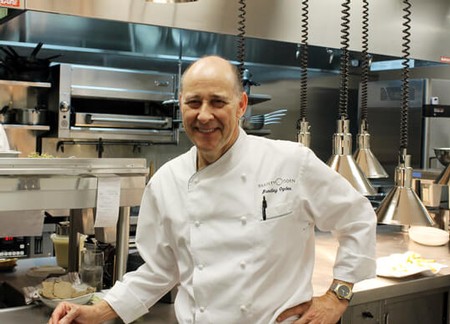 Award Winning Chef and Culinary Couplings
Lodi's Wine & Roses Hotel is one of the most romantic places to be, with lush gardens to wander through and luxurious rooms for relaxing in. But you don't have to be a guest to enjoy the inn's gracious hospitality. We hear the Towne House Lounge is the place to see and be seen during Wine & Chocolate Weekend after hours, for live music and libations. You'll want to snag a coveted reservation at Towne House Restaurant, where James Beard Award-winning Culinary Director Bradley Ogden (of Campton Place, Lark Creek Inn, and One Market fame) creates a seasonal menu that perfectly pairs with Lodi wines. Think briny mussels in a chorizo-studded saffron broth and crisp white wine, creamy crab Louie with rich, oak-aged whites, crowd favorite shake & bake parsley-crusted fried chicken and aromatic Cinsault or meaty grilled ribeye bathed in a green peppercorn jus matched with Lodi's bold Zinfandels.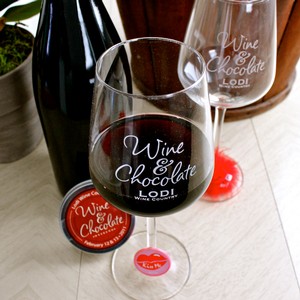 Wine & Chocolate Weekend tickets, $55 in advance here (lodiwineandchocolate.com) and $65 at the door, are good Feb 10 and 11. Each ticket purchase includes a commemorative wine glass, event map and BRIX Chocolate treat that could hold a "Golden Ticket" for more than 100 prizes. Get full details on the event and winery doings here.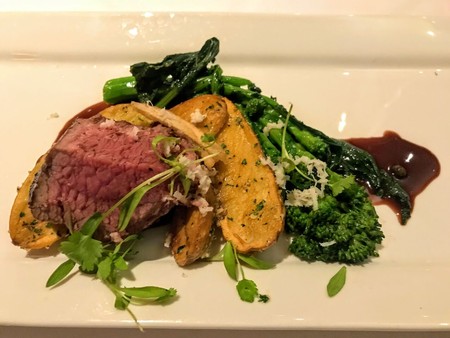 Comments