Letters from Lodi
An insightful and objective look at viticulture and winemaking from the Lodi
Appellation and the growers and vintners behind these crafts. Told from the
perspective of multi-award winning wine journalist, Randy Caparoso.

December 15, 2021 | Randy Caparoso
Markus Niggli is still up to his quaintly European, contrarian ways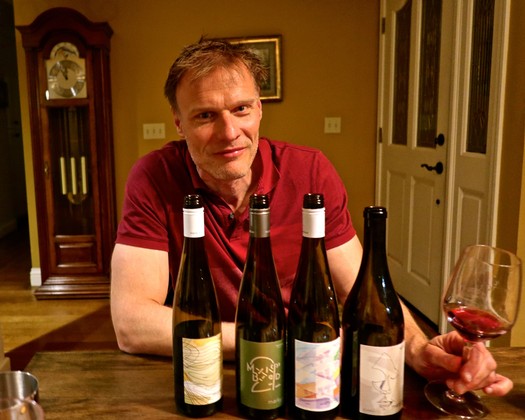 Zinfandel reapproximated
Lodi is justifiably renowned for its Zinfandel, a grape known to improve as vines get older. In Lodi, an "old vine" is defined as something planted prior to the mid-1960s, when free-standing (i.e., untrellised), own-rooted viticulture was still a rule of thumb. There are more acres of old vine Zinfandel in Lodi than anywhere else in California.
Markus Niggli, the owner/winemaker of Lodi's Markus Wine Co., loves Zinfandel as much as any Lodi vintner. Yet he doesn't produce a "Zinfandel" per se. Instead, the closest thing to a varietal bottling of Zinfandel that he produces is something he calls "Essenzo." Why? Because Mr. Niggli is not the biggest fan of varietal labels. He does produce an occasional varietal wine, but he hangs his hat on blends sold by his own imaginative monikers as opposed to the names of grapes.
This is despite the fact that the currently released 2019 Markus Wine Co. Lodi Essenzo ($39) consists of 77% Zinfandel, plus 18% Petite Sirah and 5% Syrah. Legally, this wine qualifies as a "Zinfandel," but Niggli won't call it that because, to him, it doesn't taste like a Zinfandel. It tastes like "Essenzo," which is a beautifully fragrant, rather flowery or perfumey, red wine, quite a bit silkier — you might describe it as "feminine," if you'll excuse the genderizing — than your typically hunky California Zinfandel. Whatever it's called, it's a gorgeous wine, and it's very "Lodi" in its tender, floral style.
You could probably argue all day and all night with Mr. Niggli about Essenzo actually being a Zinfandel, no matter what he calls it. But he won't budge because of his personal philosophy, which begins with his European mentality and ends with his basic winemaking methodology. To wit...
Varietal vs. blended wines
Many of the world's finest wines are not what are called "varietal" wines. They are not made from one grape variety; but rather, blends of multiple grapes.
The entire idea of varietal wines, or the idea of varietal wines being superior to blended wines, emerged during the 1960s and '70s when the American wine industry was just beginning to make the transition from lower quality, value-priced jug wines which were primarily blends and sold under generic names like "Chablis," "Burgundy" or "Vin Rosé." As supplies of more distinctive grape varieties such as Cabernet Sauvignon and Chardonnay became available to vintners, wines carrying varietal labels became associated with a higher, more premium quality, and consumers began to think of wines labeled with names indicative of blends as being lower in quality.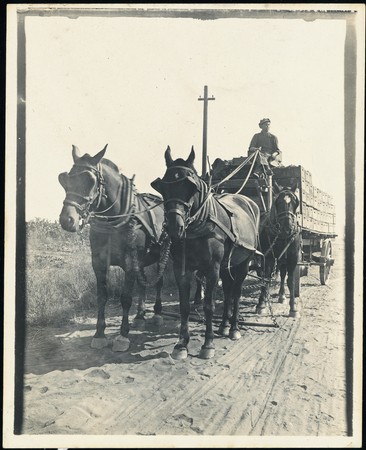 Since 1978, federal law has required that all wines labeled with the name of a single grape need to consist of at least 75% of that grape. Before that, the requirement was just 51% — a much lower percentage, but one that was strongly favored by the wine industry during the 1800s and first half of the twentieth century simply because most vintners did not believe wines made with higher percentages of a single grape resulted in superior quality.
In fact, the mindset of pre-1960s American wine producers — keeping in mind that winemaking in the U.S. did not begin until after the 1850s, whereas Europeans got their start some 2,000 years ago — could be considered somewhat more European. Not coincidentally, most of America's pioneers came directly from traditional European wine regions. Their thought process was similar to vintners in, for example, France's Bordeaux region, where the best wines are generally blends of Cabernet Sauvignon, Merlot as well as Cabernet Franc, Malbec, and Petit Verdot, and are sold by place names (i.e., appellations) rather than varietal identity. The concept of "varietal" wines simply doesn't compute in the minds of the Bordelais. Their value system, based upon the concept of blending grapes from within a given place, is typical throughout Europe, where most of the finest wines are known by the regions, villages, or vineyards where these wines are grown.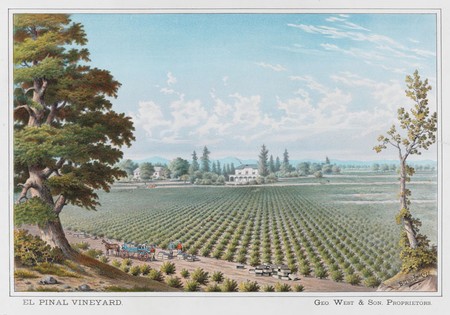 In recent years American consumers have also begun to wise up to the fact that the best wines aren't necessarily varietals. Although they certainly appreciate grapes going into varietally labeled wines such as Cabernet Sauvignon, Chardonnay, Pinot Noir, Merlot, or Sauvignon Blanc, they've also become more conscious of the fact that a good percentage of the finest wines of the world are, in fact, blends of multiple grapes. Categories such as "GSM" — made from Grenache, Syrah, and Mourvèdre grapes — started to catch on in the market over 20 years ago. Today, red wine blends in general rank as the third most popular category of all among American consumers, after Cabernet Sauvignon and Chardonnay.
Markus Wine Co.'s European-style whites
Markus Niggli was born, raised, and educated in Switzerland, which is neither here nor there since there have been many winemakers who came directly from European countries and have been perfectly happy to be assimilated into the American style of varietal-focused wines.
All the same, Mr. Niggli does not specialize in varietal wines. Even when he crafts a wine that is over 75% of one grape, he prefers a proprietary rather than a varietal label. Call it a European thing, or a "Markus" thing. This thing is also similar to Niggli's feeling about inoculating wines to start his fermentations. Niggli doesn't keep bags, or even little packets, of yeast in his winery because he believes wines should ferment naturally, or via "native yeast" already found on grape skins — another one of those stubborn European habits.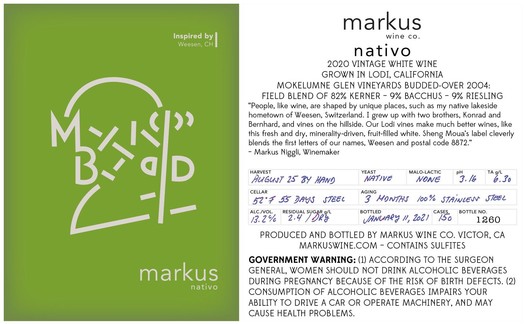 If, in fact, this has resulted in just ho-hum, or even terrible, wines, you could probably fault Mr. Niggli for his convictions. But amazingly, the Markus Wine Co. wines are, well, consistently amazing.
Take, for example, Mr. Niggli's 2020 Markus Wine Company Lodi Nativo ($22), his brand's signature white wine blend. The 2020 Nativo consists of 82% Kerner (a German Trollinger x Riesling crossing), 9% Bacchus ([Silvaner x Riesling] x Müller-Thurgau [Riesling x Madeleine Royale]), and 9% Riesling.
As with his Zinfandel-based Essenzo, Niggli could very well call this wine a "Kerner" rather than Nativo. It has the minerally, slightly floral, and citrusy qualities typical of white wines made from Kerner. But it also has the slightly herby, dense, and fluid quality of the Bacchus grape, and the steely, almost rapier acidity typical of Riesling, however small the percentages of those varieties are in this wine. This is exactly why, Niggli would say, white wines like this are better off identified as blends rather than as some kind of varietal. It is defined by the sum of its parts, not by one part. Therefore it is "Nativo, not "Kerner."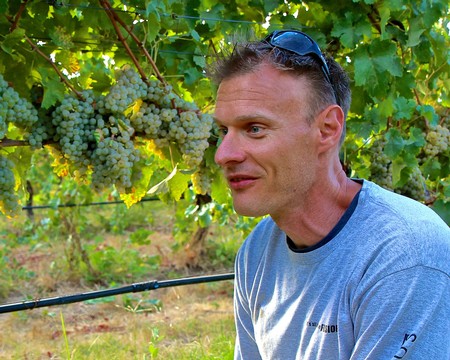 In recent years, Niggli has also crafted a white wine called "Nimmo." The 2020 Markus Wine Co. Lodi Nimmo ($24) is, like the Nativo, predominantly made from Kerner (71%), Bacchus (7%), and Riesling (7%), plus a good dose of Gewürztraminer (15%). What also makes the Nimmo different from Nativo is this white is aged in new French oak. The rich vanillin, toasty qualities of French oak are not overpowering in the Nimmo, since the wine spends only three months in barrels; but this is just enough time in oak to give the wine perceptible creaminess in both the nose and on the palate.
It is that creaminess that gives the 2020 Nimmo its silken textured grace notes, adding magnificent sensory counterpoints to the flower and mineral qualities of the Kerner, the edgy citrus tartness of the Riesling and Bacchus, and the subtle yet noticeable spice (like white pepper tinged with orange peel) contributed by the Gewürztraminer. Niggli's Nimmo would go swimmingly with Maine lobster soaked in melted butter. But think of the magic this multi-grape white could also make with the multiple sensations of a dish conceived by a wily chef, such as Hawaiian fish in a fresh herb or nut-infused variation of beurre blanc (who doesn't love butter sauces?). This is why Europeans are inclined to blend — you can make a culinary wine like Nimmo.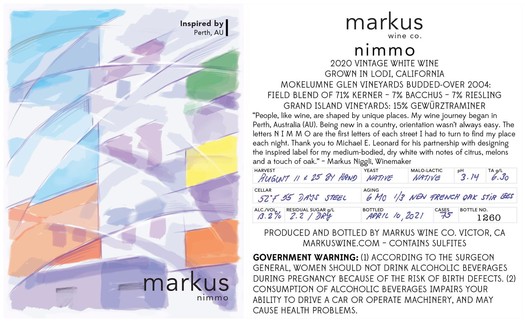 Markus Wine Co. reds
Longtime Lodi wine lovers will be pleased to know that, for the first time, Mr. Niggli has also released a red wine made from Lodi's oldest vineyard, the Bechthold Vineyard, originally planted in 1886 completely to own-rooted Cinsaut. There are now approximately a dozen or so wineries now producing a version of Bechthold-grown Cinsaut, as Phillips Farms (the farming arm of Michael David Winery, now managing the vineyard) has generously endeavored to spread out the yearly supply of grapes hatched in this venerated 25-acre block.
Naturally, Mr. Niggli does not bottle this red wine as a "Cinsaut." The wine is identified simply as 2019 Markus Wine Co. Lodi Bechthold ($39); declaring (as many European wines do) that it is the vineyard, not the grape variety, that makes this wine special. In the top right corner of the label you'll also see a discreet description, "Ancient Blocks," presumably in reference to Bechthold's 135-year-old vines, although the plural case of the second word is also meant to refer to the 15% Syrah blended into this wine. The Syrah is sourced from Gill Creek Ranch in Lodi's Clements Hills AVA, originally planted in the not-so-ancient year of 2001.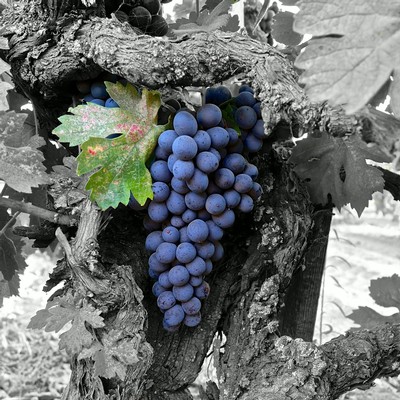 Like some of the finest examples of Bechthold Vineyard Cinsaut (many would single out those of Turley Wine Cellars, McCay Cellars, or Fields Family Wines as top examples), the Markus Bechthold is exuberant in its soft, sumptuous, red fruit qualities (think of high season strawberry with kitchen spiced cranberry and the palate-zinging earthiness of rhubarb). These are qualities intrinsic in the Cinsaut cultivar, which produces large clusters of fat grapes predisposed to soft tannin and an almost licentious fruitiness.
The 15% Syrah that Niggli blends into his Bechthold, however, takes this iteration far beyond all other Bechthold Cinsauts, which are invariably 100% examples of the varietal. The Syrah intensifies the Cinsaut considerably, giving it a concentrated, notably more perfumed violet-like fruit tone — giving the nose an even more stunning profile. On the palate, the round, sumptuous character of Bechthold-grown Cinsaut predominates, although the Syrah increases the wine's overall sense of lavishness. Rather than just another fruit-forward red proclaiming itself as "Bechthold," it also becomes a contemplative wine.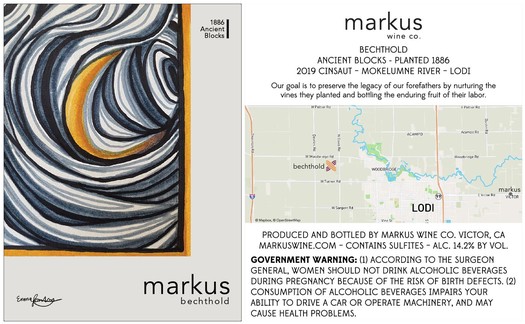 A Bechthold Vineyard diehard, as it is, may not be 100% enthusiastic about the liberties taken with this growth, which produces one of California's most terroir-distinctive wines. Syrah alters the paradigm of this vineyard's Cinsaut to a significant degree. Heck, just 2% Syrah would change it (although former Bonny Doon Vineyard owner Randall Grahm has been known to blend as much as 20%-plus Syrah into Bechthold Cinsaut). But like the proverbial scorpion on the frog, Mr. Niggli is compelled to do his blending, and it's hard to argue with the results.
Speaking of Syrah, among Niggli's current stable of red wines is the 2019 Markus Wine Co. Lodi Zeitlos ($39), consisting of 77% Syrah, 12% Cinsaut (from the Bechthold Vineyard), and 11% Petite Sirah. The wine is as deep, dark, concentrated, and spice-inundated as the finest Syrah-based reds in the world, but with the promiscuously flowery, perfumed character typical of Lodi-grown reds, almost across the board.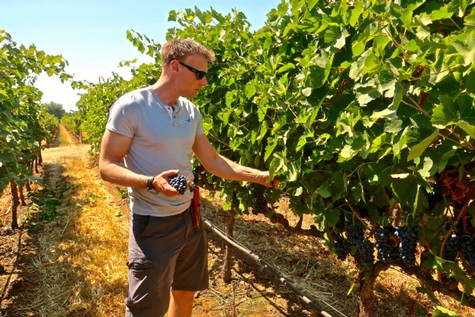 There is, however, enough Petite Sirah in the Zeitlos to give it a semblance of a dense, compact feel — Niggli says it also "takes away the funk" intrinsic in Lodi-grown Syrah — whereas the native yeast fermented ancient vine Cinsaut adds that lavish fruitiness, tinged with its own kitchen spice (clove, cardamom, peppercorn) profile. In this fashion, Niggli enhances the Zeitlos' Lodi-related sensory characteristics in bold and brazen brush strokes, rather than in grape-specific terms — epitomizing the art of blending to a deliriously advanced degree.
Here's the other thing about this quaint, European idea of blending: Practiced by craftsmen such as Niggli, it does not lend itself to predictability. Future bottlings of Nativo, Nimmo, or Zeitlos will not always have the same proportions of grapes, and may not even be made from the same grapes. If this was a science fiction story, this would mean different versions of "you" living in different dimensions. Part of blending, after all, means acquiescence to whatever raw materials Mother Nature bestows upon a vintner, who in turn must apply his or her own, constantly evolving sense of aesthetics, values, and even business-related circumstances.
But it is fortune, as it's often said, that favors the bold, which pretty much describes the wines of Markus Wine Co. within the scope of any world or dimension.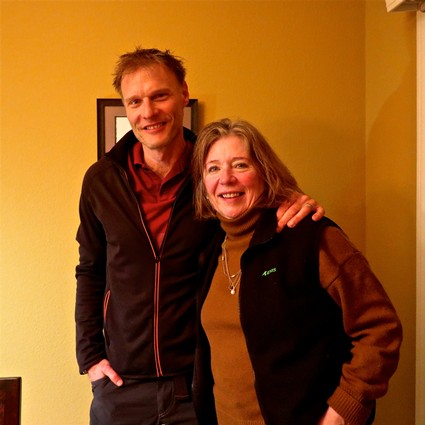 Comments