Letters from Lodi
An insightful and objective look at viticulture and winemaking from the Lodi
Appellation and the growers and vintners behind these crafts. Told from the
perspective of multi-award winning wine journalist, Randy Caparoso.

July 6, 2023 | Randy Caparoso
Lorenza's sublime, new style of red made from Lodi's oldest vineyard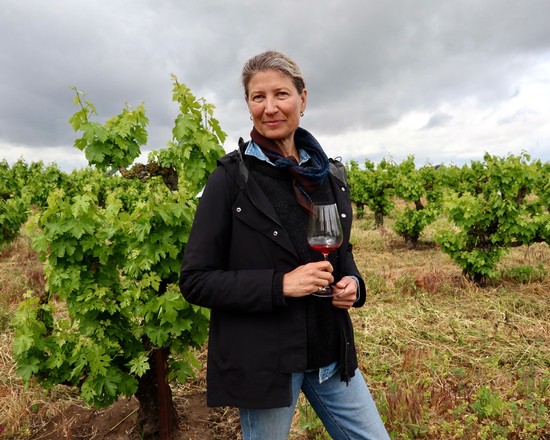 Two months ago, at a dinner in Lodi where a guest winemaker from Italy named Cristiana Tiberio was showing off her world-renowned Cerasuolo D'Abruzzo Rosé, I watched Lorenza Wine winemaker/owner Melinda Kearney, sitting across from me at the table, going through the usual studious tasting motions. After her first sip, her eyes looked like they were emitting superhero laser beams, and then a meditative smile took over her face, lasting the rest of the entire night.
Yesterday, in the Provence-like setting of her St. Helena backyard, I proffered a penny for Ms. Kearney's thoughts on that night in Lodi. She said: "What I found was a point of view consistent with our own. When I tasted Cristiana's wine, it was like instant love—the acid, the cleanness, the delicacy of fruit and color, the vibrancy, and everything going on in the mouth, all of it so much... I felt inspired. Tasting wine like that gives us context for what we are doing."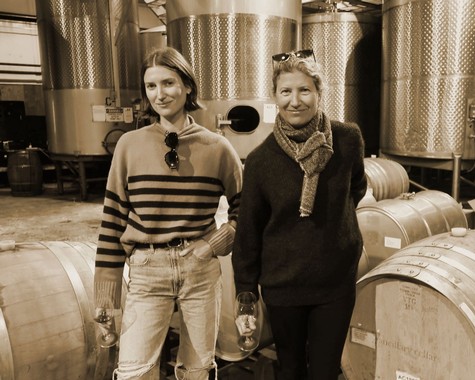 What Kearney has been doing, in partnership with her daughter Michèle Ouellet Benson since 2008, is producing an equally light, delicate, bone dry yet vibrant "true rosé," made almost entirely from Lodi appellation grapes.
Last year, Kearney and Benson finally came out with their first white wine, a Picpoul Blanc, also grown in Lodi. Lorenza's Picpoul follows the exact same stylistic pattern as their rosé: extremely light (less than 11% alcohol) and vibrant with lemony acidity, and as delicate, stylish, and fine-boned as a proverbial supermodel.
Lo and behold, released not more than two weeks ago is another Lorenza first: This time, a red wine, the 2021 Lorenza Bechthold Vineyard Mokelumne River-Lodi Cinsaut ($36), sourced from a historic site originally planted in 1886 (as such, Lodi's oldest surviving vineyard).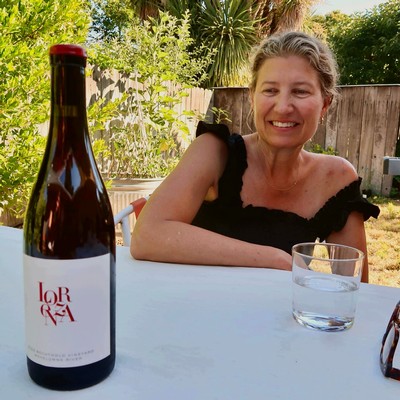 Undoubtedly, all winemakers (representing at least a dozen different brands) who source Cinsaut from Bechthold Vineyard do so with gratitude and relish. For Ms. Kearney, it is more a sense of fulfillment on the par of spirituality. In her own words:
From the beginning, just walking through the vines in Bechthold has always been like feeling a presence, like sitting under an ancient oak tree on a quiet, lonely night. It's a privilege to receive the few bins from this vineyard that we get each year. During the weeks building up to the harvest, we look forward to being present as the grapes are picked in the early hours of the morning.
The Bechthold Cinsault has been a small but ever-present component of Lorenza Rosé since 2009. But when our bins arrived in 2021, we made a decision to do something we had never done before, but long desired—to make a red wine. It was like experiencing this vineyard through a totally new lens.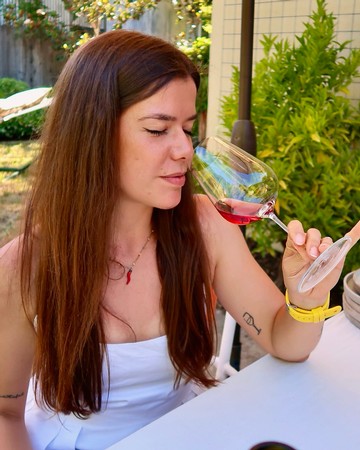 Let it be said that red wines from Bechthold Vineyard have been made by some of California's—and Lodi's—most prestigious vintners. Yet it is not a stretch to say that Lorenza's iteration is a radical departure from that of the rest of that ballyhooed pack.
First of all, Kearney and her daughter originally meant to produce a rosé, not a red wine, from their 2021 harvest. This means the grapes were picked at a lower Brix (i.e., sugar reading) and pH (translating into higher natural acidity). The result is a resoundingly light style of red wine, just 11% in alcohol (most Bechthold reds hover closer to 13% or 14%); one that is so pale and nearly transparent in color that it looks, in fact, more like a deep colored rosé than a red. Yet it has all the intensity of red wine—soaring raspberry/cherry perfume and deep, pervasive kitchen spice (cardamom, mace, clove, a twist of peppercorn) in the nose—while veering into still another dimension on the palate.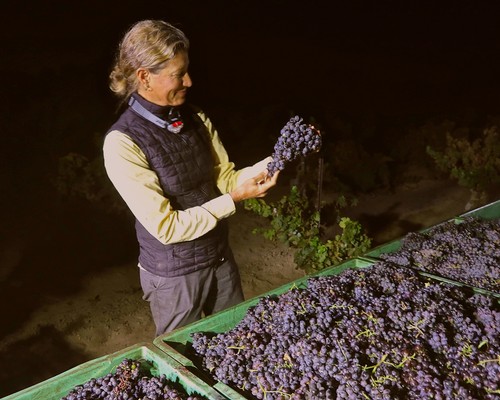 Namely, a distinct sense of airiness—mercifully free of extraneous burdens, like bitter oakiness or violent alcohol—infused by a level of acidity that turns the spiced red berry fruit profile into more of a ringing, visceral, mineral-like sensation (think of whistling, scented winds whipping your face on a moonlit sandy beach).
The winemaking, explains Kearney, was equally visceral:
When the grapes arrived, we took off our shoes and stomped the whole clusters for three hours, before destemming. We only had four bins, so we decide to let two of them ferment naturally on native yeasts [i.e., activated by yeast cells already present on the grape skins], and the other two were inoculated for fermentation.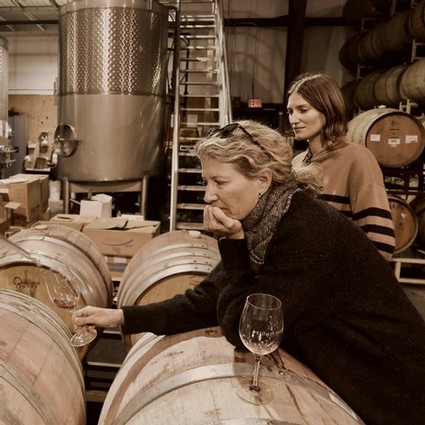 It is clear that the wine's extra layering came from the two different fermentations. The native yeast portion gave us that funk—all that kitchen spice that comes out in the nose—while the traditional portion gave us super-clean, beautiful, bright fruit. We're thrilled by the combination. Half of the wine went into stainless steel barrels, and the other half in neutral oak barrels [i.e., previously used to the point where oak does not impart the flavor of wood]. We gave it 18 months of aging to give the wine a little time to flesh out its complexity.
My take on the wine is that it is an expression of mountain strawberries, kumquat, and the scents of dried rose petals, cinnamon, cardamom, and clove. It's delicate yet extremely energetic in the way it washes over the palate.
To me, this wine is an emotional experience. Intellectually, it represents a completion of our circular progression from rosé to white to a red made from grapes picked for rosé. The other day I was thinking, it's almost like a reverse saignée [i.e., the winemaking technique of "bleeding" juice from a fermenting red wine vat in order to intensify color, flavor, and phenolic content] because, in our case, we're trying to make a red wine as light and delicate as possible, not intensify it or make it any bigger.
Whatever it is the ladies of Lorenza are doing (their back label boldly proclaims, "Made By Women"), the end result is something unique... and sublime!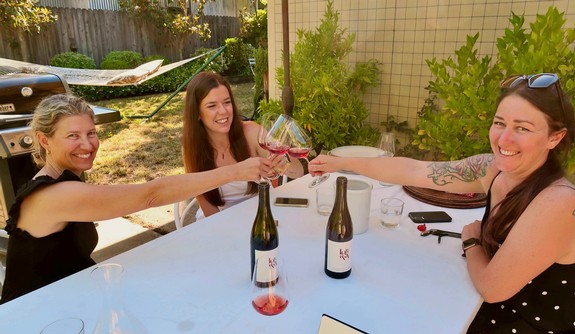 Comments