Letters from Lodi
An insightful and objective look at viticulture and winemaking from the Lodi
Appellation and the growers and vintners behind these crafts. Told from the
perspective of multi-award winning wine journalist, Randy Caparoso.

March 27, 2017 | Randy Caparoso
Lodi wine and cheese combinations we have known and loved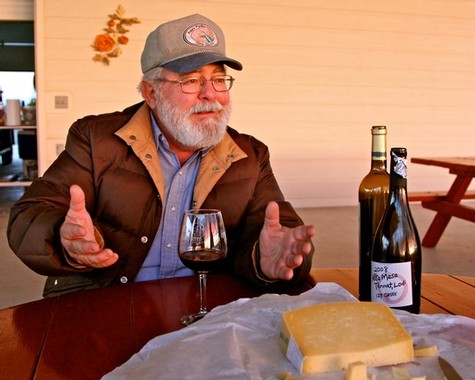 Some of our most popular ZinFest Wine School "classes" over the past ten years have been our wine and cheese tastings; especially recently, since we've been able to count on the help of Lodi's own local cheese master, Cindy Della Monica (owner of Downtown Lodi's Cheese Central).
To get you warmed up for this year's ZinFest wine and cheese tasting, we thought it a good idea to discuss the subject in cheesy detail. Why? Because it's almost as much fun as sitting down with plates of cheese and glasses of wine to actually consume the subject! So here goes...
To begin with, it's said that cheese making goes back to as long ago as 9,000 BC, when animals were first domesticated for their milk. Milk is turned into cheese by an enzyme known as rennet, originally found in the lining of calves' stomachs. It seems that long ago someone decided to carry milk in a bag made from this stuff, checked it out a little later and, lo and behold, "discovered" cheese.
We also know that wine is commonly consumed with cheese because, in a way, wine is like cheese. Like cheese, wine is the product of a natural fermentation. We do not know exactly when the first ancient wine and cheese parties took place. But what is clear is that for the longest time, many of the world's greatest cheeses have been identified with certain parts of the world, just like many of the world's finest wines are identified with specific wine regions.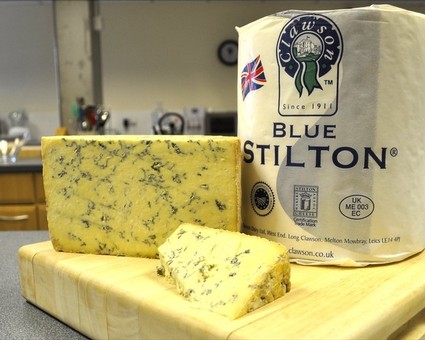 There is, for instance, Stilton; a blue cheese that has been produced in three specific counties of England since the seventeenth century. There is the famous Parmigiano-Reggiano produced only in five provinces of Northern Italy, the ever-popular Manchego from La Mancha in Spain, and the widely known Roquefort and lesser known Époisses de Bourgogne from France; just like there is a wine known as Rioja which is grown only in the Rioja region in Spain, Chianti grown in Italy's Chianti Classico region, and Bordeaux and Bourgogne from France, and so forth.
The relationship between wines and cheeses, in this sense, is historical, intellectual, as well as sensory to the point of an almost spiritual connection. You don't have to be a cheese expert, or a "master" of wine, to understand this simple idea: wine tastes great with cheese.
That is to say: certain wines are likely to taste better when consumed with the lush, solidified combination of milky sensations, acids, salt and amino acids found in certain cheeses. Vice versa, the alcohol, acidity, sugar and tannin of certain wines not only helps the palate break down and digest the sensory components of certain cheeses, a well chosen wine also brings out distinctive, subtle flavors in a cheese otherwise not noticed without the wine.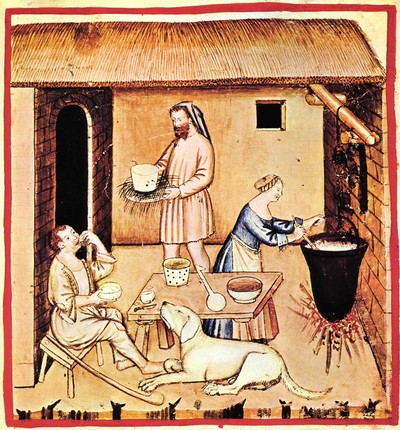 So what are the best wine and cheese combinations? There is no such thing as "best," of course, but there certainly are a lot of good, fun, practical choices. The subject of wine and cheese, of course, has been tackled in many places, and our own conclusions are based upon tastings upon tastings over the years. We know because we've enjoyed them!
Based upon that, some basic observations on wine and cheese matching:
• It is easier to understand on wine and cheeses go together when you think in terms the five basic taste sensations found in all foods and wines — the sensations of sweet, tart, salty, bitter, and umami (or "savory") — plus the effects of what we perceive as "flavor" through our sense of smell.
• Contrary to popular notions, there are probably more cheeses that taste better with white wine than with red, despite the old adage that red wines are best with cheese.
• Produced as they are from animal milk, cheeses give milky and acidic sensations; which explains why white wines varying from soft, creamy textures to sharper, acid edged qualities do so well with the soft, creamy, or slightly acidic/tart tastes of young, soft or semi-soft cheeses.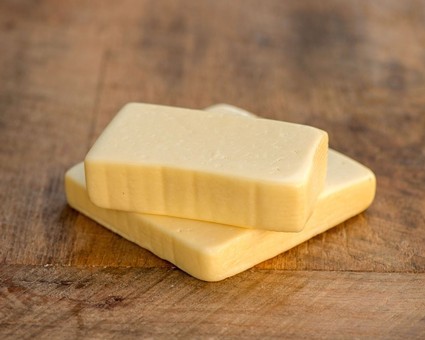 • In the firmer, longer aged, deeper colored and richer flavored cheeses, however, elevated amino acids resulting from the aging process tend to come into play; which is why red wines tend to do better with richer, deeper flavored aged cheeses. Reason: unlike white wines, red wines are fermented with their skins, automatically giving them deeper flavors, often in combination with oak qualities from barrel aging, that make an easier match with caramelized sensations typical of aged cheeses.
• The higher amounts of amino acids in cheeses are what give them a strong taste of the sensation called umami (see Caparoso, Deconstructing Umami). The longer aged and deeper flavored the cheese, the stronger the taste of umami in the cheese. The reason why, for instance, an aged cheese such as Parmigiano is routinely grated onto pasta dishes is because high umami sensations accentuate typical pasta dish flavors (such as herby tomato sauces). Therefore, it is no coincidence that well matured red wines such as Sangiovese – a grape bottled as a varietal in the U.S., or dominant in Italian reds like Chianti Classico and Vino Nobile di Montepulciano – also go great with pasta dishes.
• For similar reasons, this is also why sweeter wines tend to go best with cheeses aged with Penicillium roqueforti molds that create the strong salty or briny tastes associated with blue cheeses – because salty sensations in foods are always balanced by contrasting sweet sensations in other foods or in wines.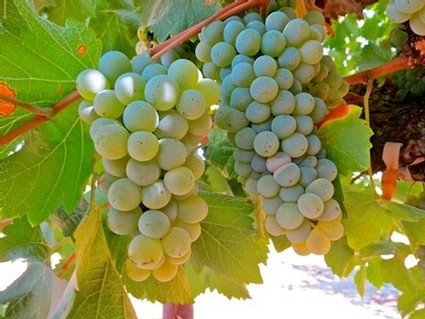 • Earthy, organic, umami enhanced aromas and flavors found in cheeses — particularly those made from sheep or goat's milk, as well as many variations of raw milk cheeses — find pleasing notes of similarity in wines of parallel qualities. This is why the herby/grassy flavor common to wines like Sauvignon Blanc and Cabernet Sauvignon, the rounded fruit qualities of many Chardonnays, the mushroomy/foresty notes of Pinot Noirs, or the meaty notes and textures of many reds made from grapes like Tempranillo and Syrah, all do well with distinctly earthy sheep, goat, or raw milk cheeses.
• Once you get into the grand tradition of cheeses doctored up with additional flavors – like all the varieties of herb crusted Chèvres, peppercorn coated crèmes, cider washed rinds, stout soaked Cheddars, or even truffled Boschetto from Italy – the gloves come off, and all the varieties of red and white wines criss-cross in accordance to the dominant flavors craftily introduced into the cheeses. For instance, it makes sense that cheeses coated in black pepper strike partnerships with peppery wines such as reds made from Syrah, Petite Sirah, Zinfandel or Grenache. Italianate herbs (rosemary, oregano, basil, etc.) find easy matches with wines of Italian origin (like those made from Sangiovese grapes). High umami, truffled cheeses practically scream for high umami, earth toned reds like Pinot Noir, or certain types of Chardonnay.
That said, some of our "favorite" wine and cheese combinations:
Chèvres (French or Regional American goat cheeses)
Chèvre, or goat's milk cheese, is made all over the world; notably, right here in California (such as the acclaimed Cypress Grove's Humboldt Fog™ and Laura Chenel's). The historic match is Sauvignon Blanc — bottled as Sancerre and Pouilly-Fumé in France's Loire region, and often as Fumé Blanc is California — because the lemony acidity of the grape balances the sharply acidic taste of goat's milk, and the earthy, grassy flavor of Chèvre is amplified by the minerally, and often herbal taste of the grape.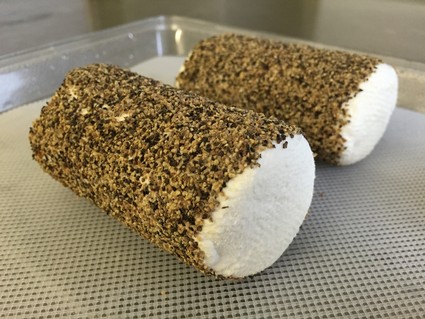 Wineries making classic, tart edged Lodi grown Sauvignon Blanc include Oak Farm, LangeTwins Family, Ironstone, Peirano, Michael David, Hybrid, and Woodbridge by Robert Mondavi. Another white wine varietal with enough lemony tartness to balance the sharp, taste of goat cheeses is Albariño (look for those of Lodi's Oak Farm, Bokisch, Harney Lane, Klinker Brick, Viñedos Aurora or others); although dry whites made from Picquepoul (by Acquiesce), Grenache Blanc (by Fields Family, Acquiesce, or Bokisch's Garnacha Blanca), or Vermentino (by Uvaggio, PRIE or Fields Family) work in similar fashion.
Then there are the many popular "flavored" goat cheeses made all over the world. Wine and cheese matches become all the more diverse and interesting when Chèvres are coated with flavors like black pepper or herbs. Cracked black pepper crusted Chèvres bring out the natural peppery spice notes found in Zinfandel. For the spicy styles of goat cheese, look for lighter, softer tannin styles of Zinfandel, such as Bokisch's Tizona, Peirano's The Immortal Zin, Heritage Oak's Block 14, LangeTwins Family, Oak Ridge's OZV, Barsetti, Michael David's 7 Deadly Zins, Jessie's Grove's Earth Zin & Fire, Tierra Divina's !ZaZin, Gnarly Head, or those bottled as Primitivo (a clonal variant of Zinfandel) by Uvaggio, Ripken, Sorelle, Macchia, or Harney Lane. Still another choice for peppercorn specked Chèvres? Smoother styles of Petite Sirah (you'll find softer, rounder tannin renderings of the grape in bottlings by McCay, Oak Ridge's Maggio, Peirano, or Jeremy).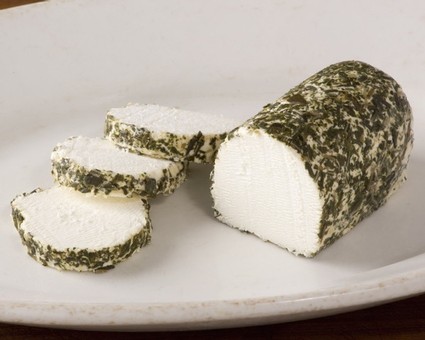 But wait, there's more. Chèvres coated with earthy red peppers or spicy/earthy Southwest style red chile mixes can also be fantastic with softer styles of Syrah such as Michael~David's 6th Sense, or Michael David's fun, sweetly spice scented, red Rhône-ish Incognito blend. In a similar vein, easy drinking, peppery spiced red wines made from the Grenache grape (such as McCay and Bokisch's Garnacha) also have enough softness of tannin and zest of acidity to find an easy match in pepper or chile spice coated goat cheese.
Then there are the herby variants. When coated with pungent Italian herbs (like rosemary, oregano and dried garlic), look for zesty, medium bodied reds made from Italy's Sangiovese grape (Lodi's Jeremy, Sorelle, and Macchia produce delicious examples).
When goat cheeses are crusted with fragrant French inspired mixtures (thyme, marjoram, basil, rosemary, sage, bay, lavender, et al.), you can go in three different directions and still have a delicious match: a dry white, a dry rosé, or a soft style red. The ideal white wine choice is Lodi's flowery yet crisply balanced, lavender scented white wines made from the Viognier grape (Onesta, Acquiesce, Peirano, McCay, and Gnarly Head make fine, pure, unfettered examples). For dry rosés, look for bottlings with the herbiness or spice reminiscent of France's Provence, such as those by McCay, Onesta, Acquiesce, Klinker Brick, Estate Crush, or Bokisch's Rosado. For reds, we particularly like the smooth, mildly kitchen herby reds made from Cabernet Franc (look for bottlings by Ironstone, Michael David's Inkblot, or McCay).
Finally, when it comes to goat cheeses infused with pungent, earthy truffles, that's when you can think in terms of earthier red wines; particularly Lodi grown Zinfandels with earthy/loamy tinged berry aromas (prime examples include m2's Soucie Vineyard, Macchia's Voluptuous, Oak Farm, McCay's TruLux, Estate Crush's Stellina, and The Lucas ZinStar). Then there is this titillating match: mildly loamy, rounded reds made Carignan, another one of Lodi's heritage grapes (looked for outstanding varietal bottlings by Klinker Brick, Jessie's Grove, MK (Michael Klouda), McCay, Van Ruiten Family, or Michael David).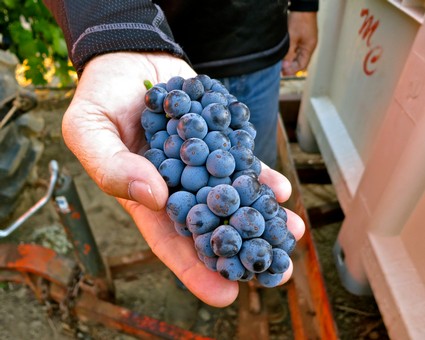 Feta (Greece)
This quiveringly soft, briny, earthy sheep's and goat's milk cheese is typically used in salads to add pointedly sharp, salty and earthy tastes. As with any food high in acidity and saltiness, feta's natural matches are wines with a fragrant fruitiness or even a touch of residual sugar balanced by a lemony acidity. White wines made from the Verdelho grape (by Lodi's St. Jorge or Bokisch) fit the bill. Crisp, fruit scented whites made from the Pinot Gris (a.k.a. Pinot Grigio) grape also work with sharp/salty feta (look for Lodi bottlings by Van Ruiten Family, or Hybrid,). Still another choice for, say, fresh salads sharpened with feta? One of Lodi's zesty, airy, light and refreshing Grenache Blancs (such as Onesta, Acquiesce, Fields Family, or Bokisch's Garnacha Blanca).
Havarti (Denmark)
Here's a match rarely entering the minds of wine and cheese lovers. Whereas Chèvres are tart and earthy, Havarti is soft, creamy, almost sweet and springy with fruitiness – a natural with most California grown styles of Chardonnay precisely because of their creamy, lower acid, soft, almost sweet, springy, fruitiness. Classic Lodi examples include those by The Lucas Winery, Harney Lane, Oak Farm, Upstream (by Watts), LangeTwins Family, Van Ruiten Family, Stama, Maley Bros., Peltier, Hybrid, Oak Ridge's Old Soul, or Gnarly Head.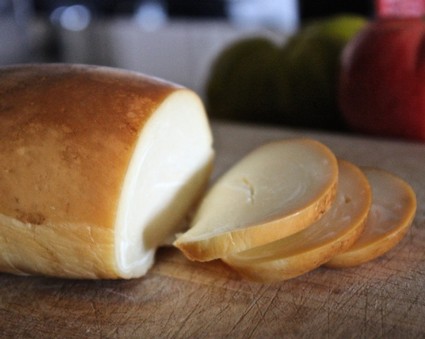 Bufala or Smoked Mozzarella (Italy)
By itself, soft, round Italian water buffalo milk Mozzarella, packed in its own liquified whey – at their best, enjoyed within days after production – invites any soft, round, fruity white wine of moderate acidity. Pinot Gris/Grigio is a natural match, but so are most round and plump Chardonnays. Smoked Mozzarella, on the ohter hand, goes a bit farther; its smoky flavor positively screaming for toasty/smoky barrel fermented styles of Chardonnay, such as the mildly smoky, richly textured Harney Lane, or viscous, creamy oak toned Chardonnays by Mettler Family, The Lucas, or Watts' Upstream.
Brie, Camembert & Triple Crème (France)
Wine lovers have always found that wines with either similar (low acid) or contrasting (higher acid) sensations can both go well with classic soft ripened cheeses. Round, even buttery styles of Chardonnay make excellent matches with the creaminess of soft ripened cheeses; although tart edged dry whites like Sauvignon Blanc and Pinot Gris/Grigio can offer the minerally notes as well as sharply contrasting acidity to freshen the palate by keeping the runny, buttery, often earthy taste of well ripened Bries or Camemberts from tiring the senses.
Gouda, Smoked Gouda & Aged Gouda (Netherlands)
From the Dutch city of Gouda, the famous Gouda cheese is firm yet creamy in texture, developing a crunchy (from protein crystals), caramel-like sweetness as well as faintly nutty, mushroom-like notes well before it hits the market. Crisply dry yet sweet lemon and lavender scented Verdelho (by Bokisch or St. Jorge) mingle effortlessly with younger Goudas' crunchy texture. But more fruit focused Chardonnays such as those by Michael David, Oak Farm or Van Ruiten Family are also easy choices, while toasted/vanillin, barrel fermented Chardonnays such as Harney Lane, Mettler Family, or The Lucas Family can add to the lush texturing and scent of Smoked Gouda.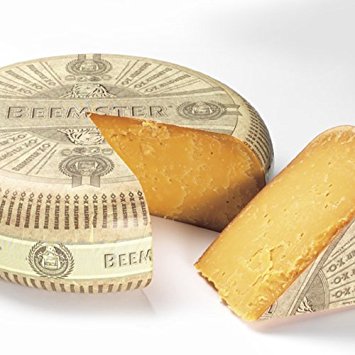 But once you get into the super-aged Goudas – like Beemster's Classic Extra Aged (18 months) or X.O. Extra Double Aged (26 months) – you start to veer off into red wine territory, since red wines are deeper in flavor than whites, and super-aged Goudas take on deeper, butterscotchy, vanilla roasted pecan flavors: a crazy good combination with sweet fruit forward, deep, full and oak enriched Zinfandels such as those by Mettler Family, St. Amant, Fields Family, Harney Lane, Klinker Brick, Peltier, Ironstone, Jesse's Grove, Michael David's Earthquake, Macchia, m2, LangeTwins Family, McCay, Oak Farm, Concrete, Rippey Family, PRIE, Mikami, MK (Michael Klouda), Harmony Wynelands, or any number of Lodi's better known Zinfandel specialists.
Manchego (Spain)
Once fromagers begin aging their products for six months or longer, cheeses such as the sheep's milk Manchego become deeper, firmer and more complex in umami driven sensations: definitely matches for red wines, given the depth derived during red wine production (i.e. fermentation with skins and longer aging processes). Fresh, tangy, yet mature, mildly salty, faintly sweet, crunchy Manchego is one cheese that adapts to almost any red of medium to high tannin, lower acidity and some degree of wood aging. In this sense, red wines made from Spanish grapes like Tempranillo (look for those of Bokisch, Harney Lane, Fields Family, m2, McCay, Peirano, or Dancing Fox) are naturals.
By the same token, red wines made from Merlot (like that Vicarmont, Ironstone, Peirano, Van Ruiten Family, Noble Vines' 181, or Oak Ridge's Maggio label) always taste great with Manchego; as does Cabernet Sauvignon (look for Mettler Family, Van Ruiten Family, Klinker Brick, or Michael David's Freakshow, Earthquake or Rapture) as well as Bordeaux inspired blends (particularly LangeTwins' Midnight Reserve, Van Ruiten Family's Cab-Shiraz, or Oak Ridge's Old Soul Pure Red).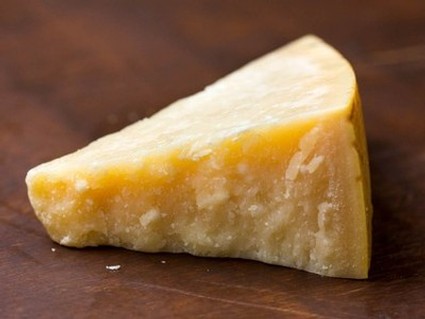 Parmigiano-Reggiano (Italy)
Because of its high amino acids, we usually think of Parmigiano as more of a condiment than an eating cheese; which is a shame, because there is nothing like simple shavings of Parmigiano with glasses of deep, sturdy, aggressively oak aged reds made from any of the Bordeaux varieties (especially Cabernet Sauvignon, Merlot, Cabernet Franc or Petit Verdot), bottled as varietals or blends.
Of course, the deep, fruity/nutty, crystallized taste of Parmigiano also has a way of bringing out the sweet scented, foresty/black cherry taste of the Sangiovese grape (finer Lodi grown examples by Sorelle, Jeremy, Macchia or Fields Family's Il Ladro). Another good choice is the zesty, buoyant black fruit qualities found in the Barbera grape (by Oak Farm, Macchia, Uvaggio, St. Amant, Borra, Heritage Oak, or Sorelle); not to mention similar sensations found in the modest assortment of more unusual Italian red varietals now being produced in Lodi (particularly the Teroldegos by LangeTwins Family or Peltier, Mettler Family's Aglianico, and Klinker Brick's Dolcetto).
Cheddars (International)
Practically all the world's great aged Cheddars – from English Farmhouse brands to domestics from California's Fiscalini Bandage Cheddar to the Sharp Cheddars of Tillamook in Oregon or from Vermont – possess even firmer, tangier, but also deeper caramelized butter flavors that do amazing jobs of smoothing out the rough, boisterous edges of Cabernet Sauvignons and other high extract, generous tannin red wines.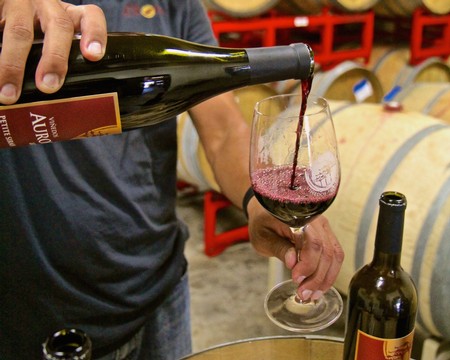 Aged Cheddar is also where some of Lodi's bigger, more intense styles of Zinfandel (think of Michael David's Earthquake, Klinker Brick's Old Ghost, m2's Select Block, Macchia's Outrageous, Mettler Family, or the innovative Concrete bottlings) can also shine. Then there are the wildly spiced reds made from the black-juiced Alicante Bouschet grape (by St. Jorge or Harmony Wynelands); or else the more full throttled, rambunctuous Petite Sirahs (especially Mettler Family, Viñedos Aurora, Rippey Family, McCay, Harney Lane, Maggio, and Michael David's Earthquake or Petite-Petit).
Blue Cheeses (International)
Generally speaking, the salty, sharp, and yes, moldy, taste of the great blue veined cheeses of the world respond best to the great sweet wines of the world – easy as pie, and as pleasing as pineapple sauce on a ham. After that, the preferences become personal. France's sweet Sauternes, for instance, is a traditional match for Stilton as well as for France's Roquefort (made from ewe's milk), although Port style reds (such as d'Art, Woodbridge's Portacinco, Ripken's Vintage, or Toasted Toad's Toadilly Luscious are three sweet examples) and sweet, late harvest style Zinfandels (look for Harney Lane's Lizzy James, The Lucas, or Harmony Wynelands' Zinsation) are just as delicious with the sharper, classic blue veined cheeses such as Roquefort, Stilton, or Span's Cabrales.
If you lean towards the slightly rounder, smoother, nevertheless rich and tangy blue cheese quality of Iowa's famous Maytag Blue, Calfornia's Point Reyes Original or Shaft's Bleu, Rogue Creamery's Oregon Blues, as well as the strong yet silky sensations of Italy's Gorgonzola, Denmark's Danablue or Spain's Valdeón, look for either these aforementioned sweet style reds, or else luscious, golden sweet whites made from the Muscat (a.k.a. Moscato) grape, such as those of Mettler Family or Uvaggio's Dolce.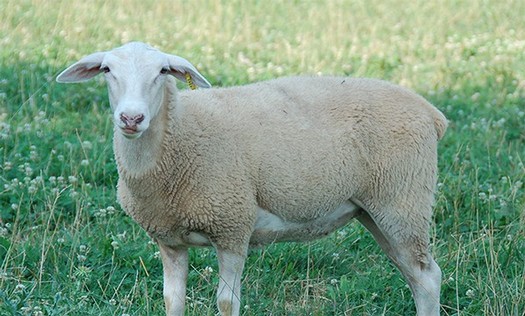 Comments