Letters from Lodi
An insightful and objective look at viticulture and winemaking from the Lodi
Appellation and the growers and vintners behind these crafts. Told from the
perspective of multi-award winning wine journalist, Randy Caparoso.

August 27, 2015 | Randy Caparoso
Italian inspired wines & menu planned for SIP SAVOR LODI Harvest Dinner under Lodi Arch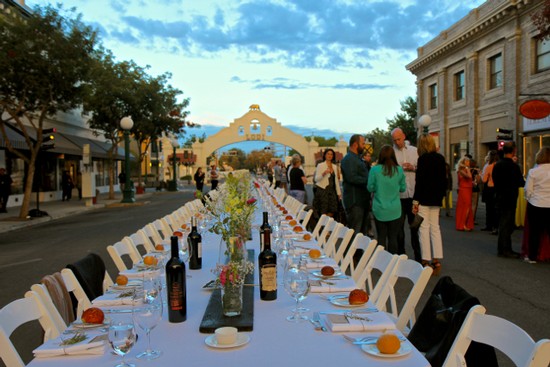 Last year's SIP SAVOR LODI Harvest Dinner under Downtown Lodi's Lodi Arch
On the Friday night (6-9 PM) of September 25, 2015, Downtown Lodi's Pine Street (just below the landmark Lodi Arch) becomes one big, long open-air dining room, in the finest wine country town tradition.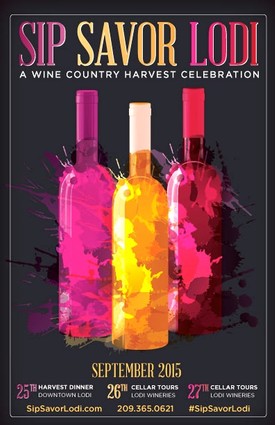 At the SIP SAVOR LODI Harvest Dinner, you will be able to enjoy dozens of Lodi's finest wines with a lavish array of courses while cozying up next to many of the Lodi Viticultural Area's finest winemakers, taking a much-needed breather between their usual breakneck around-the-clock harvest labors.
The dinner will be prepared by Elaine Bell Catering (for over 30 years, one of California's most celebrated wine country chefs); and the wines, of course, will be second-to-none. We have selected the best of the best for this event!
Although it is already almost completely booked, there are still a few seats left. Tickets are $125 per person, or $1,000 for reserved tables of 8 (21 years of age or older, please). To avoid disappointment, visit sipsavorlodi.com sooner than later to reserve your seats. You don't want to miss this!
The Menu & Wines
As you see below, SIP SAVOR LODI'S 2015 Downtown Lodi harvest menu will have something of an Italian inspired flair; with which, we will be pouring at least a dozen of Lodi's finest Italian style varietal bottlings (to be announced). The fare:
HORS D'OEUVRES
Ahi Tuna Tartare in crispy cone with ginger & sesame oil wasabi cream & toasted sesame seeds
Bruschetta with tomatoes, garlic & basil
Chilled Brentwood Corn Soup Shots Fresh Figs with lemon crème fraiche mint & light black pepper, garnished with crunch salt & black pepper
DINNER COURSES*
Chunky Red, Yellow & Chiogga Beet Salad with avocado, baby arugula, pickled sweet onions, crumbled blue cheese & citrus vinaigrette, garnished with micro-celery
Grilled Pesto Petite Tenderloin of Beef with cabernet demi-glace, rustic meyer lemon whipped red bliss potatoes & orange zest beans, garnished with crispy basil & roasted pepper strips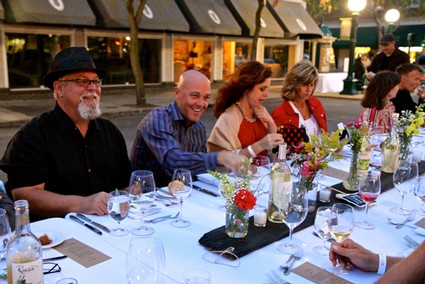 Layered Terrine of Spinach Ricotta Lasagna with spinach, Bellwether Farms ricotta, béchamel, basil, Vella's Asiago & Fontina, Italian style tomato sauce, roasted carrots, garden peas & braised pearl onions
Assorted Basque Boulangerie Rolls and sweet butter
*Vegetarian alternative courses available upon advance request
DESSERT
Golden Crêpes of Poached Apricots with raspberry apricot champagne reduction sauce, hints of orange & caramel sauce
Elaine Bell Catering French Coast Coffees & Tea Selection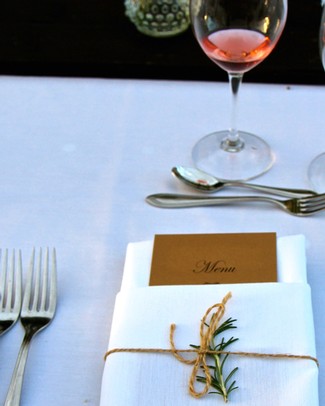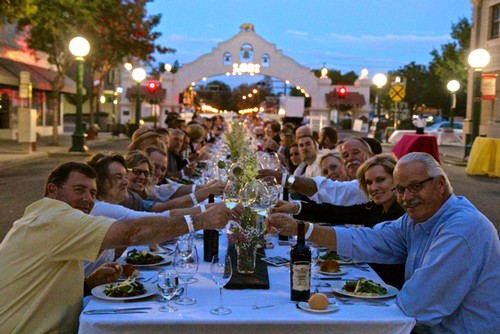 Comments