Letters from Lodi
An insightful and objective look at viticulture and winemaking from the Lodi
Appellation and the growers and vintners behind these crafts. Told from the
perspective of multi-award winning wine journalist, Randy Caparoso.

August 17, 2022 | Randy Caparoso
Lodi's early August harvest—a busy first week for alternative style producers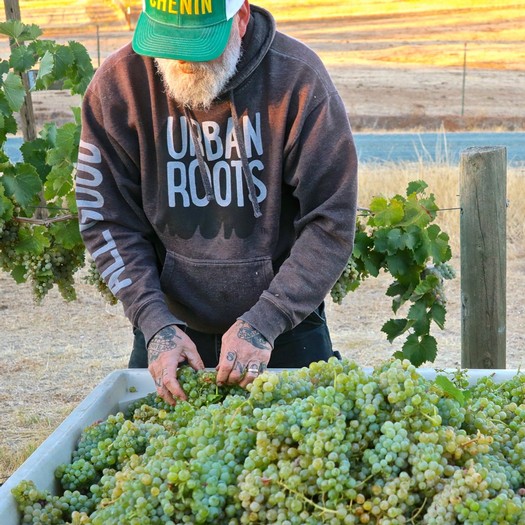 The second week of August 2022—August 10 through 17 to be precise—was a busy time for a certain type of grape grower, and certain types of winemakers, sourcing from the Lodi appellation.
There was a time when virtually no one picked in the first two weeks of August. Except for sparkling wine producers, who need grapes with lower sugar levels and higher acidity to produce wines going through first and secondary fermentations.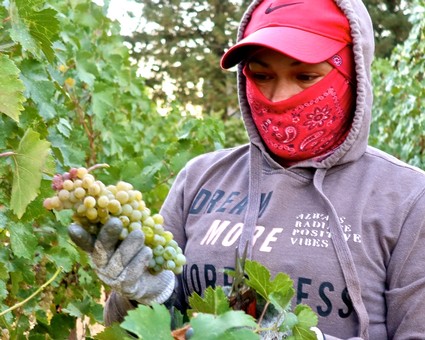 These days there are three factors why picking earlier in the season have become more prevalent:
1. The fairly recent popularity of dry style rosés, vinified to be delicate, almost transparent in color and with fresh fruit profiles underlined by crisp natural acidity. This style of rosé—considerably lighter than the more tutti-fruity, perceptively sweet, garishly pink colored rosés of the not-so-distant past—require black skinned grapes picked on the early side.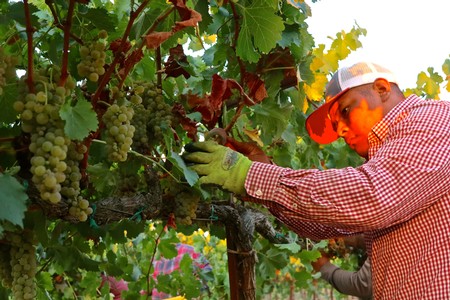 2. The growing taste for lighter and lighter white wines; as with contemporary rosés, white wines that are dry and crisp to the point of tartness, less fruitiness, and a little bit of "mineral" in the taste. Also requiring early picked grapes, preferably under 22° Brix (i.e., grape sugar reading), or as low as 19° Brix, which results in wines that are closer to 11% to 12% alcohol rather than the 14% alcohol which seemed to be the average of California style white wines just a few years ago.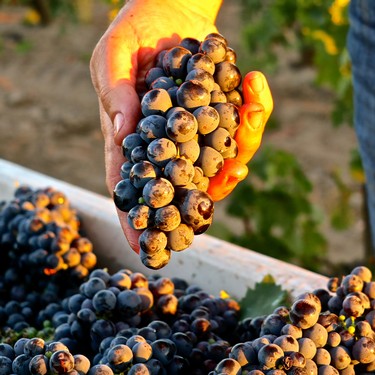 3. The growing taste for lighter style red wines. Therefore, there are vintners—many of them representative of a younger generation, looking to produce more "European" style wines— who are now picking red wine grapes super-early in the season in order to produce red wines that are leaner in fruitiness, a little more floral and/or earthy, as low as 11 or 12% in alcohol, and zestier in acidity.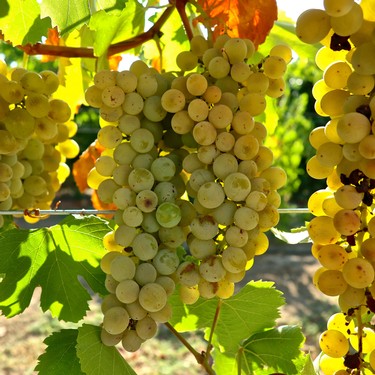 So that's what we've been seeing over the past week.
Last week Wednesday (August 10), the Koth family at Mokelumne Glen Vineyards on the east side of Lodi's Mokelumne River appellation began picking two of their more exotic red wine varieties, Zweigelt and Blaufränkisch, for a Santa Cruz Mountains-based winery called Trail Marker Wine Company. The Brix levels of these black skinned grapes were barely at 20°, 21° Brix.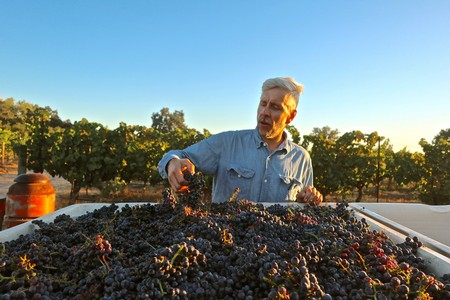 When asked why he prefers grapes that are so low in sugar, and thus less expressive in ripe fruit profiles, Trail Marker owner/winemaker Drew Huffine told us, "I prefer a red wine that's very light on its feet, less than 12% alcohol if I can get it. Even at lower sugar levels, these grapes have plenty of fruit expression, plus great color and acidity. We don't need to wait until they get super-ripe to make a varietally expressive wine."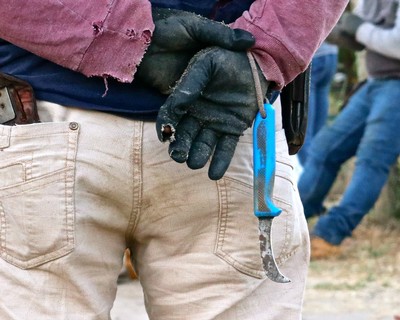 Typical of many contemporary style small wineries, Trail Marker has also become well known for "hands-off" styles of wine; that is, wines fermented exclusively with the natural or indigenous yeasts already found on the skins of grapes from each of their vineyard sources, and with minimal handling in the cellar, including little or no oak barrel influence. This is great for Lodi because, in a Trail Marker bottling vinified from Lodi grapes, you can get a genuine, unedited taste of not just grapes, but also a vineyard and wine region. Trail Marker's Lodi wines taste like "Lodi," not a brand "style" or a winemaker's ego. A revelation, if you have never tasted a "real" Lodi wine before.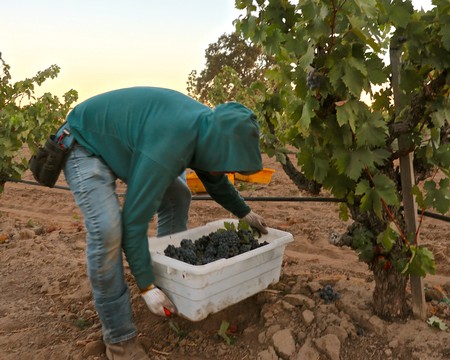 Last week Thursday (August 11) we watched Jeff and John Perlegos pick their first grapes of the 2022 vintage, Zinfandel from their Cherryhouse Vineyard, located on the west side of Lodi's Mokelumne River region. That morning they picked their heritage grapes, from a vineyard planted during the mid-1970s, for two wineries: Tank Garage Winery (based in Calistoga, Napa Valley), and Haarmeyer Wine Cellars (Sacramento).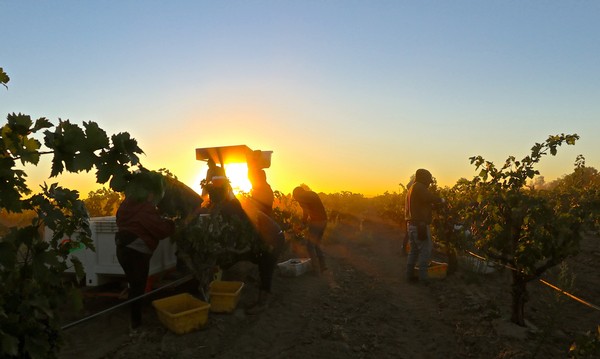 The Cherryhouse Zinfandel grapes, measured somewhere between 21° and 22° Brix, were picked for Tank's "White Zinfandel" program, anticipated to be a dry style of this pink wine. Haarmeyer owner/winemaker Craig Haarmeyer, on the other hand, picked his Cherryhouse Zinfandel to produce a red wine; a prickly yet fresh, feathery, native yeast fermented style of red that has made Haarmeyer one of the most popular of the small, cutting-edge style wineries popping up all over the state.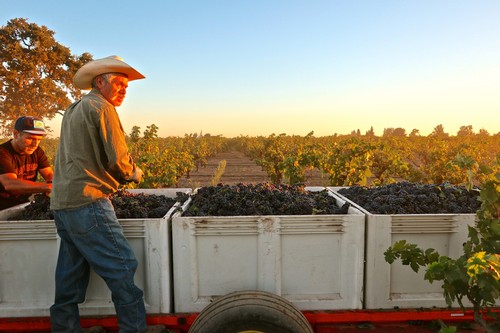 Fifty or sixty years ago, tiny, artisanal style wineries were described as "boutique." Many of the boutique wineries from the '60s and '70s have since morphed into large, mainstream brands, producing the varietal wines most familiar to consumers today (Cabernet Sauvignon, Chardonnay, etc.). Nowadays, the new, tiny producers fit more into an unofficial category associated with "natural" wines, often from less mainstream grapes. These vintners are more like provocateurs; and their wines, while not for everyone, have their fans—lots and lots of them, especially among the younger generation of wine lovers whose tastes are definitely different from that of their parents and grandparents. They love, for instance, a lean, light, sharp and earthy style of Zinfandel—the opposite of the gigantic, "No Wimpy" style so popular just twenty or thirty years ago.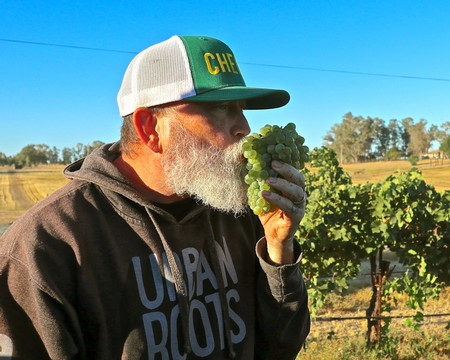 To wit, this past Saturday (August 13) we watched Craig Haarmeyer pick Chenin blanc in Palmero Vineyard, farmed by Gary Palmero, way out in the rocky hills of Lodi's Borden Ranch AVA. Old timers can well recall when Chenin blanc was one of Lodi's most widely planted grapes, producing fruit-driven, medium sweet white wines that were all the rage between the mid-'60s and early '80s. But once Chardonnay became popular in the mid-'80s, all the growers pulled out their Chenin blanc, and now it has become an extremely rare grape. Naturally, it is making a comeback, and artisanal winemakers such as Haarmeyer—who produces a more minerally, tart and bone dry style of white wine from this variety—have made Chenin blanc something of a fetish. Namely, more of a cult wine, for specialized tastes.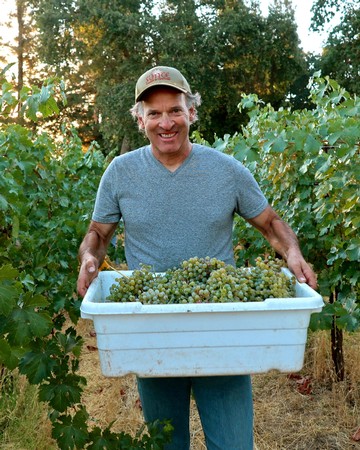 On Sunday (August 14), we were back in Mokelumne Glen Vineyards, watching the harvest of a rare (in the U.S.) Austrian grape called Grüner Veltliner, which produces light, dry whites with a grapefruity tartness and subtle combination of minerals and peppery spice. Again, appealing to very contemporary tastes. Despite their commitment to this intriguing if lesser known cultivar, the Koth family have not been able to find consistent buyers for their modest block of Grüner Veltliner. This year, the grapes go to a Reno, Nevada-based producer named Nevada Sunset Winery. If you've never heard of Reno winery before, it's for good reason—owning a commercial winery in Reno was not even legal until 2015.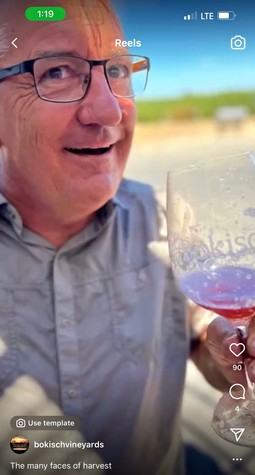 This past Monday (August 15), Bokisch Vineyards followed up their first pick of 2022 (red Garnacha for their rosé program, harvested last weekl Friday) with the first of their Albariño, grown in their Terra Alta Vineyard located in Clements Hils (out near the tiny east side communities of Lockeford and Clements). Over the years, Bokisch has been picking their Albariño earlier and earlier in the season to achieve an increasingly lighter, more tart-edgy, minerally/floral style; a far cry from the full bodied, tropical fruity styles of Albariño made when they first started in the early 2000s.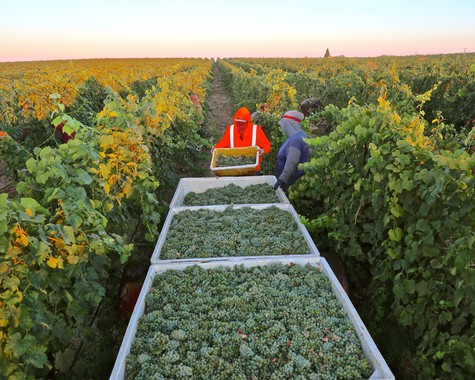 Says owner/grower Markus Bokisch: "We're picking out Albariño this entire week. The crop load is the lightest in our 22 years of working with variety. The clusters are loose and the berries are small. The Brix are coming in at our target of 21°, and the acids are elevated, leading to crisp juice. Oddly enough, despite the lower yield, the crop is coming in right on schedule with historic averages. A note on the season: up until this point the temperatures and clear blue California skies have been exceptional to the health of all of our plantings."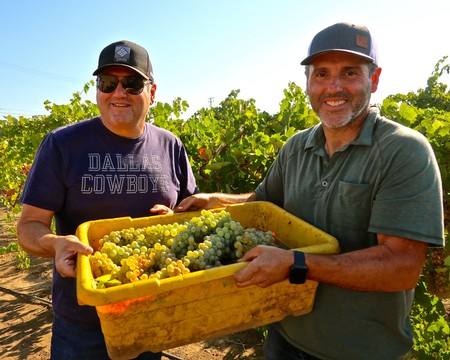 This past Tuesday (August 16) was an exciting day for Jeff and John Perlegos, who picked their second commercial crop of the rare (for California) Greek cultivar, Assyrtiko (Jeff says it's pronounced ah-SEER-tee-ko). This was a landmark day for the Perlegos family because of their Greek heritage, and they have high hopes for this grape. The Lodi appellation, after all, is defined by its quintessential Mediterranean climate, and Assyrtiko is an ancient Mediterranean grape. Can't possibly go wrong, right?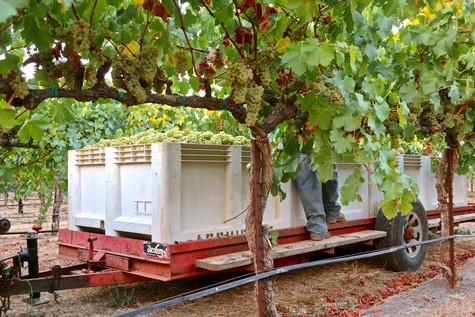 Finally, today (Wednesday, August 17), Acquiesce Winery & Vineyards picked their first grapes of the 2022 vintage: their highly acclaimed Viognier (this past January, Acquiesce's Viognier bottling garnered the Sweepstakes award at the San Francisco Chronicle Wine Competition—named the best white wine out of more than 2,000 other white wines entered into this prestigious professional wine judging).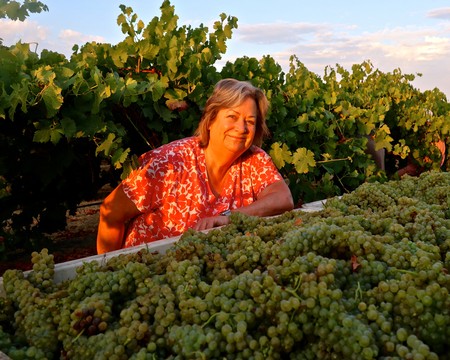 Acquiesce owner/grower/winemaker Sue Tipton tells us, "Viognier is the first grape to be picked every year—this year it's coming in at 22.5° Brix, exactly where we want it." With over a dozen vintages of estate grown fruit under her belt, Tipton has honed her yearly goals with this grape to an exacting edge: This sugar level gives her a style of Viognier that is intense yet restrained, floral without being overly fruity, crisp without being sharp, silk-textured without being fat, and with all the nuances of mineral, herbs (think lavender and potpourri), spice (white pepper) and fruit (notes of honey, violet, lilac) associated with the grape.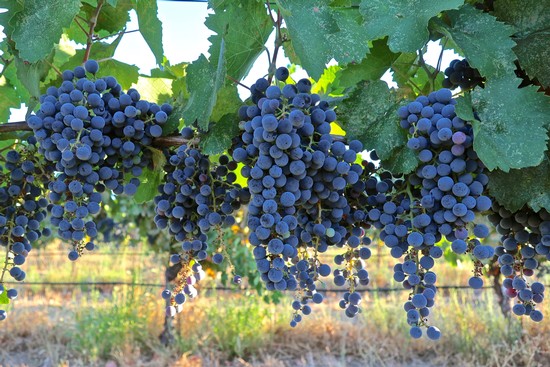 Comments