Letters from Lodi
An insightful and objective look at viticulture and winemaking from the Lodi
Appellation and the growers and vintners behind these crafts. Told from the
perspective of multi-award winning wine journalist, Randy Caparoso.

May 31, 2023 | Randy Caparoso
Lodi and Zinfandel like two ships passing in the night, perfect for summer barbecues!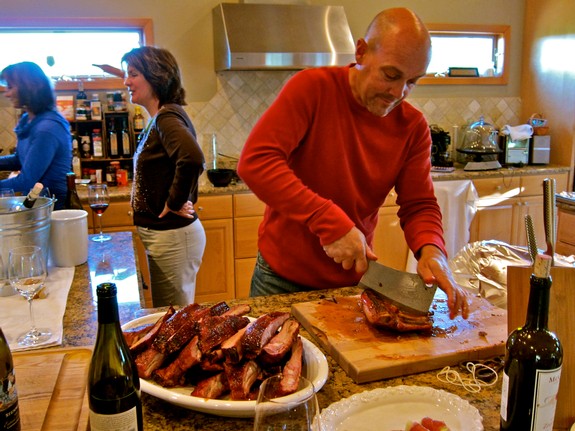 June 21 marks 2023's first day of summer, but we can already feel the season in the air when many of our thoughts turn to... barbecue!
We've posted many a write-up on this food group for a couple of reasons: 1) who doesn't love barbecue when the weather gets warm? and 2) the perfect wine for barbecue happens to be made from the grape for which the Lodi wine region is best known—Zinfandel.
First, about Zinfandel—primarily, that is, red Zinfandel, although there are a number of good, dry Zinfandel rosés now being made—as the perfect barbecue wine: We have enjoyed many different wines with barbecues, from smoked dry rub baby back ribs to pulled pork in zesty tomato barbecue sauces, grilled marinated chicken, Korean style short ribs, teriyaki beef and more. After all, is said in done, it is Zinfandel that usually tastes the best with almost all the variations of barbecue.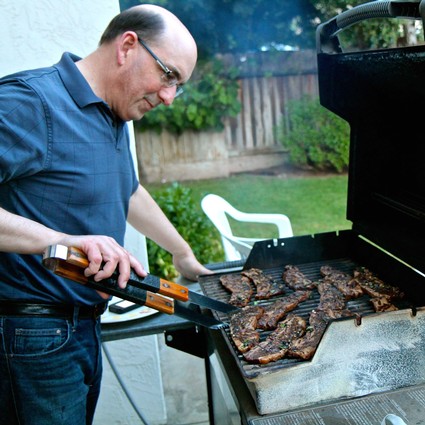 Why Zinfandel? Mostly because barbecues are typically zesty, and often a tiny bit sweet, vinegary, and/or hot in either their spices or sauces, which balances the fattiness intrinsic in the meats. This calls for a red wine that is not too heavy, not too light, and just as rich in the sweet tones, spices, and zesty sensations found in barbecued meats. In our tried-and-true experiences, absolutely no other wine in the world fits that description better than Zinfandel.
In the more of the lingo associated with wine, this is how we'd describe the taste of Zinfandel that makes it so simpatico with barbecue:
• Appealingly gushy berry-like fruit with a touch of peppery spice.
• A full body filled with plush, roundly textured flavors.
• Just enough tannin (the phenolic compounds derived from skins and seeds of grapes, and partially from oak barrels) to give a dry, firm feel, yet rarely overly dry, rough, or hard.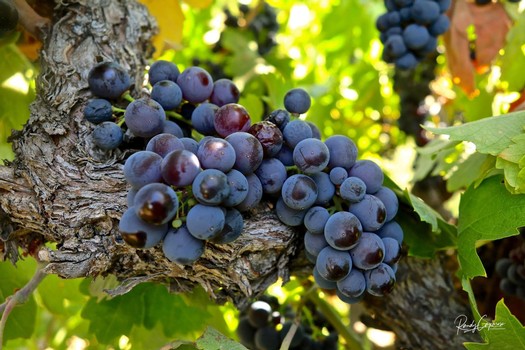 So here's the scoop about Lodi-grown Zinfandel:
• There is more Zinfandel grown in Lodi than any other region in California (at least 35% of the state's annual crush).
• The finest Zinfandels are generally considered to be those sourced from "old vines"—that is, grapevines over 50 years old)—and Lodi has far more old vine Zinfandel plantings (some 9,000 acres) than anywhere else in California
• Zinfandel has thrived in Lodi since the late 1800s for primarily one reason, which is environmental—the grape, simply, grows so well here.
For the longest time, Zinfandel was considered California's "mystery grape" because, up until the 1960s, no one really knew where the grape come from. But in the late '60s plants known as Primitivo were found in Southern Italy that were identical to Zinfandel (Primitivo is now widely planted in California as a clonal variant of Zinfandel). By the early 2000s, grapevine scientists were able to conclusively establish that the grape first came out of Croatia, across the Adriatic Sea from Italy. Conclusion: Zinfandel has Mediterranean origins.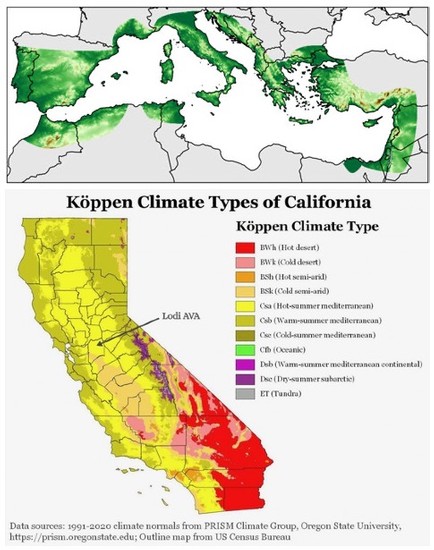 Which makes sense: It is Lodi's squarely Mediterranean climate, its combination of cloudless summer days and cool, breezy nights, plus phenomenally deep, rich, well-drained sandy loam alluvium soils that have proven to be absolutely ideal for this Mediterranean grape. Sure, Zinfandel is grown throughout the major California wine regions. It's just that it grows much more easily in Lodi, like mangos, papaya, and pineapples in Hawaii. For that reason, more than anything, there is far more Zinfandel in Lodi than anywhere else.
They say that people who find love are like two ships passing in the night. We're not exactly sure how Lodi ended up being the perfect match for Zinfandel, but there is some historical evidence that tells us a few things, such as the following:
• A Stockton entrepreneur named George West founded a nursery in 1852 and a winery in 1858, both called El Pinal. West brought in dozens of "foreign varieties" of grapes from the East Coast throughout the 1850s and began contracting farmers in Lodi to plant them. (See our post, George West—the long forgotten Father of the Lodi winegrowing industry).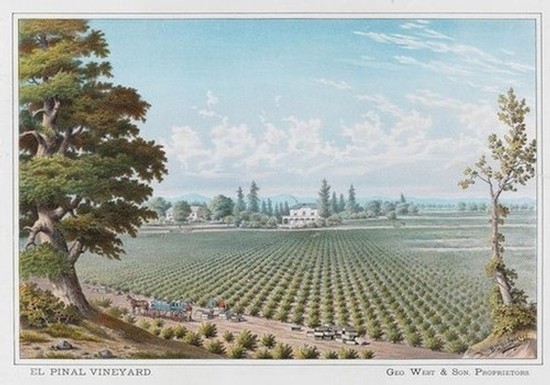 • When Ezekial Lawrence first arrived in Lodi in 1857, according to Lodi Historian, "there was less than 10 acres of grapes in San Joaquin County." By the 1870s, Lawrence was one of numerous Lodi growers shipping table and wine grapes as far as the East Coast by cattle car.
• In 1861 George Perley planted 30 grape varieties on his farm just west of Woodbridge, a township now located in the heart of the Mokelumne River-Lodi appellation.
• In 1864 George J. Leffler went on record as planting 6 acres of Flame Tokay south of the town of Lodi, along with 2 acres of Black Prince (now identified as Rose of Peru), and 2 more acres consisting of 15 different varieties. As with Perley's 1861 planting, these grapes more than likely included Zinfandel—a supposition based upon the following fact...
• In his book Zinfandel: A History of a Grape and Its Wines, Charles Lewis Sullivan writes that by the 1860s Zinfandel had become one of West's "favorite varieties" at El Pinal Winery and that an El Pinal bottling (most likely consisting of Zinfandel) was the only red table wine shown at the 1883 viticultural convention in San Francisco.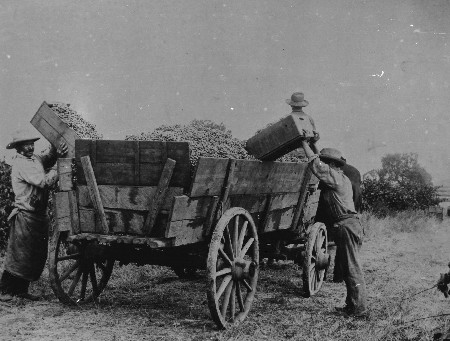 • Sullivan also makes note of the fact that in 1869 West began producing a white wine made from Zinfandel free-run juice—which would make it history's first commercial "White Zinfandel" that we know of.
• In 1889, under the advisory of El Pinal, Joseph Spenker planted a mixed block consisting primarily of Zinfandel (with smaller percentages of Carignan, Flame Tokay, Mission, and Black Prince) in his square-mile ranch west of the City of Lodi. A remnant of this block still exists today, farmed by Spenker's descendants, going into bottlings by Jessie's Grove, Marchelle, and Monte Rio Cellars.
• By the 1890s Zinfandel was Lodi's most widely planted wine grape. So much so that, at the 1907 Tokay Carnival—a 3-day event celebrating the fact that grapes had become Lodi's number one economic driver—the royal court elected by Lodi citizens was ruled by a "Queen Zinfandel," whose wardrobe cost a reported $300 (equivalent to over $9,000 today).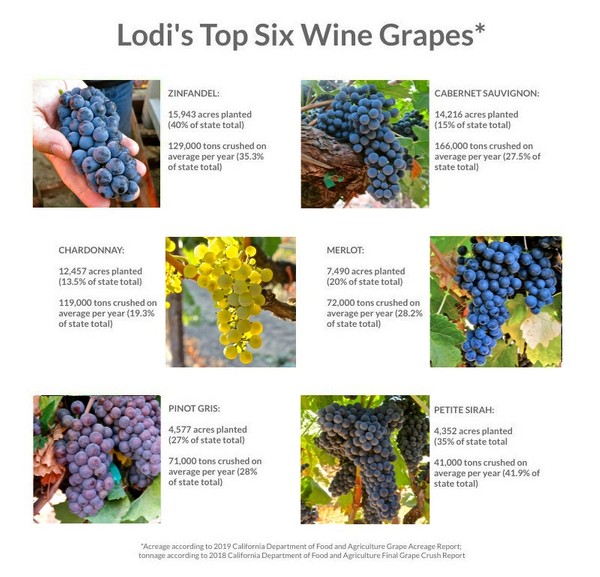 Zinfandel, that is to say, was already considered Lodi's premier wine grape by the early 1900s. We can't go back in time to talk to farmers to find out why that was, but we can make an educated assumption: that Zinfandel either grew the easiest or made the best wines. Probably both. Today—despite the high market demand for grapes such as Cabernet Sauvignon, Chardonnay, Pinot Grigio, Merlot, and Pinot Noir—Zinfandel remains Lodi's most widely planted grape.
You would expect a grape that has adapted so easily to a region to effortlessly make a fine tasting wine, and for the most part this is true. There are, however, tens of thousands of cases of Zinfandel carrying a Lodi appellation flooding the market from coast to coast and around the world, and most of these products are made to taste like Zinfandel that could come from anywhere in California, rather than specifically from Lodi. In other words, they're made to taste like "Zinfandel" according to generalized varietal expectations, rather than Zinfandel that comes from Lodi. This is an economic reality, but what if you are interested in something a little more site-specific?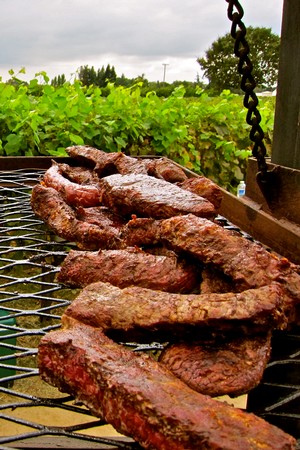 As with any domestic varietal category, to experience the finest examples of Lodi Zinfandel you would have to search out brands that specialize in handcrafted styles that emphasize more delineated varietal flavors, often with a touch of earthiness (a quality that comes natural to the grape in Lodi) and the varietal's subtle spice notes, plus a considerably more restrained hand with the use of oak flavor (excess oakiness can easily mask the flavor of a grape or a sense of a wine's origin).
Then there is the matter of commercial grape blending. The vast majority of California Zinfandels are not pure Zinfandels. They are usually blended with large percentages of other grapes, such as Petite Sirah (up to 25%). Petite Sirah in particular—Lodi's sixth most planted cultivar—is a grape that darkens the color, adds a riper flavor and bolsters the tannin level of a Zinfandel. The purest expressions of Zinfandel as a varietal, however, are not super-dark, ultra-ripe in fruitiness or hefty in tannin. Especially Lodi Zinfandels, which when left to stand on their own are almost always the opposite—soft, almost delicate, pale red wines, and fragrant or flowery rather than "jammy" sweet in fruitiness.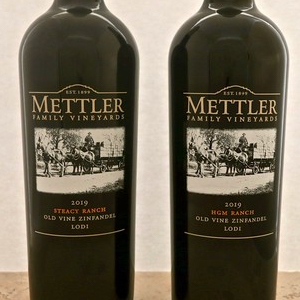 As you would expect, many of the finest Lodi Zinfandels are produced by smaller, homegrown Lodi area wineries, although not all of them. Brands such as Turley, Haarmeyer or Maître de Chai, for instance, are based outside of Lodi, yet are just as highly prized by Zinfandel connoisseurs as bottlings by vaunted local producers such as Harney Lane, Mettler Family, McCay, m2, Lucas, St. Amant, Heritage Oak, Perlegos Family or Christopher, to name just a few. For a larger list of local brands, see our 2022 roundup of Lodi Zinfandel styles.
Another way to recognize the finest examples of Lodi Zinfandel is to look for the name of a specific vineyard on the label, alongside the brand name and varietal identification. Vineard-designation bottlings, more than others, tend to be crafted to express the purest taste of individual vineyards possible—and in doing so, the purest possible expression of Lodi style Zinfandel, without excess oak or the influence of grapes other than Zinfandel. Often, they are also fermented with native rather than inoculated yeasts, which usually puts more emphasis on terroir, or "sense of place," something that connoisseurs of the finest wines from all over the world look for.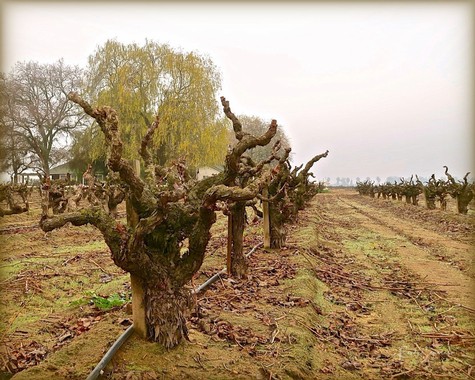 For the record, a list of Lodi's oldest or most distinctive Zinfandel plantings that have been identified on wine labels, preceded by their original planting date:
1889—Royal Tee Vineyard (a.k.a., Jessie's Grove)
1890s—Peirano Estate
1901—Marian's Vineyard
1902—Schmiedt's 1902 Vineyard
1903—Charlie Lewis Vineyard
1904—Lizzy James Vineyard
1907—Steacy Ranch
1909—Rous Vineyard
1900s—Scottsdale Vineyard
1900s—Noma Ranch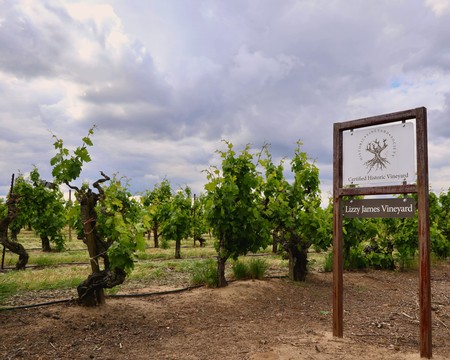 1915—Kirschenmann Vineyard
1916—Soucie Vineyard
1918—Faith Vineyard (a.k.a., Lot 13)
1918—Schmiedt Ranch (a.k.a., Dairy Vineyard)
1928—Marisa Vineyard
1920s—Stampede Vineyard
1920s—Süss Vineyard
1920s—Fathom Vineyard
1930—Hatterle Vineyard
1936—ZinStar Vineyard
1930s—TruLux Vineyard
1944—Dogtown Vineyard
1946—Westwind Vineyard
1940s—Mohr-Fry Ranches
1940s—Bonnotto Vineyard
Finally, we also know: With each passing year, the quality of Lodi Zinfandels gets better and better. Mostly because wineries are producing them to taste more and more like where they come from—Zinfandels that taste like Lodi. If your preference is for wines that are unlike any other in the world, look for Lodi's specialty Zinfandel bottlings.
That said, 2023 is going to be a great year for summer barbecues!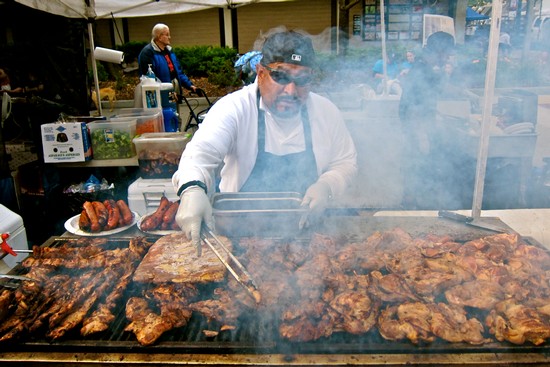 Comments