Letters from Lodi
An insightful and objective look at viticulture and winemaking from the Lodi
Appellation and the growers and vintners behind these crafts. Told from the
perspective of multi-award winning wine journalist, Randy Caparoso.

April 10, 2023 | Randy Caparoso
Lodi Wine Experience at Lodi Lake is back, May 19-20!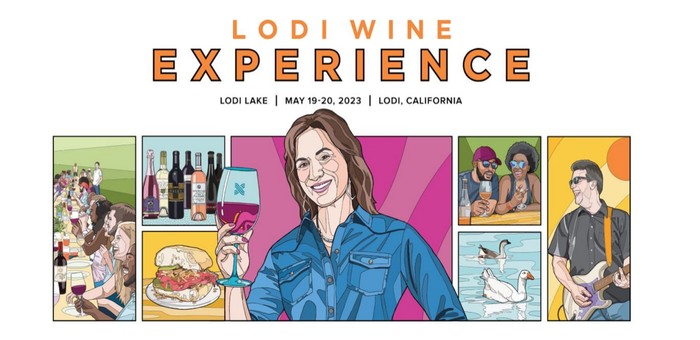 Are you ready for a different kind of wine experience?
One that takes place in a lush oasis dotted with towering oaks and willows, surrounded by the ice-cold waters of the Mokelumne River on one side and an enchanting lake on the other? Love will be in the air, as it always is during wine events at bucolic Lodi Lake. Love of wine, that is, and love of wine-friendly foods, love of learning and talking about wine, love of nature, and love among, well, wine lovers of similar ilk, from neophytes to connoisseurs. Almost takes you back to the immortal words of Jimi Hendrix...
If you can just get your mind together
Then come on across to me...

But first, are you experienced?
Have you ever been experienced?
Well, I have...

More experienced Lodi wine lovers may know that this outdoor May wine celebration was previously known as Lodi ZinFest, which took place from 2005 to 2019 and was sponsored by a nonprofit (benefiting local businesses and public services) called the California Wine Education Foundation established by the Lodi Winegrape Commission. The latter consists of approximately 750 winegrowers, farming grapes in the most productive wine region in California (thus, the entire country).
We all remember what happened in 2020, causing the Lodi growers to put off their yearly springtime celebration until... May 19-20, 2023! But now that it's back, you can bet that it will be brighter, more fun and more enlightening than ever. Pinky promise!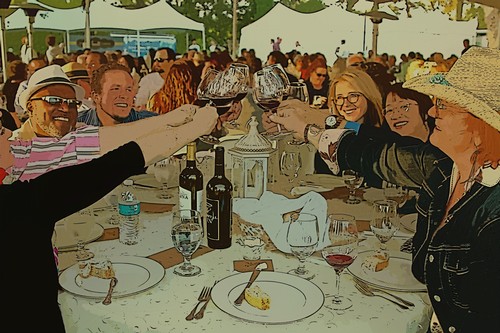 Friday, May 19—Lodi Wine Experience Signature Dinner at the Lake
What used to be called the Vintners Grille is now called the Signature Dinner. It is as much a celebration of the agricultural bounty grown in the Lodi region as a chance to sip, chat one-on-one, and enjoy exquisitely prepared wine country cuisine with the Lodi growers and vintners themselves. With, of course, bottles and bottles and bottles of the plush, round, aromatic wines typifying the rich, deep, grapevine-friendly soils and perfect Mediterranean climate of the Lodi appellation.
Then, as the stars glimmer in Nature's darkened dome above and the Delta breeze flutters in over the river to caress the skin, there will be live, irresistible music—and the grape growers will begin to... blame it on the boogie (as Michael Jackson once put it).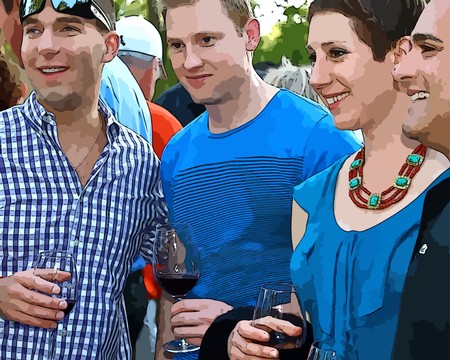 The Signature Dinner Reception, enhanced by passed appetizers, will begin at 6:00 PM, and the sit-down dinner at 7:00 PM. Among the culinary highlights: Grilled Peach Feta Arugula Walnut Salad in Champagne Vinaigrette; Herb Roasted Chicken in White Wine Jus; Grilled Santa Maria Tri-Tip with Horseradish and Confit Garlic Steak Sauce, and assortments of vegetables, potatoes, and desserts.
There will be only 500 Signature Dinner tickets available ($150/person), and it's always sold out quickly (the local growers and wineries tend to scoop up most of them). You don't want to wait—tickets are available online only at tickets.lodiwine.com.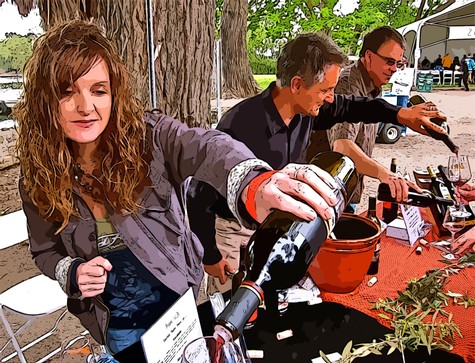 VIP Lodi Wine Experience Tickets (Weekend Package)
There are tickets available for each separate segment of the Lodi Wine Experience weekend; but if you are interested in a full Friday/Saturday package plus extra amenities, here is the scoop: For $275 paid in advance (not available at gates), you may acquire:
• 1 ticket for the Friday Signature Dinner at the Lake ticket
• 1 Early Entrance ticket for the Saturday Grand Tasting (11:00 AM-3:00 PM)
• Preferred Seating at three Wine Seminars
• 1 VIP swag bag (Saturday only)
• Exclusive front gate entrance (Saturday only).
Only 100 VIP tickets are available. Visit tickets.lodiwine.com.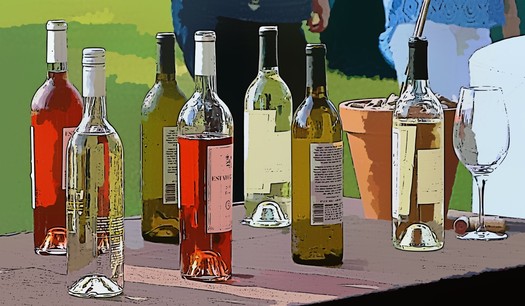 Saturday, May 20—Grand Tasting at Lodi Lake
The Grand Tasting will be your opportunity to experience the huge diversity of grapes and wines grown and produced in the Lodi appellation—and believe me, it's all better than ever! Over 50 of Lodi's finest wineries will be pouring, including numerous small, handcraft producers who are normally difficult for Lodi wine aficionados to get to on their own.
It is the phenomenal setting, the Lodi Lake nature park, that makes this event more like an old-fashioned outdoors lovefest: Food trucks, live music, and numerous places to sit, sip, relax and savor the wines alongside the lake or river. The subject matters of the three guided winemaker seminars—at 12:00, 1:00, and 2:00 PM—will be: "Everything You Want to Know About Old Vines and Why They're a Big Deal," "Rosé All Day," and "East vs. West Side Zinfandels" (more details to come in a follow-up post).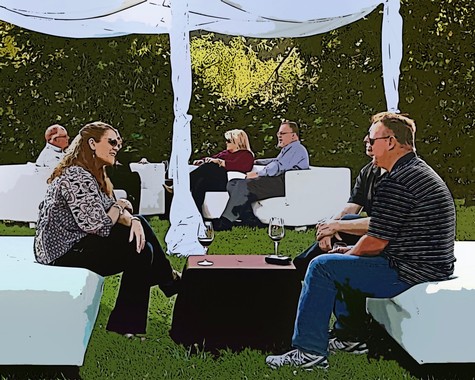 Your ticket choices are available at tickets.lodiwine.com:
• 11:00 AM to 3:00 PM—Early Entrance ($110, limited availability, not sold at gate)
• 12:00 to 3:00 PM—General Admission ($90, may not be available at gate).
All tickets include a Lodi Wine Experience wine glass. Must be 21+ to attend. All sales are final (the event takes place rain or shine).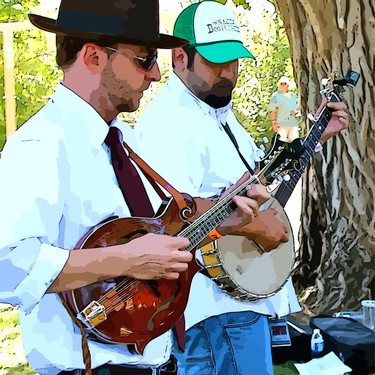 Designated Driver Early Entrance
$30 (may not be available at the gate)—The ticket allows the ticket holder to enter one hour early at 11:00 AM, before the general public. The ticket does not include wine tasting. Tickets are limited at tickets.lodiwine.com.
Designated Driver General Admission
$20 (may not be available at the gate)—The ticket allows the ticket holder to enter at 12:00 PM once the gates have opened. The ticket does not include wine tasting. Tickets are limited at tickets.lodiwine.com.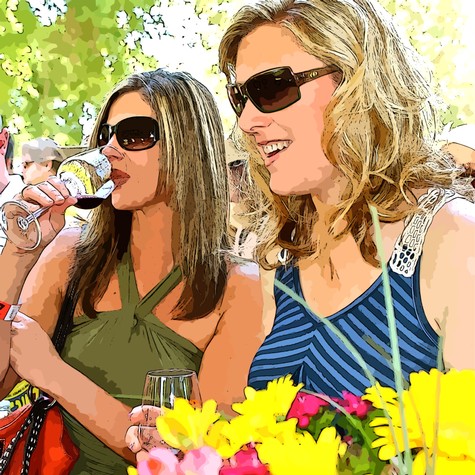 Comments