Letters from Lodi
An insightful and objective look at viticulture and winemaking from the Lodi
Appellation and the growers and vintners behind these crafts. Told from the
perspective of multi-award winning wine journalist, Randy Caparoso.
April 3, 2018 |
Larry Mettler honored to be honored by the Lodi community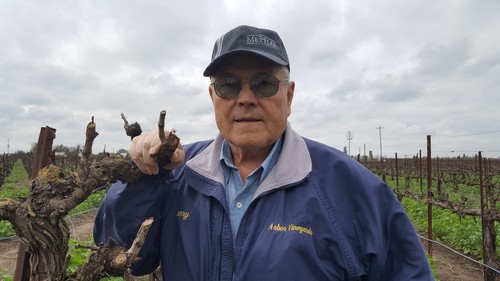 Larry Mettler is seated in a comfortable chair inside his family winery's tasting room.
Outside, the trees sway in the breeze and acres of grape vines stand in neat rows.
Usually bustling Thursday through Monday, the tasting room is closed this day and eerily quiet. It's not lost that Mettler, a Lodi winegrowing icon with multiple generations of family farming history behind him, resembles a monarch in his kingdom.
Mettler has built a successful vineyard management company and a thriving winery, a must-visit on the Lodi wine trail. His wife, Charlene, their three children and other members of the family are involved in the businesses.
On Saturday (April 7), Mettler will be honored at the Notably San Joaquin Wine Auction & Dinner to benefit the San Joaquin County Historical Society and Museum at Hutchins Street Square in Lodi. Such occasions call for reflection. So, what is Mettler grateful for as he looks back on his life?
"I'm grateful that our forefathers were not involved in the dairy business or grew Brussels sprouts," he said with a smile. "It's a lot nicer being in the wine business."
Mettler's forefathers farmed in Alsace, Germany (now France) and settled in Lodi in 1899. Since then, the Mettlers have been stalwart Lodi farmers. Larry's grandparents were among a group of growers that founded the East-Side Winery (now Oak Ridge Winery) which opened after the repeal of the Volstead Act in 1933. In the mid-1980s, Larry and Charlene founded their management company, Arbor Vineyards. In the early 1990s, the Mettlers helped establish the Lodi Winegrape Commission and in 1999, the family expanded their business and opened Mettler Family Vineyards. For more than a decade, their wines only were available through distributors, but in 2013, the family began selling directly to consumers out of a beautiful tasting room on their 25-acre estate on Harney Lane east of Highway 99.
"We started off a little different than most," Mettler said. "We started with distribution with Cabernet Sauvignon to see how successful we might be before we had a tasting room. Eventually, we got more varieties and now we distribute three varieties nationwide: Petite Sirah, Zinfandel and Cabernet Sauvignon."
Mettler Family Vineyards also produces Chardonnay, Merlot, a GSM (Grenache, Syrah Mourvedre) blend and wines from some lesser-known varieties that are available only in the tasting room, such as Albariňo, Muscat Canelli, Aglianico, Mourvedre and Pinotage.
"That really makes the tasting room interesting for the public to come in and see what the Lodi region can do," Mettler said. "It seems people really like all of the wines. They are infatuated with some of the odd varieties that you don't really see in other places. So, that makes it fun for us, too."
The Mettlers grow under the auspices of LODI RULES, California's first third-party certified sustainable winegrowing program, as well as the California Certified Organic Farmers protocol.
"It's all estate," Mettler said. "We grow all the grapes. We have total control over how we grow the grapes and how we make the wine, so we have consistency there."
Larry Mettler was raised in a farming community and took classes in agriculture at Lodi High. He participated in the Future Farmers of America and 4-H and was president of the California Young Farmers Association. Mettler earned a degree in viticulture and oenology at California State University, Fresno. After a two-year stint in the military, Mettler began farming in 1970 on family property in Lodi with his father, Carl, and his brother, Jim.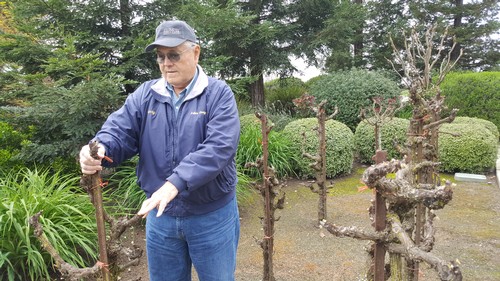 Larry had a second job at the time working for vineyard supply companies in Fresno and Lodi. He and his family operated a fruit stand from their home, and sold fruit and vegetables grown on their farm at numerous farmers markets.
Larry and Charlene inherited property from Larry's maternal grandfather, E.F. Handel, and they acquired more acreage through a low-interest Cal-Vet loan. Then, they formed Arbor Vineyards, which leases, manages and owns some 1,600 acres of winegrapes in the Lodi American Viticultural Area.
Larry always has been interested in new trends, including trellising and innovations in equipment. He was one of the first farmers in Lodi to purchase a mechanical harvester and one of the first to plant Cabernet Sauvignon in the area.
"I knew it was going to be OK, but when I was in college, all of the professors said, oh, you can't grow cab in Lodi. It's too warm and it's a table grape area with the Tokays and what have you," Mettler said. "But that really isn't the case."
Mettler grafted French clones to a few vines and the program took off. Today, District 11, which includes the Lodi AVA, is California's leading producer of Cabernet Sauvignon with 163,726 total tons crushed in 2017, about 27 percent of the state's total, according to the latest statewide crush report.
Over the years, Mettler has worked to improve the community in many ways, including serving as a volunteer fireman with the Mokelumne Rural Fire District for 16 years and as chairman of the San Joaquin Delta College Agriculture Advisory Board for 10 years.
Mettler also served as chairman of the Lodi Winegrape Commission, which was established in 1991 by Lodi winegrowers to enhance the profitability of winegrape production through promotion, education and research. The Commission represents 750 growers tending more than 100,000 acres of winegrapes. Since the Commission's inception, Lodi has grown from eight wineries to more than 90.
"We have to constantly think about how to make the area better and how to keep it fresh and how to keep people coming here," Mettler said. "Our Commission, our farm organizations need to strive to put their best foot forward always and make it easier for people to find us and enjoy our wine and our countryside and not harder."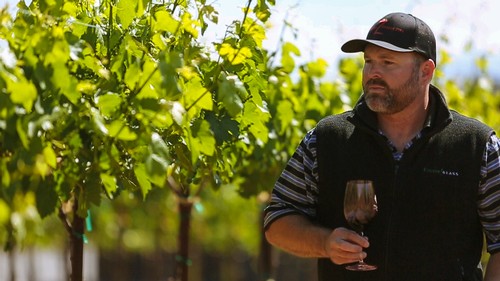 Larry and Charlene's three children and their families also are committed to the family businesses and the Lodi community. Their son, Adam, is the winemaker for Mettler Family Vineyards and his own label, Freelance Wines, and is the Director of Wine Operations for Michael David Winery. Adam also helps with the Mettler's farm management operation, Arbor Vineyards. Their daughter, Kim Mettler Eells, is general manager of Mettler Family Vineyards, and her husband, Jason Eells, is vineyard manager. Their daughter, Kelli Mettler Costamagna, heads sales in California, and their cousin, John Anagnos, handles the equipment, manages the shop and performs many other duties.
"My dad has been very involved in the industry throughout his life and been influential to the Lodi winegrape region," Adam Mettler said. "My dad has instilled hard work and family values in me since childhood. He showed my siblings and I how to farm and work the family ranch while teaching us how to manage a business with integrity. We all today work in the Lodi winegrape business because of the passion and example he set for us."
Larry Mettler said he's honored to receive recognition from the San Joaquin Historical Society, but in customary fashion, he's pleased that the dinner and auction will help others.
"We need to remember that it's first and foremost a fundraiser for a great cause – the San Joaquin County Historical Society and Museum," Mettler said. "It's nice to be recognized by your community and recognized for what you've done and some of the accomplishments and activities that have developed over the years.
"So, that's special."
Comments