Letters from Lodi
An insightful and objective look at viticulture and winemaking from the Lodi
Appellation and the growers and vintners behind these crafts. Told from the
perspective of multi-award winning wine journalist, Randy Caparoso.

November 29, 2021 | Randy Caparoso
LVVR Sparkling Reserves combine the exuberance of Lodi grapes with classic champagne elegance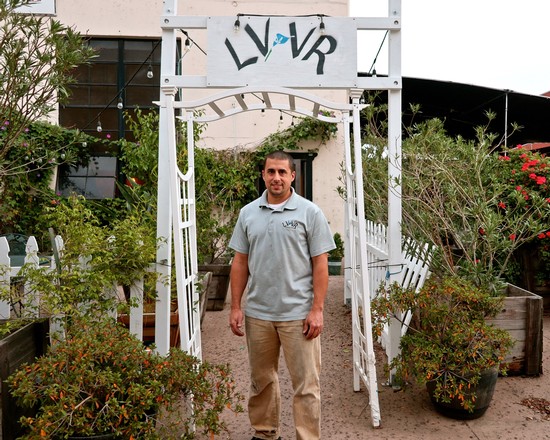 One of Lodi wine country's biggest success stories has been LVVR Sparkling Cellars, founded in 2012 by owner/winemaker Eric Donaldson, prompted by the encouragement of four friends who happen to be sisters named Leticia, Vanessa, Virginia, and Rose (hence the name, LVVR).
It has been just five years (in 2016) since LVVR first opened its doors to the public in Tuscan Winery Village in Lockeford, east of the City of Lodi. Just over the past two years, according to Donaldson, production has expanded by over four times. He not only crafts sparkling wines for his own brand, but he now produces a myriad of different sparklers for over 40 other wineries based in Lodi, the Sierra Foothills, and elsewhere in the state.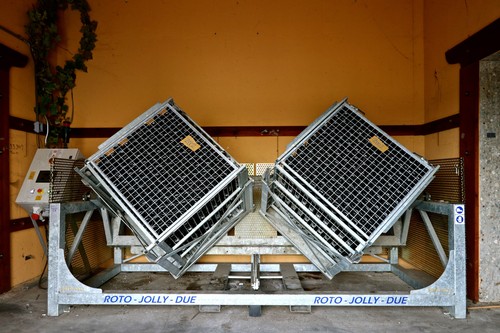 The appeal is the fact that Donaldson produces sparkling wines in the traditional, painstaking style called méthode champenoise, in which yeast and sugar are added to already fermented wines in individual bottles, initiating a secondary fermentation resulting in ultra-fine bubbles, more like tiny beads, trapped in each bottle. Voilà, classic champagne.
While up to about 55 years ago champagne-style sparklers were laboriously made by hand, it now requires special equipment such as automatically rotating cages (called gyro palettes) that can gently shake (called "riddling") over 500 bottles at a time so that the lees (i.e., expired yeast cells) can collect into the necks of each bottle, which are later removed during a "disgorgement" stage. Most wineries do not have the proper equipment for riddling, disgorging, and bottling with wired champagne corks; hence, Donaldson's booming business.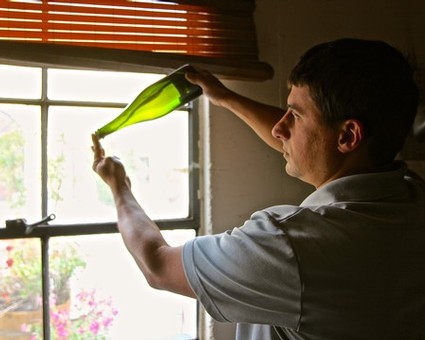 Donaldson tells us: "I'm now running at least 8 cages a week for my winery clients. The normal method is for wineries to bring me their finished wines. The wines are typically made from grapes picked around 18° Brix since we need the wines to be lower in alcohol and higher in acid to make a higher-quality sparkling wine. All the wines going into our own LVVR sparklers are made from Lodi-grown grapes, which we press and ferment ourselves."
This brings us to the most important thing to know about LVVR Sparkling Cellars here at the end of 2021: After going on nine years of perfecting his craft, Donaldson has attained a mastery of champagne style, Lodi appellation sparklers. Meaning, his best wines — bottled under Reserve labels — are combinations of the exuberantly scented qualities intrinsic in Lodi grapes with the deeply yeasty (think of the comforting aroma of rising bread), sleek, dry, lively yet silken fine textures wrought by the traditional champagne method.
LVVR's latest sparklers, in other words, are joyous "Lodi," yet as crisp and refined as any classic sparkler. The details on three current stand-outs, along with Donaldson's remarks on the perfect cheese matches he has found for each cuvée: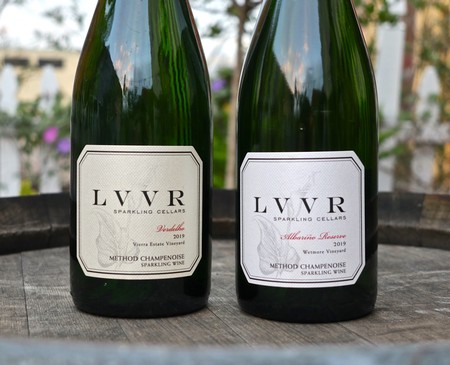 2019 LVVR, Vierra Verdelho Reserve, Jahant-Lodi ($30)
Crafted entirely from the Portuguese Verdelho grape grown by Vern Vierra in Lodi's Jahant AVA, this is an exotically floral sparkler inundated with yeasty and lemony champagne-style highlights. On the palate, the wine is absolutely dry, with zero sugar added to the dosage (the wine is added to the bottles within seconds after the lees are disgorged).
Donaldson comments, "The Verdelho Reserve reminds me of the dry minerality typical of cava (Spanish sparkling wines). I've been pleased by how well Verdelho works — the grape has baseline chemistry that is ideal for sparkling wines." Donaldson also recommends Modesto's parmesan-style San Joaquin Gold by Fiscalini Cheese Company as a perfect champagne/cheese match.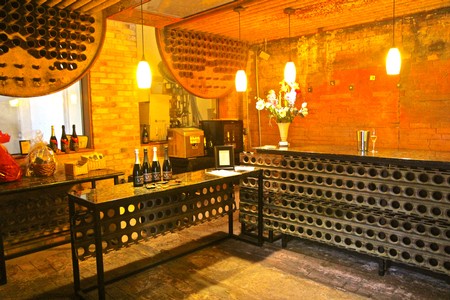 2019 LVVR, Wetmore Albariño Reserve, Jahant-Lodi AVA ($30)
Another 100% varietal sparkler; grown by Aaron Shinn, who manages Jonathan Wetmore's Round Valley Ranches, one of Lodi's most important vineyard management companies. The yeast-infused nose starts off with a super lemon/lime fragrance, quickly evolving into mineral (think of flinty stones) and subtlely tropical notes suggesting mango. Like the Verdelho Reserve, the Albariño Reserve has a "natural" dryness (zero sugar in the dosage), and bright, frothy, tart-edged qualities embellish the yeasty, citrusy sensations flowing across the palate.
Comments Donaldson, "I aged this wine en tirage [i.e., the length of time sparklers are aged in contact with lees in the bottle] for just five months to show off the natural stone fruit qualities of Albariño. This wine has been very popular — the grape produces a sparkling wine of distinctive character and depth." For the Albariño Reserve, Donaldson recommends another cheese with aged (16 months), caramelized nut complexities, the Cinco Lanzas Gran Reserva, crafted in central Spain from sheep, goat, and cow's milk.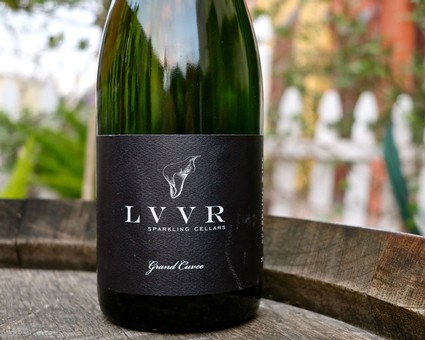 2017 LVVR, Grand Cuvée Reserve, Lodi AVA ($30)
Subtlely floral, lemon, and cream notes are enriched by a toasted biscuit-like yeast complexity, with dabs of butter and honey. On the palate, the Grand Cuvée comes across as very light, bright, and silky. While, in the past, Donaldson has produced traditional (or conventional) style cuvées from Chardonnay and Pinot noir grapes, he has come to favor base wines with more distinctly "Lodi" characteristics; in the case of the Grand Cuvée, a fruit-forward blend of Chardonnay (75%) and Verdelho, plus a smidgen of Viognier. A full two years of aging en tirage gives the wine its luxurious texture, and while very dry, .125% sugar in the dosage only adds to an overall sense of richness.
It is the depth of this wine that Donaldson finds ideally matched with Rembrandt's extremely savory Extra Aged Gouda, a Dutch grass-fed cow's milk cheese aged for over four years (an astounding 52 weeks).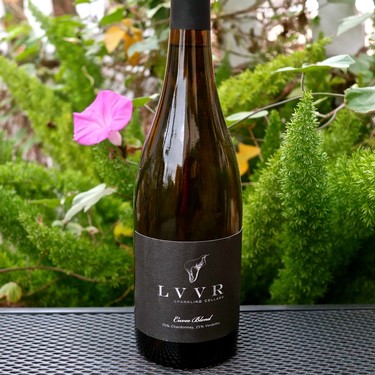 NV Cuvée Blend, Mokelumne River-Lodi AVA ($18)
Finally, this is a non-sparkler: a table white wine consisting of Donaldson's current favorite sparkling base wine, Chardonnay (75%), and Verdelho (25%). Donaldson kiddingly describes this as his big "flop," explaining: "I loved this base wine so much, I couldn't resist bottling it on its own, without the bubbles. The problem is when people come in and you show this wine they usually say, 'We came here to taste sparkling wines, not still wines.'"
As a table wine of any sort, LVVR's Cuvée Blanc is as compelling as any bone-dry white wine. First, it is extremely light and refreshing (just 11.5% alcohol). Second, going straight from stainless steel tank to bottle, the wine is absolutely pure in its lemony crisp, delicately floral profile. It is steely without being tart or austere, while there is enough acidity to give it a flowing, minerally quality. If you have come to love contemporary-style white wines made without the influence of oak and with more emphasis on crisp minerality than fruitiness, this bottling is tailor-made for you.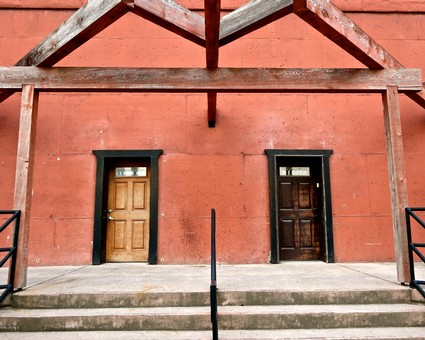 Among the other current LVVR sparkling wine offerings, Donaldson has produced a red wine-ish, pale pink-toned 2019 Heaven's Gate Barbera Reserve ($34) sourced from the Clements Hills-Lodi AVA. In a more conventional vein, there are also LVVR bottlings of Brut, Rosé, Blanc de Blancs, and Demi-Sec (the latter, a medium-sweet sparkler) priced at $24. Every one of these Lodi-grown-and-produced sparklers will immensely enhance your holiday celebrations. Make your 2021 Christmas a sparkling Lodi one!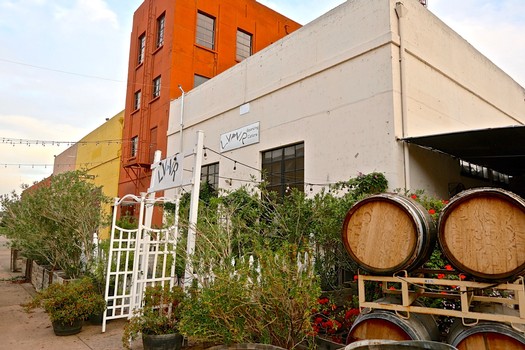 Comments