Letters from Lodi
An insightful and objective look at viticulture and winemaking from the Lodi
Appellation and the growers and vintners behind these crafts. Told from the
perspective of multi-award winning wine journalist, Randy Caparoso.

March 20, 2020 | Randy Caparoso
Recipe for positive shelter-in-place living with Lodi Zinfandel and Zinfandel beef stew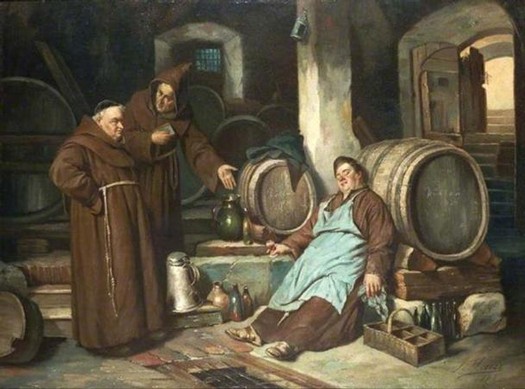 As of today, at least in California, "shelter in place" is no longer a suggestion. It is mandated. Venturing outside our doors to get groceries and any other essential will still be okay, but practical questions about what is "essential" will remain. The big question, of course, will be how can we make life in general... a little more livable?
Zinfandel, we suppose. Especially Lodi's brand of Zinfandel, which at least has the advantage of tasting like, well, Zinfandel is grown in Lodi.
What is that taste? Zinfandel lovers as a group know that Lodi in general grows a softer, friendlier, zingy yet sturdy style of Zinfandel. Even at 14% or 15% alcohol, they never taste excessively "big" or heavy, nor are they light and wimpy. Two reasons for that:
First, the largely sandy/loamy "Tokay" series soils of Lodi tend to produce red wines with softer, rounded tannin (the components derived from skins, seeds, and stems of grapes). This is simply a wine-growing fact of life.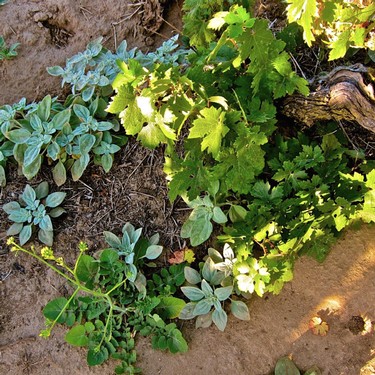 Second, Lodi's warm Mediterranean climate combines with these sandy soils to produce a style of Zinfandel that brings out the red fruit side of the varietal personality. We're talking fragrances that are more like cherry, raspberry, or strawberry, as opposed to blackberry or plum. Therefore, Lodi-grown Zinfandels end up a little more perfumey — more like ballerinas than sumo wrestlers, compared to Zinfandels from other California wine regions.
Yet at the same time, Lodi has the same coastal-influenced diurnal swings — where summer days can hit the 80°s and 90°s, but nights go down into the low to mid- 50°s — as the rest of the California coast. This results in Zinfandels with lots of natural acidity. That's that snap, crackle, and pop that you feel on the palate as the wine slips and slides into the palate. Or like "electricity" — there's a reason why that word is used when lonely people meet like strangers in the night.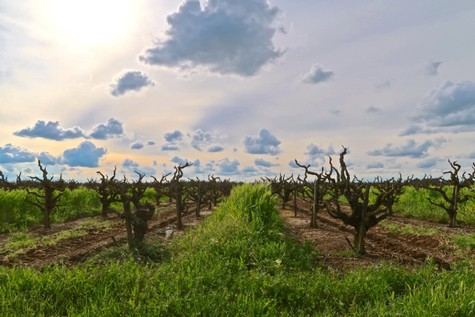 Last year, Tegan Passalacqua — the winemaker of the widely acclaimed Turley Wine Cellars (which produces Zinfandel grown in no less than four Lodi AVA vineyards) — said something interesting about how students learning about Sonoma's Russian River Valley is taught how to distinguish a Zinfandel from a Pinot noir in blind tasting courses taught by Master Sommeliers: If you have two red wines with bright berry fruit but one has a zestier edge of acidity, the zestier wine would be the Zinfandel. Food for thought.
This is why we're building up to this point: Because of the generally known fact that the best wines to go with foods tend to be wines with zestier acidity, Zinfandel makes a fantastic wine for food. One of the best wines in the world for that, in fact, because of the way the moderate tannin and brightly berryish fruit qualities natural to Zinfandel tend to slip and slide between bites of food with unerring ease. Food and wine for thought.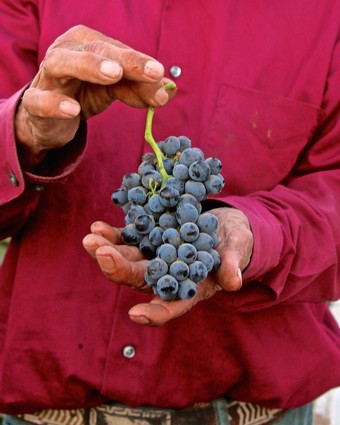 So if you happen to live in or near Lodi, or are well stocked with Lodi-grown Zinfandel from your local store — seeing as how the average prices of Lodi Zinfandel (somewhere between $12 and $25) make them such popular retail items — then the idea of an extended "shelter in place" doesn't seem like such a bad idea. Bring it on.
To be even more specific: Think pot of beef stew cooked with Zinfandel. Lodi Zinfandel goes with a lot of things, but it's especially great with that. It's a dish that, theoretically, you can do in a couple of hours; or, if you prefer to draw things out while binge-watching NFL's 10-year-long Game Pass, or some sexy/violent multi-season show like Outlander or Game of Thrones, it's about as perfect a dish for a slow cooker as any.
In Hawaii, beef stew is eaten with white rice, although the fact that it's a stew and therefore can soak and soften the taste of brown rice makes making a healthy choice that much more bearable. But maybe you're out of rice because you were slow to get to the grocery store and beat this past week's panic-stricken crowds to the punch. No matter, because beef stews are just as fantastic as potatoes. Just add more to the recipe below.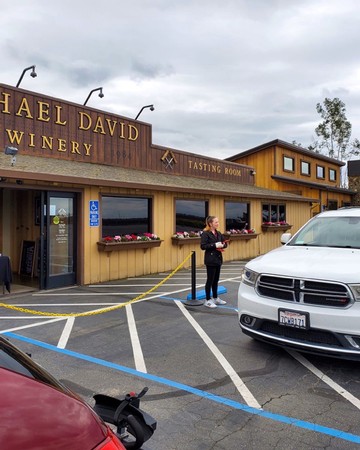 But the big reason a beef stew cooked with Zinfandel is a perfect shelter-in-place dish is because, well, a soft and sumptuous Lodi-grown Zinfandel tastes so darned good with it. Almost like it's been highly recommended by Mother Nature herself: the acidity in the wine effortlessly balanced the natural acidity of the tomatoes in the stew, while the rounded tannin and scented Zinfandel fruit qualities played with the fruitiness of the carrots and tomato-like kids joyously having a pillow fight. Some call this savory synergy umami. I call it piece-of-cake.
For further details on the different styles of Lodi-grown Zinfandel that are out there, please see our recent post on How to delineate the proliferating styles of today's Lodi Zinfandels. And I probably don't need to tell you this, but although wineries have closed their doors to visitors, almost all of them are still taking orders and doing things amounting to drive-through/pick-up service. They could also use your support (we want them to still be there when this is all over!).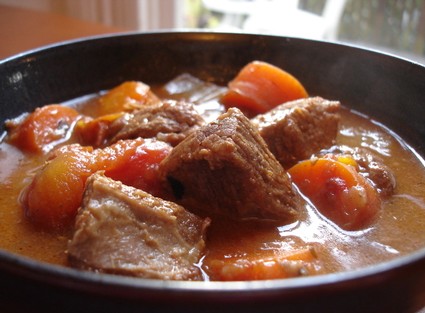 And our good ol' Zinfandel-friendly recipe:
Zinfandel beef stew
2 lbs. lean stewing beef, cut into 1-inch cubes
1/2 cup flour
1/4 cup canola oil
2 medium-sized sweet onions, wedged
1 clove garlic, pressed
5 cups water
2 bay leaves, broken in half
1/2 cup red Zinfandel
2 tsp. salt (or to taste)
1/4 tsp. black pepper
2 cans (8 oz.) tomato sauce
1 can (13.5 oz.) whole or stewed tomatoes
4 carrots, about 3/4-inch chunks
4 potatoes, pared and quartered
1 cup sliced celery
Dredge beef in flour; brown lightly on all sides in hot oil. Add onions and garlic; brown lightly. Add water and bay leaves; simmer for 1-1/2 hours, or until beef is tender. Add remaining ingredients; simmer additional 30-60 minutes, or until vegetables are tender. If desired, thicken the stew with a flour-water mixture. Serves 6-8, and strongly recommended with steamed white Japanese rice.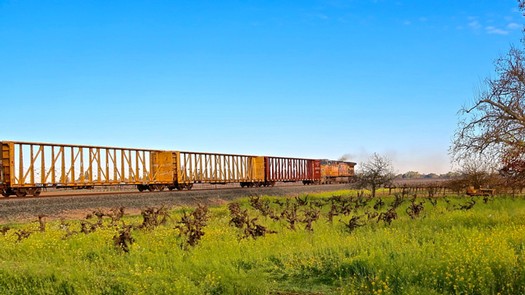 Comments