Letters from Lodi
An insightful and objective look at viticulture and winemaking from the Lodi
Appellation and the growers and vintners behind these crafts. Told from the
perspective of multi-award winning wine journalist, Randy Caparoso.

May 2, 2022 | Randy Caparoso
How Lodi wines compare to classic wines of the world (double-blind tasting with experienced sommeliers)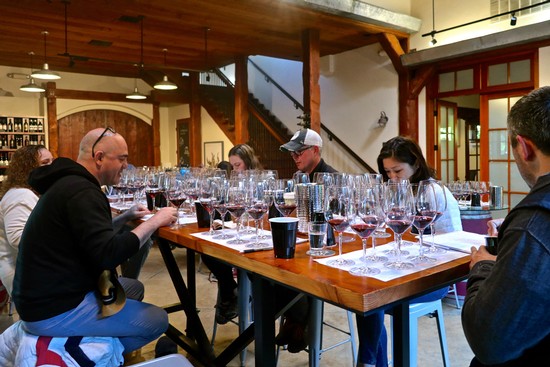 This past April 20 we conducted a "Lodi vs. World" double-blind tasting with 10 visiting sommeliers from across the U.S. The tasting took place at the end of a 3-day "full immersion" into Lodi AVA winegrowing; but make no mistake, it is impossible to be immersed in anything close to "full" in a region such as Lodi, consisting of over 100,000 acres planted to over 100 grape varieties, grown in 7 official sub-appellations.
The sommeliers, in other words, were still at a disadvantage. They may have spent two and a half days wandering through Lodi and tasting many wines, but none in the context of European wines made from the same grapes.
The point of tasting "double-blind" was not to test these sommeliers' taste memory, nor to demonstrate whether or not Lodi grows and produces wine as good as other wine regions in the world. It was to help us all come to a better understanding of the basic sensory distinctions — including differences or similarities — of Lodi-grown wines when compared to classic wines of other regions.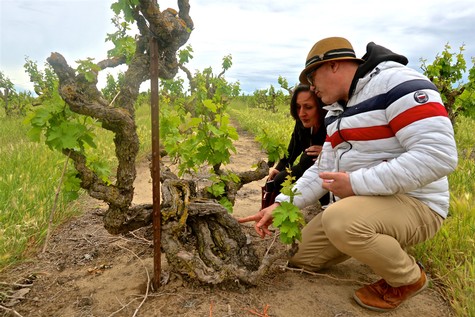 "Double-blind" is when tasters do not know the identity of the wines they are tasting. In the first comparison, for instance, they knew that they were tasting two white wines, one from Lodi and the other from another country; but they did not know they were tasting white wines made from the Sauvignon Blanc grape. The reason why we did not tell them is that when anyone, especially wine professionals, knows they are tasting Sauvignon Blancs, their minds are already filled with assumptions of how a Sauvignon Blanc should taste, based upon their extensive prior experiences. We wanted the sommeliers to experience the two white wines as white wines, not according to any of their preconceptions about Sauvignon Blanc.
These 10 sommeliers, as it were, were seasoned wine professionals, each coming to us with a minimum of 10 to 15 years of experience as restaurant wine program directors. People who taste wines from around the world virtually every day of their working lives. In fact, people who teach wine to their staff and regale their guests with wines almost every day; and who often test their own abilities to judge wine in blind tasting formats in order to sharpen their knowledge. These were no spring chickens.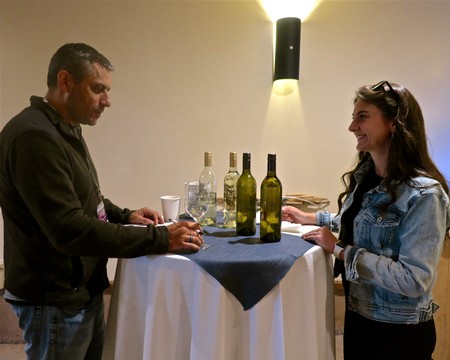 They were, however, in Lodi because of a growing interest in Lodi vineyards and wines. For the most part, they were aware that Lodi is now producing interesting, handcrafted, premium-style wines — despite the region's reputation as a source of primarily value-priced, commercial-style wines (by "commercial," we mean wines meant to meet product expectations of consumers in general rather than wines meant to fulfill artistic or vineyard-related goals, which are often unpredictable) — but they were here to find out exactly what that was. Kudos to them for being willing to take time away from work to be in Lodi, when they could have been in any one of so many other regions of the world.
Hence, the reason we set up the opportunity to taste 6 wines from Lodi next to 6 wines made from the same grapes but grown in other parts of the world. And as always, this turned out to be an interesting experience, worth sharing some detailed notes and observations. The wines, in order of their tasting: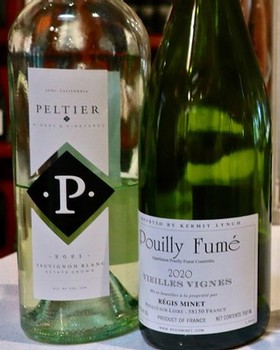 Round 1
2021 Peltier Winery, Lodi Sauvignon Blanc
2020 Régis Minet, Pouilly-Fumé Vielles Vignes (Loire River, France)
Indicative of the difficulty of tasting wines blind, only a few of the sommeliers were able to immediately recognize these wines as whites made purely from the Sauvignon Blanc grape. Both wines were bone dry, lemony crisp, and light to medium-bodied, which describes white wines made from several other white wine grapes. Interestingly, however, almost all the sommeliers mistakenly identified Peltier Winery's Lodi-grown Sauvignon Blanc as "European," and the Pouilly-Fumé from France as being "most likely the Lodi wine." The reason for this is because the Peltier was clearly higher in acidity, giving it more of a tart edginess, underscoring the wine's finely delineated notes of flower, melon, underripe peach, and herbal/minerally qualities. If anything, Régis Minet's Pouilly-Fumé was more flinty, or minerally, in profile, slightly softer in its lemony crispness, and finished with a longer, yeasty/leesy complexity — very true to the typicité associated with the Pouilly-Fumé appellation.
Conclusion: Lodi white wines can be just as fine and zesty as white wines from France, although the varietal profiles in a region such as Lodi still tend to be more floral and fruit-focused, whereas French whites tend to be more minerally.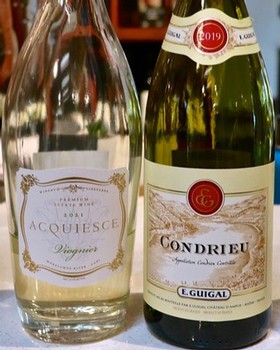 Round 2
2021 Acquiesce Winery, Lodi Viognier
2020 E. Guigal, Condrieu (Northern Rhône Valley, France)
This pairing of 100% Viogniers was set up to compare the typical way in which many contemporary style Lodi-grown white wines are produced — that is, fermented and finished completely in stainless steel tanks, with zero oak aging — alongside a traditional style of French white. In the latter case a white from the tiny yet famous Condrieu appellation, which sees several months of French oak barrel aging following partial fermentation in barrels. The aroma of the E. Guigal Condrieu was downright huge, bursting with exotic, peachy, honeyed fragrances tinged with honeysuckle flower; and on the palate, the wine is full-bodied, fleshy yet crisply balanced, finishing with an interplay of black peppery spice and honeyed fruit — stunning.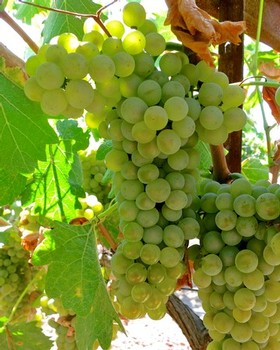 The E. Guigal, in fact, is an illustration of exactly why over 90% of California brands of Viognier are also barrel fermented and aged — most California vintners cannot resist the temptation to duplicate wines such as E. Guigal's Condrieu. Since its founding in 2010, however, Lodi's Acquiesce estate has chosen to defer (or "acquiesce") to its sandy loam terroir by completely eschewing barrels; instead, preferring to highlight the pure, floral, silky yet crisp qualities intrinsic in the grape, with smidgens of lavender, herbs de Provence-like scents that seem to typify this vineyard. Consequently, almost all the sommeliers identified the Condrieu as a California version of Viognier, making the assumption that the more subtle, crisper style portrayed by the Acquiesce was "French" (there are, in fact, Northern Rhône producers who apply a far more subtle touch with oak than E. Guigal).
Conclusion: The Viognier grape has found a "second home" in Lodi's Mediterranean climate. Will Lodi's Viognier-based whites ever be as powerful as those of Condrieu? Probably never, but they can have their own intricacies (it was the 2020 Acquiesce Viognier, in fact, that took the "Sweepstake" medal (i.e., "best of the show") among 5,800 other wines submitted by some 1,000 wineries competing in the San Francisco Chronicle Wine Competition this past January).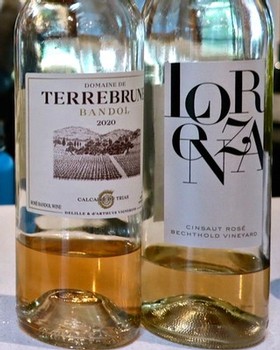 Round 3
2020 Domaine de Terrebrune, Bandol Rosé (Provence, France)
2021 Lorenza True Rosé, Lodi Rosé
The varietal make-up of these two dry rosés demonstrated both differences and similarities: The Terrebrune consisting of 50% Mourvèdre, 25% Grenache, and 25% Cinsaut; the Lorenza, 30% Mourvèdre, 28% Grenache, 28% Carignan and 14% Cinsaut. Notably, the Lorenza's Carignan and Cinsaut components were sourced from 122-year-old and 135-year-old vineyards respectively — ancient vines being more of a Lodi signature, giving depth of flavor even to wines seeing just fleeting contact with skins (which is the way rosés are made).
Besides their dryness and light-medium bodies, the commonality shared by both rosés included a fresh strawberry-like perfume. Where they veered away from each other was the deeper, fleshier, more minerally flavor and feel in the Terrebrune, and the crisper acidity in the Lorenza that helped the Lodi-grown wine come across as lighter on its feet, while also giving its red fruit profile a slightly more rhubarb-like zestiness.
Conclusion: Both rosés were first class, and impeccably balanced; but as with the white wines, because of the elevated acidity of the Lorenza, the sommeliers leaned towards this wine as being "French," and the Terrebrune as being more "California" in style.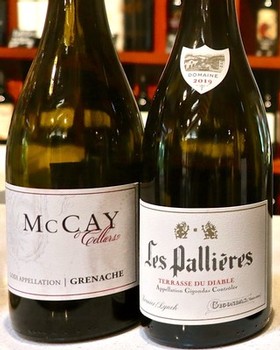 Round 4
2017 McCay Cellars, Abba Vineyard Lodi Grenache
2019 Domaine Les Pallières, Terrasse du Diable Gigondas (Southern Rhône Valley)
In this round, the McCay bottling was 100% Grenache, whereas the Gigondas consisted of 90% Grenache with 5% each of Mourvèdre and Clairette. Besides the grape mix, the other factor that made the Gigondas considerably darker, deeper in flavor, and fuller in the body than the Lodi-grown Grenache was the fact that it comes from older vines (50 years, compared to Abba's 12 or so years) grown on a terraced parcel of the Les Pallières estate that sees even more sun (hence the name, "Diable") and is dominated by a unique, rocky limestone/clay/sandy terroir surrounded by wild scrub — natural conditions that bring out a stony/minerally/black olive-like side of the Grenache grape, on top of an unusually elevated (for the Grenache grape) tannin structure.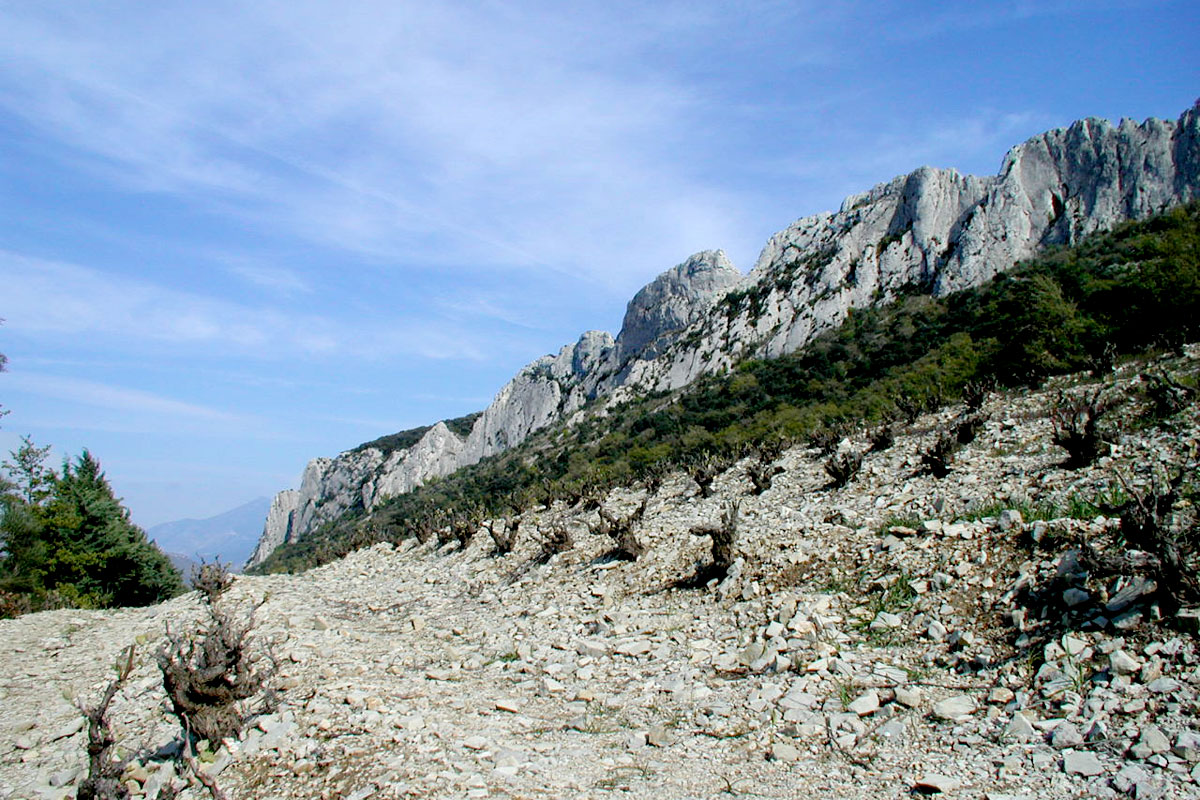 While significantly softer in tannin and more pliant in its slightly fleshy, medium-full body, the McCay Grenache was far spicier (i.e., black peppercorn-like) and floral in its red berry/strawberry fruit profile — sensory qualities shared by other Lodi-grown Grenache-based reds of note (the Bokisch Vineyards Garnacha being a prime example). The McCay, aged in neutral French barrels, also showed far less oak influence than the Les Pallières, which is aged at least 22 months in combinations of curves and foudres (i.e., small and large cooperage).
Conclusion: This kind of comparison only amplifies the more floral fruit focus of Lodi-grown reds and the strong emphasis on terroir-influenced earthiness often found in France's most interesting vineyards. This is a fundamental difference between most French wines and most California wines: France's best wines emphasize sensory profiles that are less about "fruit" or varietal qualities than about "sense of place." That said, there are mineral or earth-related sensations to be found in the "sense of place" common to Lodi-grown reds (Zinfandel being among the region's most transparent varietals); but because of market dictates, for the time being, the focus will tend to be more fruit-oriented than that of French growths.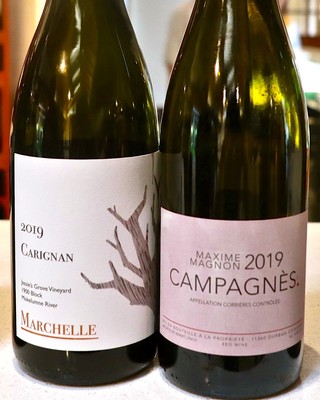 Round 5
2019 Marchelle Wines, Jessie's Grove Vineyard Lodi Carignan
2019 Maxime Magnon, Rouge Campagnès Corbières (Languedoc-Roussillon, France)
Maxime Magnon's Campagnès is similar to the ancient vine Carignans grown in Lodi in that the vines are generally over 100 years old, and they are 100% expressions of the grape — a cultivar that was once the most widely planted in California (at least, during the 1960s and '70s), but is now grossly underrated in light of the current obsession with varietals such as Pinot noir and Cabernet Sauvignon.
In this comparison, the word "monumental" played over and over in my mind as I tasted both wines: The Magnon came across as deep, fleshy, full of mineral (as well as rich oak) with a compact, almost feral, wild berry profile couched in both muscular and sultry textures; and the Marchelle (from own-rooted vines planted in 1900) showing its own multifaceted manifestations of the Carignan grape — black cherry, a scrubby wild herbiness, a touch of sweet peppercorn, and outwardly plush while flashing a bit of bulging bicep in its medium-full body.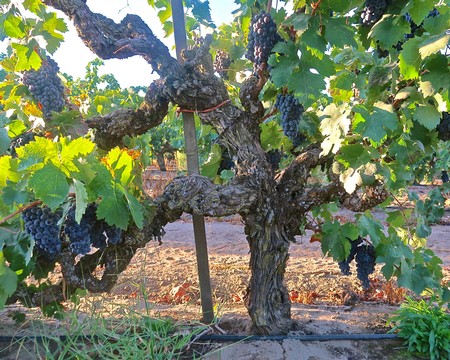 Ancient vine (planted in 1900) specimen of the under-respected Carignan in Lodi's Spenker Ranch.
Conclusion: Because the varietal character of Carignan is not readily identifiable (it is never, say, obviously minty/herbaceous like a Cabernet Sauvignon, or veers towards berryish jam like Zinfandel), the sommeliers found these wines impossible to identify. It didn't matter, because they could recognize a unique, natural, seamless composure (shared by both wines) when they tasted it. As with the comparison of Grenache-based reds, there were stronger earth-related attributes in the French counterpart and more fruit and spice in the Lodi iteration of the grape.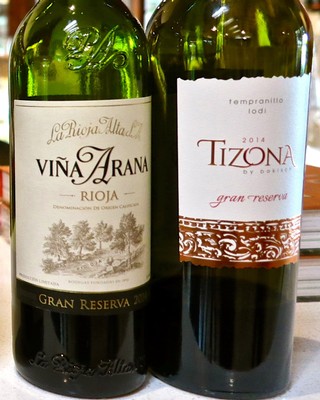 Round 6
2014 Viña Arana, La Rioja Alta Gran Reserva (Rioja, Spain)
2014 Bokisch Vineyards, Gran Reserva Lodi Tempranillo
The Gran Reserva style reds of Spain's Rioja region are, by local law, aged for at least 2 years in oak casks and another 3 years in the bottle — therefore you will never see a Rioja Gran Reserva on the market that is less than 5 years old. Bokisch's 2014 venture into this age-old tradition entailed 3 years of aging in new American and French oak, and another 20 months aging in the bottle before its initial release. The 2014 Viña Arana consists of 95% Tempranillo and 5% Graciano. Although Bokisch is also known for Graciano, the 2014 Bokisch Gran Reserva is 100% Tempranillo from both their Mokelumne River AVA (defined by deep sandy loam soils) and Jahant AVA (shallow silty clay soils) plantings.
In this side-by-side comparison, most of the sommeliers were able to identify the almost creamy-sweet oak qualities and soft, round, earthy yet richly textured qualities of the Viña Arana as very "Rioja," although they had a harder time conceiving of a Lodi-grown red made in the same fashion. While also long, supple, and richly textured, the Bokisch differed in its more aggressively aromatic oakiness (adding strongly vanillin, and slightly "toasty" highlights to the red berry/cherry-like fruit). The major triumph was how the Bokisch has been able to retain a deep color and firm feel of tannin even after extended aging in barrels — a testament to the depth of varietal character possible under the Lodi sun.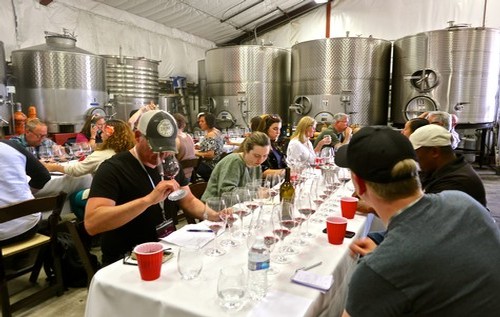 Conclusion: While it is possible to fashion "Gran Reserva" inspired Tempranillo in Lodi, the result is not quite the same: veering from the long, lanky, soft leather glove-like textures that make Rioja so unique; yet nonetheless, retaining a brighter red berryish fruit profile.
Our 10 visiting sommeliers:
Nanette Rapuzzi — Ritz Carlton Bacara
Nicole Alonso — Waldorf Astoria Chicago
Diego Rech — Steakhouse 316, Aspen
Andrew Roy — Mahogany Prime Steakhouse, Tulsa
Alex Silverman — Cyrus Restaurant, Geyserville
Brian Browning — Spiegelworld-Superfrico, Las Vegas
Ian Bennett — The Study, Oklahoma City
Bree Serpenti — Upland NYC
Emmeline Zhao — Silver Apricot, NYC
Jacqueline Bolton — Paseo Grill, Oklahoma City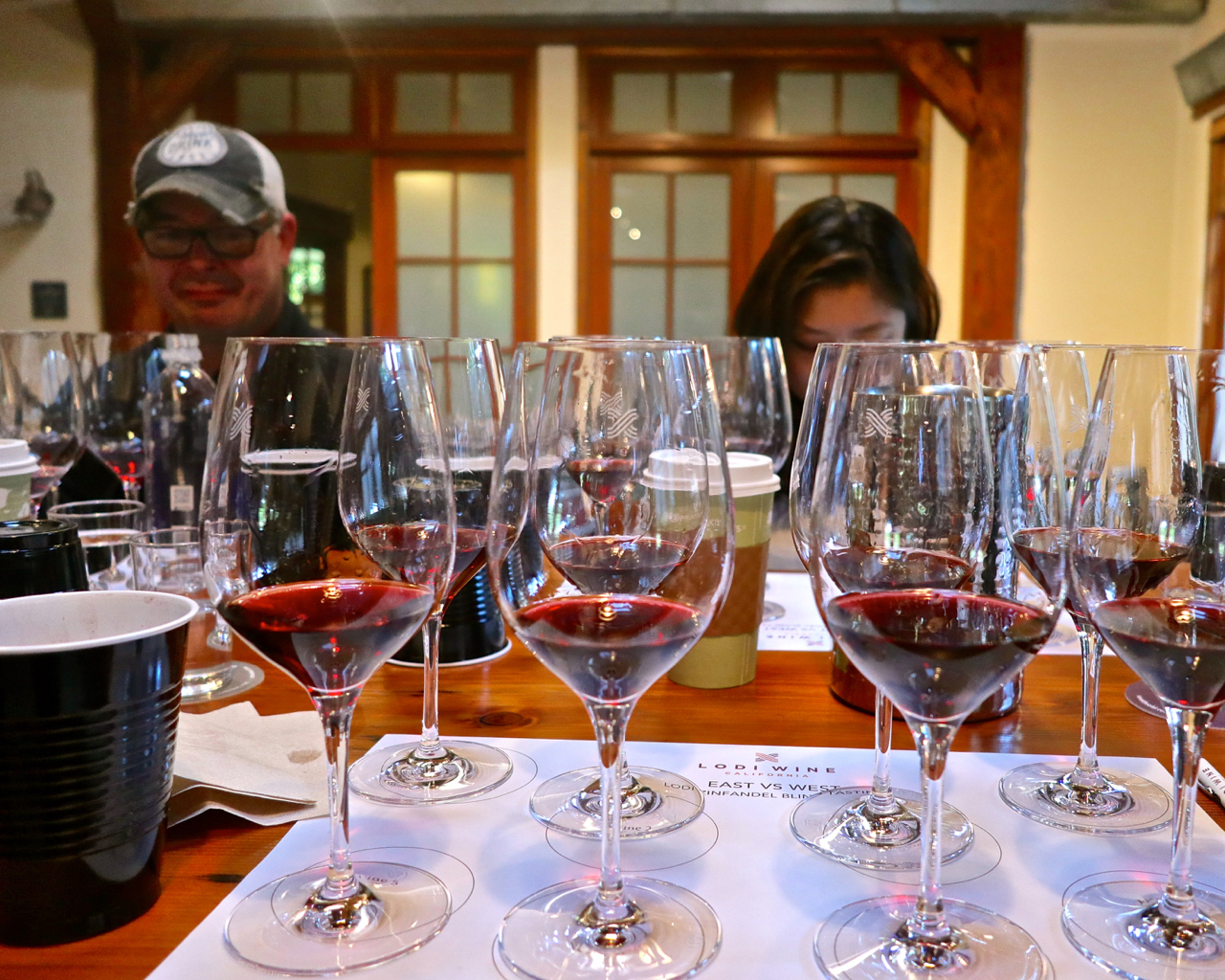 Comments