Letters from Lodi
An insightful and objective look at viticulture and winemaking from the Lodi
Appellation and the growers and vintners behind these crafts. Told from the
perspective of multi-award winning wine journalist, Randy Caparoso.

December 21, 2015 | Randy Caparoso
How Lodi saved the wine world in 2015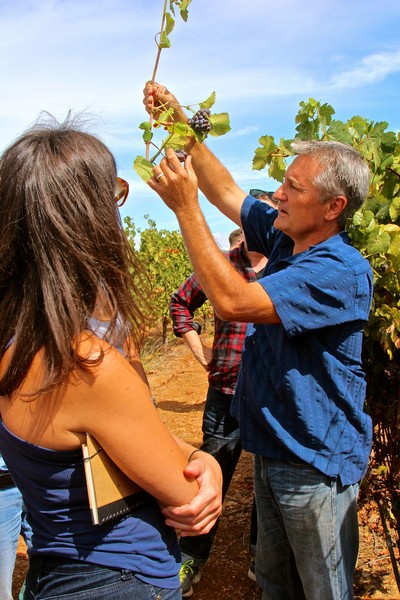 Markus Bokisch teaching sommeliers about vine morphology in his Vista Luna Vineyard
This past November 2015 Lodi's Markus Bokisch of Bokisch Ranches was named one of the 20 Most Admired Grapegrowers in North America by the respected industry publication, Vineyard & Winery Management.
In the article extolling Mr. Bokisch's achievements, the editors of VWM writes:
Grapegrowers tend to stand in the background while winemakers are encouraged to take center stage... How many wine lovers know the names of hard working, dedicated farmers who plant and tend the vines that produce the grapes for these celebrated wines?
Citing the over 2000 acres planted and cultivated in Lodi by Mr. Bokisich – over 1,500 of these acres certified by Lodi Rules for Sustainable Winegrowing, and a good 100 acres certified organic (i.e. CCOF) – VWM adds this insight into why this is of such import to the industry inside and outside Lodi:
While many view Lodi as a region best suited to growing high-production grapes for low-priced table wines, he has a broader vision – one in which Lodi is also known as a producer of premium wine grapes for boutique wines...
Bokisch could easily sell all of his grapes to behemoth producers such as E. & J. Gallo. But because he wants to elevate Lodi's reputation as a wine region, he reserves 20% of his fruit for smaller operations such as Mark Herold Wines, Turley Wine Cellars, Chateau Montelena, Neyers Vineyards, Odisea Wine Company, Forlorn Hope Wines, The Scholium Project, and others...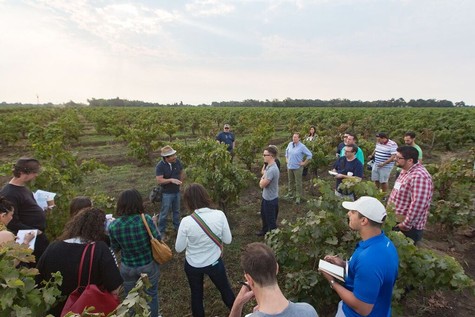 This past September, sommeliers from across the country studying Lodi's historic Bechthold Vineyard (photo courtesy of John Curley Phototgraphy)
The past year has been good to the Lodi grape and wine industry. All of the sudden it seems that media, industry, as well as myriads more consumers have awoken to the fact that the Lodi Viticultural Area takes a backseat to no other in the world in many of the ways that count:
# Delicious wines expressive of a place (Lodi – not Napa, Walla Walla, Tuscany, Texas Hil Country, South Australia, or anywhere else) - the mark of every wine region of note.
# A 160-year history of winegrowing excellence, now epitomized by numerous heritage vineyards lovingly cultivated for as long as over 100 years (see A History of Lodi Winegrowing, Part 1and Part 2).
# Modern day Lodi's industry-leading sustainable viticulture, which goes beyond organic practices in terms of achieving environmental, community and humanitarian objectives.
# Lodi's sheer diversity of wine grapes, among the most in the world (see 100 grapes of Lodi), made possible by its moderate climate and classically well drained soils; cultivated to serve large producers of value priced wines and tiny producers of artisanal, cutting-edge wines alike.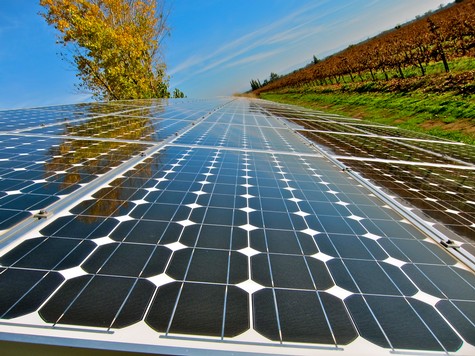 Solar panels in one of Vino Farms' sustainable Lodi vineyards
So let us recount five of the more significant awards garnered during the past year alone:
2015 Wine Region of the Year – One of the annual Wine Star Awards conferred by the nationally distributed Wine Enthusiast Magazine, singling out Lodi among all other wine regions in the world (see Why is Lodi the Wine Region of the Year?). A truly special honor.
2014 Vineyard of the Year – Bestowed by the California State Fair, an award going to the 25-acre Bechthold Vineyard, planted in 1886 by Lodi pioneer Joseph Spenker on the west side of Lodi's Mokelumne River AVA (see Bechthold is California's "Vineyard of the Year"); own-rooted ancient vine Cinsaut, now sourced by about a dozen of California's most prestigious specialty wineries (including Lodi's Michael David Winery, Estate Crush, McCay Cellars, Jessie's Grove and Fields Family).
2014 Grower of the Year – Awarded to Lodi's Vino Farms by the California Association of Winegrape Growers (CAWG) at this group's Annual Meeting and Awards of Excellence Program, held this past July in Carmel Valley (see Lodi garners awards for Grower, Vineyard & Winery of the Year). The family-owned Vino Farms farms over 5,000 acres of wine grapes in accordance to Lodi Rules for Sustainable Winegrowing.
2014 Winery of the Year – Presented to Delicato Family Vineyards by the respected consulting firm of Gomberg, Fredrickson & Associates at the most recent Unified Wine & Grape Symposium this past January 2015. This Manteca based winery, one of the fastest growing in the state, also sustainbably farms over 5,000 acres in the Borden Ranch AVA of Lodi.
2014 BRIT® (The Botanical Research Institute of Texas) Platinum Award – The highest level of International Award of Excellence in Sustainable Winegrowing accorded to LangeTwins Family Winery & Vineyards in recognition of this Lodi winegrower's positive impact on the environmental, economic and social elements of its multi-faceted sustainable program.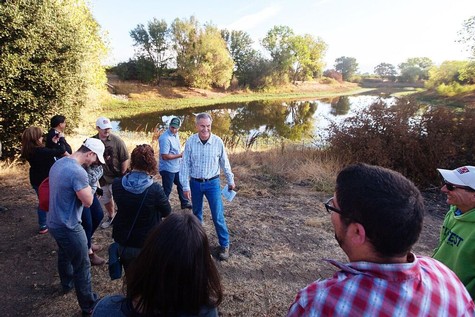 Brad Lange leading sommelier tour of his sustainably farmed LangeTwins Vineyards (photo courtesy of John Curley Photography)
Finally, there are the acclamations earned by the release of the second vintage (2013s) of Lodi Native wines – heritage vineyard Zinfandels produced by 6 Lodi winemakers in a minimalist fashion highlighting terroir rather than brand style or varietal character.
Among the accolades: This past September Alder Yarrow – largely considered the dean of wine blogers around the world – posted some heartfelt comments in his Vinography (re The Lodi Native Zinfandel Revolution Continues), describing these Zinfandels as no less than "transformative":
Let me begin with total honesty. I fell out of love with Zinfandel. When I first got into wine, I loved the carefree jubilation that spilled out of every bottle of Zinfandel I opened. Zinfandel is a wine that makes no apologies for its exuberant fruit. Like a gay man flying his queer flag in full flaming glory, if it does nothing else, Zinfandel gives good fruit.
As authentic as this personality can be, Zinfandel all too easily strays into the realm of caricature. If its boisterous blackberry, black pepper, and blueberry essence is good, surely a bit more of that is even better, right?
Wrong. As much criticism as California Cabernet receives for a shift towards bigger, better, richer, and riper in the last 20 years, in some ways Zinfandel's shift has been even more egregious.
Zinfandel probably started off riper than Cabernet to begin with, as it easily strays into the high 14% and low 15% range while continuing to develop those rich flavors that so many seek from the grape. But in addition to being left longer and longer on the vine beginning in the late 1990s, winemakers in California began to apply increasingly higher levels of new oak to the wines, resulting in bigger, richer, jammier, and sweeter versions of the grape.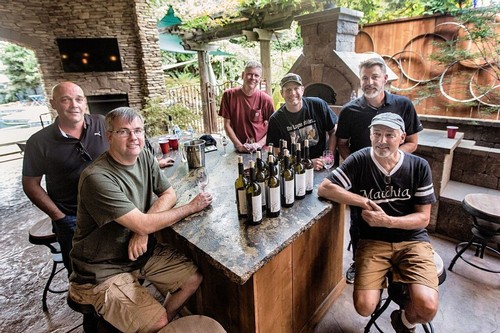 Lodi Native winemakers (photo courtesy of John Curley Photography)
After a while I just got tired of it. Apparently I do have a threshold for fruit overload, especially when that fruit is offered almost in singularity, with few other dimensions of interest. And this is precisely what became of California Zinfandel until recently. Many, many of these wines left behind nuance for power of fruit, and as a result, became less interesting to me.
I stopped being as excited to go to the annual ZAP (Zinfandel Advocates and Producers) tasting in San Francisco (though I continued to attend and find wines I enjoyed). Perhaps more tellingly, I stopped buying Zinfandel to drink at home.
But then recently… Two years ago I happened to have a bottle of Turley's 2011 Judge Bell Vineyard Zinfandel and had my mind blown by the shift that wine represented (at least to my sensibility) in their approach to the grape.
And around the same time I also received in the mail a box of six Zinfandels from Lodi, California, all bearing the same label, but from different producers.
My first taste of the wines from the Lodi Native Project were equally transformative, not only for my vision of what California Zinfandel had become, but also for my opinion of what Lodi was all about.
I was back in bed with Zinfandel. I wasn't quite sure how I ended up there, but I realized I was very happy about it...
The Lodi Native project not only significantly redeemed my dissatisfaction with Lodi Zinfandel, it also inspired my faith in the future of California wine…
Is Lodi saving the wine world? In 2015, it seems, a lot of people have begun to think so!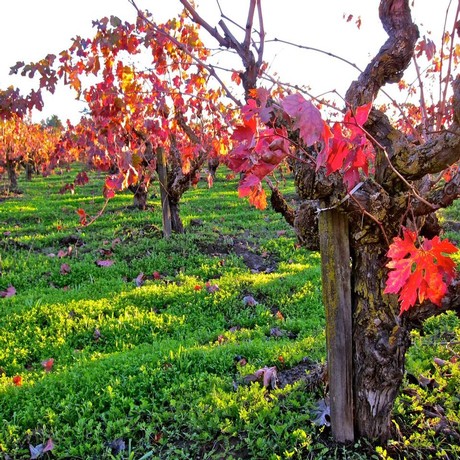 100-year-old Zinfandel in Van Ruiten Vineyards
Comments
nike
@ Apr 30, 2016 at 5:42 AM
nice.